Plex Won't Play 4K HEVC/H.265? How to Fix Plex HEVC Playback Issue?
Plex HEVC Error Fix: Eliminate All Troubles When Playing 4K HEVC/H.265 via Plex
- Plex won't play HEVC h.265 .mkv remux files from my PC to Plex app via roku stick+? When I try to play the file, it says video is unavailable, please check server.
- Whenever I try to playback 4K HEVC video (AC3 5.1) (usually ~30 mbps) on my Samsung smart TV, it has issues with the playback with skipping, repeating, etc. The audio plays uninterrupted but the video is super glitchy.
- Plex apps refuse to play in x265 on my Android phone and PC. All of these devices are well capable of playing x265, and even play them flawlessly when I physically put the copy on to the device and play it through an x265 capable media player.
HEVC (a.k.a. H.265), featuring high compression ratio with improved video quality but lower bit rate, is now widely used in many fields, from digital cameras, mobiles to media apps, websites, for 4K recording and playback. Plex, the popular cross-platform client-server media player, gives its announcement to support 4K HEVC playback. However, problems like MKV not showing in Plex, or 4K HEVC not transcoding via Plex arrive at the same time. Why won't Plex play HEVC/H.265 availably or smoothly? How to fix Plex 4K HEVC MKV/MP4 playback issues? Answers can be found here!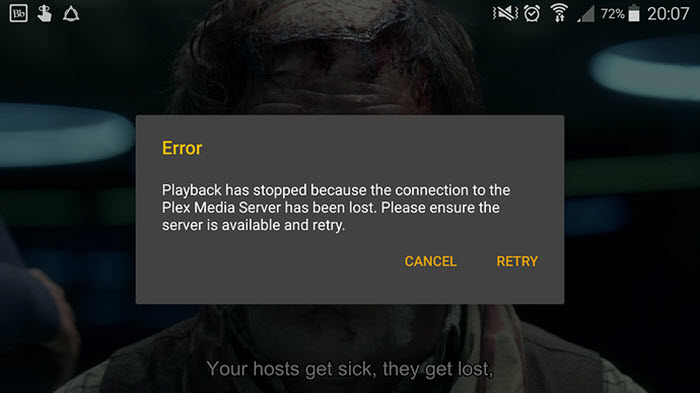 Fix All Plex HEVC Playback Issues - Convert HEVC to H.264
WinX HD Video Converter Deluxe can easily convert HEVC to Plex formats when you can't play an HEVC video on Plex:
The easiest solution to convert 4K HEVC MKV, MP4, MOV, etc. to H.264, MPEG4, WMV, other Plex formats. Support HEVC videos in 4K HDR, 10bit/8bit, 60fps, any specs; support HEVC MKV with different audio and subtitle channels.
Compress HEVC x265 from 4K, 5K, 8K to 1080P with original quality for various Plex devices like computers/devices/TVs.
Utilize hardware acceleration (Intel QSV/NVIDIA NVENC) to bring the fastest conversion performance and keeps high quality.
Part 1. Why Plex Won't Play HEVC/H.265 – Reasons
1. There is an unaccepted 4K HEVC video.
Plex publishes explicit requirements for achieving 4K HEVC direct playback. 4K content you want to play on a device should meet the following properties.
| | | | |
| --- | --- | --- | --- |
| Container | Resolution | Frame Rate | Bit Depth |
| MP4 | 3840 x 2160 or lower | 30fps | 8 bit |
Plex will give warning: it is an unavailable video when you play any incompatible HEVC file, like HEVC MKV, 4K HEVC 60fps, HEVC 10-bit. Device may be the other trouble. Currently, 4K HEVC videos can be only watched on - TiVo Roamio & Bolt (Series 6) devices, 2016 or newer Tizen-based Samsung models, VIZIO televisions – via Plex.
2. There is an incompetent computer.
Despite of the native HEVC support, HEVC playback issues on Windows and Plex usually occurs, for example glitches, lags, black screen and so on. Why? High system requirements are required to play HEVC H.265, especially for 4K HEVC videos. A computer wrapping powerful processor and graphic cards is quite necessary to watch HEVC videos smoothly with Plex.
Glance at Minimum System Requirements of 4K HEVC H.265 Playback:
Processor

GPUs

RAM

Intel Kaby Lake or newer

Integrated Graphics: Intel HD Graphics 4200 or better/AMD A10-7800 APU

8 GB

Discrete Graphics: GeForce GTX 650 or better/AMD Radeon HD 700 Series or better
When you play the HEVC videos on the Plex device via cables, for example, when you play an HEVC on a TV, don't forget the check the compatibility of all the hardware invovled in. That includes the HDMI cable and all the ports.
3. There is a very slow HEVC transcoding speed.
Plex will automatically transcode 4K HEVC videos which don't meet the above-mentioned properties to 1080P via Plex Media Server instead of direct playback. Transocding is a CPU-intensive task leading to horrible performance to handle other tasks unless you have a sufficient CPU. And, slow transcoding speed can kill everyone's patience.
Plex Media Server uses hardware acceleration to offload transcoding to GPUs with the purpose of getting a faster performance and lowering CPU usage. The new problem is that video quality may be compromised.
4. Plex won't direct play HEVC files.
Some users report that Plex won't direct play some HEVC H.265 files unless the transcode is enabled. If your other HEVC files will direct play on Plex but certain HEVC video won't play, there are a few things to consider:
1. Make sure the audio and subtitles are supported, or Plex will force a transcode instead of direct playing the HEVC video. For example, if the HEVC MKV video contains ASS/SSA subtitles, Plex will often transcode it. (Note that even if you disable the transcode, it only disable transcode of the video, not the audio.)
2. Make sure you haven't set any quality or bitrate limit either on the server or in the client. If yes, Plex will transcode the HEVC video when it exceed the limit.
3. Make sure you change the audio from TrueHD 7.1 to something else when you play the video on iOS. Plex Player won't work with TrueHD audio on iOS, even if the iDevice support it. Change the audio to 5.1 or else should let the Plex play HEVC video.
Part 2. Plex Won't Play HEVC/H.265 – The Ultimate Fix
If you don't have a compatible and very qualified device, the most efficient solution to fix Plex HEVC playback error is converting HEVC/H.265 to H.264 or other Plex supported formats. Yes, Plex Media Server offers auto-transcoding helping you watch 4K HEVC via Plex successfully, but slow speed or poor quality may bother you a lot.
WinX HD Video Converter Deluxe is a dedicated HEVC video transcoder for desktop. It excels at video conversion with support of virtually all mainstream formats, like HEVC MP4/MKV, H.264, MTS, AVI, WMV, MOV, FLV, 3GP and more. It also presets hundreds of device profiles enabling you to directly convert HEVC to iPhone, iPad, Apple TV, Android, Windows Mobile, Xbox, PlayStation etc.
This HEVC converter is hardware-accelerated by Intel QSV and NVIDIA NVENC to significantly speed up the HEVC encoding, decoding, processing, free up CPU for multi-tasking, and preserve 98% of original quality.
It's straightforward and simple. Download and install it and then follow the tutorial to convert HEVC H.265 to H.264 for fixing Plex HEVC playback issue.
Step 1. Launch this WinX HEVC converter. Click +Video button to load HEVC file which you can't play via Plex.
Step 2. Output Profile window appears once the video is loaded. Find General Profiles from left categories sidebar, then select MP4 Video (codec: h264+aac, resolution: keep origin) as output format without downscaling. Click OK.
1. There are several other categories listed for you, device profile, web video profile, DVD profile, to music and more. You can select any desired format from certain category.
2. To batch convert HEVC x265 to H.264, please repeat step 1 to load source files. The target format will be automatically set as H.264.
3. If you want to compress 4K to 1080P, click gear button and set the resolution as 1920x1080.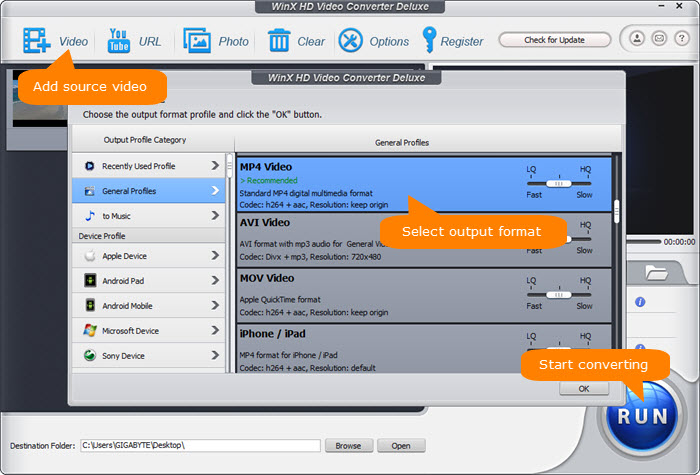 Step 3. WinX HD Video Converter Deluxe will scan your computer to check equipped graphic cards. Hardware acceleration option is enabled by default according to scanning result.
Step 4. Click Browse button to define a new folder to save resulting H.264 files. At last, click RUN button to start converting HEVC to H.264. After the process is done, destination folder will pop up. Play the resulting H.264 files via Plex. There's no trouble any more.
Video Tutorial: How to Play HEVC Files on Plex Based on Windows 11/10/8/7