Plex Transcoding: The Complete Guide and Error Troubleshooting
If you want to access movies or TV shows from your computer on a mobile phone or tablet, Plex is a great tool for you. You can install Plex media server software on your computer to organize media and then install Plex client program on your mobile to stream content from computer. Plex supports pretty much media formats[1]. However, not all content can be Direct Played on your client device because your device always has special requirements for media encoding format, container format, and resolution. Some content needs Direct Stream or Transcode. Direct Stream is enabled when Plex client can support the video and audio codec formats but can't support the container format. Transcoding is used when Plex client can't read either the video or audio format or can't support the resolution, bitrate, etc.[2]
Does Plex Support GPU Hardware Transcoding?
Plex transcoding is a CPU hog, so can we use GPU hardware to perform this task more efficiently and thereby improve the streaming performance?
Yes. At the bottom of Transcoder advanced settings, you will see "Use hardware acceleration when available (Experimental)". Check this if you want to enable hardware transcoding. Plex will use Intel Quick Sync Video, NVIDIA or AMD GPU to perform video decoding and encoding. Compatible formats for hardware decoding include H.264. HEVC, MPEG-2 and VC-1 while hardware-accelerated encoding format is limited to H.264.

Note: Hardware transcoding is a premium feature and requires an active Plex Pass subscription. You can't use Plex hardware transcoding without Plex Pass.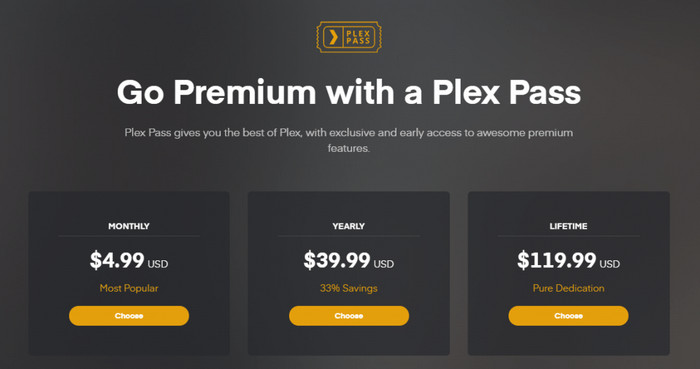 Plex transcoding CPU or GPU?
Check the pros and cons of Plex hardware transcoding and now you should be able to make your decision.
Pros

Cons

▪ More simultaneous transcodes
▪ Faster transcoding speed
▪ Stream high-quality videos such as 4K and HEVC videos more smoothly
▪ Small impact on computer performance

▪ Reduce video quality, delivering blurry or blocky output, especially when handling videos at resolutions below 720p or low bit rate file.
▪ Some rare video formats may not play correctly on certain devices.
Plex not using your GPU?
Some users reported that when playing movies they still see CPU at 99% or something while GPU is not even being touched. Why does Plex not use your GPU after you have it set to enable hardware transcoding?
You need to make sure your GPU is supported and new enough to support the content that is being transcoded. If not, GPU will not be used for transcoding in Plex.
You can GPU transcode with
▪ new enough Intel CPU with an Intel iGPU (Windows and Linux)
▪ new enough NVIDIA GPU with any Intel or AMD CPU (Windows decode/encode; Linux encode only [currently].) Linux hardware decoding is not currently supported. If you use Linux, you won't get GPU hardware acceleration help for video decoding.