How to Change Aspect Ratio / Fix Incorrect Aspect Ratio in Plex
Many Plex users are wondering how to change aspect ratio on Plex or fix incorrect aspect ratio issue on Plex so that they can get rid of black bars on the sides and the top and the bottom, video stretched, video being chopped off, and video not in full screen issues. Look no further, the tutorial is here.
How to Change Aspect Ratio in Plex?
The simplest way to resize video to different aspect ratios in Plex Media Player is to press the Z key on the keyboard while you play a video. Then, you will see the following video aspect options: Display normally, Zoom (can crop off video), Force video to 4:3, Force video to 16:9, Force 4:3 video to 16:9, Stretch video to screen, Display all scaling, and Custom.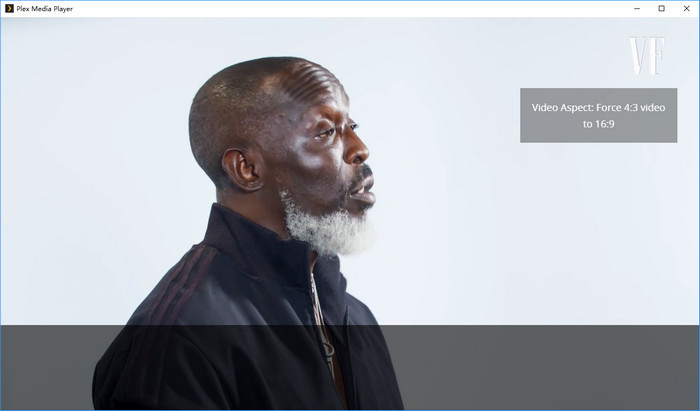 Alternatively, you can: click the TV button at the top bar to enter TV layout, click your account name on the left side navigation bar, click Settings, tap Video and scroll down to Video Aspect which is located at the bottom to make adjustments based on your own needs.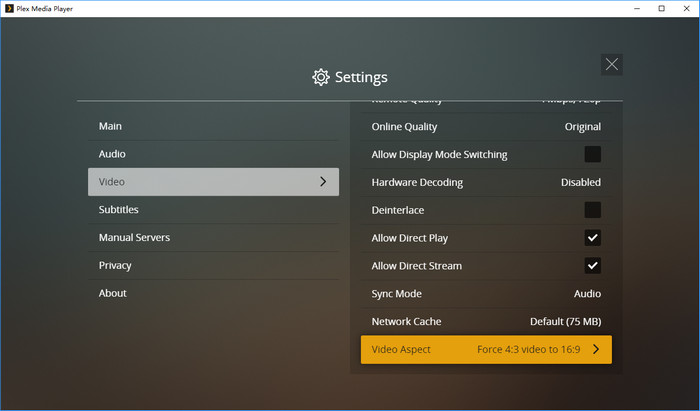 Note: Plex Media Player for PC/Mac is the only Plex client that can change the aspect ratio. The above methods don't apply to Plex apps on smart TVs or other playback devices like Samsung TV, Apple TV, Amazon Fire TV, NVIDIA Shield TV, Roku, Chromecast. However, you can try the following ways to change aspect ratio, from 4:3 to 16:9 for instance (see how to convert video aspect ratio from 4:3 to 16:9 for widescreen).
Way 1. Use the something called zoom or stretch on your TV. Most TVs have such a feature.
Now let me show you an example of how to change aspect ratio on a Samsung TV.
Step 1. Press the Menu button on your remote control and then select Settings.
Step 2. Select the picture button and Picture Size Settings to choose your desired aspect ratio. Most Samsung TVs allow you to choose 16:9 Standard, 4:3, Custom, Fit to Screen, and Zoom and Position.
If you're a Samsung TV user, you can click here for more detailed guide on adjusting picture size on a Samsung TV.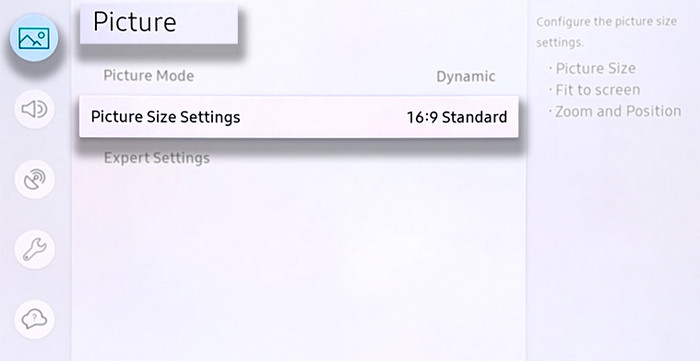 Way 2. Transcode your video using tools like WinX HD Video Converter Deluxe to change aspect ratio as desired.
WinX HD Video Converter Deluxe is a professional yet easy to use video transcoder that allows you to crop letterbox, change aspect ratio to 16:9, 4:3, 3:2, 1:1, and expand video. Almost all video formats can be imported for transcoding. Now, let's free download and install it to have a try.
Step 1. Launch WinX tool and click + Video button to load the video you want to change aspect ratio for playing on Plex.
Step 2. Choose an output format that your Plex client supports. If you're not sure, check this: List of Plex Supported File Formats and Best Format for Plex
Step 3. Specify aspect ratio for your output file.
Option 1. Click setting button -> hit the drop-down arrow of Aspect Ratio -> choose 16x9, 4x3, or 3x2.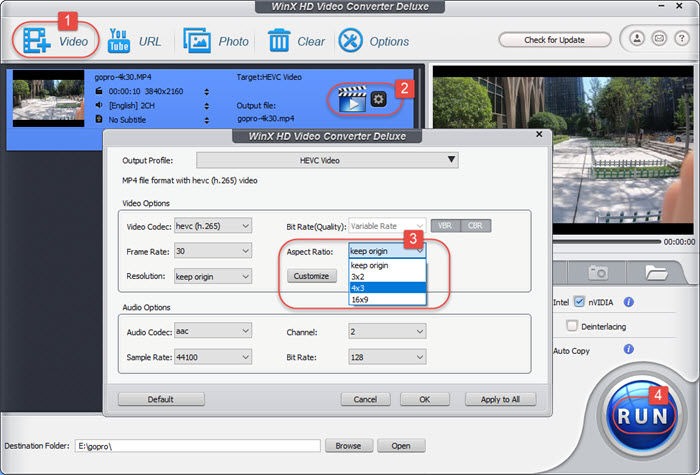 Option 2. Click Edit -> Crop & Expand -> check Enable Crop -> hit the drop-down arrow of Crop Original -> select Free, Crop LetterBox, 16:9, 4:3, or 1:1.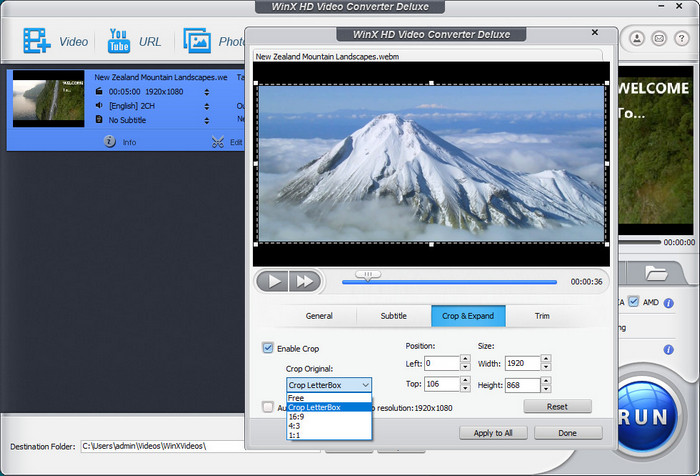 Step 4. Hit RUN to start converting video to desired aspect ratio. Once done, add the new file to Plex, play it and see if the aspect ratio fits the screen well.