The Hardware Acceleration Transcoding of Plex
Why We Need Plex Hardware Acceleration
The Plex hardware acceleration is only available for users who purchased Plex Pass, which greatly improved the efficiency of Plex transcoding process. As a typical example of "High technology improve user experience" function, let us check what the exciting things we can benefit from the hardware acceleration of Plex.
Multiple video could able to be streamed in the same time on different devices
Unparalleled steaming efficiency and speed
Support 4K HEVC streaming for better graphic performance
Less impact/ occupy of your system resources
Hardware & Software Requeirement for Plex Hardware Acceleration
According to Plex's official announcement, the minimum hardware requirement is not that tidy:
2nd-generation Intel Core (Sandy Bridge, 2011) or newer (5th-gen Broadwell or newer for the best experience ;)
Supports Intel Quick Sync Video
Graphics card that supports hardware codec acceleration (NVIDIA NVENC or AMD )
Plex Media Server 1.9.3 or later
An active Plex Pass subscription
But the minimum system requirement doesn't mean you'll have a decent impressive enjoyment. The sluggish react of chapter selection, the bad quality of video graphics, limited playable devices, broken & mosaicked moving pictures, all imaginable suffers are expectable if the minimum hardware is adapted to play "High requirement" movies & video contents like 1080p videos, you may check here for detailed hardware requirement for Plex.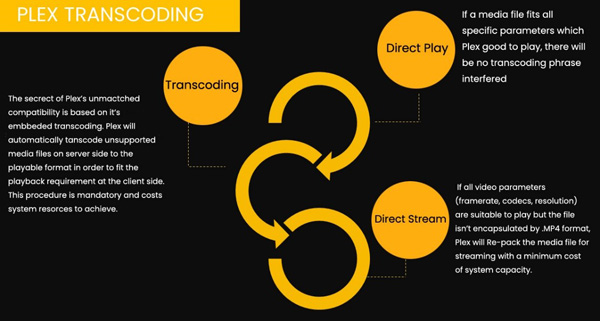 A Preferred computer hardware configuration for HD hardware acceleration of Plex, if you want very basic minimum streaming practice, then you will need:
▪ No transcoding: Intel "Atom" 1.2GHz (NAS devices based on ARM processors should also be capable of at least one stream with no transcoding)
▪ Single 720p transcode: Intel Core i3 3.0 GHz, which means you will need at least a Core i3-2100 3.1GHz(released 2011) to stream only one video from your Plex server side, if multiple videos need to be streamed in parallel, a Core i3-4130 3.4 GHz is the bottom line of necessary.
▪ Single 1080p transcode: Intel Core i5 3.0GHz, which means you will need at least a Core i5-2320 3.0GHz(released 2011) to stream only one 1080p video from your Plex server side. If multiple 1080p video needs to be streamed at the same time, a Core Core i5-4430 3.0 GHz is the bottom line of necessary that we expected.
▪ Single 4K transcode: Intel Core i7 3.2GHz, which means you will need at least a Core Core i7-2600 3.8GHz(released 2011) to stream only one 4K video from your Plex server side. For additional video could be played at the same time & enhanced graphic quality, and Core i9 plus NVIDIA dedicated graphic (better than GTX980, the newer the better.) is ought for a comfortable family entertainment experience.
And the most notorious part which taken numerous amount of system resources, the Plex transcoding is the most identical part that bottleneck the overall performance of streaming. Plex have to "transfer" the media files to the best Plex client playable format:
Container: MP4
Video Codec: H.264 (level 4.0)
Audio Codec: AAC (2.0 audio)
Total Bitrate: Less than 8Mbps (8000 Kbps)
Frame rate: 30fps
Resolution: 1080p or lower
Thus, if we have a 4K movie and we want the Plex to stream on the server side, it will quickly exhaust your server's resources, the question how to make the transcode better efficiency is to enable the hardware transcoding in Plex. Also to notion that, the Plex is not able to play video except .mp4, which means all videos are not .mp4 format need to be transferred to .mp4,for example, the .mkv files, which also take huge part of the system resources that could lag your computer.
How to Enable Hardware Acceleration in Plex?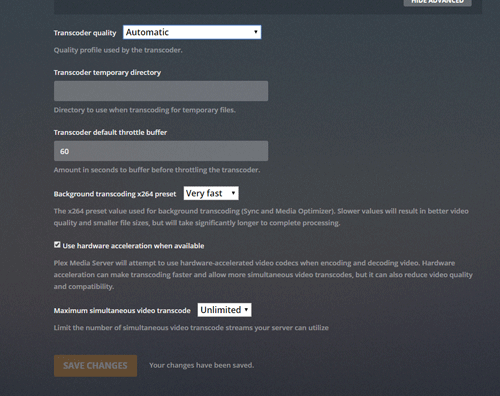 To use Hardware-Accelerated Streaming in Plex Media Server, you need to enable it using the Plex Web App.
Open the Plex Web app.
Navigate to Settings > Server > Transcoder to access the server settings.
Turn on Show Advanced in the upper-right corner to expose advanced settings.
Turn on Use hardware acceleration when available.
Click Save Changes at the bottom.
You do not need to restart Plex Media Server after saving the changes.
Don't Forget, You Need a Pass
There is one thing we need to enforce: all of these hardware acceleration functions that promote the quality of your experience of enjoying the family streaming movies & videos, must with a Plex Pass – You can't even find the hardware transcoding setting without purchase their premium service.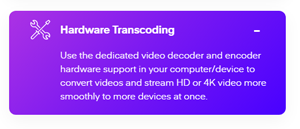 The price for Plex Pass is $39.99 per year or $119.99 for life long service. Not to mention if it's a bit too high, but if it is worth to customers who enjoy no prefer to Plex's pay-to-watch content but need only the hardware acceleration function in order to get full control of their own customized multimedia library.
Can We Have an Alternative Solution?
As the main and the only purpose for the Plex hardware acceleration function is to transcode the video files to the specific format. The ultimate solution, without fitting the neat hardware requirement, no need to purchase unnecessary additional service, you will need only a decent software that can transcode your media files before adding them to your Plex library. I would strongly recommend the WinX Video Converter as the best solution for your Plex transcoding.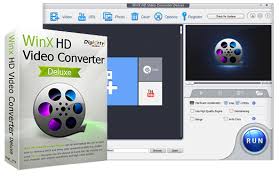 The WinX Video Converter can transfer all media files to the best Plex client playable format, with its batching process function plus the hardware acceleration support, you no longer need to transcode your media files on Plex server-side, it cost less system resource and offer a smoother streaming experience.
The newest version of WinX Video Converter added the 4K transcode support, which could be a great enhancement to the need of Plex streaming service, especially for those need of no purchasing additional annual Plex Pass. Also, the level-3 hardware accelerated transcoding is supported and effectively cut off the time you spending on transcoding. Furthermore By spending less money to upgrade your system or at least a Plex Pass which will cost you 120 bucks, the WinX Video Converter is no doubt the best cost performance option.