Plex 4K Transcoding: Decode and Play 4K Content on Plex Smoothly
Plex 4K Direct Play is high-demanding on almost every aspect, hardware configurations (CPU, GPU, RAM, display...) for both media server device and client devices, subtitles, network speed and budgets, of course.
And the most simple way to Plex 4k Direct Play is Nvidia shield + 4K/Dolby Atmos receiver + 4K HDR TV, alongside with a fast enough disk and network (Gbit required). If you cannot direct play 4K content on Plex, honestly you should not even be collecting 4K media files. Now that 4K content has already existed in your Plex library, please keep the 4K rule in mind: don't bother transcoding 4K.
Can Plex Transcode 4K?
Yes. Plex Media Server possesses a built-in transcoder - Plex Universal Transcoder to help you transcode 4K HDR content.
Transcoding 4K with CPU via Plex transcoder requires an extremely highly-configured CPU. As for single 4K transcoding, your CPU is supposed to be at least Intel Core i7 3.2GHz, with 12000 PassMark score for 4K SDR (40Mbps, 8-bit HEVC) to 10Mbps 1080p conversion and 17000 PassMark score for 4K HDR (50Mbps, 10-bit HEVC) to 10Mbps 1080p transcoding. And you need a more powerful CPU processor if there are more than one simultaneous transcode. This is bound to cost you an arm and a leg.
Transcoding 4K with GPU within Plex is also high-demanding and produces some undesirable effects.
1. Pay for Plex Pass subscription service, $4.99 per month and $119.99 lifetime.
2. Upgrade Plex app to version 1.9.3 or higher version.
3. GPU processor on your Plex Media Server device should be powerful enough, with GPU hardware acceleration supported. Generally speaking, the discrete graphics card is much better. Check here to know the entry standard for GPU processor with Intel Quick Sync Video hardware acceleration and Nvidia official site to know the graphics card with NVDEC decoder & NVENC encoder.
4. Audio is never converted on GPU so your CPU processor must be powerful enough to process the number of audio streams even when GPU processor is doing the Plex video hardware transcoding.
5. Make sure network bandwidth fast enough and sufficient RAM, disk IO. Different from other media players, Plex will be also responsible for streaming transcoded 4K files to clients. Therefore, it demands a lot on your bandwidth, RAM and disk IO especially when there are a couple of client apps in remote mode. Or the 4K streaming buffering, freezing error will haunt you all the time.
6. Plex built-in transcoder doesn't yeild H265 outputs. When you load and transcode 4K HDR HEVC x265 video, Plex will transcode 4K HEVC HDR to 1080p H264 SDR. The whole process contains video codec conversion, as well as video definition degradation, which might chew up power on underpowered Plex server device.
7. Quality loss. Plex does not currently do color mapping from HDR to SDR. The resulting HDR will have washed out colors.
Better Solution to Hardware Transcode Plex 4K without High Demands!
Transcode Plex 4K HDR & BluRay rips with an external yet professional 4K converter - WinX HD Video Converter Deluxe.
Unlike Plex built-in transcoder, this one doesn't require you to upgrade your hardware configurations (server & client devices) to a much higher level to handle 4K transcoding. Instead, you only need to make sure your device featured with GPU hardware acceleration tech. Then, leave the rest to WinX. It's packed with advanced GPU HW acceleration tech (Intel QSV/Nvidia/AMD) to help you hardware transcode 4K HEVC to 4K H264 (if you insist on 4K definition) or downscale 4K HEVC to 1080p HEVC (if you wanna keep HEVC codec) at 5X faster speed.
On top of this, its 420+ output profiles are well-prepared for you to convert any video to Plex supported MP4, MKV, MOV, AVI, ASF, TS, WMV, etc. for storing in Plex library and later local or remote smooth streaming. No subscription fee, you're allowed to free add external subtitles to Plex movies/TV shows without transcoding.
How to transcode Plex 4K video at GPU accelerated speed
After free downloading and installing the 4K video converter, fire it up on your computer.
Step 1. Click "+ Video" button to load the 4K HDR/Bluray ripped video you need to hardware decode and re-encode.
Step 2. On Output Profile panel, choose a format that Plex supports, such as MP4 (4K/2K) Video profile under General Profiles. Alternatively, you can choose a profile based on which client device you are using, be it iPhone 11/Pro Max, iPad, Samsung, Huawei, Xbox, PS5/4, etc.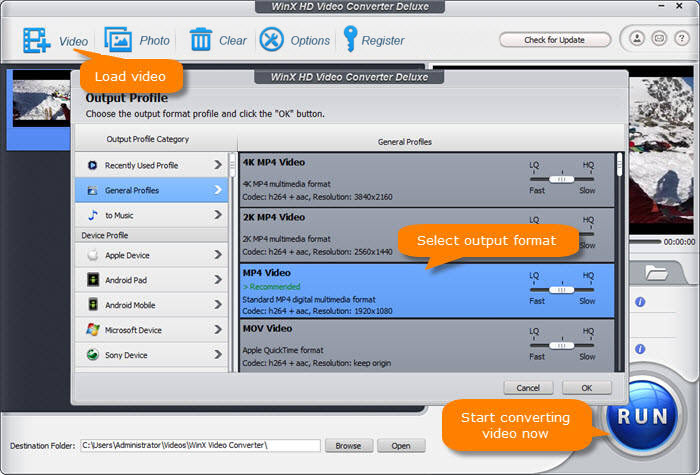 Step 3. Click the setting button to lower 4K to 1080p if necessary. Bit rate, frame rate, aspect ratio, audio codec, channel, etc. are also available to tweak for better compatibility and more smooth playback.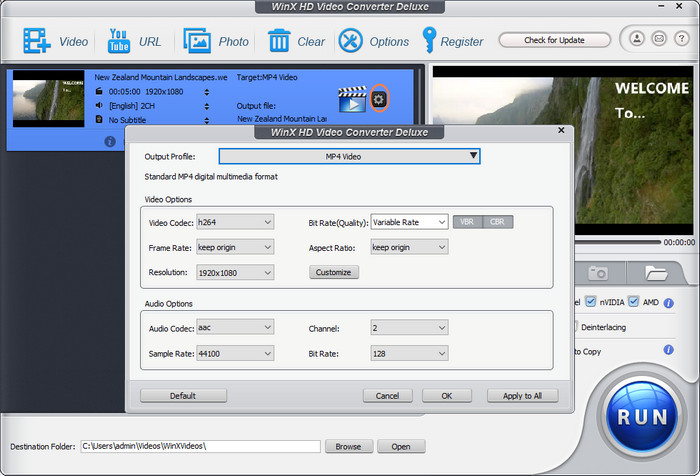 Step 4. Tap RUN button to call it begin. Intel/NVIDIA/AMD hardware accelerator will be auto enabled to boost decoding and encoding speed. Once finished, you can load the transcoded 4K footages to Plex library for Direct Play or streaming to clients without buffering/freezing.