2021 Best NAS for Plex Media Server [4K Transcoding]
Plex is an incredibly popular media server software option that will host and stream all your music, movies, shows, and more in one location. When you build your Plex Media Server, you may need a Network Attached Storage (NAS) drive rather than connecting to a single PC to get the most out of Plex. But how do you know which is the best NAS for Plex server? Some websites recommend Synology and some others pick QNAP. In this article, we'll show you how to select the best NAS you can buy for Plex streaming.
Content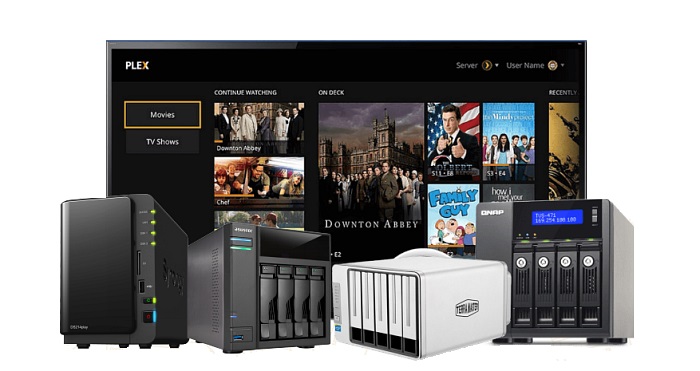 How to Select the Best Plex Media Server NAS?
• Capacity
When you select the right NAS for Plex, consider how much data the device can hold. 1) The storage of the NAS should be enough to store all your media; 2) Think what you're going to store in the future. You'd better buy a NAS with "CURRENT STORAGE + 20%" capacity for the long run; 3) A good NAS should have RAID to help back up the data in case of a hard drive failure. However, RAID will reduce the available storage capacity of a NAS, e.g., RAID 1 will automatically write data on 2 drives for backup.
• HD/4K Transcoding Capabilities  
For a start, although a 4GB 1080p MKV file may look incredible on a Smart TV, it's full of lags and errors in the case of Plex 4K MKV playback on your iPad. Then the NAS will automatically try to transcode the media file to a format that the Plex apps on the destination device can use. However, only a small number of NAS devices can offer enough power for 720P video transcoding, let alone 1080P and 4K resolutions (check Plex NAS compatibility here>>). If your Plex server has a big mix of high-resolution media, you'd better spend more on a high-end NAS for 4K Plex. According to Plex, you'd better get a NAS based on:
* No transcoding: Intel "Atom" 1.2GHz (NAS devices based on ARM processors should also be able of at least one stream with no transcoding)
* Single 720p transcode: Intel Core i3 3.0 GHz
* Single 1080p transcode: Intel Core i5 3.0GHz
* Single 4K transcode: Intel Core i7 3.2GHz
• CPU
The processor is an important factor to consider when selecting the best NAS device for the Plex server. There're generally two processors for NAS - x86 and ARM. Which should you go for?
* X86 processor: A high-end chip that is powerful enough for various tasks. With newer processor versions, it's able to handle transcoding across different Plex-enabled devices all the way up to 1080P and even 4K. The processors are typically found in the majority of QNAP and higher-end Synology NAS devices.
* ARM Processor: ARM-based processors are more power-efficient but less powerful than x86. That means it's not able to transcode videos at 4K, 1080P, and even have trouble with 720P videos. They are often found in the home and small business Plex NAS devices.
[Recommendations] Best NAS for Plex Server
1. Best Synology NAS for Plex Sever
The Synology is known for making the best NAS for Plex server that is affordable and usable for small businesses. Its NAS drives are famous for the DiskStation Manager software (DSM) that make devices incredibly accessible and versatile. While there are few NAS that's able to handle UHD videos, Synology upgrades its CPUs to offer software transcoding of 480p and 720p in almost all the modern Synology NAS models. Below are the best Synology NAS models for Plex 4K streaming that support hardware transcoding of up to 4K H.264 videos.
| | | | | | |
| --- | --- | --- | --- | --- | --- |
| Model | CPU | Drive Bays | RAM | 4K Support | Price |
| DS218+ | Intel Celeron J3355 | 2(expandable to 4) | 2 GB DDR3L (max 6 GB) | Yes | ~$569.99 |
| DS918+ | Intel Celeron J3455 | 4 (expandable to 9) | 2GB DDR3L (max 6 GB) | Yes | ~$549.99 |
| DS920+ | Intel Celeron J4025 | 2 (expandable to 5) | 4 GB DDR4 (max 8 GB) | Yes | ~$549.99 |
| DS1019+ | Intel Celeron J3455 | 5 (expandable to 10) | 8GB DDR3L | Yes | ~$649.99 |
2. Best QNAP NAS for Plex Sever
QNAP is another big provider of NAS for Plex media server. However, QNAP units can transcode Plex Media Server more efficiently than Synology counterparts. If you're looking for a Plex NAS that will get things done faster as well as get more truly one-of-a-kind hardware options such as Thunderbolt connectivity, multiple HDMI ports, Direct USB access, Power over Ethernet LAN support, and stereo speakers, go for a QNAP unit. Below are some of the best QNAP NAS with Plex support for hardware transcoding 4k videos.
| | | | | | |
| --- | --- | --- | --- | --- | --- |
| Model | CPU | Drive Bays | RAM | 4K Support | Price |
| TS-253Be | Intel Celeron J3455 | 2 | 8GB DDR3L Memory | Yes | ~ $999.00 |
| TS-453Be | Intel Celeron J3455 | 4 | 4GB DDR3L (max 8GB) | Yes | ~$1,269.00 |
| TVS-672N-i3 | Intel Core i3-8100T | 8 | 4GB DDR4 (max 32GB) | Yes | ~$1,280.00 |
| TVS-882 | Intel Core i3-7100 | 8 | 8GB (64GB max) | Yes | ~ $1,895.00 |
3. Best TerraMaster NAS for Plex Server
TerraMaster is quite popular among users for its budget-friendly NAS for Plex as well as a general-purpose NAS. If you're on a tighter budget, you may want to consider a TerraMaster NAS for Plex. The models with an F prefix are solid options for most homeowners and office applications. For example, its F2-221 model is a more affordable model that can compete with Synology DS218+. Check the best 4K NAS for Plex server from TerraMaster that supports 4K video transcoding.
| | | | | | |
| --- | --- | --- | --- | --- | --- |
| Model | CPU | Drive Bays | RAM | 4K Support | Price |
| F2-221 | Intel Celeron J3355 | 2 | 2GB DDR3 (6GB max) | Yes | ~ $249.99 |
| F2-420 | Intel Celeron J1900 | 2 | 4GB DDR (8GB max) | Yes | ~$299.99 |
| F4-422 | Intel Celeron J3455 | 4 | 2GB DDR3 (8GB max) | Yes | ~ $499.99 |
| F5-422 | Intel Celeron J3455 | 5 | 4GB DDR (12GB max) | Yes | ~$599.99 |
4. Best ASUSTOR NAS for Plex Sever
Asustor NAS is another brand recommended by Plex. Asustor provides a wide range of NAS solutions ranging from entry-level devices to enterprise-class models. Asustor NAS have a user-friendly ADM interface, convenient file sharing, a better degree of support for 4K HDMI than competitors, and support for an incredible lineup of applications for modders and PC tinkering types, etc. Below are some of its most popular NAS for 4K Plex.
| | | | | | |
| --- | --- | --- | --- | --- | --- |
| Model | CPU | Drive Bays | RAM | 4K Support | Price |
| AS5304T | Intel Celeron J4105 | 4 | 4GB SO-DIMM DDR4 (8GB max) | Yes | ~ $502 |
| AS6404T | Intel Celeron J3455 | 4 | 8GB SO-DIMM DDR3L (8GB max) | Yes | ~ $460 |
| LOCKERSTOR 10 AS7110T | Intel Xeon E-2224 | 10 | 8GB (64GB max) | Yes | ~ $2400 |