Emby vs Plex, Price, Plugins, Streaming, Transcoding, Safety...
Emby and Plex are similar media servers that giving users access to their videos, music, and other media files, and stream content to multiple devices like TVs, computers, Android/iOS devices, game consoles, etc. However, they are also a bit different. Here we compare the key features as well as the pros and cons of Emby and Plex to help you decide which one to choose from, such as price, plugins/addons, transcoding, local streaming, safety and legacy, device compatibility, to name a few.
Click here for more good home media server software here>>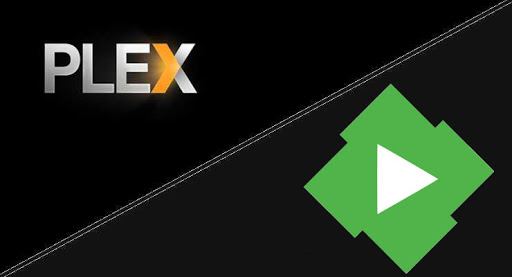 Emby vs Plex - Price
Plex Premiere: $4.99/Month,$119/One-time.
Emby Premiere: $4.99/Month, $54/Year, $119/One-time.
Plex and Emby's premium plan prices are the same. You can decide whether you need a subscription or not. Additional features of Emby Premiere and Plex Pass can be found on their official sites.
Emby vs Plex - Plugins/Addons
Emby and Plex support third-party add-ons to extend functionality. Plex discontinued its plugin directory, which narrows down its plugin choices. However, there are still tons of addons, official, and unofficial channels to install for Plex. Check the top 100 best plugins/addons for the Plex media server. In terms of plugins, Plex has more advantages since Emby is a much newer program, there are fewer add-ons to choose from to install for Emby.
Emby vs Plex - Streaming
Plex allows users to local stream content to various devices without the need to subscribe to Plex Pass. Emby users have to update to premiere to get full access to Emby for Android, Fire TV, iOS, Xbox One, and PS4. Free members have more streaming limits using Emby, which is one of the biggest advantages of Plex over Emby.
Emby vs Plex - Offline download
The offline download is a premiere feature on both Emby and Plex. If you are away from home and want to stream remotely through Plex and Emby, you have to update to be a premier member of the server.
Emby vs Plex - Safety and Legacy
Emby and Plex are media servers allowing users to stream media files including movies, TV series, music, etc. across different devices. Whether you're direct streaming content through Emby or Plex or downloading a media file, it's important to avoid legacy and safety issues. Both Emby and Plex are safe and legal. However, it's illegal to free download movies online or torrent and add these media files to Plex or Emby for viewing and sharing. Know more about Plex safety and legacy.
Emby vs Plex Transcoding
Some users report noticeable differences between Emby and Plex in transcoding HEVC content. Emby on LG TV direct plays most HEVC files, Plex doesn't directly play but transcodes HEVC files to device supported format quickly and the image quality is great. However, on a Samsung TV, Emby doesn't give a clear image after HEVC transcoding. Emby sometimes stutters and skips at the beginning during transcoding. Both Plex and Emby don't support hardware-accelerated transcoding. Generally, Emby seems to be equipped with a better transcoder that gives faster and more efficient transcoding performance, especially with 4K content.
Emby vs Plex User Support
Plex closed treads about programming issues. Emby answers questions in the forums quickly and fixes bugs as soon as they can. A new program seems to focus more on user experience and show a better attitude to users. Some users complained that they got sick and tired of the attitude of the Plex team.
Emby vs Plex - Device Compatibility
Plex has a wider range of devices support, which is one of the big advantages over Emby.
Plex supported devices:
Smart TVs: LG, Samsung, Sony, Toshiba, VIZIO, and Roku TV
Browsers: Chrome, Edge, Firefox, and Safari
Mobile Apps: Android, iOS
Tablets: Android and iOS
Desktop/Laptop computers: macOS, Windows
Streaming Devices:
Amazon Alexa
Amazon Fire TV
Android TV
Apple TV
Chromecast
Roku
Sonos
TiVo
Gaming Consoles: PlayStation 4 and Xbox One
Emby supported devices:
Android, iPhone, iPad, Windows Phone, and Windows Tablets.
Android TV, Amazon Fire TV, Chromecast, Roku, Xbox, Home Theater Computers, and more.
Emby vs Plex - Who Is the Winner?
Plex pros and cons:
Pros: More legal free content, easy setup, and navigation, a wider range of device support.
Cons: No instant answers to program issues, have to pay for advanced features such as Live TV, offline download, etc.
Emby pros and cons:
Pros: More customization, more user privacy.
Cons: sometimes buggy, remote streaming connection issue.
Conclusion: Plex is a more polished program and Emby is a newer server. No such app is perfect. Both Plex and Emby have their advantages and disadvantages. It depends on your preference.