[Updated] Best 100 Plugins/Addons for Plex Media Server
Plex Plugin Directory has gone, but users can still manually install plugins to Plex. To do so,
1.Download the plugin bundle shared on the Plex forum or GitHub. Unzip the archive when necessary.
2.Move the plugin bundle into the Plug-Ins folder on your computer running Plex Media Server.
3.Restart Plex to ensure the addon you add will be loaded successfully.
Now, grab some useful plugins to get more out of Plex. Here's our list of best Plex plugins 2020.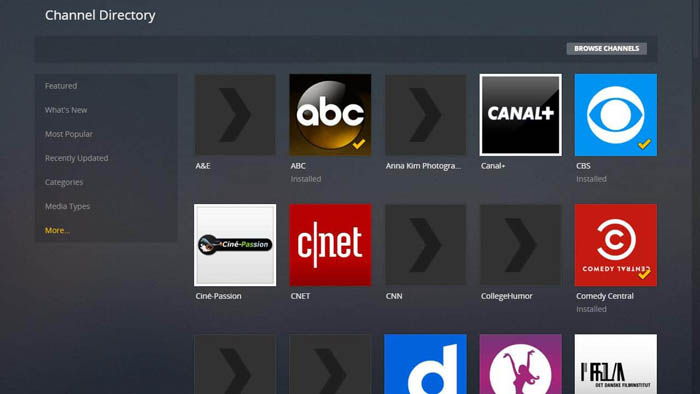 Most Popular Plugins to Add to Plex Media Server
• Tautulli
Tautulli (also known as PlexPy) is a Python-based web application, helping view activity and track various statistics about your Plex Media Server, including what has been watched, who watched it, and the time and place the content was watched. You can also use Tautulli to inform others of new content added to your library.
• Sonarr
With the Sonarr plugin being added to your Plex, you can view your TV shows, queue, missing episodes, add new series to your library, auto search, delete, update shows and series, and more. Download its zip from GitHub, unzip the file, rename the file to Sonarr.bundle, move the bundle folder to your Plex Media Server Plug-ins. Restart your Plex Media Server to detect the plugin.
• Sub-Zero
Sub-Zero is an additional plugin for Plex used to searches subtitles and automatically pick the best matching subtitles with the highest score and download it for you. With Sub-Zero you can watch movies and TV shows with better subtitles. Many users choose Sub-Zero instead of the built-in OpenSubtitles agent because the latter may pick bad subtitles for media files.
• CBS
The CBS plugin for Plex allows you to watch episodes from a few CBS shows for free, requiring no provider login. You can download the CBS plugin for Plex from GitHub and manually install it. Note that the CBS plugin only works within the US. Some users reporting videos not playing from this plugin. Try disabling Direct Play or Direct Stream.
• YouTubeTV
It is a good alternative YouTube plugin for Plex, supporting subscriptions, playlists, channels, live streams, and more. The plugin is much faster than the Plex YouTube plugin and doesn't require a Google account login. Other features include navigation like YouTube apps, pagination and regional settings, YouTube content localization by region preferences.
A-Z List of Best Plugins for Plex Media Server
A: Afdah.tv, AirFoil, AnimePlus.tv, ArgusTV Metadata Agent, ARTE TV
B: BBC internet radio, Big 12 Sports, BitTorrent
C: CcloudTv Channel (IPTV), Channel 131, ClipHunter / PicHunter, CouchPotato
D: DailyMotion, DanceTelevision, Daum Movie, Dreambox
E: Einthusan channel (Indian movies), Engsub, Epic Meal Time, EyeTV
F: Facebook, FlickrExplorer, FoodNetwork.ca, Freeform, Fulham FC, Filebot
G: G2G.fm Thread no longer available, GlobalNews.ca No longer available, Golf Channel
H: HanimeTV, Haystack TV News, HDMoviesDownload.Pro, HGTV.ca (This is not the US version from the Plugin Directory)
I: IPTV, ITV Player (UK)
J: Jav789, JavBuz, 18+ Channel, JavHiHi
K: KissAnime, Kisscartoon, KissNetwork
L: LihatTV, Live Sports, LiveTVH, Local Metadata Agent
M: MediaPortal Live TV, Movie2k, MovieGo, MTV Networks Channel - Channel for MTV, VH1, CMT and LogoTV, MyTF1, MythTV
N: NBC, NBCSports, NFL Network, NHK World (LIVE + VOD)
O: Onlinemovies.pro, Open Plex Home Theater
P: Pandora, Plex-Export *, PlexPod, PlexTools *, PLinkTV, PornHub (XXX), Podnapsi subtitle agent
R: RedTube, RFC New Series Scanner, RSS Feed, RTL-TVI
S: SBS, Scripps Networks Channel, Shahid, Simkl, SmugMug, Sonarr Metadata Agent, Spotify2, Sputnik.dk, Sub-Zero, SVT Play
T: Tautulli, TiVoToGo, TOU.tv, TV Land, TWiT.TV, Trakt
U: UFilx Channel, USA Network
V: VideoJug, videoprobki (плагин), VideoRip, View47.com, VilanoiseTV
W: Wake on LAN (WOL) Plugin for Plex *, Webisodes, WebTools
X: XTV IPTV Channel
Y: YouTube Metadata Agent, YouTubeTV
Z: Zumvo.com