2023 Easiest Way to Rip DVDs for Plex & Add Movies to Plex
How to fast rip DVD for Plex server in 3 simple steps? WinX DVD Ripper Platinum is the best software to choose.
Q1: I have a large DVD collection and I'm looking to rip my DVDs to add to my Plex server. I use MakeMKV to convert them to MKV files. But I don't think MKV is the best format to rip DVD to Plex since MKV is too large (about 5GB) and will soon make my 2TB drives full. What is the best practice for ripping DVDs for Plex? Which DVD ripper program can convert DVD to Plex at a fast speed?
Q2: Want to rip my own DVDs to Plex Media Server so I can access to watch from a Plex whenever I want to view them? What are the best method/software/settings for this? I have a Windows 10 PC...
Plex can stream content to any computer, streaming player, game console, smart TV, and mobile, provided that you can bring your own movies, TV and music to the party. A lot of users choose to build their Plex movie libraries by ripping DVDs they already own. Here, we come to the crux of the issue. How to rip DVDs for Plex and add DVD movies to Plex? What's the best software for ripping DVD to Plex? What's the optimum format for ripping DVDs for Plex, and how to fast copy DVD to Plex with best quality in a smaller file size? Keep reading.
Part 1. What are the Best Settings for Ripping DVDs to Plex?
Before we start ripping DVD movies for Plex, let's figure out which formats Plex Media Server can accept. In addition to DVDs, Plex doesn't support other disk image formats such as ISO image, Video_TS folder, BDMV, and IMG. According to Plex, almost all media files can be played on Plex via Direct Stream or after transcoded. To avoid further transcoding in Plex media server and ensure the best quality, you'd better rip DVDs to Plex Direct Play supported formats, namely ASF, AVI, MOV, MP4, MPEG, MKV, and WMV (see full list here).
Here are the best settings for ripping DVDs to Plex:
Container: MP4 (H.264+AAC)
Video Encoding: H.264 (level 4.0 or lower)
Audio Encoding: AAC
Resolution: 1920×1080 or smaller
Video Framerate: 30fps
Video Bit Depth: 8
Part 2. What's the Best Software to Free Rip DVD for Plex?
Do a Google search, you can find some DVD ripping tools. Among the free tools, there are famous MakeMKV and Handbrake. Which is the best to rip movie and TV shows from DVD for Plex? MakeMKV just extracts the video and audio from DVD without quality loss. It's fast but the output MKV file is very large. Handbrake also outputs a large file about 6GB when ripping a full DVD movie to MP4. It can't rip a protected DVD to Plex. Worse still, it runs sluggish and often crashes in the middle of process.
Best Free Tool for DVD to Plex Ripping - WinX DVD Ripper [100% Free and Safe]
It's the best tool to easily and fast convert DVDs to Plex formats with best quality in a smaller file size:
It can rip DVDs to Plex supported formats such as MP4, MOV, MPEG, WMV, MKV, and 350+ presets without quality loss.
It can rip all encrypted DVDs to Plex, incl. DVDs with region codes, RCE, CSS, bad sectors, 99 titles, ARccOS, UOPs, APS, etc. without using 3rd-party software. You can build your own Plex movie library with DVDs bought from store or burned by yourself.
It rips DVDs to Plex MP4 at a 5x faster speed than others with support for Intel/NVIDIA hardware acceleration, multi-core CPU, and Hyper-threading tech.
It can adjust video/audio change resolution, trim, crop, merge, deinterlace, add external subtitle.
Part 3. How to Rip DVD to Plex with WinX DVD Ripper in 3 Simple Steps?
Free download and install the free DVD to Plex ripper on your desktop, then follow the step-by-step instruction below:
Step 1. Load the source DVD you want to import to Plex.
Insert the DVD disc to the DVD-ROM and launch the DVD movie to Plex ripper. Click on the DVD Disc button to import the DVD. It helps back up all your DVDs to the Plex media server. Namely, if the DVD is protected, it will detect the encryption, remove it, and automatically find the correct title of the DVD. Then a window will pop up to let you customize the DVD to Plex ripping settings.
Note: You can also load ISO image and Video_TS folder and convert them to Plex compatible formats.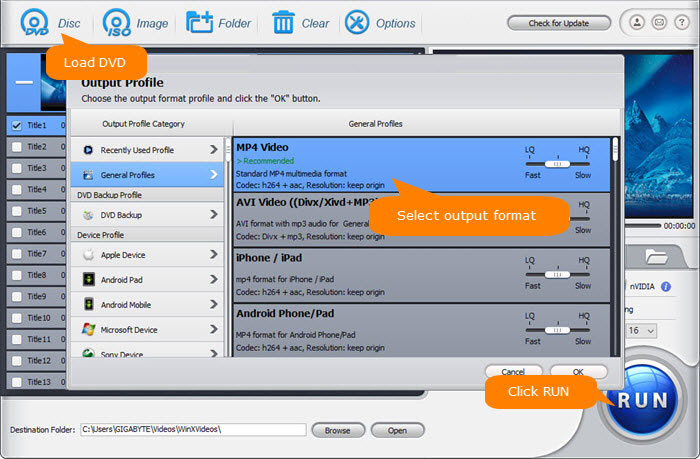 Step 2. Adjust the DVD to Plex ripping settings.
To rip DVD movies to Plex, go to General Profiles and select MP4 Video (h264+aac) at the profile library. Then click OK.
Back on the main interface, click the setting icon next to the selected profile, you can adjust video audio parameters. But if you don't know parameters very well, just keep them as default which are the best settings for your Plex.
You can also click on the selected title to choose the preferred audio track and subtitle you'd like to store in Plex.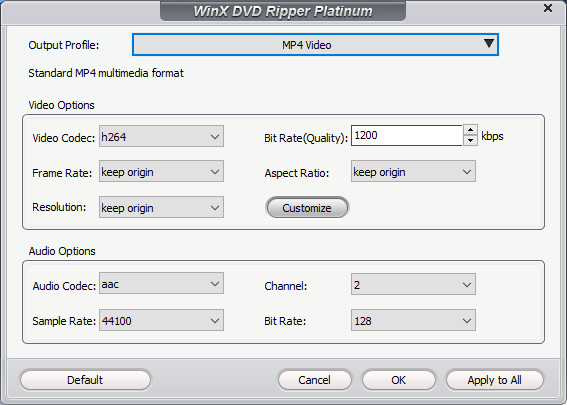 Step 3. Get DVD ripping started.
Next, click on the Destination Folder to set an output folder for the converted DVD movie. Then click the RUN button to rip DVD for Plex at lightning speed with best quality. Minutes later, the DVD video will be saved in the destination folder in an format of Plex. Then you can add the ripped DVD video to Plex media server.
Disclaimer: Digiarty Software shares steps to build Plex movie library with users' own DVDs and strongly discourages ripping copy-protected DVDs for any commercial purpose. Please refer to the DVD copyright laws in your countries before doing so.
Video Tutorial: How to Rip and Add DVD Movies to Plex Library for Easier Playback
Part 4. How to Add DVD Movies to Plex Media Server?
Option 1: How to build Plex movie library for the first time?
Step 1. Download and install Plex Media Server. When the installation is finished or when the server is run for the first time, a browser will pop up and ask you to either sign in or sign up.
Step 2. Set Plex to search specific folder for media. Here you can set Plex to search the folder where your DVD rip files are stored, such as C:\Users\GIGABYTE\Videos\WinXVideos\. Once done, your DVD movies will be displayed in the media list. So, that's how to add DVD movies to Plex when installing Plex.
Option 2: How to add DVD movies to Plex with Plex already installed?
It's easy. Just store the movies into the folder you specified for movies when setting up Plex. Plex will automatically scan the folder for changes and update your media list. Alternatively, you can force Plex to scan your folder: go to the Library in Plex and click Update Library.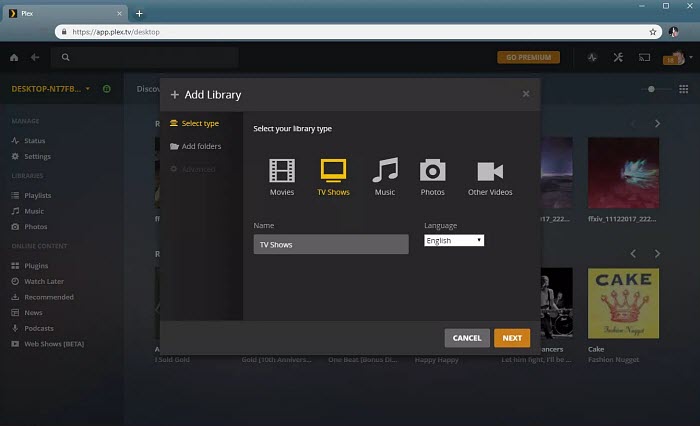 Option 3: How to create a movie library in Plex?
Click the setting button to open the settings menu.
Ensure that the correct Plex Media Server is selected within the settings menu.
Under the Manage section of the settings menu, select Libraries.
Click Add Library.
Select your library type: Movies, TV Shows, Music, Photos, or Other Videos.
Name your movie library and choose language.
Click BROWSE FOR MEDIA FOLDER to add the folders with the ripped DVD movies.  
Choose the folder to add then click ADD .
Once you've added all the source folders for this library, click ADD LIBRARY.
After you have added the DVD movies to Plex media server, install Plex app on any of your devices. Then you can stream and watch the DVD movie videos from Plex anytime and anywhere you want.
Part 5. FAQs about Ripping DVD to Plex
1. Can Plex rip DVD and ISO images?
No. Plex doesn't support DVDs, ISO images, IMG, and disk image formats, such as Video_TS folders, and BDMV. So you need to convert DVDs to more common and compatible media formats for Plex.
2. How to convert DVDs for Plex?
As Plex can't rip DVDs itself, you need a third-party software for it. You can either remux DVD movies for Plex with the original quality using MakeMKV. But this will produce quite large output files (an MKV file from a DVD will take about 4~8GB). You can also rip DVDs for Plex in much smaller files such as MP4 using WinX DVD Ripper or Handbrake. But this will take longer time and there will be some quality loss.
3. How to convert DVD to Plex on Mac?
WinX DVD Ripper for Mac can help rip DVD to Plex format on macOS Ventura, Monterey, Big Sur, catalina and earlier.
Step 1. Insert DVD into DVD drive and click DVD Disc button to load it into WinX DVD Ripper for Mac.
Step 2. Choose an output format that Plex can read. MP4 is recommended.
Step 3. Hit RUN to start ripping DVD for Plex on Mac computer.
4. How to use HandBrake to rip DVD for Plex?
Handbrake itself can't convert all your DVDs to Plex. In other words, to handle any protected DVDs, it requires libdvdcss to remove the DRM.
Step 1. Insert DVD into DVD drive (if you have any commercial discs, please download and install libdvdcss for Handbrake first).
Step 2. Open HandBrake and select your DVD. Then, HandBrake will take a while to scan it.
Step 3. Select the title and chapters you want to save.
Step 4. Choose a preset and format that Plex can accept.
Step 5. Specify output file name and save path.
Step 6. Click Start Encode and then HandBrake will begin ripping DVD for Plex.
5. How to use MakeMKV to back up DVDs to Plex?
MakeMKV is a good choice if you want to back up DVDs in Plex media server with 100% original quality. It outputs MKV only so you can't adjust any DVD to Plex setting. It's also the top choice to rip Blu-ray movies to Plex. Meanwhile, a single MKV file of a DVD rip will be somewhere between 4 and 8GB depending on the content so make sure the Plex medis server is running on a device with large storage space.
Step 1. Insert DVD into DVD drive and download MakeMKV on Windows/Mac.
Step 2. Open MakeMKV and click the big optical drive button. MakeMKV will read the DVD and then display the DVD info.
Step 3. You can click on the disclosure triangle icon next to the disc to select the title and tracks you'd like to store in Plex.
Step 4. Click on the MakeMKV button to start.
6. How to rip Blu-ray for Plex streaming?
If you want to upload your Blu-ray collections to Plex server, you will need a Blu-ray DVD ripper to transcode it first. MakeMKV is a free tool that can remux Blu-ray discs for Plex streaming. It also supports Blu-ray discs with DRM protections. You can follow the steps above to rip Blu-ray for Plex streaming. However, an MKV output from a Blu-ray movie can take as much as 20-30GB in size. Meanwhile, MKV files are prone to A/V sync issues. You'd better transcode the MKV files to smaller MP4 using Handbrake.
5. Why your DVD rip file in Plex has black bars at the top/bottom and sides?
This is a problem with aspect ratio. Old DVDs usually use 4:3, while wide screen TVs use 16:9. If your TV doesn't upscale the video to fill the screen, you will see black bars when playing Plex movies.
Tips: When you rip DVDs for Plex, you should keep the aspect ratio same as the original DVD. WinX DVD Ripper has a option named keep origin.