How to Rip and Stream DVDs to Plex in 3 Simple Steps
How to fast rip DVD for Plex server in 3 simple steps? WinX DVD Ripper Platinum is the best software to choose.
Plex is a nifty streaming media server capable of storing users' movies, videos, TV shows, songs, photos, etc. on a central server. It allows users to access media content on all devices they love to watch anytime and anywhere. So, there are many people wondering how to rip DVD for Plex:
Q1: I have been using Plex Media Server for years. I have a large DVD collection more than 300 discs and I have been using MakeMKV to convert them to MKV files. But, I don't think MKV is the best format to rip DVD to Plex, since MKV is too large (about 5GB), and they almost make my 2TB drives full. So what is the best format for ripping DVDs for Plex? Which DVD ripper program can convert DVD to Plex at a fast speed? I tried Handbrake but it took such a long time. I want a good quality with a much smaller file size…
Q2: Want to rip my own DVDs to my Plex Media Server while remaining indoors due to COVID-19, so I can take my DVDs to storage and free up some space in my living room. Wonder what the best method/software/settings are. I have a Windows 10 PC...
Our article will cover everything you want to know about DVD to Plex, including what is the best software for ripping DVD to Plex, what is the optimum format for ripping DVDs for Plex, and how to fast copy and get DVD to Plex with best quality in a smaller file size.
Part 1 What's the Best Software to Rip DVD for Plex?
MakeMKV, HandBrake, and WinX DVD Ripper, which one to choose?
If you have read MakeMKV vs HandBrake vs WinX DVD Ripper, you should know that WinX DVD Ripper is the best way to go.
MakeMKV just extracts the video and audio from DVD, that explains why it is fast and why the output file is very large.
Handbrake also outputs a large file about 6GB when ripping a feature-length DVD movie to MP4 based on the test. Worse still, it runs sluggish and often crashes in the middle of process. Plus, the commercial DVDs aren't in their domain which they can handle with.
Related article: Best HandBrake Settings for Plex
WinX DVD Ripper covers the best format for Plex and can fast convert DVD to Plex format with best quality in a smaller file size. Now, let's check more details about WinX DVD Ripper.
It can convert DVD to MP4 (best format for Plex), MOV, MPEG, WMV, MKV, and more mainstreaming formats.
Plex doesn't support ISO image and VIDEO_TS folder. Never mind. WinX DVD Ripper can convert ISO and VIDEO_TS to Plex compatible format.
It also supports 1:1 clone DVD to ISO image and VIDEO_TS folder.
It can handle both home-made and copy-protected DVDs. No need to install 3rd-party software.
It rips DVDs at ultrafast speed thanks to the support for Intel/NVIDIA hardware acceleration, multi-core CPU, and Hyper-threading tech.
It allows adjusting output video/audio parameters, including change resolution, codec, bit rate, frame rate, aspect ratio, etc.
It comes with some video editing features: trim, crop, merge, deinterlace, add external subtitle...
Note: Please DO NOT use WinX DVD Ripper to rip rental DVDs. The following downloads are for Windows and Mac only. If you are a mobile user, please click here.
Part 2 What Is the Best Format for Ripping DVDs to Plex Media Server
Before getting into the guide of ripping DVD to Plex, let's first make clear which formats Plex Media Server can accept. Plex's media compatibility and video quality limitations vary by device. The typically native supported codec of Plex is MP4 (H.264+AAC).
Videos satisfying the following standards can usually be directly played with Plex:
Container: MP4
Video Encoding: H.264 (level 4.0 or lower)
Audio Encoding: AAC
Resolution: 1920×1080 or smaller
Video Framerate: 30fps
Video Bit Depth: 8
Related: Plex support article - What media formats are supported?
Part 3 How to Rip DVD to Plex with WinX DVD Ripper in 3 Simple Steps?
Free download and install WinX DVD Ripper on your desktop, then follow the step-by-step instruction below:
Step 1. Load the DVD you want to import to Plex.
Input the DVD disc to DVD-ROM. Launch WinX DVD Ripper and put the click on the DVD Disc button to import the DVD for ripping.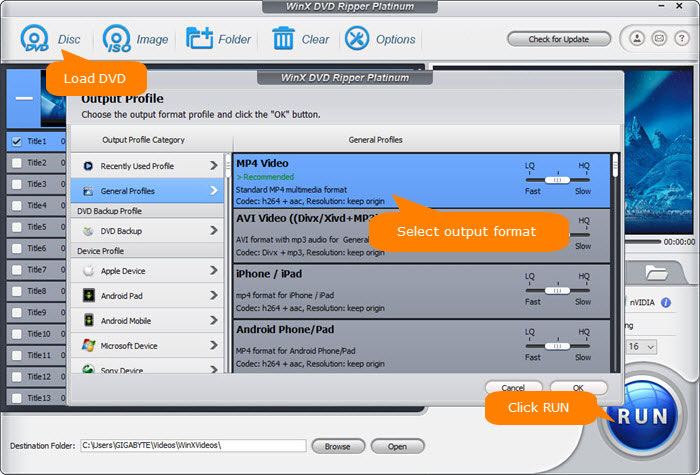 Step 2. Choose an output format that Plex supports.
You can go to General Profiles and select MP4 Video (h264+aac) at the profile library.
Click the setting icon, you can adjust video audio parameters. But if you don't know parameters very well, just keep the default settings which are the best settings for your Plex.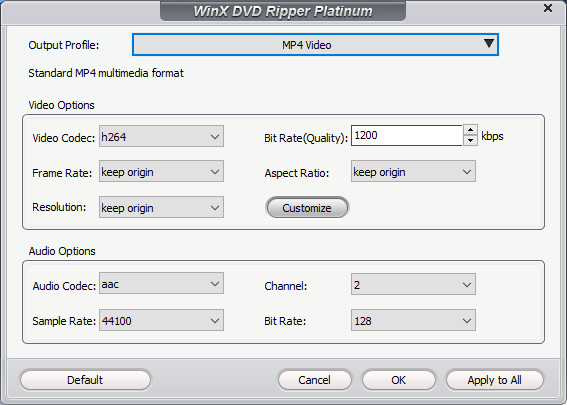 Optionally choose preferred audio track, subtitle, and output folder.
Step 3. Get DVD ripping started.
Hit the RUN button to rip DVD for Plex at lightning speed with best quality.
Disclaimer: Digiarty Software strongly discourages ripping copy-protected DVDs for any commercial purpose and suggests referring to the DVD copyright laws in your countries before doing so.
Video Tutorial: How to Rip and Add DVD Movies to Plex Library for Easiser Playback
Part 4 How to Add DVD Movies to Plex
Step 1. Download and install Plex Media Server. When the installation is finished or when the server is run for the first time, a browser will pop up and ask you to either sign in or sign up.
Step 2. Run Plex and click "Add Selection" and "Movies" to add the ripped DVD digital MP4 video to Plex.
Step 3. Install Plex app on any of your devices to stream and watch the DVD movie video anytime and anywhere you want.