Home > Rip DVD/Blu-ray Index > Rip DVD to Media Server
How to Rip DVD to Media Server and Transfer DVD to Plex, NAS, Roku, DLNA Server?
What Is the Best Way to Rip and Backup DVD to Media Server?
"I have a large personal DVD collection that I rip and store on a NAS drive running as a PLEX Media Server that allows me to watch conveniently. I normally use Handbrake to rip, but have experienced issues with some of the latest DVDs that I purchased."
How to Convert and Rip DVDs to Digital Files for Media Server?
DVD is a physical media that is only limited to being played by DVD player device provided with DVD-ROM. For playing more flexibly, transferring it into a media server would be a popularly acceptable way. To rip DVD to media server, many people is used to using HandBrake. However, the tendency becomes changed. On one side, HandBrake does not support copy protected and especially the latest DVDs natively; on the other side, it has more and more issues now such as not encoding fully.
To copy all kinds of DVDs to Plex/NAS home media server more smoothly and easily, you are suggested to turn to a professional DVD to Media Server ripper for Windows 10, Windows 7/8.1/XP/Vista PC or MacBook, iMac, Mac Pro, and more.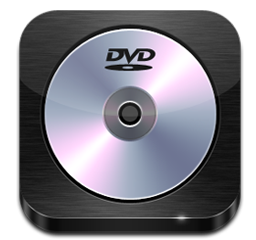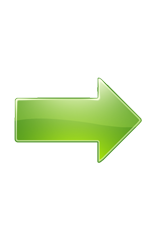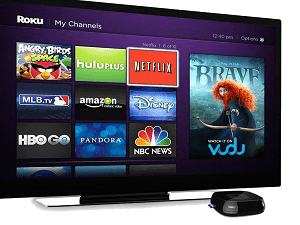 Download the Ace DVD to Media Server Ripper
Fast rip any DVD to digital files for putting in media server.


WinX DVD Ripper Platinum offers a comfortable interface to carry out DVD ripping operations as easy as possible. - Ionut (Softpedia Editor)
A mass of our customers own a large DVD collection each with hundreds/thousands or even more movies. They always need to rip DVDs to media server to store, manage, serve, stream or watch them. Copying DVD movies to media server may have more usages than you think, for example,
* Using Plex Media Server to stream to the various devices (PS3, Google Chromecast, etc.) that family uses;
* Loading DVD movies into so that kids do not destroy them.
* Opening the file directly on PC with Media Player Classic Home Cinema.
* Downloading DVDs to a media server (Mac Mini) using an external drive connected to the Mac Mini Server.
Just to name a few.
This article casts into two parts:
How to convert and rip DVDs to digital files for media server?
How to transfer DVD movies to media server for streaming?
What Is the Best Format to Rip DVD to Media Server?
Frequently, users ask which format is the best one for Media Server. It's difficult to give a simple answer because it has various decisive factors, including your preferences and usages of such. Before jumping to conclusions, a quick word on the suggested video formats in different situations:
- If you want to preserve everything on a DVD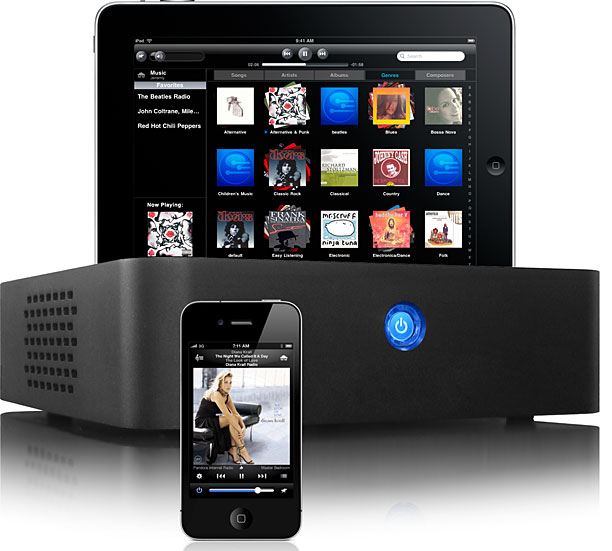 The best output format should be ISO or MPEG.
ISO is the exact digital copy of a disc in terms of movie content and structure. It will include all movie's information as titles, audio languages, subtitles, cover, title, year, category, classification, author, actors, summary. But the size of an ISO image file would be extremely large. >>See How to Copy DVD to ISO
Similarly, MPEG/MPEG2 file converted from a DVD also contains the full information of the original, but the output file will be much smaller. More differently, choosing "Main Title Content Copy" in "DVD Backup" feature by using Winx DVD Ripper, you can get the fastest copy speed in the world while being able to change audio language and manage subtitles. One more thing.mpg file is generally friendly with TVs.
- If you are not overly concerned about file size, and would prefer the best-quality video and audio possible
The best container format would be MKV, which would be widely accepted by kinds of media servers. It is the standard of HD video in Blu-ray or 1080p quality, and would preserve any multichannel audio (i.e. 5.1 surround sound). The file size may range from 4GB to 7GB.
- If you are using Roku media server
Video formats supported by Roku only cover MKV (H.264), MP4 (H.264), MOV (H.264), WMV (VC-1, firmware 3.1 only). The most recommended video formats would be MP4, MKV, H.264 and audio formats go to AAC, AC3 and DTS.
- If you want to seek a good balance between quality and size
MP4 (MPEG-4 Part 14) would always be the answer. MPEG-4 video is the most universal format that is the best choice for playing or streaming movies onto Apple, Android, Microsoft and Sony devices like HDTVs, iPhone, Apple TV, Mac, Samsung smartphone, Xbox, PS3 and PSP. Barely any player and gadget does not support MP4. Besides, it has a better video compression, so it can deliver a good quality outcome in small file size comparatively. >>See How to Rip DVD to MP4
How to Rip DVD for Roku/NAS/Plex Media Server?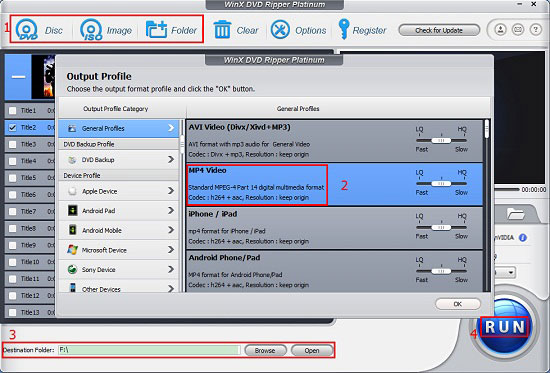 Step 1. Load DVD source.
After downloading

and installing WinX DVD to Media Server Ripper on Windows or on Mac, you'll open up a whole new world of mission control over your personal media collection. Let the following steps guide you:
Step 2. Launch the DVD ripper, click "DVD Disc" button on the UI and let the DVD be added and loaded.
Step 3. After the main movie title be analyzed and selected by the program (if not the desired one, you can change it), choose an output video format such as MP4, H.264, WMV, MOV, MKV (in Mac version) as recommended above, or output device format such as iPhone 7, iPad Air, Samsung Galaxy S7, Apple TV 4 and PS4. It has over 350 profiles for you to choose and get ready for streaming via Plex media server, Roku or NAS.
Step 4. Define an output folder.
At the "Destination Folder" Section, click "Browse" and set any disk on your computer to save the to-be-converted files.
Step 5. Start ripping the DVD to media server.
In this step, you are supposed to:
Tap "RUN" and the DVD decrypting and conversion will happen at the same time. In this way, you can get a ripped digital movie file on your computer hard drive.
Disclaimer: Digiarty Software does not advocate ripping copy-protected DVDs for any commercial purpose and suggests referring to the DVD copyright laws in your countries before doing so.
How to Stream or Store DVD Movies with Plex or Roku Media Server?
If you are to use/are using Plex:
Step 1. To transfer DVD/Blu-ray movies to Plex, first download, install and launch Plex app.
Step 2. Create a Plex account.
Step 3. Add library by clicking "Add Section" button and selecting "Movies".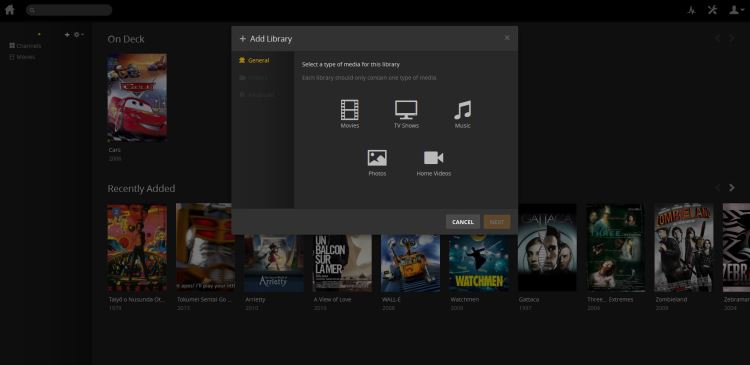 Step 4. Select the DVD rips you want to add and click the Add Folder button.
Step 5. Tune into Plex and by use of DLNA-friendly device (like DLNA-receptive set-top box, gaming console, a Chomecast) to stream the movies to different devices. Thus, you can create a digital library for use around my home by my family.
How to rip DVD to media server you are to use/using Roku?
Step 1. Transfer the digital DVD/Blu-ray copy to a USB file, external hard drive or SD card before connect it to Roku.
Step 2. Install Roku USB Media Player Channel from Roku Channel Store.
Step 3. Home -> Roku USB Media Player channe -> find and select the converted DVD movie in the channel.
Step 4. Stream the DVD rips to HD TV via Roku then. >>Details about ripping DVD to Roku
Note: If you want to transfer and sync movies to iPhone/iPad much easier than using iTunes, please try WinX MediaTrans.
Highlighted Features of the DVD to Media Server Ripper

• WinX DVD Ripper Platinum excels in DVD ripping speed with Super Encode Engine based on MMX- SSE & 3DNow! and Hyper-threading tech.
• It is the most powerful software to rip copy-protected DVDs (for personal use only. No distribution or commercial use).
• It has 350+ built-in profiles, including all popular video formats and devices such as Chromecast, Roku, Huawei Mobile, Amazon Fire phone, Fujitsu, Aquos, Apple TV, and more.
• It can also clone DVD disc to ISO image at 1:1 ratio, or to MPEG2 files with all or selectable subtitles and language tracks.