> DVD Ripper > DVD to MP4
2017 Guide: How to Convert DVD to MP4 on on Windows (10) or macOS (High Sierra) Computer Most Easily
Follow this guide to convert and rip DVD to MP4 on a computer without quality loss in a breeze.
Updated: Aug.15, 2017 | By Estrella García and Cecilia Hwung
Summary: To rip a DVD to MP4 can digitalize the DVDs and make movies transportable. This article will show you why and how to convert DVD to MP4.
Since 1995, DVD had become a universal entertainment carrier in a global context. People were using discs to record anything important and cherished, and to view movies, bla bla bla. Roughly years 2004 to 2007 were the peak and golden age of DVDs, with the revenue of yearly sales calculated in billions; at the same time, more than 127 million DVD players were sold to over 70 million U.S. homes until the end of 2004.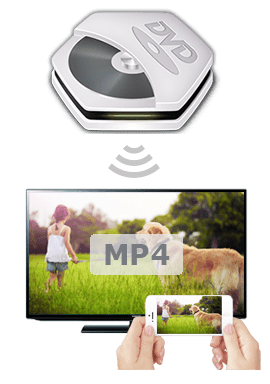 But after 2008, with the birth of Netflix Streaming and the fluctuation of disc's entertaining status, DVD's all the way to descending. Since digital era has ripened and become the loudest melody, consumer demand is clearly shifting to digital distribution of video entertainment. In another aspect, when Steve Jobs set off the Mobile Revolution, the mainstream multimedia device falls on the handheld smartphone and tablet, which propels the increasing prevalence of MP4 format. The unpredictable demand of DVD to MP4 conversion has surfaced.
People Also Ask:
1. Why convert DVD to MP4?
2. Can Windows or Mac Rip DVD to MP4 by Itself?
3. Top DVD to MP4 Rippers
4. What Are Differences Between Top DVD to MP4 Rippers?
5. How Can I Rip a DVD to MP4 on Windows or Mac?
Why Do You Need to Convert DVD to MP4?
Before convincing you of the necessity of converting DVD to MP4 video files and digging out the easiest method, I'd prefer revealing some general knowledge of DVD and MP4 format like the disadvantages of DVD disc and advantages of MP4.

DVD disc offers high storage capacity (4.7GB and 8.5GB are quite common) to store any kind of digital data, and allows us to watch content in the disc via DVD players. However, it also has some defects that push many people to rip DVD to digital file (MP4 is preferred choice) and save it into other storage devices.
Disadvantages of DVD disc
● DVD is easily broken.
Children always break DVDs. So do adults. DVDs are vulnerable to warping, scratching, and breaking when aged, and stored or used improperly. When a disc is damaged, several or hundreds or thousands of sectors will become unreadable. Therefore when you play it, you may encounter problems like "sometimes it plays properly and sometimes it skips or even aborts", "when DVD is inserted, it doesn't seem to read or load", and "DVD playback keeps freezing".
● DVD occupies much space of our room.
DVDs are cumbersome to store, thus becoming a headache for those who have collected an enormous number of DVD discs. They desperately need nice DVD storage ideas and are often suggested to convert DVD to MP4 or other digital files, in that this method can help save much room space and find target item easily.
● Regional lockout causes DVD won't play error.
Virtually all commercial DVDs have region codes which only permit the discs to be played on DVD players that have the identical codes. For instance, if you live in America (where DVDs and DVD players have a region code of "1") and purchase a DVD from British (where region 2 is employed), you probably fail to play it on your player. >> DVD Region Code [wiki]
● DVD playback requires DVD drive and MPEG2 decoder.
Nowadays, we have various electronic devices. However, most of them, for example iPhone 7, lack the ability to play DVDs, because of the absence of DVD drive and MPEG2 decoder.
Relievedly, all above problems will be circumvented after ripping DVD to MP4 file.
Advantages of MP4
● MP4 takes up less space than others as keeps high quality.
MP4 features high compression rate and great output quality. Therefore, it delivers smaller file size than other formats when set as the same quality. Sometimes a MKV file at least doubles the size of a MP4.
● MP4 is easy to store and manage, and hard to be corrupted.
A digital MP4 copy is much easier to store and manage. You can save it to computer hard drive, external hard drive, flash drive, iPhone, Android, etc. Besides, you can categorize all the MP4 videos ripped from DVDs by genre, by year, etc, and name them according to your own needs. When you need certain file, you can locate it effortlessly from well-organized list or by searching.
Unlike fragile DVD discs, MP4 files are difficult to be damaged during the regular use. If corrupted, we have multiple ways to repair MP4 files.
● MP4 is accepted by almost all devices and programs.
MP4 is compatible with almost all electronic devices, including computers from different brands, Apple iOS devices, Android phones and tablets from Samsung, Google, HTC, Microsoft, Sony mobiles, tablets, game consoles, and so on. That is to say, after converting DVD to MP4, you can keep MP4 copies with you and watch them on the train, airplane, bus, etc.
In addition, MP4 is accepted by many software programs (e.g. iTunes, iDVD, iMovie) and web services (e.g. YouTube, Facebook, Vimeo). So, you can do more things you like.
Whether Windows/Mac Has a First-party App for DVD to MP4?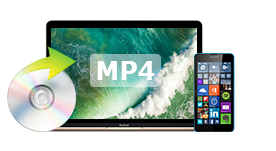 Although many people claim DVD industry is gradually waning, the DVD/Bru-ray sales are still quite high, which determines the DVD-closely-connected tool would not disappear from the mainstream OSs in the near future. The fact is no matter how gigantic the new system upgrade is, both Windows and Mac always contain at least one add-on for DVD. To OS developers, empowering an OS with DVD playback functionality is the easiest thing, only needing to pay a licensing fee to decode MPEG2 DVD video. Windows Media/DVD Player and Mac DVD Player are good examples. Besides, the systems also offer components to help burn DVD, like Windows DVD maker (only preassembled on Windows Vista and 7) and iDVD.
Is it possible to rip DVD to MP4 on Windows (10) PC or Mac OS X by the system itself? There's absolutely no default DVD ripping program. Why? For one thing, DVD copy protections of various kinds sit nearly on all DVDs of movie, TV series and fitness currently, so it's quite a complicated process to kick them to one side and rip DVD to an MP4 or other formats on the computer. For another and also the most decisive thing, decrypting commercial DVDs by circumventing copy protections for profit usage is prohibited officially by DMCA (Digital Millennium Copyright Act). As a result, no OS developer would get itself into the DVD ripping stuff, leaving DVD collectors have to turn to the third-party DVD (to MP4) Converter – WinX DVD Ripper Platinum.
Note: DVD copy protections (DVD region code not included) only have effect on illegal DVD copying, but not on DVD playback.
Rip Any Hot Movie DVDs to MP4 on Windows (10) and macOS (High Sierra)
Download the advanced copy protected DVD ripper software WinX DVD Ripper Platinum, you can:
● Rip any newest protected DVDs to MP4, AVI, iOS, Android, and 320+ formats/devices.
● Unlock all DVD encryptions, including Disney X-project DRM, CSS, region code, RCE, Sony ArccOS, UOPs.
● 1:1 backup copy protected DVDs to DVD ISO, DVD folder and MPEG2 file.
● 5 minutes only by supporting Intel QSV and NVIDIA (CUDA) NVENC hardware acceleration.


Top Third-party DVD to MP4 Rippers and Review
Fortunately, free DVD rippers for copy protected DVDs bring a relatively easy way to convert DVD disc to MP4 digital file. We can call out several big names in the market, HandBrake, VLC and Format Factory, which are commonly listed in top DVD rippers chart due to user-friendly UI, simple operation and solid ability of DVD to MP4 conversion. Those excellent DVD to MP4 converters share similar workflows and also produce alike troubles.

1. Lack of the Support for Commercial Copy-Protected DVDs
Digital Rights Management schemes are often used on commercial DVDs, especially on newly-released DVD movies/TV shows, in order to prevent reproduction. To circumvent strict copy protections is a prerequisite for DVD to MP4 conversion. However, HandBrake and the peers fail to rip copy-protected DVDs natively and pop up error messages like "no valid source found", "cannot scan DVD title" depending on different encryptions. Nevertheless, libdvdcss, a library working as a part of VideoLAN project to access and unscramble DVD CSS, can be used for HandBrake to handle CSS-encrypted DVDs. | Download install libdvdcss for HandBrake

2. Slow DVD to MP4 Ripping Speed
How long does a ripper take to convert a DVD to MP4? That's the most concerned. When we need to manage a large DVD collection, we hope the ripper can perform conversion process as fast as possible. Certainly, DVD ripping speed not only lies on performance of DVD ripper but is influenced by computer configuration. The faster processor the computer has, the faster the encoding will be. On a modest machine, we find that HandBrake takes 30-45 minutes to rip a feature-length movie to MP4 while the peers need more time. It is a bit slow in my opinion.

3. Security Problem
It is not a common issue but happens on a few DVD to MP4 rippers, for example Format Factory. Sometimes, firewall and antivirus software may give a warning message of spyware. Even there is not an alert, we should be careful as well because some adware like Ask Toolbar is probably installed on computer silently.
Well, can we get a perfect DVD to MP4 ripper without the above-mentioned problems?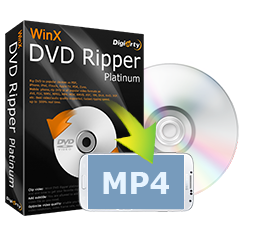 Why Choose WinX DVD Ripper Platinum for DVD to MP4 Conversion
A more powerful and battle-tested DVD to MP4 converter for Win/Mac could make things much easier. WinX DVD Ripper Platinum, a totally user-friendly and multi-function DVD converter for Windows (10) PC, also available in Mac version, could help you fast convert any kind of DVDs to MP4 easily for playback on various devices, by perfectly bypassing all copy protection mechanisms like DVD CSS, UOPs, region code, Sony ARccOS, APS, RCE as well as Disney X-project DRM. | How to rip Disney DVDs
Apart from MP4, it also supports ripping DVD to other video formats/devices, e.g. AVI, WMV, MPEG, MOV, iPhone, iPad, iPod, Android, Windows devices etc., delivering superfast ripping speed and unmatchable image quality. Check the side-by-side comparison below of top 6 DVD rippers on DVD to MP4 ripping, which explains why WinX DVD Ripper Platinum is the top choice for converting DVD to MP4.
[ Full Comparison of Top 6 DVD Rippers on DVD to MP4 Ripping ]
WinX DVD Ripper Platinum
DVDFab DVD Ripper
Aimersoft DVD Ripper
Wonderfox DVD Ripper
Wondershare
HandBrake [Free]
Software Version
v8.5.1
v10.0.1.6
v3.0.0
v9.0
/
v1.0.7
Constant Upgrade
Y
N
N
Y
Y
Y
Size
35.4 MB
89.2 MB
(need a restart of PC)
12.5 MB
20.7 MB
39.1 MB
15.7 MB
UI
Clean and simple
A little bit confusing with 4 software in one interface
Clean and simple
(old design)
Clean and simple
(not all functions really work)
Clean and simple
Too professional and complicated for newbies
Equipment for the test: Windows 10 Pro; Intel(R) Core(TM) i5-6200U CPU; 8GB RAM; 64-bit OS
#1 Full Comparion on Ripping DVD DISC to MP4

Original DVD Disc Info. - I AM WRATH (UDF); size: 4.37GB; time: 1:30:44
WinX DVD Ripper Platinum

DVDFab DVD Ripper

Aimersoft DVD Ripper

Wonderfox DVD Ripper

Wondershare

HandBrake

Load Time
Fast
2min
Fast
Fast
Fast
8min
Encoding Methods
1-pass
1 pass
2 pass
CRF
FF
1 pass/VBR
/
1-pass/ABR
2-pass
CRF
Hardware Acceleration
Intel QSV
CUDA
No
CUDA (no EVENC)
CUDA (no NVENC)
CUDA/NVENC
Intel QSV
No (x264 encoding)
Main Title
23
39
22
23
22
The same as source
Time
10min
17min
1h6min
40min
22.5 min
24 min
23 min
20min
34min
23min
Quality
Intact & clear
Intact & clear
Intact and Clear
Intact & clear
Intact & clear
Intact but unbearable
Intact & clear
Resolution
720x404
720x300 (2.40:1)
720x480
720x480 (16:9)
856x480 (16:9)
720x362 (1.98:1)
Errors/Drawbacks
/
Hardware acceleration error. [1]
[2]
No video editing features like trimming. [3]
/
Encrypted DVD ripping errors. [4]
Download Now
[1]
1. When we choose high quality under 2-pass mode, it shows "Cannot turn on high quality encoding under CUDA or Inter Quick Sync mode, switch to Software mode now".
2. When you check CUDA in both Video decoder and encoder setting, it always crashes. Changing video encoder from CUDA to Software, it works. Change video encoder to Intel Quick Sync, it says "Intel Quick Sync H.264 encoder cannot be supported by your graphics card", while another software ripping log clearly shows that we did use QSV to do the encoding several minutes ago.
[2] Quite outmoded interface and excessively large output file size. The parameter setting are improper, like MP4 HD option with 8000 kbps the lowest bit rate, which leads to a 11GB file. Besides, part of the output images in the top and bottom area are removed. Seriously, we don't get it why this software ranks NO.1 on toptenreviews.
[3] There's no DVD ripping speed data on the process bar. And strangly, DVD to MPG ripping is not as fast as the advertised "only 5~10 minutes".
[4] Scans titles one by one while ripping copy protected DVD, which however failed at last. Sometimes HandBrake makes it, but unfortunately the output video is full of pixel blocks. Another bug is the wrong selection of Frame rate.
#2 Full Comparison on Ripping DVD ISO to MP4 HD/High Profile

Original ISO File Info. - Time: 1h42min12sec | Size: 7.27GB

WinX DVD Ripper Platinum

DVDFab DVD Ripper

Aimersoft DVD Ripper

Wonderfox DVD Ripper

Movavi Video Converter

HandBrake

Load Time
Fast (less than 30sec)
/
/
Fast
Encoding Methods
1-pass
1-pass
2-pass
CRF
FF (FFmpeg)
/
/
1-pass
2-pass
CRF
Hardware Acceleration
4 CPU cores
Intel GPU
No
No
/
/
Intel QSV
No (x264 encoding)
Avg. FPS
153
125
145
106
No data
/
/
410
110
121
Time
30min (safe mode)
19min
34min
24min
36 min
/
/
6min
22min
22min
Quality
Intact and crystal clear
Intact, sharp and clear
Intact and clear
/
/
Intact but unbearable
Intact and clear
Output Video Size
1.87GB
1.54GB
1.31GB
971 MB
7.5GB
/
/
486 MB
1.10 GB
0.99 GB
Resolution
720x404
720x324
1280 x 720
/
/
720x384
Audio Channels
6
6
2
/
/

AC3 5.1 setting however outputs 2-channel audio

Errors/Drawbacks
/
Mainly output videos using lossy compression [5]
As there is no upgrade for a long time, the supported latest device profile is still iPhone 4s.
ISO and TS folder file cannot be loaded as the UI suggested. [6]
Can't load DVD ISO file and VIDEO_TS folder. [7]
Intel QSV encoding mode requires you to fill in the Avg. bitrate number manually. [8]
Download Now
[5] DVDFab is imbedded with very limited output video formats, only incl. MP4, MKV, FLV, AVI, WMV and AVI. Well, those actually satisfy most people, but there are ones who need a 1:1 copy of DVD. To make a full copy of DVDs, please turn to WinX DVD Ripper Platinum.
[6] There are buttons on the main interface for loading ISO and TS folder, but neither of them really works. Load any ISO file and it shows with wrong extension .isoVIDEO_TS\. Actually TS folder can be loaded only if it is in another folder.
[7] It supports loading vob/ifo files, but there are always only 2 files can be imported successfully.
[8] Parameter calculating is quite complicated for green hand. But if you want to give it a try, HandBrake gives you some clues: 18-20 bitrate is for SD while 20-23 for HD. As to encoding ways, choose x264 instead of QP.
#3 DVD to MP4 Conversion – Other Features Comparisons

WinX DVD Ripper Platinum

DVDFab DVD Ripper

Aimersoft DVD Ripper

WonderFox DVD Ripper

Movavi Video Converter

Remove DVD DRM

Yes


(Support all DVD copy protections)
No
Yes
Yes
-
Auto Detect the Right DVD Title
Yes
No
Yes
No
-
Trim DVD Video to Convert

Yes


(Freely trim any part of the DVD video by setting Start/End Time)
Yes
Yes
Yes
Yes
Crop Video

Yes


(Remove black bars or cut off unwanted area to fit for any screen)
Yes
Yes
Yes
Yes
Choose or Add Subtitles

Yes


(Choose the language you want, or add external SRT subs to DVD)
Yes
Yes
Yes
Yes
Adjust Video Parameters
Yes
Yes
Yes
Yes
Yes
High Quality Engine>
Yes
No
No
No
No
Deinterlacing

Yes


(Make interleaved videos much more clear)
Yes
Yes
No
No
Safe Mode

Yes


(Skip and avoid any problem during DVD to MP4 conversion)
No
No
No
No
Download Now

How to Rip DVD to MP4 on Windows (10)/Mac?
WinX DVD Ripper Platinum/for Mac
Download the No.1 fast DVD to MP4 converter now to rip and convert DVD to MP4 video at fastest speed, with original quality.


WinX DVD Ripper Platinum is the perfect example of a decent DVD ripping software that works well both for advanced and amateur users. - Editor's Review from Download3K
How Can I Convert DVD to MP4 on Windows?
Free download

, install and launch WinX DVD Ripper Platinum on your computer. Then follow the tutorial below to convert DVD to MP4 on Windows (10) easily and quickly . You should insert the DVD Disc into the DVD drive in advance.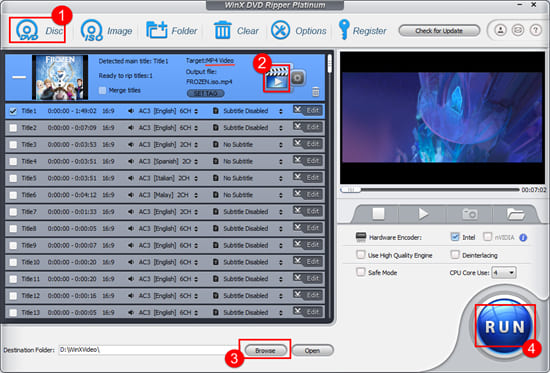 Step 1. Add the source DVD disc/folder.
Open WinX DVD Ripper, click "DVD Disc" icon to select Disc, and click OK to load the DVD content. (DVD Folder and ISO Image are also available to be ripped into MP4. Besides, 3 DVD Disc File System Types are provided to select here.)
Step 2. Select MP4 as the output format.
A couple of seconds later, all DVD titles will be listed and the main title will be automatically checked. Meanwhile, Output Profile window pops up. Select MP4 Video (encoded with H264 + AAC) from General Profiles category as output format.
Step 3. Define output folder to save MP4 video.
At the Output Setting area, you can click "Browse" button to select a destination folder in the dialog box that opens, and click OK. C:/ disk is not recommended for saving the output MP4 video.
Step 4. Start to convert DVD to MP4 without quality loss.
If your computer supports any of the hardware encoding techs, it will be checked by default. And now, just click "RUN" button on the bottom right to start the DVD to hard drive ripping with a process bar appearing telling you how the conversion goes. It will take roughly 5 minutes to rip a regular DVD movie to MP4 video by using Intel/NVIDIA.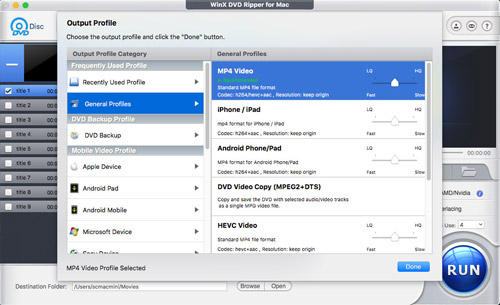 How Can I Rip DVD to MP4 on Mac?
Preparations:
1. Download and install WinX DVD Ripper for Mac on Mac computer.
2. Insert DVD disc into DVD Drive. If there is no DVD drive on Mac computer, please connect an external DVD drive.
Steps:
Step 1. Launch WinX DVD Ripper for Mac. Click DVD button to load DVD content.
Step 2. Once Output Profile window pops up, go to General Profile > MP4 Video (Codec: h264+aac) > OK.
Step 3. Click RUN button to start ripping DVD to MP4 on Mac. If necessary, click Browse button to set destination folder for saving resulting file before running to convert.
How to Do If I Want to Transfer MP4 Ripped from DVD to iPhone/iPad?
For transferring and watching ripped DVD video in MP4 on iPhone (8/7) or iPad, best iOS file manager - WinX MediaTrans is of great aid, much easier to handle than iTunes, and faster in video transferring speed than other mobile managers. Both Windows (10) PC and Mac OS X versions are provided here, just download what you need to transfer videos to iPhone iPad now.
>> Download WinX MediaTrans for Windows to Transfer DVD Video to iPhone iPad
>> Download WinX MediaTrans for Mac to Transfer DVD Video to iPhone iPad
Disclaimer: Digiarty Software does not advocate ripping copy-protected DVDs for any commercial purpose and suggests referring to the DVD copyright laws in your countries before doing so.
Related External Source:
[1] DVD Disc - DVD, also known as Digital Video Disc or Digital Versatile Disc, is an optical disc storage media format, and was invented and developed by Philips, Sony...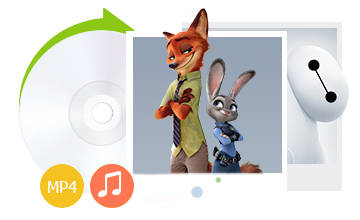 [2] Related Guides on how to rip hot DVD movies 2016 - 2017 to MP4:
● Rip DVD Arrival (2016) or Other New Movies
● How to Copy Disney DVD Zootopia to MP4 Digital File
● Rip or Copy DVD of Star Wars 7: The Force Awakens to MP4
● Copy and Convert DVD The Hunger Games: Mockingjay - Part 2 to MP4
● How to Copy and Back up Walt Disney DVD Frozen Animation Film to MP4
● How to Rip and Copy Inside Out DVD to MP4, AVI, MOV and More
[3] Still have question on how to convert DVD to MP4 on PC or Mac? Please feel free to Mail Us >>
Best Fastest DVD to MP4 Converter for Windows 10/8/7 - WinX DVD Ripper Platinum
More than perfectly ripping DVD to MP4, AVI, WMV, MOV, FLV, iPhone, iPad, Android and many other output formats and devices, WinX DVD Ripper Platinum also features 1:1 cloning DVD to ISO image file, backing up DVD full title with all videos/audios/subtitles, and copying DVD main title as a single MPEG video, by removing all DVD copy protections (for personal use).