2022 Best Ways to Convert DVD to MP4 on Win (10) & Mac [Updated]
Summary: Ripping a DVD to MP4 means you can digitize DVDs and make movies more portable. This article will show you why and how to make a MP4 digital copy from DVD disc on Windows (11/10/8/7)/macOS (Monterey).
Since the birth of Netflix streaming and the fluctuation of disc's entertaining status in 2008, DVD's all the way to descending. Digital era has ripened. Hence, video entertainment gradually shifts from disc to digital. In another aspect, when Steve Jobs set off the Mobile Revolution, the mainstream multimedia device falls on smartphone and tablet, which propels the increasing prevalence of MP4 format.
Therefore, demand of DVD to MP4 conversion is doomed to rise. For one thing, you can therefore prevent your cherished movie library from physical damage. For the other thing, you can extend your view options to mobile devices and are no longer restricted to PC only. Here's all you want to convert a DVD into MP4, together with some pitfalls to avoid.
* If you want to play DVD on Windows, refer to the 10 free DVD players for Windows 10/11.
Top Picks to Freely Convert DVD to MP4 on Windows 10/11 and Mac

Product Name

Best for

Overall Rating

Best overall. Backup and rip any type of copy-protected DVDs with best balance in quality, speed and size.

4.7 out of 5 stars.

Open source unprotected DVD to MP4 ripper for advanced users.

4.3 out of 5 stars.

Two-in-one DVD ripper and player. No need to download external DVD ripper.

3 out of 5 stars.

Easy-to-use DVD ripper for beginners.

4.2 out of 5 stars.

A good DVD to MP4 ripper for not only DVD discs but also Blu-rays.

3.5 out of 5 stars.

An unprotected DVD converter with advanced editing features.

3.5 out of 5 stars.

A good unprotected DVD to MP4 ripping app with AI upscaling.

3.6 out of 5 stars.

Ripping DVD to video and audio for mobile devices.

3.5 out of 5 stars.

Fast and Customizable DVD ripping.

4 out of 5 stars.

Rip DVD to a large number of file formats.

3 out of 5 stars.
Part 1. Top 10 Ways to Convert DVD to MP4 on Windows 10/11 and Mac
There are numbers of paid or free programs that claim to convert DVD disc to MP4. We can call out several big names like WinX DVD Ripper, HandBrake, etc. If you are still unaware of them, you can check the following programs which are commonly listed in top DVD rippers chart due to user-friendly UI, simple operation and solid ability of DVD conversion.
Way 1. Convert a DVD to MP4 with WinX DVD Ripper Platinum
WinX DVD Ripper Platinum has harvested an overwhelmed number of loyal users throughout the 16 year-long journey in the DVD ripping industry. Editors of tech giants like TechRadar, PCMag, etc have given their thumbs-up to the program for its impressive DVD ripping performance. It is able to backup and rip a full DVD movie to MP4 (HEVC/H.264) in 5 minutes with best balance in quality & size, and conquer all types of DVDs, from new discs, 99-title, damaged, Japanese, regional, workout to non-standard DVDs. Below are the specific features that add a ton of value:
Support any DVD: Convert homemade disc, burned DVD, or bought DVD with almost any DVD encryption like Disney X-project DRM, CSS, region code, RCE, APS, Sony ArccOS, UOPs, etc., support navigation algorithms used in DVDs from paramount, Disney, Sony, etc.
Rip DVD at 300fps: Unique Level-3 Hardware Acceleration powered by Intel QSV, NVIDIA (CUDA) NVENC, AMD, M1 (Pro/Max/Ultra) and multiple core tech are fully utilized, meant to convert a full disc to MP4 as short as 5 minutes.
1:1 quality ratio: 4 DVD copy modes manage to back up DVD with 100% quality reserved. The High Quality Engine, Deinterlacing, and adjustable HQ encoding help to rip DVD with imperceptible quality loss.
From 8.5GB DVD to 1GB MP4: Adjust resolution, bitrate, codec, etc to produce optimal file size. Specifically, the ripped file is 700MB-1GB instead of GBs for a full movie, a 80% space saving. Plus, there're 350+ ready profiles for AVI, WMV, MOV, iPhone, iPad, Android.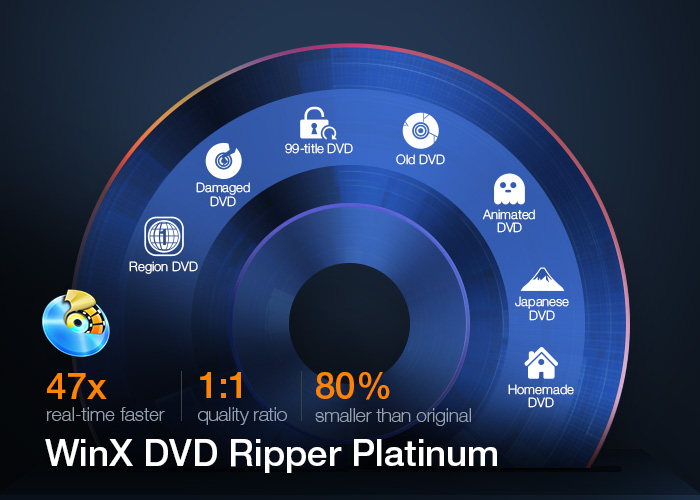 [Tutorial] How Can I Convert DVDs to MP4 with Quality, Size, and Speed Well Balanced?
Step 1. Add the Source DVD Disc/Folder.
Open the DVD ripper and click "DVD Disc" icon. A dialogue box will appear, asking you to select the source disc. Then click OK. DVD Folder and ISO Image are also well accepted. The DVD ripper supports advanced encryptions like navigation algorithm used in multiple titles. It will easily detect the correct title hiden in DVDs from Disney, Sony, Paramount, etc.
Step 2. Choose MP4 as the Output Format.
Once the title is detected, it will pop up an Output Profile window. Find General Profiles and select "MP4 Video" (codec: h264+aac) from the right column. Click OK. If you need to convert a DVD for iPhone, Android device, YouTube or other web services, you can also find a readymade profile.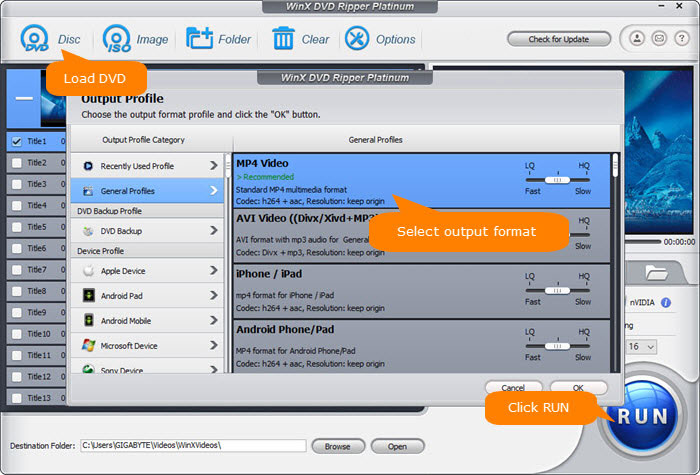 Step 3. Adjust Settings for Best Quality, Fast Speed, or Small Size.
WinX DVD Ripper Platinum features level-3 hardware acceleration, Hyper-threading tech, multi-core CPU, high-quality engine, DVD compressing engine, and many more advanced technologies that manage to speed up the DVD converting process dramastically while exporting a relatively smaller-size file yet retaining utmost high quality. Below are the exact settings meant to suit your diversified needs.
1. To Convert DVD to MP4 with Best Quality.
Check High Quality Engine box to improve the output quality. It will analyze the source DVD and well balance the quality and bitrate based on the collected information. Check "Yadif Double Frames" De-interlacing box to remove any jagged interlacing artifacts.
To get the best possible quality and smallest size, choose MP4 H.265. It has 50% smaller size at the same quality compared to H.264.
Drag the bar from LQ to HQ encoding. HQ encoding will give you higher quality. But if you also value the ripping speed, keep the slider in the middle. It will balance the ripping speed and exported quality.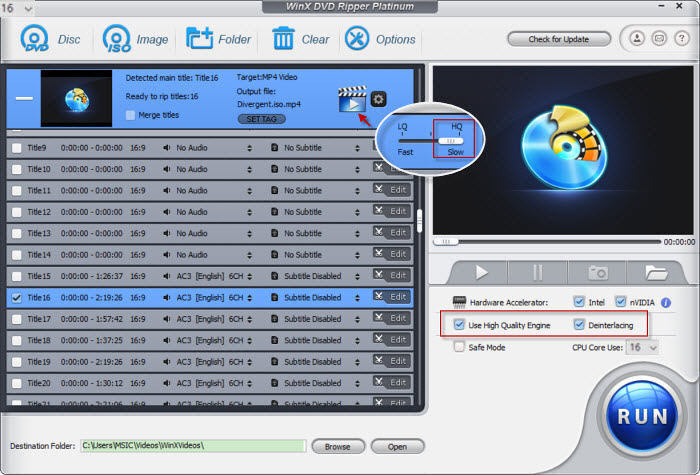 2. To Convert DVD from GBs to MP4 in MBs.
In addition to selecting "MP4 H.265" as the output format, flexible options are offered to further reduce the size of the ripped MP4 video. Click the gear button beside the profile and enter into the parameter settings window. A slew of other variables such the video/audio codecs, pixel dimensions, frame rate, bit rate, audio sampel rate, etc. will help convert a DVD at 8.5GB to a smaller MP4 file. Here are the recommended video size settings:
You're not suggested to adjust the frame rate and aspect ratio, if unnecessary.
Enable Video Codec and select the codec H.264 or H.265. It has a smaller size without too much compromise on quality.
Lower the bitratel. In our test, it is acceptable to adjust the bitrate from the original 2500 kbps to around 1800-2000 kbps. There will not be any noticeable pixellation when viewing the output MP4 video.
Lower the resolution. The standard DVD resolutions are 720×480 (NTSC) and 720×540 (PAL). Reducing the resolution to 640×480 won't make any quality difference but thereafter downsize the output movie file.
Please note: Adjusting these variables do have some effect on the re-encoded video quality. You can go even smaller, only at the cost of quality loss. Generally, if you want to keep the original DVD quality, the H264/AAC (mp4) profile will manage to export the final rip with a smaller size ranging from 1.2Gb - 1.6Gb. But by converting DVD to H.265 MP4, the size can be reduced by 50% at the same quality.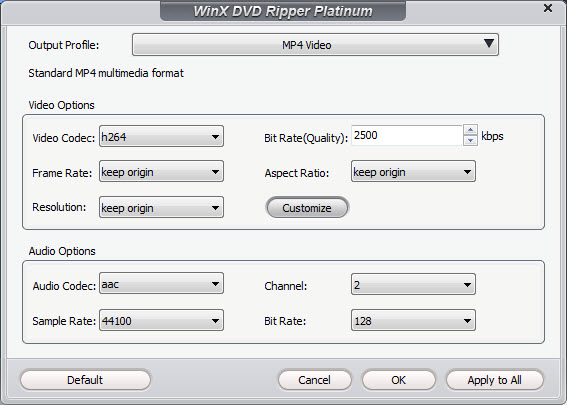 Performance tests are conducted by WinXDVD Software in Aug 2022 using WinX DVD Ripper Platinum to convert a Frozen DVD to MP4 in different settings based on the above parameter suggestions on Intel Core i9-12900KS and Nvidia GeForce GTX 2060, Windows 10.
| | | | | | | | |
| --- | --- | --- | --- | --- | --- | --- | --- |
| Preset | Type | Container | Video Codec | Audio Codec | Quality | Avg. Speed | File size |
| Normal | Hardware | MP4 | H.264 | AAC | Excellent | 363fps | 961.45MB |
| Normal | Software | MP4 | MPEG4 | MP3 | Excellent | 358fps | 897.44MB |
| LQ | Hardware | MP4 | H.264 | AAC | Excellent | 389fps | 314.1MB |
| HQ | Hardware | MP4 | H.264 | AAC | Excellent | 306fps | 1.01GB |
3. To Convert DVD disc to MP4 with 47X real-time Faster Speed
WinX DVD Ripper Platinum takes full advantages of the level-3 hardware acceleration, Multi-core CPU, Super Encode Engine based on MMX- SSE & 3DNow! and Hyper-threading tech, all meant to speed up DVD converting process to a new level. Here are the recommended speed settings:
Check the boxes of Intel and nVIDIA to enable hardware accelerator. The GPU accelerated DVD ripper is powered be unique Level-3 Hardware Acceleration tech. It applies Intel QSV, NVIDIA Cuda/Nevenc, AMD, or M1 (Pro/Max/Ultra) in DVD decoding, MP4 encoding, and processing. It will speed up DVD to MP4 conversion by 5x faster than most other tools without sacrificing the picture quality.
Set the CPU core to the utmost. In our test, the highest CPU core is 8. So we set it to 8.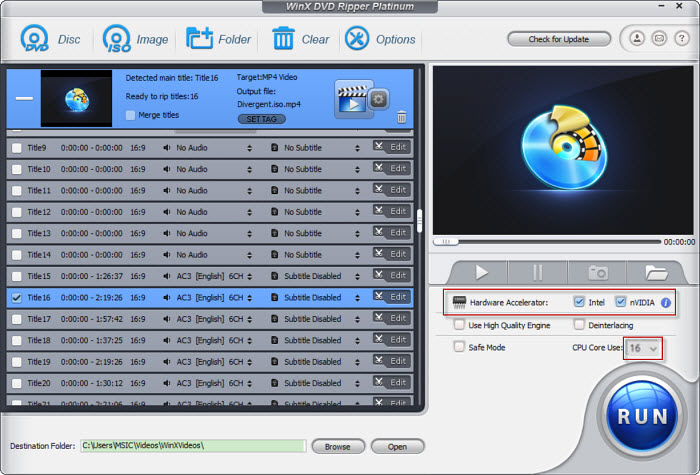 The rip went from about 150fps to 390fps based on the computer we have (higher configuration, faster speed). We conducted the tests using 10 DVD rippers we reviewed under the same test environment.
With common DVD rippers: It takes averagely 30 minutes for a one-and-half hour move. For example, on a modest machine, we find that HandBrake takes 30-45 minutes to rip a feature-length movie to MP4 while the peers need more time. On a computer with higher configuration, a full DVD can take anywhere from 15-25 minutes.
With WinX DVD Ripper Platinum: Ripping a full DVD takes roughly 5 minutes (depending on your computer hardware), with Level-3 Hardware Acceleration is enabled. That is 7x faster compared with other rippers in our DVD ripping tests. Step 4. Start Converting DVD into MP4 Format.
Click the "Browse" button to select a destination folder in the dialog box that opens, and click OK. Then click the big blue "RUN" button to start converting. After the DVD is converted into MP4 (h.264/mpeg-4 avc/hevc) video, you can freely save the DVD video to computer or transfer to iPhone, iPad, Android, game consoles, tablets, and computers that don't have a hard drive.
Watch video tutorial on how to convert DVD disc to MP4 H.264 or HEVC with the best performance.
Besides WinX DVD Ripper Platinum, there are still a wealth of DVD to MP4 converters. Below are the programs which are commonly listed in top DVD rippers chart due to user-friendly UI, simple operation and solid DVD converting ability.
Way 2. Rip a DVD to MP4 with Handbrake
Handbrake is a popular yet free DVD ripper among users running Windows, Mac, and Linux. There is no more DVD decryption feature built in Handbrake since the version 0.9.3. But you can still rip some protected discs to MP4, MKV or WebM, if with VLC libdvdcss installed. By loading the libdvdcss library in the application folder, Handbrake will dynamically read CSS and region-locked DVDs and then re-encode them into MP4.
Besides enabling to rip DVD to digital format, Handbrake also lets you get quick result by taking advantages of the presets in the side panel, from general, web, matroska, to devices. There are advanced parameters you can tinker with, available for precise encoding settings, effects, parameter adjustment, etc, which, though, are something of a learning curve.
In the latest version, Handbrake updated Intel QSV for better video processing, and had many other fixes like issues with subtitle pass through durations, MP2 audio sources, etc. If you are going to turn a DVD into an MP4 using the newer Handbrake version like 1.5.0 or above, please make sure to have Microsoft .NET Desktop runtime 6 or later installed on Windows 10 or later.
Pros:
Open-source and cross-platform.
Customizable settings are great, especially for experienced users.
Cons:
Cannot mix multiple DVD titles in one content.
It is futile for Disney and other newly-protected DVDs.
[Tutorial] How to Convert a DVD to MP4 with Handbrake?
Step 1. Download, install and open Handbrake on your PC or Mac.
Step 2. Insert the DVD you want to convert to MP4.
Step 3. Click Open Source to load the DVD movie. Note that you can rip unprotected DVDs only. If the DVD, ISO image or DVD folder is encoded with CSS or region code, please download libdvdcss. Or else, an error message like "no valid source or titles found" will prompt.
Step 4. The main title will be selected for non-commercial DVDs. For protected DVDs, you can find the title via VLC and manually select it.
Step 5. Click the Presets drop-down menu, ranging from General, Web, Matroska, Hardware, etc. You can preferrably choose Fast480p30 for the US or Fast576p25 for Europe. You can also choose HQ for better image quality, which may also result in slow DVD encoding speed.
Step 6. Choose the format MP4 from the drop-down list in the Summary.
Step 7. Click Browse and select a destination folder to save the resulted MP4 file.
Step 8. Then click Start Encode on the above toolbar. What to look out for: Handbrake may fail to encode some DVDs to MP4 properly if you upgrade to macOS 10.11 or newer. This is because Apple introduced new System Integrity Protection to prevent the execution of unauthorized code. You have to download libdvdcss additionally and take advantages of it to deal with the protected DVDs if you are working with Mac.
Way 3. Convert DVD to MP4 with VLC
VLC proves itself a solid choice with its simplified interface and powerful DVD decoder feature. Besides a full-fledged media player that supports a pretty extensive list of video and audio formats, it offers an easy way to transcode video/DVD to MP4 H.264, H.265, WMV, Webm, and more, with no need for extra codec packs.
However, VLC comes with a few trade-offs. VLC just supports ripping CSS and regional discs. You can't decrypt and rip a sophisticatedly-protectedd DVD with VLC, and you have no control over the conversion - resolution, bitrate, frame rate, deterlacing, aspect ratio, volume and more.
Pros:
Support an extensive range of codecs, such as HEVC, AV1, DivX, MPEG2, XviD, VP9, etc.
Work with a lot of platforms, including Windows, Mac, Linux, iOS, Android, etc.
Expandable via plugins.
Cons:
DVD/video editing features are limited.
It is relatively hard to find the output formats.
DVD encoding speed is relatively slow compared with other rippers.
[Tutorial] How to Convert DVD to MP4 with VLC?
Step 1. Download, install and run the VLC media player. Insert the original DVD to the disc drive.
Step 2. Open VLC and click Convert/Save... under Media menu in the top left corner of the main interface. Click the Disc button to load the DVD disc.
Step 3. Once the DVD movie in the Disc Device is loaded correctly, you can do some tweakings. Under Starting Position, you are available to choose which title or chapter you want to rip. Just leave this at the default if you want to rip the whole movie. Under Audio and Subtitles, you can also choose the specific audio or subtitle track as per your needs.
Step 4. Click the Convert/Save button once you finished the settings. Alternatively, you can also go to the Open Disc from Media tab > browse and choose DVD locatoin at Disc Drive > choose Convert from the drop-down menu next to the Play button.
Step 5. When the Convert window pops up, select Video - h.264 + MP3 from the Profile dropdown menu.
Step 6. Click Browse button to save the converted movie. Then click the Start button and convert a DVD to .mp4 file.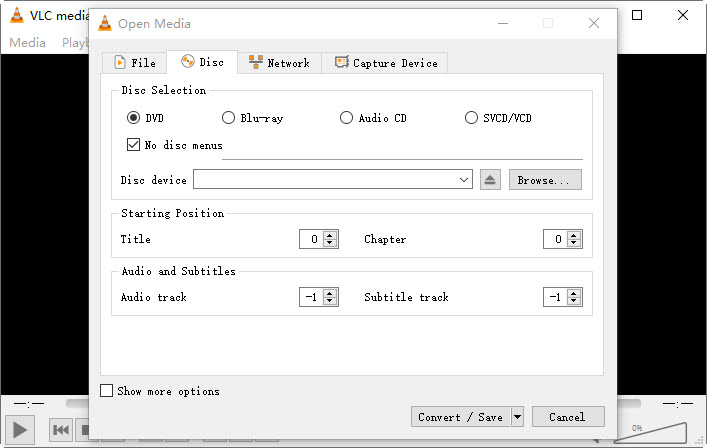 What to look out for: VLC is a well-recognized media player with GPU accelerated DVD/video decoding ability. But when it comes to DVD and video encoding, VLC has a worse performance compared with professional DVD ripper software. So if you value speed when converting DVD to MP4, you can choose the other tools in our list.
Way 4. Convert DVD Content to MP4 with Freemake DVD Ripper
Freemake DVD Ripper is voted the 4th best DVD to MP4 converter simply because it has been recognized as a trustful video converter for 10 years. The program features a large library of 50+ preprogrammed profiles, which means you can not only convert DVD to digital MP4, WMV, AVI video file, but also format your DVDs to play on phones, tablets, smart TVs, gaming systems, and more anywhere. Compared to other free DVD converters, it has a benefit to remove some protections like the DVD region codes. But for other protected DVDs, Freemake will be glitchy.
Besides converting both local video and DVD, Freemake also helps to convert online video all the easier, and burn files to physical DVD directly. Although advised for free, Freemake is not free. You have to pay for a license key to access the advanced features and enhancements such as video converting speed and watermark removal.
Pros:
Burn video to DVD directly.
Preconfigured to work with many devices.
Cons:
Converted movie is watermarked if not upgrading to its paid version.
Advanced features are only available to the Web Pack.
The conversion isn't that speedy.
[Tutorial] How to Convert a DVD to MP4 with Freemake DVD Ripper?
Step 1. Run Freemake DVD Ripper after you download it, insert a DVD into the drive.
Step 2. Click +DVD button at the top part, select your DVD drive with the physical movie, choose a VIDEO_TS folder on the DVD disc. Choose the biggest VOB file from the list (click here to learn how to convert DVD VOB to MP4). The program will read the disc and show you multiple titles. Choose the one with the longest length. Note: Freemake doesn't read copy-protected DVD, and sometimes, even the longest title length doesn't guarantee 100% successful DVD to MP4 conversion, so it's better to resort to another DVD ripper.
Step 3. Select MP4 from the profile list at the bottom of the interface and change the settings for the MP4 if needed. For example, you can pick the quality you want from the dropdown lists, including sticking with standard DVD quality, or upconverting to 720p, though it won't add any detail.
Step 4. After all the changes, click the Convert button to begin the DVD conversion.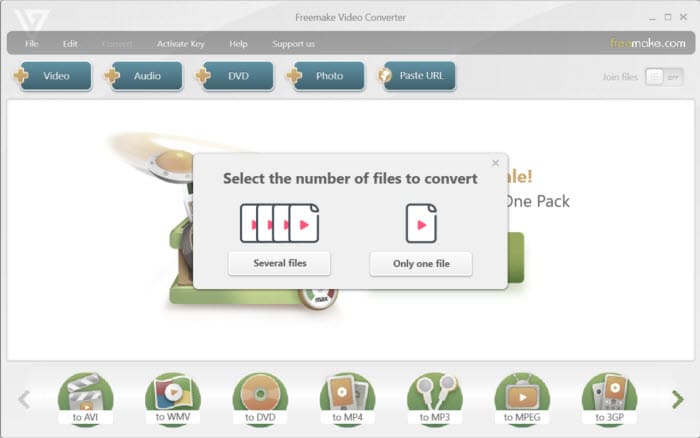 What to look out for: There are some upsell attempts when you are using the free DVD to MP4 converter version. The ripped movies are generally accompanied with Freemake logo, making them almost unwatchable. You'd better upgrade to its paid version to remove the branding.
Way 5. Rip DVD to MP4 with DVDfab HD Decrypter
If you have any old or not so strongly protected DVDs or Blu-rays, DVDFab HD Decrypter is good for your ripping needs. With it you can convert your entire disc to MP4 or MKV format so that you can enjoy the digitized MP4 movie on mobile or laptop on the go.
However, it's a little confused when it comes to download and install DVDFab HD Decrypter. During the installation, 25 additional software including DVD copy, DVD ripper, DVD creator, DVD cinavia removal, UHD creator, etc that are packed all in one DVDFab 12 are downloaded. But you can still choose to use DVDFab HD Decrypter for free as long as you are not ripping the newly protected DVDs and are not annoyed by the constant pester to upgrade.
Pros:
Clean and easy to use.
Output options are reasonable.
Cons:
Cannot rip newly released DVDs.
Limited ripping options.
[Tutorial] How Do I Rip a DVD to MP4 for Free with DVDFab HD Decrypter?
Step 1. Download DVDFab 12 from its official page, then opt for Ripper from the option bar. Then insert the DVD disc you want to rip to MP
Step 2. Choose the profile MP4 as the output format.
Step 3. Click Start button to rip DVD to MP4 for free. The ripping process will be shown automatically.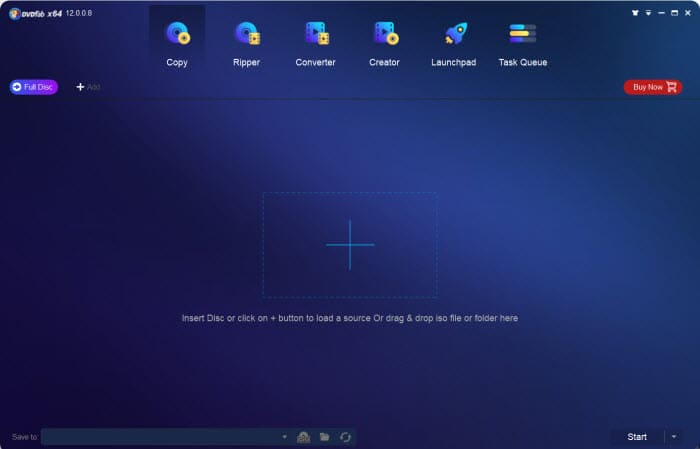 What to look out for: DVDFab HD Decrypter is a free version that supports limited output formats like MP4 and MKV. It cannot work with all DVD discs, especially those released after 2018.
Way 6. Convert DVD to MP4 with Wondershare Uniconverter
Uniconverter is a fully functional DVD video converter toolbox that can extract homemade movie from DVD and encode it to an extensive range of formats. In addition to DVD to MP4 conversion, you can also compress, edit, record, merge, play, and burn video as per your needs. It features an intuitive interface that helps you to jump straight to the task you need, and therefore makes the whole video processing a hassle-free experience.
The latest version 14 added features such as AI-powered vocal remover, noise remover and more. Besides, Wondershare claims to have a dramatic speed boost as a result of its High-Speed Conversion tech, compared with its Movavi and Freemake. We therefore made a few speed tests using these DVD to MP4 converters. Uniconverter was 4 minutes lag behind WinX DVD Ripper Platinum and just 3x faster than Freemake under the same test environment, which is quite exaggerated and far from the acclaimed 120x faster speed. Besides, it is likely to cause loss of audio sync during conversion. But if you value features, you can still have a try.
Pros:
A wide range of features, from convert, compress, record, to edit.
Intuitive interface.
Cons:
Cannot rip protected DVDs.
Converting performance is not as fast as it boasted in the official page.
Advanced features like DVD title merging are available to subscription plans.
How to Convert DVD to MP4 on Windows 10/11 with UniConverter?
Step 1. Launch Wondershare Uniconverter on your Windows or Mac platform, then click Converter on the main interface to activate the Video Converter feature.
Step 2. Click + disc to load DVD movie, IFO files or ISO image. In our test, Uniconverter took a few minutes to add file. Don't worry, just leave it analyzing the disc information. If you have some commercial DVDs to rip, please resort to some other DVD rippers for help, Uniconverter doesn't rip protected DVD at all.
Step 3. Click and open the Output Format menu from the bottom, go to Video tab, choose MP4 format, and select a preferred resolution from the right. In general, MP4 is selected by default. You can also choose HEVC MP4 from the Output Format window.
Step 4. Back to the main window, you are available to select the subtitle and audio track, or even add external subtitle files or audio tracks as per your needs. And adjust the settings like encoder, resolution, bitrate, sample rate.
Step 5. Click Start All. The converting task will begin.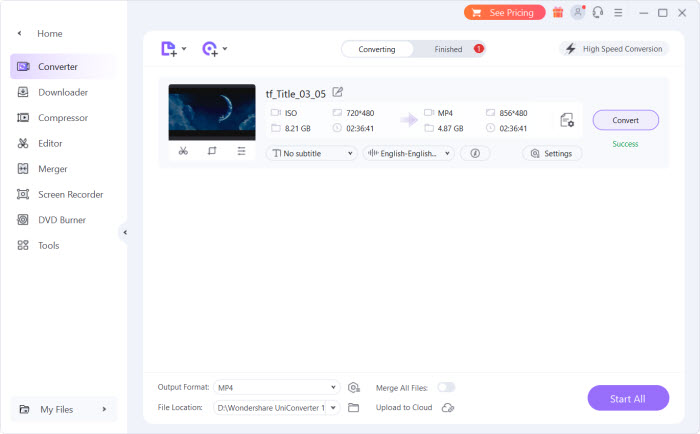 What to look out for: Uniconverter just convert 1/3 length of the original movie duration with the trial version. You cannot merge file or enable its High Speed Conversion unless you upgrade to its registered version. It offers 3 individual plans, including annual plan starting $39.99/year, 2-year plan starting $59.99/2-year, and the most popular perpetual plan starting $79.99 with lifetime usage of Uniconverter.
Way 7. Transcode DVD to MP4 with Movavi Video Converter
Movavi Video Converter supports 180+ formats and 200+ devices, which makes DVD conversion to MP4 an easy task and gets your DVD optimized for playing on your mobile device, game console, PC, TV, or media player flawlessly. You can even search subtitles online and add them right away to best fit your movie rips. We are happy to find that Movavi delivers an AI-powered quality upscaling, which can upscale your original 480p DVD resolution to even 1080p with crisp image.
Movavi comes to the third place, ranking next to WinX DVD Ripper Platinum and Wondershare Uniconverter, when it comes to the DVD to MP4 converting speed in our test. This is due to its SuperSpeed mode. It also has batch processing options. This comes in handy for those who have accumulated a large library of DVD discs and needs to process them at a time. Prices of Movavi Video Converter start from $54.95 for the annual subscription. You can also opt for the lifetime subscription which costs $64.95.
Pros:
AI-powered DVD upscaling.
Speedy DVD conversion.
Clumsy interface makes a bad user experience.
Cons:
Protected DVDs are not supported.
Watermarks are added to the converted rips when using free trial.
There is no Help file.
How to Convert DVD to MP4 on Movavi Video Converter?
Step 1. Open Movavi Video Converter, click Add Medium button > Add DVD > Open DVD, where you can add your DVD movie to the program. Make sure your DVD source is unprotected. Movavi doesn't allow any ripping of protected DVDs.
Step 2. To rip DVD to MP4 format, you can go to the Video tab in the lower part of the window, and then set MP4 as the target format.
Step 3. Click the Save to button to specify the output folder where you want to save the converted MP4 file, and click Convert button. The converting process will start immediately.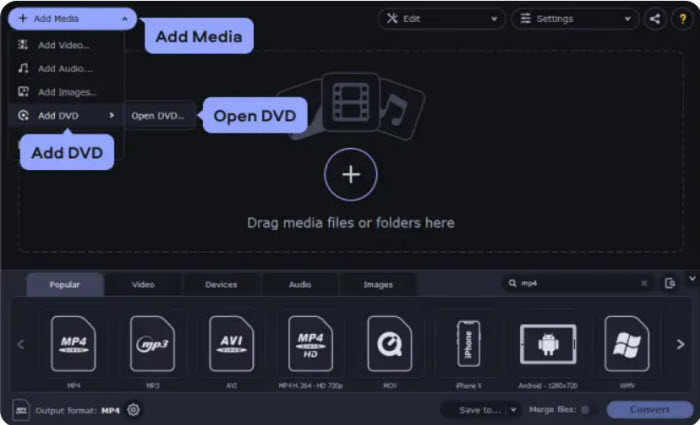 What to look out for: Movavi can only process DVD disc that do not contain any copy protection or region restriction. Commercial DVDs in our test was failed to convert using this tool. Plus, this program is only for 7-day free trial.
Way 8. Convert DVD to MP4 with DVDVideoSoft
Free DVD Video Converter from DVDVideoSoft is a lightweight program for Windows that will rip DVD to MP4, AVI, MKV, MP3, as well as a slew of mobile devices like iPhone, iPad, Apple TV, etc. The program is free, safe, and easy to use, which lets users to select the DVD titles, languages, and subtitles without any hassle.
Pros:
Preset configurations.
Add subtitles to movie.
Cons:
No DVD decrypting ability.
No frequented updates.
[Tutorial] How to Convert DVD to MP4 on Windows 10/11 with DVDVideoSoft?
Step 1. Open the software after you download the program on your computer and click the Browse button to selecta drive with your DVD or DVD folder.
Step 2. Then click the Choose button to select the DVD title you want to convert to MP4. If you're not sure which is the correct title, you can play the DVD with VLC and remember the title.You can also set the languages and subtitles and click OK.
Step 3. Click Browse to set an output folder. Then under the Formats, select MP4 as the output format. Choose preferred presets under the Presets optimized for playback on your computer or mobile.
Step 4. After all the steps, click Convert to start.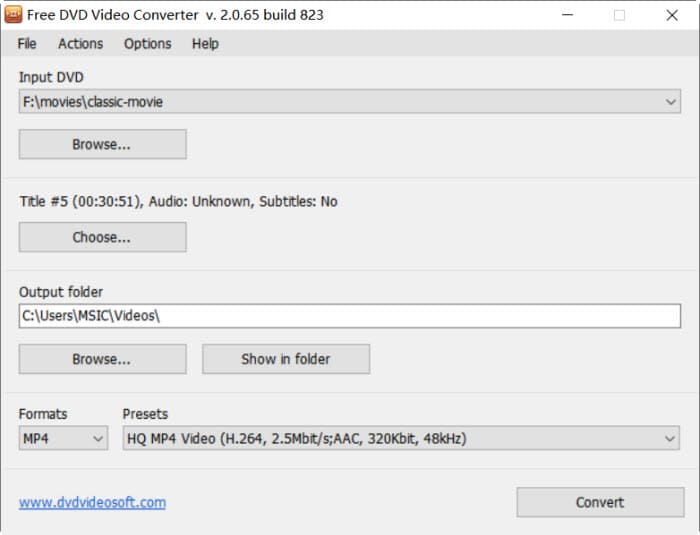 What to look out for: DVDVideoSoft supports unprotected discs only. So you will need to download extra software to rip copy-protected DVDs. Moreover, if you want more advanced features such as parameter adjustment, basic editing options, you'd better look for other professional DVD to MP4 converters for help.
Way 9. Convert DVD to MP4 with MediaCoder
MediaCoder cracked the top 9 for the first time in our list as a free media transcoder. It supports converting DVDs to most popular video and audio formats like H.264/AVC, H.265/HEVC, VP8/VP9, and more. It takes advantage of QuickSync, NVENC, CUDA to deliver a quick DVD to H.264/H.265 converting speed. Users are also allowed to adjust the output settings like video bitrate, format, rate mode, and more. However, the program is quite complicated to get started.
Pros:
All-in-one DVD video solution.
Support batch conversion.
Cons:
Relatively clumsy interface makes it intimidating.
[Tutorial] How to Convert DVD to MP4 Free with MediaCoder
Step 1. Run the DVD to MP4 converter. Click Add Track from the File menu and select your DVD.
Step 2. Click on the Video tab and check Enable Video function. Go to Format —- MPEG4.
Step 3. Click the Output Folder to specify where the program should save the converted files, then click START and wait.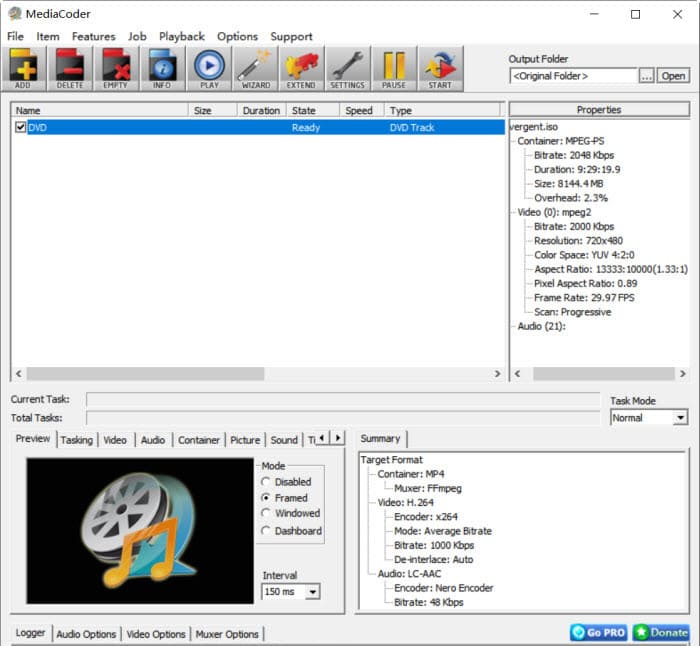 What to look out for: MediaCoder's interface is a little bit intimidating, which may not be instant to go about everything, especially if you are a green hand. Besides, the DVD to MP4 converting speed is a bit slow when compared with other professional DVD rippers.
Way 10. Rip DVD to MP4 with Leawo DVD Ripper
Leawo DVD Ripper accomplishes the task of ripping and converting DVD to over 180 video formats, incl. MP4, WMV, MKV, and FLV. You can also extract audio from DVD and save it as MP3, AAC, etc. Therefore, it gives you digitized content that can be used across multiple devices without any hassle and escalate your home DVD movie experience without any DVD player at all.
Leawo DVD Ripper also works as a handy video editor that is available for you to trim and crop video, add effects and watermarks, and select subtitles and audio tracks from the source DVD movie at your willing. You can try it for free and get 1-year license code for $29.95 or lifetime license at $39.95.
Pros:
Multiple options for file loading modes.
Convert DVD to a large number of formats.
Built-in video editor and 3D movie creator.
Cons:
Outdated device profiles.
Grammer errors in tutorial.
How to Convert a DVD to MP4 Format with Leawo DVD Ripper
Step 1. Download and install Leawo DVD Ripper on your computer. Please note that the program you are downloading is Leawo Prof.Media. DVD ripper is a just module of the program. Just click the DVD Ripper to initiate the feature.
Step 2. On the Convert interface, click Add UHD/Blu-ray/DVD to import DVD disc, folder or ISO image. You are offered three options, including full movie, main movie and custom mode. In our test, we choose main movie to import the longest title, then click OK to start importing the DVD movie.
Step 3. Select the subtitle or audio track as you like.
Step 4. Choose MP4 with H.264 as output profile under Format in the profile panel. It is optional for you to change video codec, bitrate, resolution, frame rate, audio codec, etc of the selected profile, and then click Save to Custom to add the customized profile to the Custom group.
Step 5. Return to the Convert interface, and click the green Convert button to set output directory and save the output file.
Step 6. Click Convert button at the bottom of the sidebar to start convert movie from DVD to MP4 format. You can cancel the process any time.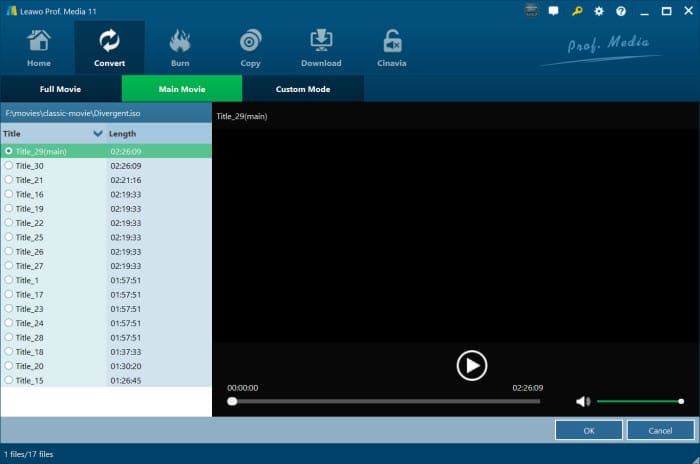 What to look out for: It seems Leawo DVD Ripper undergoes slow updates. In our test, we found that the readymade device profiles is relatively archaic. This pushes it to the no.10 spot in our best DVD to MP4 converter review.
Part 2. How We Test These DVD to MP4 Converter Software?
In order for the programs to make our best DVD to MP4 converter list, it needs to excel on several tests that we run on a total of 20 DVD rippers we researched and finally we shortlisted 10 programs in this test.
For the first part, we assessed their usability by checked their user interfaces and features, from the most essential MP4 (H.264/HEVC) profile, to the general output formats and devices, customization settings, basic editing features, batch processing, DVD quality upscaling, to other value-added features.
One of the most important tests we run is the DVD decrypting test. We selected different genres of DVD discs, from the relatively aging and slightly damaged DVD, region-locked DVD, workout DVD, Disney animated DVD, DVDs produced by Sony and Lionsgate, TV series DVD, and even the Japanese DVD. Then we loaded these discs one by one to the programs researched. Some showed "no title found erro", some crashed while converting, while some succeeded and finally got ahead in our list.
We performed all these DVD to MP4 conversions under the same testing environment, both on relatively aging computer and modern computer, in order to show their respective DVD ripping performances in terms of speed, quality and size.
We enabled the hardware acceleration and software-only to test the DVD converting speed. And we also checked the CPU and memory usage when using each of the DVD ripper programs. When it comes to quality, we relied on the SSIM to check the similarity between the original DVD and the processed MP4 file. We also measured the output MP4 file size through different quality and parameter settings.
In short, we made a thorough evaluation to determine not only which DVD rippers offer the best picture quality, fastest ripping speed, but those offer the best overall user experience. After all, you will be living with the DVD to MP4 ripper for years to come, and using it should be a joy, not a pain.
Part 3. Common DVD to MP4 Errors You May Meet
Besides the above-mentioned programs, there are still a wealth of some other DVD to MP4 converters in the market. They basically share similar workflows but also produce alike troubles as below:
1. It takes too long.
I was ripping some DVDs but the rip was averaging 11.8 FPS, getting closer to 25-30 minutes a DVD. I've restarted my computer, checked my CPU usage (under 20%) and everything I could think of but it still took a long time. It's annoying when you're ripping 5-10 DVDs a day.
DVD to MP4 ripping speed relies on both the DVD ripper software itself and computer hardware. The faster processor the computer has, the faster the encoding will be. How long does it take to convert a full dvd to MP4? Generally, a DVD ripper is widely considered as fast when it can convert a DVD movie to MP4 withiy 15 minutes, with an average speed of 25FPS+. It's unacceptable when it takes hours to finish a DVD copy, especially when you need to copy a large DVD collection.
2. The output is not as good as the original DVD.
I'm trying to rip some family's DVDs (weddings, etc.). But the ripped MP4 (same resolution as original) has some pixels on the screen.
The DVD ripping process will re-encode the video and lose quality for that reason. But different codecs like MPEG4, H.264, and HEVC have different qualities (generally, HEVC > H.264 > MPEG4). To keep the the visually same quality (including Dolby digital sound), DVD to MP4 x265 is the best choice. Besides, copy protections like fake title, bad sector, CSS, etc. can possibly result in bad quality if the software fails to remove them. That means you need to install a powerful DVD ripper to handle copy protected DVDs.
3. The ripped MP4 is huge in size.

I have Pavtube but when converting using best settings in h.264 (mp4) the file gets huge. Tried using Handbrake, files are smaller (3.3gigs...). Need to convert some DVDs to an iPhone, so is it possible to SHRINK it somewhat to fit on a mobile device?
A compelete DVD is anywhere from 4-7GB and the rip size depends on how nice you want the quality. Simply put, the smaller size, the lower quality. Generally, for a full-length movie (1.5-2 hrs) encoded in MP4 H.264 codec, 1.2-1.8 gigs will give good quality. But incapable DVD rippers sometimes produce the rip as large as 40GB, especially when they cope with the newly-released DVD movies, 99-title DVDs and Disney DVDs. So a good DVD ripper with decrypting ability is deemed as essential.
Summary: It's kinda a paradox to get the fast speed, optimal quality, and small size for the DVD to H.264/MPEG-4 avc. However, a battle-tested DVD converter like WinX DVD Ripper Platinum can get the best possible results in a balanced way.
Part 4. Frequently Asked Questions
1. Can VLC convert DVD to MP4?
As a matter of fact, VLC additionally acts as a DVD ripper since version 0.9.6. Despite VLC doesn't offer more conversion profiles like AVI or WMV, and there are some hidden tabs and buttons in our test, but you can still follow the steps to rip a DVD to MP4 with VLC.
Step 1. Open VLC.
Step 2. Click Media drop-down menu and select Convert/Save.
Step 3. Click Disc tab and select the DVD to rip in Disc device.
Step 4. Click the Convert/Save button.
Step 5. Select Video - H.264+MP3 (MP4)
2. Is converting DVD to MP4 legal?
It's not legal to crack a DVD in United States. But it's widely considered that it's OK to make an "archival" copy of any DVD content that you've legally purchased/acquired the rights to.
3. How do I covert protected DVD to MP4?
You need to get a DVD ripper that supports copy protections. There are protected DVD rippers that supports Disney DRM, CSS, region codes, RCE, 99 titles, etc. Download the program, insert your DVD, and it should be able to read and analyze the correct title of a protected DVD. (Please note, before you convert a protected DVD, make sure you legally own it.)
4. How do I convert a DVD to MP4 using Windows Media Player?
Windows Media Player is able to play media files and convert CDs but there is no option to convert DVDs to MP4 file format. The only option available is to use anther third-party program to convert a file format into MP4.
5. Is it possible to rip DVD to MP4 on Windows or Mac with the built-in apps?
No, there's no default DVD ripping program. Why? For one thing, DVD copy protections of various kinds sit nearly on all DVDs of movie, TV series and fitness currently. So it's quite a complicated process to kick them to one side, and rip DVD to MP4 or other formats on the computer. For another and also the most decisive thing, decrypting commercial DVDs by circumventing copy protections for profit usage is prohibited officially by DMCA. As a result, no OS developer would get itself into the DVD ripping stuff.
6. How to Convert DVD into MP4 on Windows 10/11?
Microsoft ditches DVD support in Windows, including the latest Windows 11. So you cannot play DVD movie on Windows 10 or 11 directly unless you download third-party DVD software. Instead of putting DVD into a disc tray each time you play it, it's better to convert a DVD to an MP4 on Windows 11 or 10 beforehand, so that you can play it on the go without a DVD player. How do I convert dvd to mp4 for free on Windows 10 or 11?
WinX DVD Ripper can handle the task of converting DVD to MP4 video on a computer running Windows 11/10/8/7. Just download and install the software on your desktop PC or laptop, click +DVD button to load the DVD movie, then choose the output format MP4 H.264 for the best compatibility, press RUN button to start converting video from DVD to MP4 format on Windows 10/11.
7. Can I convert DVD to MP4 online free?
Technically, you cannot create MP4 from DVD directly. First of all, online DVD converters normally read DVD VOB files instead of DVD discs. Secondly, you cannot upload a DVD video file since common DVD video file ranges from 4.7GB to 8.5GB in size while online free video converters generally accept the media file less than 1GB or even smaller. What's worse, it takes a long time to transfer DVD to MP4 since network connection is heavily required. So we still recommend using desktop software such as WinX DVD Ripper or Handbrake to convert DVD files to MP4.
8. What is a good DVD to MP4 converter?
Choosing a good DVD to MP4 ripper shall be based on the following criteria:
A good DVD ripper shall feature a intuitive UI, and guide you to complete the conversion ask within a few clicks, preferably 2 or 3 steps.
It will deliver a superfast conversion speed. Hardware acceleration is the icing on the cake.
Incompetent tool may have very fast rips but at the expense of image quality. So high quality DVD ripper is still of top concern.
It offers loads of profiles and fulfil your various ripping needs.
9. How do I convert DVD to mp4 on Mac?
Mac users can create a copy of unprotected DVD with Mac's Disk Utility. However, there isn't any native way to digitize DVD. To convert DVD to MP4 on Mac, you need to resort to third-party software like MacX DVD Ripper Pro, Handbrake for Mac to do the task. Here we take converting DVD to MP4 using MacX DVD Ripper Pro as an example.
Step 1. Download and launch the DVD ripper on your Mac computer. Then add your DVD disc, ISO image or DVD folder and let the program scan the title automatically.
Step 2. Once the movie main title is selected, you are prompted with a pop-up window leading you to choose an output format. Choose MP4 H.264 as the export format.
Step 3. Click Browse button to locate the destination folder where you want to save the exported movie file.
Step 4. Tap RUN button and it will begin converting DVD to MP4. You can witness the converting processing and it will finish conversion in a few minutes.
Detailed guide: how to convert DVD to MP4 on Mac for free
Part 5. External Knowledge about DVD and MP4
Since 1995, DVD had become a universal entertainment carrier in a global context. People were using discs to record anything important and cherished, and to view movies. Roughly years 2004 to 2007 were the golden age of DVDs, with the revenue of yearly sales calculated in billions. More than 127 million DVD players were sold to over 70 million U.S. homes until the end of 2004. However, the physical medium has some defects that push many people to rip DVD and choose MP4 as the preferred format. Here are the reasons:
1. Possible Reasons to Digitize DVD Disc
DVD disc offers high storage capacity (up to 8.5GB/4 hours at typical bit rates) to store any kind of digital data. Most DVDs store video in MPEG-2 format at 720x480 pixels for NTSC and 720x576 pixels for PAL in either 4:3 or 16:9 aspect ratio. To play a DVD, you need a  DVD drive and an MPEG-2 decoder (e. g., a DVD player or a computer DVD drive with a software DVD player). With DVDs, you should note that:
DVD is fragile.
DVDs are vulnerable to warping, scratching, and breaking. When it is damaged or aged, sectors become unreadable and you may encounter problems like it skips or even aborts; it doesn't seem to read or load. It's advisable to copy DVD against scratch or any damage.
Disc drive is ditched from modern devices.
Modern PCs, Macs, ultrabooks, and game console like Xbox One S are coming without disc drive. To play DVDs, you need an external DVD drive and MPEG2 decoder. This becomes an extra burden when you want to bring some DVD movies on your trips.
DVDs take much space.
DVDs are cumbersome and becoming a headache for those who have an enormous number of DVDs. They need nice DVD storage ideas and are often suggested to convert DVD to MP4 or other files to save space and find target item easily.
Region code causes playback errors.
Virtually all commercial DVDs have region codes [wiki] which only permit the discs to be played on DVD players that have identical codes. E.G., you can't play a DVD from British (where region 2 is employed) in America (where DVDs and DVD players have a region code of 1). Click here to convert DVD region code >>
2. Possible Reasons to Convert to MP4 Format
MP4 (MPEG-4 Part 14) is a digital multimedia container format most commonly used to store video, audio as well as data like subtitles and still images. It works with a variety of coompression schemes like H.264, HEVC, MPEG-4, MPEG-2, AAC and MP3 audio track. Relievedly, all the above problems with discs can be circumvented by ripping DVD to MP4 file.
MP4 well balances size and quality.
MP4 features a high compression rate and great output quality. Therefore, it delivers a smaller file size than other formats when setting as the same quality. Sometimes an MKV file at least doubles the size of an MP4.
MP4 is easy to store but hard to be corrupted.
Due to its easier storage & management, MP4 is the best format to backup DVD to. You can save it on computer hard drive, USB, flash drive, iPhone, Android, etc. You can categorize MP4 videos by genre, year, etc. as per your needs. It's easy to locate any file by searching. Unlike fragile DVD disc, MP4 video file is difficult to be damaged during regular use. If corrupted, we have multiple ways to repair MP4 file.
MP4 is widely supported.
MP4 is compatible with almost all devices, including computers and HD/4K TVs, phones, tablets, and game consoles from Apple, Samsung, Google, Microsoft, Sony, etc. It's accepted by media players, editors (e.g. iTunes, iDVD, iMovie) and web services (e.g. YouTube, Facebook, Vimeo). After converting DVD file to MP4, you can watch MP4 copies on the train, airplane, bus, etc without taking along physical discs.
For the above reasons, it is advisable to change the movie format from DVD to MP4 with professional DVD rippers. Click here and follow our detailed guide to convert DVD to MP4 here >>
Disclaimer: Digiarty Software does not advocate ripping copy-protected DVDs for any commercial purpose and suggests referring to the DVD copyright laws in your countries before doing so. DVD copy protections (DVD region code not included) only have an effect on illegal DVD copying, but not on DVD playback.