Top Third-party DVD to MP4 Rippers and Review
Fortunately, free DVD rippers for copy protected DVDs bring a relatively easy way to convert DVD disc to MP4 digital file. We can call out several big names in the market, HandBrake, VLC and Format Factory, which are commonly listed in top DVD rippers chart due to user-friendly UI, simple operation and solid ability of DVD to MP4 conversion. Those excellent DVD to MP4 converters share similar workflows and also produce alike troubles.

1. Lack of the Support for Commercial Copy-Protected DVDs
Digital Rights Management schemes are often used on commercial DVDs, especially on newly-released DVD movies/TV shows, in order to prevent reproduction. To circumvent strict copy protections is a prerequisite for DVD to MP4 conversion. However, HandBrake and the peers fail to rip copy-protected DVDs natively and pop up error messages like "no valid source found", "cannot scan DVD title" depending on different encryptions. Nevertheless, libdvdcss, a library working as a part of VideoLAN project to access and unscramble DVD CSS, can be used for HandBrake to handle CSS-encrypted DVDs.

2. Slow DVD to MP4 Ripping Speed
How long does a ripper take to convert a DVD to MP4? That's the most concerned. When we need to manage a large DVD collection, we hope the ripper can perform conversion process as fast as possible. Certainly, DVD ripping speed not only lies on performance of DVD ripper but is influenced by computer configuration. The faster processor the computer has, the faster the encoding will be. On a modest machine, we find that HandBrake takes 30-45 minutes to rip a feature-length movie to MP4 while the peers need more time. It is a bit slow in my opinion.

3. Security Problem
It is not a common issue but happens on a few DVD to MP4 rippers, for example Format Factory. Sometimes, firewall and antivirus software may give a warning message of spyware. Even there is not an alert, we should be careful as well because some adware like Ask Toolbar is probably installed on computer silently.
Well, can we get a perfect DVD to MP4 ripper for Windows (10)/Mac without the above-mentioned problems?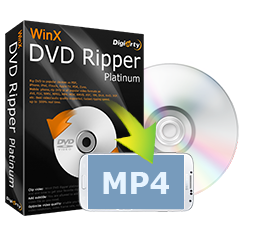 Why Choose WinX DVD Ripper Platinum for DVD to MP4 Conversion
A more powerful and battle-tested DVD to MP4 converter for Win/Mac could make things much easier. WinX DVD Ripper, a totally user-friendly and multi-function DVD converter for Windows PC, also available in Mac version, could help you fast convert any kind of DVDs to MP4 easily with unmatchable image quality for playback on various devices, by perfectly bypassing all copy protection mechanisms like DVD CSS, UOPs, region code, Sony ARccOS, APS, RCE, as well as Disney X-project DRM. | How to rip Disney DVDs
Apart from MP4, it also owns many other outputs of video formats and devices, e.g. AVI, WMV, MPEG, MOV, iPhone, iPad, Android, Windows devices etc. Check the side-by-side comparison below of top 6 DVD rippers on DVD to MP4 ripping, which explains why WinX DVD Ripper Platinum is the top choice for converting DVD to MP4.
[ Full Comparison of Top 6 DVD Rippers on DVD to MP4 Ripping ]
WinX DVD Ripper Platinum
DVDFab DVD Ripper
Aimersoft DVD Ripper
Wonderfox DVD Ripper
HandBrake [Free]
Software Version
v8.8.0
v10.0.8.7
v3.0.0
v9.8
v1.0.7
Constant Upgrade
Y
Y
N
Y
Y
Size
31.4 MB
120 MB
(need a restart of PC)
12.6 MB
32.1 MB
15.7 MB
UI
Clean and simple
A little bit confusing with 4 software in one interface
Clean and simple
(old design)
Clean and simple
(not all functions really work)
Too professional and complicated for newbies
Equipment for the test: Windows 10 Pro; Intel(R) Core(TM) i7-8700K CPU; 16GB RAM; 64-bit OS
#1 Full Comparion on Ripping Copy Protected DVD DISC to MP4

Original DVD Disc Info. - John Carter (UDF); time: 2:12:00
WinX DVD Ripper Platinum

DVDFab DVD Ripper

Aimersoft DVD Ripper

Wonderfox DVD Ripper

HandBrake

Load Time
Fast
2min
Fast
Fast
8min
Encoding Methods
1-pass
1 pass
2 pass
CRF
FF
1 pass/VBR
1-pass/ABR
2-pass
CRF
Hardware Acceleration
Intel QSV
NVENC
Intel QSV
CUDA
Intel QSV
No
CUDA (no NVENC)
CUDA
Nvidia
Intel QSV
No (x264 encoding)
Main Title
1
1
1
/
1
6
1
1
1
Time
9.33min
8.45min
11min
9.22min
/
/
12.57 min
9 min
9.27 min
/
/
/
Quality
Intact & clear
Intact & clear
/
/
Intact and Clear
Intact & clear
Intact & clear
/
/
Resolution
720x404
720x404
/
640x480
720x480
720x362 (1.98:1)
Errors/Drawbacks
/

[1]

[2]
No editing features. [3]
80-90% High CPU usage.
Encrypted DVD ripping errors. [4]
Download Now
[1]
1. When we choose high quality under 2-pass mode, it shows "Cannot turn on high quality encoding under CUDA or Inter Quick Sync mode, switch to Software mode now".
2. When you check CUDA in both Video decoder and encoder setting, it always crashes. Changing video encoder from CUDA to Software, it works. Change video encoder to Intel Quick Sync, it says "Intel Quick Sync H.264 encoder cannot be supported by your graphics card", while another software ripping log clearly shows that we did use QSV to do the encoding several minutes ago.
[2] Quite outmoded interface and excessively large output file size. The parameter setting are improper, like MP4 HD option with 8000 kbps the lowest bit rate, which leads to a 11GB file. Besides, part of the output images in the top and bottom area are removed. Seriously, we don't get it why this software ranks NO.1 on toptenreviews.
[3] There's no DVD ripping speed data on the process bar. And strangly, DVD to MPG ripping is not as fast as the advertised "only 5~10 minutes".
[4] Scans titles one by one while ripping copy protected DVD, which however failed at last. Sometimes HandBrake makes it, but unfortunately the output video is full of pixel blocks. Another bug is the wrong selection of Frame rate.
#2 Full Comparison on Ripping DVD ISO to MP4 HD/High Profile

Original ISO File Info. - FROZEN; size: 7.27GB; time: 1:42:12
Equipment for the test: Windows 10 Pro; Intel(R) Core(TM) i5-6200U CPU; 8GB RAM; 64-bit OS

WinX DVD Ripper Platinum

DVDFab DVD Ripper

Aimersoft DVD Ripper

HandBrake

Encoding Methods
1-pass
1-pass
2-pass
CRF
FF (FFmpeg)
1-pass
2-pass
CRF
Hardware Acceleration
4 CPU cores
Intel GPU
No
No
Intel QSV
No (x264 encoding)
Avg. FPS
153
125
145
106
No data
410
110
121
Time
30min (safe mode)
19min
34min
24min
36 min
6min
22min
22min
Quality
Intact and crystal clear
Intact, sharp and clear
Intact and clear
Intact but unbearable
Intact and clear
Output Video Size
1.87GB
1.54GB
1.31GB
971 MB
7.5GB
2.41 GB
1.10 GB
0.99 GB
Resolution
720x404
720x324
1280 x 720
720x384
Errors/Drawbacks
/
Mainly output videos using lossy compression [6]
As there is no upgrade for a long time, the supported latest device profile is still iPhone 4s.
Intel QSV encoding mode requires you to fill in the Avg. bitrate number manually. [7]
Download Now
[5] Error on Wonderfox DVD Ripper ISO conversion: ISO and TS folder file cannot be loaded as the UI suggested. There are buttons on the main interface for loading ISO and TS folder, but neither of them really works. Load any ISO file and it shows with wrong extension .isoVIDEO_TS\. Actually TS folder can be loaded only if it is in another folder.
[6] DVDFab is imbedded with very limited output video formats, only incl. MP4, MKV, FLV, AVI, WMV and AVI. Well, those actually satisfy most people, but there are ones who need a 1:1 copy of DVD. To make a full copy of DVDs, please turn to WinX DVD Ripper Platinum.
[7] Parameter calculating is quite complicated for green hand. But if you want to give it a try, HandBrake gives you some clues: 18-20 bitrate is for SD while 20-23 for HD. As to encoding ways, choose x264 instead of QP.
#3 DVD to MP4 Conversion – Other Features Comparisons

WinX DVD Ripper Platinum

DVDFab DVD Ripper

Aimersoft DVD Ripper

Movavi Video Converter

Remove DVD DRM

Yes


(Support all DVD copy protections)
No
Yes
-
Auto Detect the Right DVD Title
Yes
No
Yes
-
Trim DVD Video to Convert

Yes


(Freely trim any part of the DVD video by setting Start/End Time)
Yes
Yes
Yes
Crop Video

Yes


(Remove black bars or cut off unwanted area to fit for any screen)
Yes
Yes
Yes
Choose or Add Subtitles

Yes


(Choose the language you want, or add external SRT subs to DVD)
Yes
Yes
Yes
Adjust Video Parameters
Yes
Yes
Yes
Yes
High Quality Engine
Yes
No
No
No
Deinterlacing

Yes


(Make interleaved videos much more clear)
Yes
Yes
No
Safe Mode

Yes


(Skip and avoid any problem during DVD to MP4 conversion)
No
No
No
Download Now