How to Convert DVD to MP4 in 5 min with Good Quality-Size Tradeoff
Summary: Ripping a DVD to MP4 means you can digitize DVDs and make movies more portable. This article will show you why and how to make a MP4 digital copy from DVD disc on Windows (10/8/7)/macOS (10.15 Catalina).
"I need to convert Knvies out and some other DVD titles to MP4 to watch on my iPhone as the TV is always busy keeping kids entertained, how to do that?" If you are stuck at home by COVID-19, you may want to move some DVD movies to different screens such as the handheld smartphone and tablet to kill the time. DVD to MP4 is the best idea. The ripped MP4 files can be played on media player, computer, laptop, tablet, mobile device, gaming system, or HD TV without disc drive. How to convert a DVD movie to MP4 with the best results? Check here.
Free Download the Best DVD to MP4 Converter Now!
WinX DVD Ripper Platinum ★★★★☆ - [5 minutes only!] Backup and rip DVD to MP4 (HEVC/H.264) with best balance in speed, quality & size. Conquer all types of DVDs, from new discs, 99-title, damaged, Japanese, regional, workout to non-standard DVDs.
Best Ripper to Convert DVDs to MP4 with Fast Speed, High Quality, and Small Size
WinX DVD Ripper Platinum, an easy DVD converter for Windows PC/macOS, has the top performance when converting DVDs to MP4.
● Any DVD: convert homemade discs, burned DVDs, and bought DVDs with almost all DVD encryptions like Disney X-project DRM, CSS, region code, RCE, APS, Sony ArccOS, UOPs, etc., support navigation algorithms used in DVDs from paramount, Disney, Sony, etc.
● Rip DVD at ~300fps: its unique Level-3 Hardware Acceleration powered by Intel QSV and NVIDIA (CUDA) NVENC and multiple core tech is fully utilized to convert a full disc to MP4 as short as 5 minutes.
● 1:1 quality ratio: the High Quality Engine, Deinterlacing, and adjustable HQ encoding to rip DVD with imperceptible quality loss.
● From 8GB DVD to ~1GB MP4: easily adjust the resolutions, bit rates, codecs, etc. of the output MP4 H.264, MPEG4 to reduce the final file size. Specifically, the ripped MP4 file is 700MB ~1GB instead of GBs for a full movie, a 80% space saving. Plus, there are ready profiles for AVI, WMV, MOV; DVD to iPhone, iPad, Android, and 350+ formats/devices.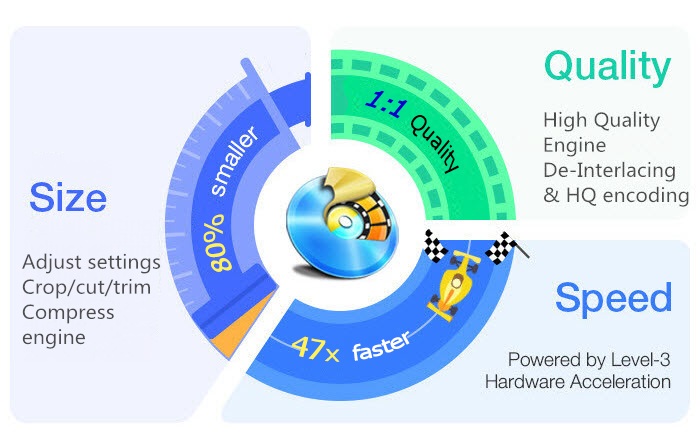 How Can I Convert DVDs to MP4 with Quality, Size, and Speed Well Balanced?

Free download and install WinX DVD Ripper Platinum on your PC.


Free download and launch WinX DVD Ripper Platinum for macOS.
Step 1. Add the source DVD disc/folder
Open the DVD ripper and click DVD Disc icon. A dialogue box appears asking you to select source disc. Then click OK. It also supports DVD Folder and ISO Image. The DVD ripper supports advanced encryptions like navigation algorithm used in multiple titles. It will easily detect the correct title hiden in DVDs from Disney, Sony, Paramount, etc.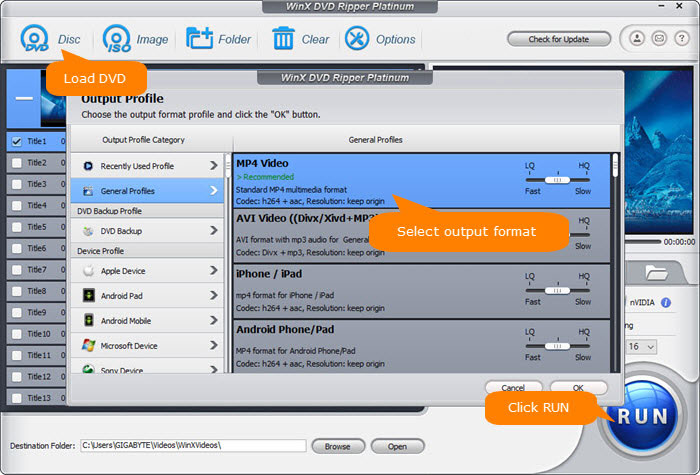 Step 2. Convert DVD to MP4 in the Best Quality
Once the title is detected, it will pop up the Output Profile window. Find General Profiles and select MP4 Video (codec: h264+aac) from the right column. Click OK. If you need to convert a DVD for iPhone, Android device, YouTube, web services, you can also find a profile.
Tech details:
1. Its High Quality Engine can improve the quality during the whole DVD rip. It will analyze the source DVD and well balance the quality and bitrate based on the collected information. The "Yadif Double Frames" De-interlacing will remove any jagged interlacing artifacts.
2. To get the best possible output quality and smallest file size, convert discs to MP4 H.265. It has 50% smaller size at the same quality.
3. Drag the bar to the left or the right to LQ or HQ encoding. HQ encoding will give you higher quality, but slower ripping, and vice versa. Step 3. Convert DVD from GBs to MP4 in MBs
In addition to selecting H.265 MP4 as the output format, flexible options are offered to further reduce the size of the ripped MP4 video. Click the gear button beside the profile and enter into the parameter settings page. A slew of other variables such the video/audio codecs, pixel dimensions, frame rate, bit rate, audio sampel rate, etc. will help convert a DVD at 7.5GB to a MP4 file smaller than 1GB.
Recommended settings:
1. You're not suggested to adjust the frame rate and aspect ratio, if not necessary.
2. Enable Video Codec and select MPEG-4 instead of H.264. It has a smaller size at the cost of some quality loss.
3. Use the codec H.264 or H.265 and lower the bitrate to a lower level. For example, adjusting the original 2500 to bitrates of around 1800-2000 is acceptable without noticeable pixellation.
4. Lower the resolution. Typical DVD videos are 720×480 (NTSC) and 720×540 (PAL). Adjust the resolution to 640×480 won't make any quality difference.
Please note: Adjusting these variables have some effect on the re-encoded video quality. You can go smaller, only at the cost of quality loss.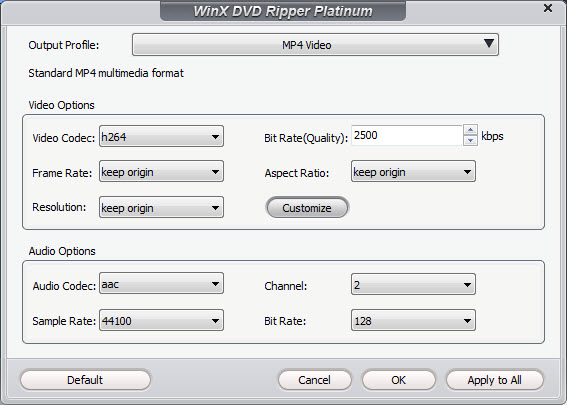 Below we will encode the same DVD to MP4 in different settings after adjusting the above parameters. Test: Frozen DVD, 7.26GB, 1 hour 49 minutes, running on Intel® HD Graphics 2500 and Nvidia GeForce GTX 780, Windows 10
| | | | | | | | |
| --- | --- | --- | --- | --- | --- | --- | --- |
| Preset | Type | Container | Video Codec | Audio Codec | Quality | Avg. Speed | File size |
| Normal | Hardware | MP4 | H.264 | AAC | Good | 358ps | 963.45MB |
| Normal | Software | MP4 | MPEG4 | MP3 | Good | 355fps | 899.44MB |
| LQ | Hardware | MP4 | H.264 | AAC | Good | 374fps | 316.1MB |
| HQ | Hardware | MP4 | H.264 | AAC | Good | 303fps | 1.024GB |
Step 4. Convert DVD to MP4 in 5x Less Time
Click the Browse button to select a destination folder in the dialog box that opens, and click OK. Then click the big blue RUN button to start converting. The rip will go from about 150fps to 350fps based on the computer you have (higher configuration, faster speed).
With other tools: You convert a DVD in about 30 minutes.
With WinX DVD Ripper Platinum: Rip a DVD in roughly 5 minutes.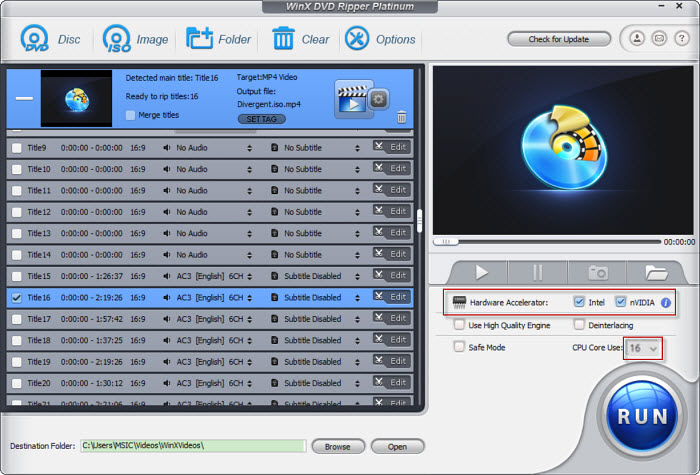 Tech details:
1. This GPU accelerated DVD ripper is powered by the unique Level-3 Hardware Acceleration tech. It applies Intel QSV or NVIDIA Cuda/Nevenc acceleration in the DVD decoding, MP4 encoding, and processing. This tech will speed up DVD to MP4 H.264/H.265 by 5x faster than most other tools without sacrificing the picture quality.
2. The  Multi-core CPU, Super Encode Engine based on MMX- SSE & 3DNow! and Hyper-threading tech will further speed up the process.
4. The Safe Mode can quickly detect the correct title of any DVD. This feature can bypass tough protections that other tools can't, such as 99-titles, navigation copy protections, etc.
Step 5. Tranfer MP4 to Device (Optional)
After the DVD is converted into MP4 (h.264/mpeg-4 avc/hevc) video, you can freely transfer the MP4 to iPhone, iPad, Android, game consoles, tablets, and computers that don't have a hard drive.
Watch video tutorial on how to convert DVD disc to MP4 H.264 or HEVC with the best performance.
How to Rip DVD to MP4 with Other DVD Rippers
No 1. Handbrake
Handbrake is a popular free DVD ripper among users running Windows, Mac, and Linux. Handbrake is free to rip CSS and region-locked discs to MP4 and MKV, if with libdvdcss installed. There are advanced options available for precise encoding settings, effects, parameter adjustment, etc, which, though, are something of a learning curve.
How to Convert DVD to MP4 with Handbrake
Step 1: Click Open Source to load the DVD. Note that you can rip unprotected DVDs only.
Step 2: The main title will be selected for non-commercial DVDs. For protected DVDs, you can find the title via VLC and manually select it.
Step 3: Click the Presets drop-down menu and choose the MP4 format.
Step 4: Click Browse and select a destination folder to save the resulted MP4 file. Then click Start Encode on the above toolbar. No 2. VLC
VLC proves itself a solid choice with its simplified interface and powerful DVD decoder feature. Besides a popular media player, it offers an easy way to convert DVD to MP4 H.264, H.265, WMV, Webm, and several device profiles. However, it comes with a few trade-offs. You can't decrypt a protected DVD with VLC and you have no control over the conversion - resolution, bitrate, frame rate, deterlacing, aspect ratio, volume and more.
How to Convert DVD to MP4 with VLC
Step 1: Open the converter and click Convert/Save under Media. Click the Disc button to load the disc.
Step 2: Once the DVD in the Disc Device is loaded correctly, click the Convert/Save button.
Step 3: In the next page, select MP4 from the Profile dropdown menu. Then click the Start button and convert DVD to MP4.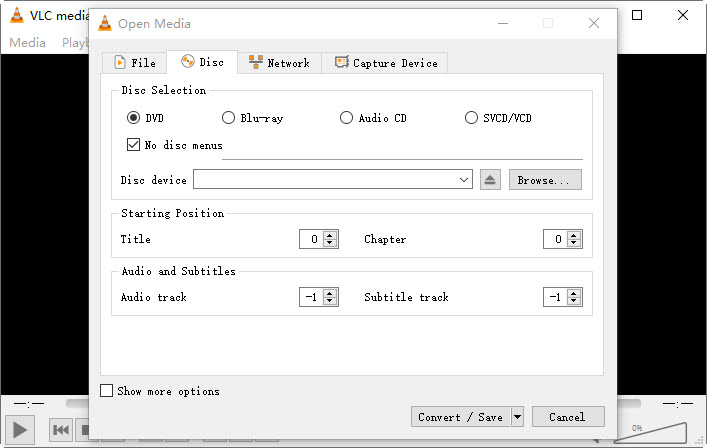 No 3. Freemake DVD Ripper
Freemake DVD Ripper features a large library of 50+ preprogrammed profiles, which means you can not only convert DVD to digital MP4, WMV, AVI, etc but also format your DVDs to play on phones, tablets, smart TVs, gaming systems, and more anywhere. Compared to other free DVD to MP4 converters, it has a benefit to remove some protections like the DVD region codes.
How to Convert DVD to MP4 with Freemake DVD Ripper
Step 1: Run the DVD to MP4 converter and click +DVD to import the disc.
Step 2: Select MP4 from the profile list at the bottom of the interface and change the settings for the MP4 if needed.
Step 3: After all the changes, click the Convert button to begin the conversion.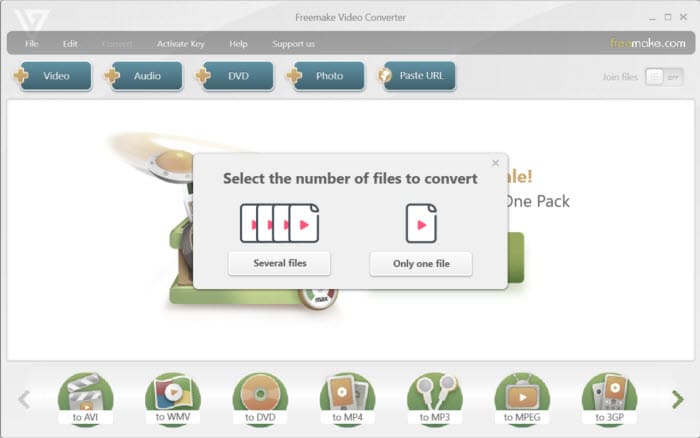 No 4. Free DVD Video Converter
Free DVD Video Converter is a free program for Windows that will rip DVD to MP4, AVI, MKV, as well as a slew of mobile devices. It lets users to select the DVD titles, languages, and subtitles. However, it supports unprotected discs only. So you will need to download extra software to rip copy-protected DVDs. The program is free, safe, and easy to use.
How to Convert DVD to MP4 with Free DVD Video Converter
Step 1: Open the software and click the Browse button to select your DVD.
Step 2: Then click the Choose button to select the DVD title you want to convert to MP4. If you're not sure which is the correct title, you can play the DVD with VLC and remember the title.
Step 3: Click Browse to set an output folder. Then under the Presets, select MP4 as the output format. After all the steps, click Convert to start.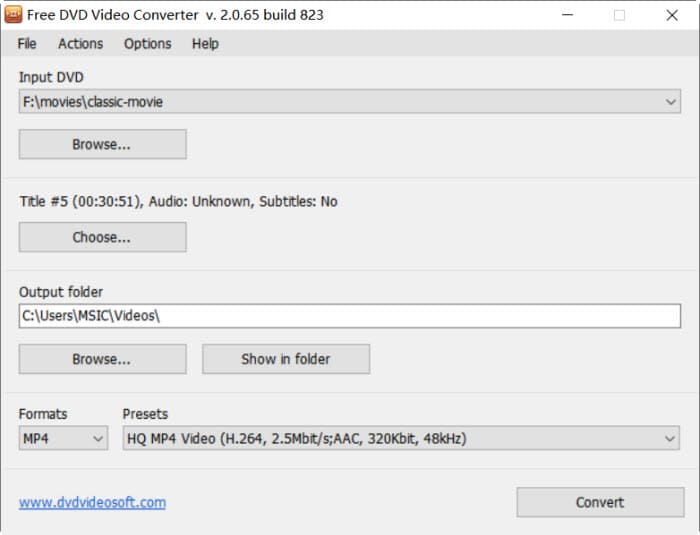 No 5. MediaCoder
MediaCoder is a free media transcoding that supports converting DVDs to most popular video and audio formats like H.264/AVC, H.265/HEVC, VP8/VP9, and more. It takes advantage of QuickSync, NVENC, CUDA to deliver a quick DVD to H.264/H.265 converting speed. Users are also allowed to adjust the output settings like video bitrate, format, rate mode, and more. However, the program is quite complicated to get started.
How to Convert DVD to MP4 with MediaCoder
Step 1: Run the DVD to MP4 converter. Click Add Track from the File menu and select your DVD.
Step 2: Click on the Video tab and check Enable Video function. Go to Format —- MPEG4.
Step 3: Click the Output Folder to specify where the program should save the converted files, then click START and wait.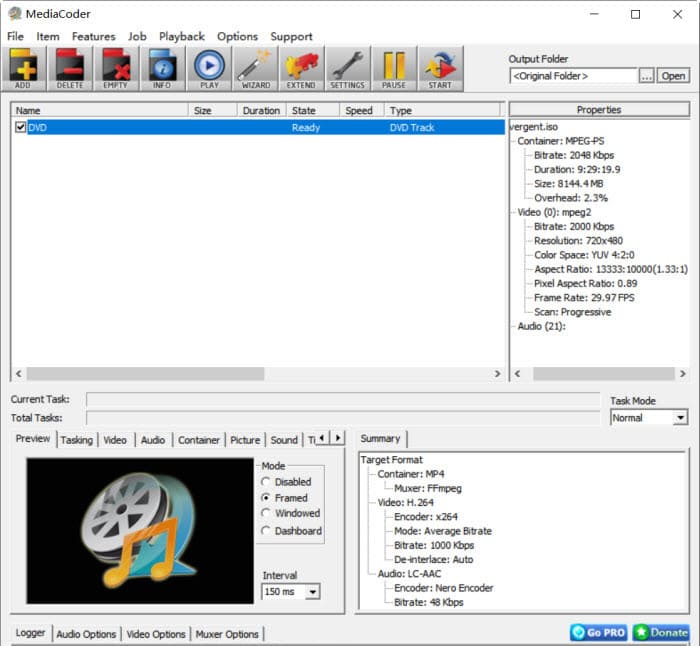 Basic Info about DVD and MP4 Formats
DVD Disc
DVD disc offers high storage capacity (up to 8.5GB/4 hours at typical bit rates) to store any kind of digital data. Most DVDs store video in MPEG-2 format at 720x480 pixels for NTSC and 720x576 pixels for PAL in either 4:3 or 16:9 aspect ratio. To play a DVD, you need a  DVD drive and an MPEG-2 decoder (e. g., a DVD player or a computer DVD drive with a software DVD player). With DVDs, you should note that:
• DVD is fragile.
DVDs are vulnerable to warping, scratching, and breaking. That means, your kids and even adults easily break them. When a disc is damaged or aged, sectors will become unreadable and you may encounter problems like sometimes it skips or even aborts, when DVD is inserted, it doesn't seem to read or load, and DVD playback keeps freezing. It's advisable to copy DVD against scratch or any damage.
• No disc drive.
Modern Macs, most ultrabooks, and game console like Xbox One S are coming without disc drive. To play DVDs, you need an external DVD drive and MPEG2 decoder. This becomes an extra burden when you want to bring some DVD movies on your trips.
• DVDs take much space.
DVDs are cumbersome and becoming a headache for those who have an enormous number of DVDs. They need nice DVD storage ideas and are often suggested to convert DVD to MP4 or other files to save space and find target item easily.
• Region code causes errors.
Virtually all commercial DVDs have region codes [wiki] which only permit the discs to be played on DVD players that have identical codes. E.G., you can't play a DVD from British (where region 2 is employed) in America (where DVDs and DVD players have a region code of 1).
MP4 Format
MP4 (MPEG-4 Part 14) is a digital multimedia container format most commonly used to store video, audio as well as data like subtitles and still images. It works with a variety of coompression schemes like H.264, HEVC, MPEG-4, MPEG-2, AAC and MP3. Relievedly, all the above problems with discs can be circumvented by ripping DVD to MP4 file.
• MP4 well balances size and quality.
MP4 features a high compression rate and great output quality. Therefore, it delivers a smaller file size than other formats when setting as the same quality. Sometimes an MKV file at least doubles the size of an MP4.
• MP4 is easy to store but hard to be corrupted.
Due to its easier storage and management, digital MP4 is the best format to backup DVD to. You can save it on computer hard drive, USB, flash drive, iPhone, Android, etc. You can categorize all the MP4 videos by genre, year, etc. based on your needs. It's easy to locate any file by searching. Unlike fragile DVD discs, MP4 files are difficult to be damaged during regular use. If corrupted, we have multiple ways to repair MP4 files.
• MP4 is widely supported.
MP4 is compatible with almost all devices, including computers and HD/4K TVs, phones, tablets, and game consoles from Apple, Samsung, Google, HTC, Microsoft, Sony, etc. It's accepted by programs, editors (e.g. iTunes, iDVD, iMovie) and web services (e.g. YouTube, Facebook, Vimeo). After converting DVD file to MP4, you can watch MP4 copies on the train, airplane, bus, etc without taking along physical discs.
Common DVD to MP4 Errors You May Meet
There are numbers of paid or free programs that claim to convert DVD disc to MP4. We can call out several big names like HandBrake, VLC and Format Factory. When selecting the best DVD to MP4 converter, you may want to avoid errors like:

1. It takes too long
#1 I was ripping some DVDs but the rip times were getting closer to 25-30 minutes a DVD. I've restarted my computer, checked my CPU usage (under 20%) and everything I could think of but it still took a long time. It's annoying when you're ripping 5-10 DVDs a day.
#2 Any better way to convert a DVD disc to MP4? I use DVD Shrink to rip DVD and convert it to MP4 using Handbrake. This is a pain as the DVD ripping takes about 15+ minutes and HB conversion takes 12-15 minutes.
#3 I am ripping a DVD movie to MP4 AVC/X264 with the AppleTV presets. The rip is averaging 11.8 FPS on my iMac. When I rip to .MP4 720x400 with quality setting at 60% and aac audio at 128kbps, I get an average of 4 to 8 FPS. That's too slow.
DVD video to MP4 ripping speed lies on both the performance of DVD ripper and computer configuration. The faster processor the computer has, the faster the encoding will be. It's widely considered as fast to convert a DVD movie to MP4 within 15 minutes, with an average speed of 25FPS+. A speed slower than that will require more patience. It's unacceptable when it takes hours to finish a DVD copy. In fact, you can rip a DVD in 5-10 minutes with a faster DVD ripper.

2. The output is not as good as the original DVD
#1 After trying many, MANY rippers, none of them give a good enough quality. I want the rips to be the highest quality possible or the same quality as the original DVD (768x576 or 720x576) and the size less than 1GB (prefer 200-400MB).
#2 I'm trying to rip some family's DVDs (weddings, etc.). But the ripped MP4 (same resolution as original) has some pixels on the screen.
The DVD rip to MP4 process will re-encode the videos and lose quality for that reason. But different codecs like MPEG4, H.264, and HEVC have different qualities (generally, HEVC > H.264 > MPEG4). To keep the the visually same quality (including Dolby digital sound), DVD to MP4 x265 is the best choice. Besides, copy protections like fake title, bad sector, CSS, etc. can result in bad quality if the software fails to remove them. That means you need to install a third-party DVD decrypter to handle encrypted DVDs.

3. The ripped MP4 is huge in size

# I have Pavtube but when converting using best settings in h.264 (mp4) the file gets huge. Tried using Handbrake, files are smaller (3.3gigs...). Need to convert some DVDs to an iPhone, so is it possible to SHRINK it somewhat to fit on a mobile device?
A compelete DVD is anywhere from 4-7GB and the rip size depends on how nice you want the quality. Simply put, DVD = low compression and mp4 = compression. Therefore, you can compress down to whatever size you want. The smaller size, the lower quality. Generally, for full length movies (1.5 - 2hrs) to h.264 codec, 1.2-1.8 gigs a movie will give good quality.
Summary: It's kinda a paradox to get the fast speed, optimal quality, and small size for the DVD to h.264/mpeg-4 avc. However, a battle-tested DVD converter can get the best possible results in a balanced way.
Frequently Asked Questions
Can VLC convert DVD to MP4?
How long does it take to convert a DVD into MP4?
Generally, it's 15-40 minutes for a one-and-half hour movie. It takes about 5 the time for Blur-ray and HD DVDs. For example, on a modest machine, we find that HandBrake takes 30-45 minutes to rip a feature-length movie to MP4 while the peers need more time. On a computer with higher configuration, a full DVD can take anywhere from 15-25 minutes. With WinX DVD Ripper Platinum's Level-3 Hardware Acceleration enabled, it's possible to finish a DVD rip within 5 minutes.
How many GB is the MP4 file for a full DVD?
The size of the ripped MP4 video depends on the quality you select. If you keep the original DVD quality, the H264/AAC (mp4) profile generally range from 1.2Gb - 1.6Gb after rips. By converting DVD to H.265 MP4, the size can be reduced by 50% at the same quality.
How do I covert protected DVD to MP4?
You need to get a DVD ripper that supports copy protections. There are protected DVD rippers that supports Disney DRM, CSS, region codes, RCE, 99 titles, etc. Download the program, insert your DVD, and it should be able to read and analyze the correct title of a protected DVD. (Please note, before you convert a protected DVD, make sure you legally own it.)
How do I rip a DVD to MP4 with VLC?
Step 1: Open VLC.
Step 2: Click Media drop-down menu and select Convert/Save.
Step 3: Click Disc tab and select the DVD to rip in Disc device.
Step 4: Click the Convert/Save button.
Step 5: Select Video - H.264+MP3 (MP4)
More items... April 8, 2020
How do I convert a DVD to MP4 using Windows Media Player?
Windows Media Player is able to convert CDs but there is no option to convert DVDs to MP4 file format. The only option available is to use anther third-party program to convert a file format into MP4. Learn detailed info here >>
Which is the best program to rip DVD to MP4 on computer?
Is it possible to rip DVD to MP4 on Windows (10) or macOS (Big Sur) with the built-in apps? No, there's no default DVD ripping program.


Why? For one thing, DVD copy protections of various kinds sit nearly on all DVDs of movie, TV series and fitness currently. So it's quite a complicated process to kick them to one side and rip DVD to MP4 or other formats on the computer.


For another and also the most decisive thing, decrypting commercial DVDs by circumventing copy protections for profit usage is prohibited officially by DMCA (Digital Millennium Copyright Act).
Is converting DVD to MP4 legal?
It's not legal to crack a DVD in United States. But it's widely considered that it's OK to make an "archival" copy of any DVD content that you've legally purchased/acquired the rights to.
* Disclaimer: Digiarty Software does not advocate ripping copy-protected DVDs for any commercial purpose and suggests referring to the DVD copyright laws in your countries before doing so.
* DVD copy protections (DVD region code not included) only have an effect on illegal DVD copying, but not on DVD playback.