Top 7 Ways to Convert VOB to MP4 on Windows 10/11 and Mac
VOB (.vob), short for video object, contains the main content of DVD-Video, including video, audio, subtitles, DVD menus and navigation. Together with .BUP and .IFO, DVD .VOB files can be played perfectly on HDTV via specialized DVD player, or on Windows PC via Windows DVD Player, or any other video players of generic MPEG-2 files, on condition that the VOB files are unencrypted.
Chances are you want to have these DVD VOB files, encrypted or unencrypted, acceptable by other devices without generic MPEG-2 files. In this case, it's better to convert VOB to MP4, the absolutely most-welcomed digital format. If you are on the hunt for a feasible way to convert video file from VOB to MP4, here we go.
What You Need to Know about VOB to MP4 Conversion?
Prior to converting VOB to MP4, there are something you need to know for better conversion in advance.
1. VOB can be stored in Video_TS Folder. Generally, a DVD file comes in 3 types: DVD disc, DVD folder, & ISO image file, from the former two of which can you see VOB files. When you insert a DVD disc into a DVD drive, right click on it, you will find the VOB files located in a video_ts folder at the root of a DVD. So when it comes to encoding VOB file to MP4, it possibly means to convert DVD VOB to MP4.
2. VOB is around 1GB in size. It's common to see multiple VOB files in a VIDEO_TS folder to hold a full-length DVD movie. Each VOB file is around 1GB in size in order to be compatible with all operating systems. This is relatively huge compared to other media file that is merely KB or MB. That's to say, to convert a big VOB file can be computer-intensive and relatively lengthy, especially if your VOB to MP4 converter is not good at speedy conversion. So a GPU-accelerated tool is highly recommended.
3. VOB can be encrypted. As to the DVD content itself, there are two cases. If it is unprotected and made personally, the VOB files can be extracted from the VIDEO_TS folder and saved to your hard drive, so common video player can read VOB files and video converters such as Handbrake have no problem with VOB to MP4 transcoding. But if the source content is commercially encrypted, these tools will work abnormally. You'd better ask a professional DVD VOB converter for help.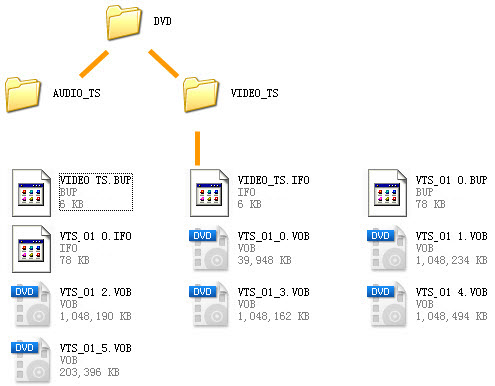 With all these factors considered, we've screened out the best VOB to MP4 converters to better suit your specific needs.
Part 1. How to Convert Protected DVD VOB to MP4 on Windows 10/11?
Input format: Protected DVD VOB, Video_TS Folder, ISO Image
Video size limit: no size limit at all
Output quality: High
Conversion speed: Fast
GPU accelerated: Yes. Support hardware-accelerated decoding, encoding, and processing.
Currently, almost all new DVDs on sale are shipped with copy protections, like CSS, DVD Region Code, UOPs, Sony ARccOS and Disney DRM. These decryption keys are stored in an inaccessible area of a disc. Even if you have already copied the VOB files to your hard drive, these keys are not copied. So common software may get error message while encoding VOB to MP4. To recognize, analyze, and circumvent the complicated encryptions for personal use, a good DVD ripper must be constantly updated to cater to the changeable DVD market.
WinX DVD Ripper Platinum just comes to fit the bill for ripping locked-DVD VOB to MP4. From 99-title DVDs, to exercise DVDs (e.g Beachbody P90X3 workout ones), to music/Japanese special/unplayable DVDs, WinX DVD Ripper Platinum can handle them all surefootedly.
How to Convert DVD VOB to MP4 with WinX DVD Ripper Platinum?
Click "DVD Disc" or "DVD Folder" to browse and select DVD into program.
Choose "MP4 Video (H.264/MPEG4+AAC)" as target video format.
DRM tech and the right main title information of DVD will present in a small dialog box. Jump over it and do some video editing if necessary. You can cut VOB video, merge VOB files together, add external subtitles, and more.
Press "RUN" to start the DVD VOB to MP4 ripping process.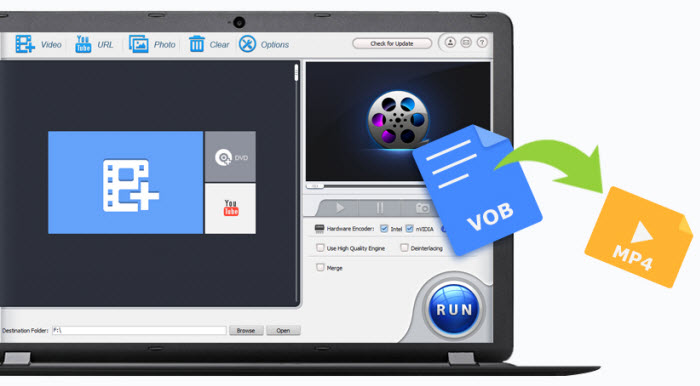 Part 2. How to Convert Unprotected VOB File to MP4 for Free?
You probably have many home recordings or family videos in .vob format saved on your computer hard drive. However, these VOB files, even though they are unencrypted, are not accessible to the majority of PCs, TVs, mobile devices, video editing software and social sites. The following section will introduce some well-known VOB video converter for you to convert VOB to MP4 so that you can play it on your gadget effortlessly.
Note: the following VOB to MP4 converters can only cope with VOB files that are unencrypted. If you want to convert copy protected DVD VOB files to MP4, please go to Part 1 for help.
Input format: Video, audio, vector, font, ebook, etc.
Limit: 25 conversions per day, 1Gb file size maximally, and 5 parallel conversions.
Conversion speed: Slow. Internet connection is required.
Output quality: High
Ads: no
CloudConvert is a no-brainer when it comes to the sheer quantity of the file types it can convert, supporting as many as 200 formats, including documents, images, videos, audios, vectors, cads, and spreadsheets. Like many other online tools, you can use CloudConvert to convert a VOB file to MP4 easily without downloading additional software. It is totally free for up to 25 file conversions per day, as long as the file is no bigger than 1GB. Subscriptions starts from $9 per month for larger files and 1000 conversion minutes.
There is something specials need to be notified: CloudConvert relies on internet connection, which can be slow while uploading a VOB file, since it is nearly 1GB, reaching the max file size limit of CloudConvert. And make sure the VOB files you are going to convert is unencrypted.
How to Convert VOB to MP4 on Windows 10 with CloudConvert?
Once you have your VOB files ready that you need converting, simply upload them from your local computer, Google Drive, Dropbox, or One Drive. You can add maximally 5 VOB files at a time.
Tell CloudConvert what you want to convert into, say MP4.
Wait for uploading and click Convert button. Input format: video, audio, document, ebook, archive and image.
Limit: maximum 1GB file size and 25 conversions per day.
Conversion speed: slow. Internet connection is required.
Output quality: medium
Ads: Yes.
FreeConvert is another beginner-friendly online VOB to MP4 converter. It is really as straightforward as it sounds, making it pretty easy to change file format among video, audio, image, ebook, document, and archive. You can find yourself limited to 1GB file size and only 25 conversion minutes per day. But FreeConvert pro plans starting from $9.99 per month are offered, providing more maximum file size, concurrent conversions, and file merging ability.
FreeConvert makes money by displaying on-screen ads. This may possibly lead to hidden virus, putting your computer in danger. So be careful. Its converting speed is also nit-picking, depending on your Wi-Fi/cellular data speed and file size. But if you value the simplicity, you can absolutely try the tool. The entire video conversion process is divided into 3 steps. Just follow the guide below.
How Do I Convert VOB to MP4 for Free with FreeConvert?
Import VOB files from your device, URL, Google Drive, or Dropbox
Choose preferred format. If you need to change VOB format into MP4, just choose MP4.
You can customize multiple parameters such as frame rate, aspect ratio, codec, screen size, as you like.
Click Convert to MP4 button.
Note: Bigger and more complicated files take longer and take more resources, so you are not allowed to convert as many VOB files. Way 4. HD Video Converter Deluxe
Input format: 370+ video and audio codecs, including MPEG2, VOB, AV1, HEVC, etc.
Limit: Software download is required.
Conversion speed: Fast. Support GPU-accelerated video decoding, encoding and processing.
Output quality: High
Ads: No
WinX HD Video Converter Deluxe is a professional video converter, which supports up to 4k/8k HEVC video file with no size limit, offers 420+ conversion presets, and speeds up the converting process to 47X real-time faster. You can encode VOB, MP4, HEVC, AV1, AVC, MPEG, VP9, WebM, MKV, MOV, and many more. If you've got a backlog of hundreds of large VOB files, converting all those videos won't be a pain with this tool. All you have to do is to queue the files up, choose MP4 format, and walk away. This tool will enable hardware acceleration automatically, thus dramatically accelerating the speed. There is no file size limit at all. Instead, you can even compress the large VOB files to smaller MP4, with visually no quality loss at all.
Unlike online video converter, it requires additional software installation, but just takes up 125MB of hard disk space. With the intuitive interface at its core, you can take advantages of online video download and edit features to save web videos, trim/crop video content, disable/add subtitles, and choose audio channel/resolution at will.
How Do I Convert VOB to MP4 on Windows 10/11 with WinX HD Video Converter Deluxe
Free download the video converter on your PC or Mac. It keeps updated with the latest Windows 10, Windows 11 and macOS Monterey. Install it and kick it off.
Click "+ Video" to browse and select all (Ctrl+A) VOB files in one local VIDEO_TS folder, then tap "open" to load all of them into converter completely. If you only want to convert a standalone NTSC/PAL VOB to MP4, just add it only.
After all VOB files are loaded, click as the path: Output Profile > General Profiles > choose "MP4 Video" at output profile windows. You can also export VOB file straight to social sites like YouTube, gaming console, smartphone, tablet, etc.
Check "Merge (Output Video)" and "RUN" button at the right hand UI in turn to switch multiple DVD VOB clips into a single MP4 video.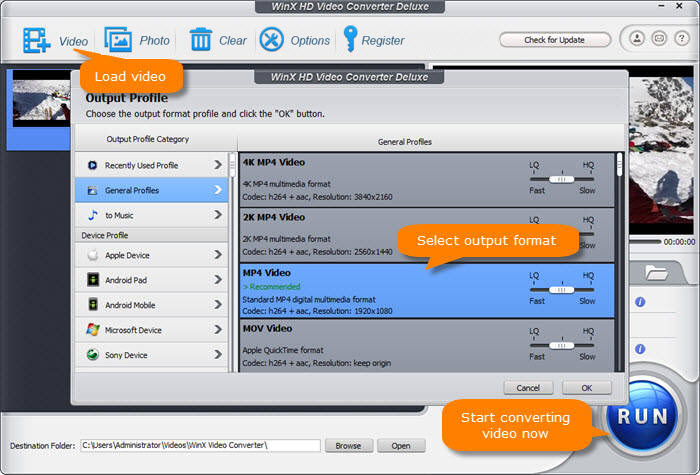 Input format: 63 video formats, 43 audio formats, 17 image formats.
Limit: Software download is required. Converted files are watermarked.
Conversion speed: Slow.
Output quality: Medium
Ads: Yes
Freemake has been the industry benchmark for years when it comes to video converting. It offers a vast library of conversion, including VOB, AVI, MPG, MP4, etc and optimizes your videos for playback on your iPhone, iPad, PS4, Apple TV, etc. Except encoding videos in different formats, you can also burn files directly to a disc.
Freemake is criticized for its failure to keep its word as a free product. Intrusively, the program stuff a bunch of upsells and ads during the whole VOB to MP4 video encoding process. Even if you stick to the free version, you will notice watermark in the converted VOB files. This is because Freemake intentionally watermarks the file during the video conversion, unless your purchase the upgraded version for video transcoding. But if these ads are not any problem for you, you can still have a try.
How to Convert VOB Files to MP4 with Freemake
Free download the video converter on your Windows 10/8/7. .NET Framework 4.5 Client Profile is required for running Freemake Video Converter.
Click +Video button to import VOB videos you want to encode. Freemake doesn't support converting any protected VOB file. So make sure it is unprotected.
Find to MP4 among the format button.
Customize the file, such as the bitrate, codec, frame size, and so on.
Choose where you want to save your new MP4 video, set a local folder, USB device or cloud account folder.
Click Convert button and begin transforming VOB to MP4.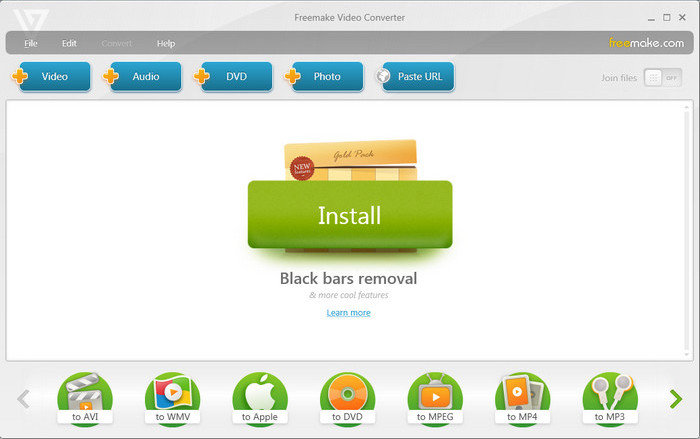 Input format: Unprotected DVD and video.
Limit: Software download is required.
Conversion speed: Medium.
Output quality: Medium
Ads: No
Handbrake is enormously popular as a free and open-source video transcoder software working on Windows, Mac, and Linux. It not only functions as a video converter but also a stunning DVD ripper for unprotected DVD sources. That means whether your VOB files are stored at the root of your DVD within the Video_TS folder or saved in your computer hard drive separately, Handbrake will help to transcode them into MP4, WebM or MKV format easily, as long as they are unencrypted.
On top of that, Handbrake offers buckets of other useful features under the hood, ranging from encoding settings, adjusting frame rates, changing codecs, applying effects, cropping large video frames, etc. These features come at the cost of user friendliness to some degrees. So if you are a beginner, they may intimidate you. But with a little bit of a learning curve, you will be fond of using the video encoder.
How to Convert VOB to MP4 on Windows 10 or Mac with Handbrake
Download and install Handbrake on your computer. Note: Windows 10 is the minimum version supported in Hanbdrake 1.4.0 or above. And Microsoft.Net 5 Desktop Runtime is required for successful installation.
Click File to open a single VOB video from the computer. You can also click Folder to open more files located within the folder.
By default, the output format is MP4 under the Summary tab. Leave it unchanged. You can tweak the preset from Fast 1080p30, Roku 720p30 Surround, to Apple 1080p60 Surround.
Tweak the dimensions, filters, video, audio, subtitles, chapters as per your needs. It is a little bit complicated for beginners. You can check Handbrake tutorial page for detailed suggestion.
Click Browse button in the bottom right of the window and select where your encoded VOB file will be saved on your computer.
When preparation works are all done, tap "Start Encode" to change VOBs to MP4 immediately. It will take some time, depending on your source video, output setting, and your computer hardware.
Here we have to remind you that Handbrake may fail to open VOB if it is from commercial DVD, it will fail to load but show an error "No valid source or titles found". This is because Handbrake can only rip CSS-protected DVD VOB file when you install Libdvdcss additionally.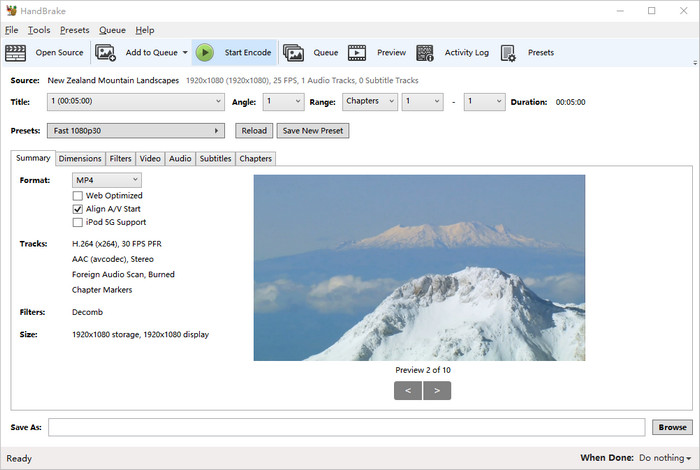 Input format: MPEG, AVI, WMV, MP4, MOV, 3GP, OGG, Matroska (MKV), DTS, AAC, MXF, etc.
Limit: Software download is required. Libdvdcss is needed for converting CSS-protected VOB to MP4.
Conversion speed: Low.
Output quality: Medium.
Ads: No
As the most powerful and acclaimed media player, VLC can not only play VOB and more files lightly, but also do many video transferring and editing jobs, including converting DVD VIDEO_TS VOBs into MP4. Although VLC is left behind by other desktop video converters in more complex steps and slower conversion speed, it's still an ideal choice if you just need to convert DVD folder to MP4 once in a while.
How Can VLC Convert VOB to MP4?
Open VLC and click Media -> Convert/Save. Alternatively, you can directly enter "Ctrl + R" shortcut key.
Click to "Disc" panel, browse and select VIDEO_TS folder. (You may notice the first File panel allows you to select local media file/files by clicking "Add...". But unfortunately, only until GUI in VLC 3.0.0 would it support batch converting.)
Click "Convert & Save" button at the bottom to enter into "Convert" window.
Choose an MP4 format under the profile lists, like "Video - H.264 + MP3 (MP4)".
Define destination location and file name for MP4.
Tap "Start" to wait for the VOB to MP4 finished. VLC just supports hardware accelerated decoding. Hardware encoding is not supported. So the transcoding process can be a little bit slower than other professional converters.
Note: there are some people report that VLC converts VOB to MP4 but no sound error. This can be the audio codec that your MP4 container cannot hold. For example, MP4 doesn't support VOB's PCM audio format. Make sure to change to the audio codec like AAC that MP4 supports. Secondly, make sure the audio setting matches the bitrate of the source VOB. Or the generated VOB file will play without audio.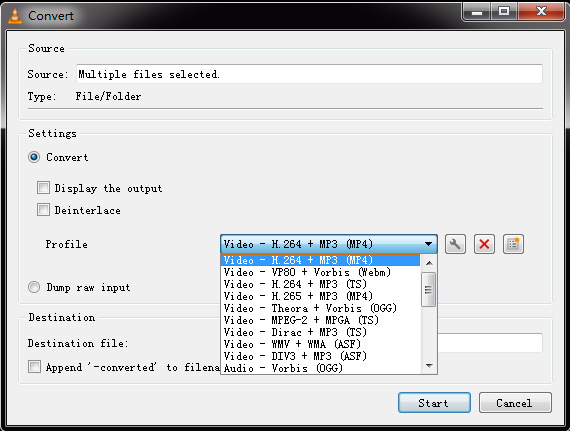 Part 3. FAQs about VOB to MP4 Conversion
1. What is VOB?
VOB, namely Video Object File, is the container format in DVD-Video media. VOB contains DVD digital video, audio, subtitles, DVD menus & navigation contents mixed together into a stream form. It is under the VIDEO_TS Folder of a DVD and each VOB file is usually less than 1 GB. VOB format files may be encrypted. Players with built-in MPEG-2 files can usually play unencrypted VOB files. >> How to Play VOB Files?
2. Why You Need to Convert VOB Files to MP4?
There are a lot of reasons to convert VOB to MP4. VOB cannot be edited. It can't be accepted by some popular players and popular devices, such as iPhone iPad. VOB is almost 1GB in size, which is not size-friendly and may occupy too much hard disk space of computer. VOB file is part of DVD video. It may be copy-protected with Content Scramble System (CSS) as DVD disc, restricting the playback.
By converting VOB to MP4, the videos can be highly compressed and convenient for storing, without taking up too much storage space on your device. Additionally, it will be fully compatible with all iPhone, iPad, Android, PC, Mac, etc, and allows streaming over the Internet easily.
3. How Do I Convert VOB to MP4 without Watermark?
Most free video converters do offer VOB to MP4 conversion but come with watermark unless you upgrade to its paid version. For example, Freemake adds its brand logo in the video. Movavi Video Converter, Wondershare Uniconverter and other free video converters add a watermark when you use its trial versions. If you want to convert a VOB file to MP4 with no watermark, you can try WinX HD Video Converter Deluxe, VLC, or Handbrake. It is completely clean and trustworthy.
4. Can I Convert Large VOB to MP4 Online Free?
As is mentioned above, online VOB to MP4 converter tools put a size limit on file uploads, ranging from 100mb to 500MB. It will be trickier to convert VOB files to MP4, since most VOB contents are around 1GB. Even though some online tools like CloudConvert supports maximally 1GB file size, the uploading and converting processes can be slow, depending highly on the network connection. Besides, these web-based converters are full of ads and unsecure. So it's better to resort to desktop VOB converter instead.
5. How Do I Convert VOB to MP4 on Windows 10?
If you are working with a computer or laptop running Windows 10 or 11, you can try WinX HD Video Converter Deluxe and complete VOB to MP4 conversion task. Here is the step-by-step guide for a flawless VOB to MP4 conversion. Download, install and run the VOB to MP4 converter on Winodws 10 or Winodows 11.
Click +Video button to load VOB file.
When an output format window pops up, you can choose the desired MP4 format from the list. Generally H.264 MP4 will maintain the best balance in quality and size.
Specify a folder where you want to save the converted VOB file.
Press RUN to begin conversion from VOB to MP4.
6. How Do I Convert VOB to MP4 on Mac?
There are some Mac-specific VOB converters available on the market, tools like MacX Video Converter Pro, Cisdem Video Converter, MPEG Streamclip, and so on. All feature the ability to transcode VOB file to MP4 on Mac easily and share similar workflow. Just drag and drop the VOB file to be converted. Choose the output format MP4. Choose an output folder where you can save the converted file, and start the conversion process.