How to Fast Convert MP4 to VOB for NTSC/PAL DVD Burn
"I've some MP4 video files which record wonderful moments of my mom's birthday. I want to convert those MP4 videos to VOB for burning to DVD. Anyone can show me a tutorial about converting MP4 to VOB?"
There's a time when we need to convert MP4 videos, shoot by ourselves, downloaded or purchased online, to VOB format for later burning to DVD. Then we can play the content on TV via DVD player. So, how to convert MP4 to VOB without losing quality?
Top 5 Free MP4 to VOB Converters
If you are going to convert a video file to another format, Handbrake should never be excluded from the video transcoder list. But when it comes to convert MP4 to VOB, Handbrake is of no use. There is no VOB profile in Handbrake at all. So be careful of some posts sharing you Handbrake to convert MP4 to VOB without losing quality.
You can rely on WinX Video Converter, one of the best and fastest MP4 to VOB video converters, available for Windows 11, 10, 8.1, 8, 7, Vista and XP. Plus, it is accompanied by an up-to-date Mac version for macOS Mojave and lower. This tool allows users to convert SD/HD/4K MP4 to VOB directly for burning to NTSC DVD or PAL DVD. Fast conversion speed is guaranteed owing to the support for Intel QSV, MMX-SSE, Nvidia CUDA/NVENC, Hyper-threading and AMD 3DNow! Technologies. Besides file format conversion, it can perform video editing like merging, cropping and trimming. To keep the image clean, it will never embed watermarks or other craps.
For Windows and Mac only. If you are a mobile user, please click here.
How to Convert MP4 to VOB with WinX Video Converter?
Firstly you can free download the MP4 to VOB converter then install it on your PC. Open it and follow the steps below to begin changing file format from MP4 to VOB.
Step 1. Load target MP4 video(s).
You are allowed to load a single MP4 file or a couple of files by clicking "+ Video" button resided at the top left corner or dragging and dropping them into main UI.
Step 2. Select VOB as output.
Scroll down to "DVD Profile" of the Target Format window, and choose NTSC DVD VOB file format or PAL DVD VOB file format based on your own needs.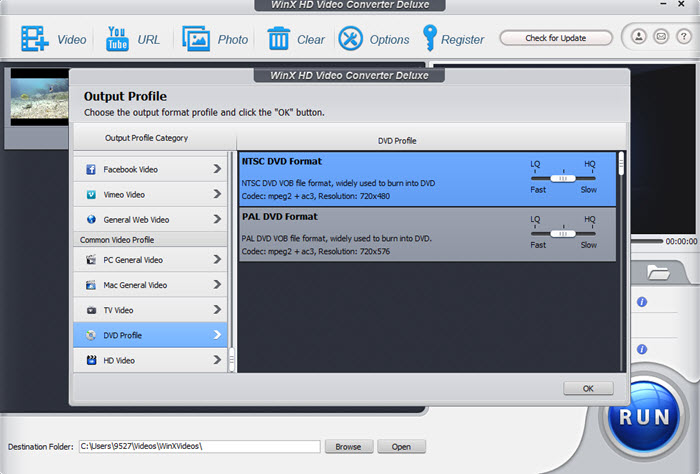 Step 3 (optional). Edit videos.
If you need to join multiple videos into one, tick "Merge" under the preview window. Move mouse over a file, you'll see arrow keys which are designed to customize the video sequence. For cropping or trimming off unwanted segments, click on "Edit".
Step 4. Begin converting MP4 to VOB.
When everything is in place, you can tap on the blue "RUN" button at the bottom right to execute MP4 to DVD VOB format instantly. Then, you can walk away and let the converter do this job by itself.
After converting to VOB, you can burn VOB to DVD easily for free. A standard DVD disc is good for approximately 2- hour video. If longer, you will need a dual layer disc.
#2. Convert MP4 to VOB Free with TalkHelper Video Converter
TalkHelper Video Converter is another user-friendly software solution that enables you to convert to and from most popular media formats, including MP4, VOB, MKV, AVI, MOV, and more. With an intuitive and minimalist interface, you can finish the video conversion in a straightforward way.
If you are not satisfied with the results of the MP4 to VOB conversion, you can go one step further to tinker with the VOB settings, including codec, frame rate, bitrate, and even resize the file.
How to Convert MP4 to VOB with TalkHelper Video Converter?
Step 1. Select the MP4 file to convert by clicking on Add Media button on the main interface and then choose Add Video File… from the expanded menu. You can also choose to add video folder to load multiple MP4 files in a folder.
Step 2. Choose an output format by navigating to Video > DVD-Compatible Video > pick any of the expanded target format, covering PAL and NTSC with specific frame rate and resolution.
Step 3. Click More parameters button, where you can tweak some advanced options, including quality, audio track, subtitles. Click OK to save the settings.
Step 4. Press Start Convert button to start the MP4 to VOB converting process. #3. Convert MP4 to VOB Free with VLC Media Player
Despite VLC is known as a media player for Windows, Mac and Linux, it works as a video converter that delivers a relatively satisfactory result if you do not nit-pick over the converting speed. Supporting almost all video file format, from MP4 to AVI, MKV, WMV, VOB, Xvid, DivX, VLC makes converting video a piece of cake and leaves you with no hassle.
However, you have to bear in mind that VLC doesn't convert MP4 to VOB format, instead it encodes MP4 into a file in .ts that is also associated with DVD.
How to Convert MP4 to DVD TS with VLC?
Step 1. Here you can go to Media > Convert / Save option to open the Open Media window.
Step 2. Import an MP4 file you want to convert to VOB by clicking + Add button, then press Convert / Save button.
Step 3. Expand the Profile list from the drop-down list, and choose Video – MPEG2+MPGA (TS) as the final format. This will ensure a good video to DVD burning process.
Step 4. Click Browse button to open the Save file …, choose a saving directory, and hit the Save button. Then you can click Start button to begin converting MP4 to DVD TS file. #4. Convert MP4 to VOB Online Free with Veed.io
Veed.io is an online video toolbox that features video conversion from MP4 to VOB without any requirement to download external software. That means you don't need to bother about setting up software on your desktop computer or laptop and finish the converting job all in a single click. VEED is more than just a MP4 to VOB converter. With it you can add stunning video effects, filters, images, text and more to create professional-looking files.
There is a caveat. The MP4 video file you are going to upload should be shorter than 10 minutes and less than 250mb file size. Plus, converted VOB file will be placed with watermark unless you upgrade to its Pro version, priced at $30 per month.
How to Free Convert File from .mp4 to .vob with VEED?
Step 1. Upload the MP4 file you wish to convert to VOB. You can drag and drop the file onto the page, or click the button Upload Your File from your device, dropbox. It will take some time to upload the file, depending on your internet speed and the size of your file.
Step 2. Choose VOB as the output format from the dropdown list of the file type.
Step 3. Change the conversion options, ranging from resolution, aspect ratio, fps, sample rate to audio channel. Then press Convert File.
Step 4. Press Download File button to save your converted VOB file. #5. Convert MP4 to VOB Online Free with MP4.to
MP4.to is another handy web-based service that enables you to convert MP4 to VOB online, if you don't want to download or install any software on your PC. Besides changing video format from MP4 to VOB, MP4.io also supports WebM, MOV, PDF, word, photos like JPEG, WebP, etc.
MP4.to offers the ability to convert files up to 2GB free and 100 GB for upgraded users. It also asks for $4 for single charge, enabling you to have 1 daily pass to convert all the files you want. You can also spend $8 to convert all video files monthly. There can be some server responded with 0 code error while converting.
How to Convert MP4 Video to VOB Online with MP4.to?
Step 1. Drag and drop the MP4 file or simple click the upload area to upload the file. Then your file will go into queue.
Step 2. Since the VOB output format is automatically selected, it will automatically convert your MP4 to VOB file format.
Step 3. Then you can press the download link and save VOB to your computer. What Is VOB?
VOB is a movie data file format containing a majority of data stored on the disc, which allows for videos to be cut into chapters, adds multiple subtitles and audio tracks into a single file, and uses menus for easy navigation. It is encoded in MPEG-2 and stored in Video_TS folder at the root of the DVD. Files in VOB format extracted from commercial DVDs may be encrypted, which may result in error when trying to copy file to another location or convert VOB to MP4 or other format. You need trustful video transcoder to finish the task.
What Is MP4?
MP4 is one of the most common file format used for taking footages with camcorders, cameras, smartphones, and distributing video online. It is a highly compatible and compressed format that is used for storing video clip, audio, subtitles, still images, and metadata. Videos are normally encoded in codecs like H.264, HEVC while audios are compressed with AAC compression. However, MP4 isn't an optimal format initially built for DVD disc. If you have a lot of MP4 files in hand, you can convert MP4 to VOB file for burning a playable DVD disc.
FAQs about How to Convert MP4 to VOB
1. Can Handbrake convert MP4 to VOB without losing quality?
If you are going to convert a video file to another format, Handbrake should never be excluded from the video transcoder list. But when it comes to convert MP4 to VOB, Handbrake is of no use. There is no VOB profile in Handbrake at all. So be careful of some posts sharing you Handbrake to convert MP4 to VOB.
2. Is Online MP4 to VOB Converter Better than Desktop Converter?
It is easy to convert MP4 to VOB online, however disadvantages are obvious. Let's just name a few. Many online MP4 to VOB converters like convert.io, veed.io, etc provide one-by-one conversion only. You can't convert multiple files in batch and let alone merging them into one. Different from desktop converting software, it requires network connection to upload file and download output. Despite all that, you still love online converter because it is free? Check it carefully again, and you probably find maximum upload file size maybe 50MB and a sign up option for expensive purchases. So, a desktop-based program is a more favorable option.