What is MP4 (MPEG-4 Part 14) Format? Everything about MP4 is Here!
What is the MP4 format? MP4, or MPEG-4 Part 14, is a media container format that stores video, audio, subtitles, and images, normally in a .mp4 file extension. As for the popularity, MP4 is the only game in town, and to some extent, is a pretty well-educated guess in every single regard: itself (best balance of size and quality), powerful x264 encoder, compatibility with portable devices, and the rise of streaming service. Keep reading if you wanna know deeper about the MP4 format and everything related to MP4.
The Best MP4 Video Converter - Convert Any Video to/from MP4 Freely
Free download WinX Video Converter, the No.1 fast free MP4 video converter, to handle every single MP4 file. It supports immaculate video conversion between MP4 and any other video formats, to help play any video on iPhone, iPad, Android, PSP, TV, etc. You can convert MP4 to/from MKV, MOV, AVI, FLV, WMV, WebM, HEVC, H.264, MP3, you name it!
Part 1. What Is MP4 File Format
1. MP4 ( MPEG-4 Part 14) Introduction
MP4 ( MPEG-4 Part 14) is a digital multimedia container format designed to store video, audio, subtitles, still images, text, and other data. To make it more clear: e.g. MP4 container (.mp4) = MP4 format video (H.264 codec) + audio + subtitle. MP4 files are not video compression format and can contain H.264 video, MP3, or AAC for audio, or other types of video and audio codecs. MP4 is based on the QuickTime File Format and MPEG-4 Part 12(Version 1) released in 2001. The most recent release, ISO/IEC 14496-14:2020, MPEG-4 Part 14, was released in 2020.
MP4 format is an open format licensed with an open license and can be used by free open-source software. However, it doesn't mean that MP4 requires no fee to access. The MP4 container format supports most audio and video codec formats, making the format highly compatible and easy to use. Similar to other commonly used container formats, MP4 file format is commonly used for storing, sharing, downloading, and streaming over the internet. Note that differ from MP3, MP4 is a video format.
2. MP4 Filename Extensions
MP4 video files commonly use .mp4 extension. Other MP4 filename extensions include .m4a, .m4b, .m4p, .m4r, .m4v, .3g2, and .3gp. More detailed introduction to these different filename extensions is listed below.
.mp4 - a standard MP4 filename extension for video files that may also contain audio and subtitles.
.m4a - MP4 files that only have unprotected audio files.
.m4p - MP4 files with protected audio streams encrypted by FairPlay Digital Rights Management.
.m4b - MPEG-4 audiobook and podcast files commonly uses .m4b extension.
.m4r - used by Apple iPhone for ringtones.
.m4v - Raw MPEG-4 Visual bitstreams in MP4 container format.
.3gp and .3g2 - adopted by old low end mobile phones.
3. Advantages and Disadvantages of MP4 Format
Advantages of MP4 Format
The media format market is increasingly dominated by MP4 mainly for its quantum leap forward in the data compression algorithm. In other words, just because of the appearance of MP4 with its advanced video encoding technique, you can enjoy better video quality at the same size. Key advantages of the MP4 format are a higher degree of compression and great compatibility.
MP4 can be widely used on multiple platforms and devices since it's easy to use, distribute, and stream. Most media players, ranging from VLC Media Player to 5KPlayer, have support for MP4 file format. The high compression efficiency of MP4 format produces better quality with smaller file size, making it suitable for video streaming over the internet and compressing HD video media files. MP4 container format can contain metadata, such as video, audio, subtitles, images, PDFs, menus, user navigation options, and more. Various types of video and audio codecs are well supported by MP4 container format, for example, H.264, HEVC, AV1, MP3, AAC, and FLAC, to name a few.
See also: How to Convert MKV to MP4 without Losing Quality
Disadvantages of MP4 Format
MP4 format is not perfect. It's just a container format, meaning that it only stores data instead of transcoding. Its efficiency is based on the codecs it contains while there are hundreds of video and audio codecs. For example, MP4 encoded with HEVC has a higher compression ratio, compared with MP4 encoded with H.264 codec. Luckily, there are still lots of ways to compress MP4 video file. The compatibility is also affected by the codec it uses. You may run into video audio sync issues or file format compatibility issues during playback or editing.
MP4 is a lossy format, the higher degree of compression results in quality loss. It would have an editing problem as well. Accurate video editing requires more I frame, while MP4 (h.264) videos contain more B/P frames. The wide usage of the MP4 format also results in the illegal distribution of copyrighted files. Piracy issues with MP4 formatted movies on the internet are also a big drawback of MP4 format.
4. What video audio codecs does MP4 support?
MP4 is a container format that can store video, audio and other data. So, what codecs does MP4 support?
Video codecs: H.264/MPEG-4 AVC, MPEG-4(A)SP, MPEG-1, MPEG-2, H.265, VC-1/WMV, Real Video, Theora, MPEG4 V2, VP8/9, MVC
Audio codecs: MP3, AAC, WMA, Opus, AC-3, DTS, LPCM, ALAC, DTS-HD
Caption/subtitle formats: MPEG-4 Timed Text
5. Usage of MP4
MP4 has penetrated into every aspect of our life. Teachers or trainers usually insert MP4 videos into PPTs to make further explanation. Companies always save their propaganda films as MP4 to fit for miscellaneous broadcast platforms flawlessly. Web surfers often download online videos as MP4 for fluent playback on media players, editing for further use, burning to DVD, etc.
The appearance of MP4 brings us many benefits in terms of movie playback, video transport, online video streaming and more.
Movie video, audio, subtitles and images can be merged into a single MP4 file which is available to play on various devices smoothly.
We can send MP4 to others via email without costing too much time because high level of compression produces small file size.
MP4 allows streaming over the internet. Small file size and low bandwidth consumption make MP4 streaming become popular.
Part 2. MP4 Format Compatibility and Device Support
1. MP4 has the widest range of compatibility with devices and programs
MP4 file format was first released in 2001 as ISO/IEC 14496-1:2001, and was revised in 2 years later as ISO/IEC 14496-14:2003. It is based on QuickTime file format, but quickly becomes more popular than QuickTime format and others and the search for how to convert MOV to MP4, or other formats to MP4 tops in the format conversion . And MP4 is natively accepted by computers, tablets, phones, game consoles, TVs and more manufactured by Apple, Microsoft, Samsung, HTC, Google, Huawei, Amazon, Lenovo, etc. Besides, it's widely accepted by almost all media players, video editors, and browsers. In stark contrast, other formats are supported by limited devices and programs. For instance, MKV, WebM, and 3GP are recognized by certain Android devices, but excluded by Apple devices so far.
There is no other format that can equal the compatibility of MP4. This is why the average monthly searches for DVD to MP4 are up to 12,100, far higher than those for DVD to AVI (6,600), DVD to WMV (140), DVD to MOV (140), DVD to MKV (4,400), etc. And we'll see such kind of imbalance when comparing video to MP4 conversion with video to others, and MP4 download with other type of video download.
2. What Devices Can Support MP4?
* Mobiles
Apple: MP4 format encoded with H.264 or MPEG-4 is fully compatible with all models of Apple devices. iPhone and iPad support H.264 video up to 4Kwhile precious models (before iPhone 6s) of iPhone iPad and iPod Touch/Nano can support the resolution up to 1080K.
Android: all phones and tablets on Android OS inherit Android media format specs. Two codecs are used for MP4 format, H.264 AVC and H.265 HEVC. The former is compatible with Android 3.0 or above while the later is available on Android 5.0 or above to deliver higher resolution (4K/8K).
Microsoft Lumia, Acer Liquid, Surface Book/Pro, NuVision, HP, Toshiba: codec support of MP4 container varies from devices which run on different Windows Phone systems. For Windows Phone 8, MPEG-4 and H.264 are used to reach max resolution and frame rate of 1920x1080 @ 30 fps. Coming to Windows 10, advanced H.265 (HEVC) is added for 4K video playback. * TV
Apple TV: shares video playback specs with other Apple devices, supporting MPEG-4 and H.264 with resolution up to 1080P @ 60 fps.
Sony BRAVIA Android TV: can read H.264 and H.265 formats up to 4K the same as other Android devices.
Smart (HD/4K) TVs: for example some big brands (Samsung, Sony, LG) fully support MP4 movie/video playback. * Game Console
PSP: MP4 files encoded with MPEG-4 Simple Profile (AAC) or H.264 Main Profile (CABAC) (AAC) and Baseline Profile (AAC) can be well played on this model.
PS5/4/3: The three models have alike MP4 support accepting H.264 High Profile (AAC LC) codec. On the other hand, PS5/4 can also support AC-3 (Dolby Digital) audio.
Xbox 360: can open H.264 with bit rate of 10Mbps and resolution of 1920x1080 @ 30 fps as well as MPEG-4 with bit rate of 5Mbps and resolution of 1280x720 @ 30fps.
Xbox One: H.265 can be read by Xbox One based on Windows 10 apart from the same MP4 codec support as Xbox 360. Part 3. Compare MP4 with MKV, AVI, and Other Formats
MP4 is a container for mpeg-4 video. MP4 can refer to a video file extension while MPEG4 cannot. Generally, when we say MP4 video, we're talking about a video ending in the file extension .mp4. 
MP3 files are mainly audio files; MP4 files are for multiple digital files. MP3 applies a form of lossy data compression. MP3 is for storing, transferring and playing audio files only on digital audio players. MP4 can handle digital audios, digital videos, texts and images.
M4V is the derivation of MP4 video format, and they are very similar in many ways. The MP4 container can hold either MPEG-4 or H.264 video codec but the M4V container, designed for Apple especially, can use H.264 video codec exclusively.
Both are container formats to store video, audio, pictures, subtitles and multimedia data, and both allow streaming over the internet. MKV can store unlimited multimedia content, and MP4 has specific formats. 
Both AVI and MP4 are most widely used media containers and video formats. . MP4 can be played on more devices and media players than AVI. Besides, MP4 can also easily stream on the Internet while AVI can't. 
MPEG4 coding standard is primarily used for portable devices and Internet streaming, while MPEG2 is the encoding method for television broadcast and DVDs. MPEG2 may encode a movie file that is 5 times the size of that by MPEG4.
 MP4 is a file container format, while H.264 is actually a video compression codec that requires a video container to host the encoded video. Normally, H.264 encoded files can be MP4 files as well as AVI or MKV files.
What Are Differences Between MP4 and Other Formats
| | | | | |
| --- | --- | --- | --- | --- |
| File Type | MP4 | MKV | AVI | MOV |
| Video Codec | MPEG-2 Part 2, MPEG-4 ASP, H.265, H.264, H.263, VC-1, Dirac and others | Almost All | Almost anything through VFW | MPEG-2, MPEG-4 Part 2, H.264, H.263, H.261, Apple ProRes, Apple Pixlet, Cinepak, Component Video, DV, DVC Pro 50, Graphics, Motion JPEG, Photo JPEG, QuickTime Animation, Sorenson Video 2/3 |
| Audio Codec | HE-AAC, MP3, AC-3, Apple Lossless, ALS, SLS, Vorbis and others | Almost All | Almost anything through ACM | AAC, HE-AAC, Apple Lossless, MP3, AMR Narrowband, MS ADPCM, QDesign Music 2, Qualcomm PureVoice (QCELP), IMA 4:1, MACE 3:1, MACE 6:1, ALaw 2:1, ULaw 2:1 |
| Subtitle Format | Support MPEG-4 Timed Text | Almost All | Support SubRip, SubStation Alpha and via third party modifications, XSUB via DivX | Unknown |
| Variable Bit/Frame Rate | Yes | Yes | Yes | Yes |
| Resolution | Highest (Up to 4K/8K) | Up to 1080P | Up to 1080P | Up to 1080P |
| Compatibility | Virtually any device and media software | Special MKV player, editor and others. | Microsoft devices, Xbox, PlayStation, partial Android devices and Windows-based media software | Apple devices and Mac OS-based media software. |
| License | Patented | Free | Unknown | Proprietary |
Part 4. How to Open and Play MP4 Files
As the most welcomed container, general MP4 video file can be played facilely on computers, TVs and movable smart devices, like Windows Media Player (11/12) can play MP4 movies on Windows, QuickTime helps you watch MP4 files on Mac, iPhone's native Video app is able to open MP4 video clips be default, without help from any other hardware or software.
You can open MP4 files on Mac with QuickTime Player, on Windows with Windows Media Player, or on VLC Media Player. Locate the MP4 video file and double-click the file to open and play. Make sure those codecs used by the MP4 file are supported by the media player on Windows or macOS. As a matter of fact, all video player software features MP4 video playback. What's the best MP4 player? We will give you a detailed comparison of top video players (5KPlayer, VLC player, KMPlayer, RealPlayer) for your reference. Check out:
What MP4 Video Codecs Can Free Video Players Support?
5KPlayer: H.265, H.264, MPEG-4
VLC: H.264, MPEG-4 ASP
KMPlayer: H.264, MPEG-4
RealPlayer: H.264, MPEG-4
Which MP4 Players Support MP4 Video Streaming?
5KPlayer: Yes (via AirPlay & DLNA)
VLC: Yes (over computer networks)
KMPlayer: Yes (from PC to devices)
RealPlayer: Yes (via Xbox One, Roku, Chromecast)
5KPlayer

100% safe

4K/HD Playback
Yes
Yes
Yes
Yes
3D/VR Playback
Yes
Yes
(via some modifications)
Yes
(3D mode)
No
Subtitle Support
Yes
Yes
Yes
Yes
Online MP4 Video Download
Yes
No
No
Yes
Platforms
Windows, Mac
Windows, Mac, Linux, iOS, Android
Windows, Mac, iOS, Android
Windows, RealTimes for Mac/iOS/Android
Price
Free
Free
Free
Free download and premium plans
As stated above, MP4 video format features a strong compatibility, high compression with smaller size while reserving superb quality, easy Internet streaming, etc., all of these have made the popular MP4 format the first priority when ripping DVD or converting videos.
Many people have a common need of converting DVD to MP4 video for later playback of the DVD movie on Windows (11) PC, Mac, iPhone (13/Pro), iPad, Android, etc., but how could easily realize it? WinX DVD Ripper Platinum, a solid DVD to MP4 ripper, enables users to smoothly convert any protected DVD (incl. latest Disney DVD) to MP4 or other formats/devices in about 10 minutes with highest quality.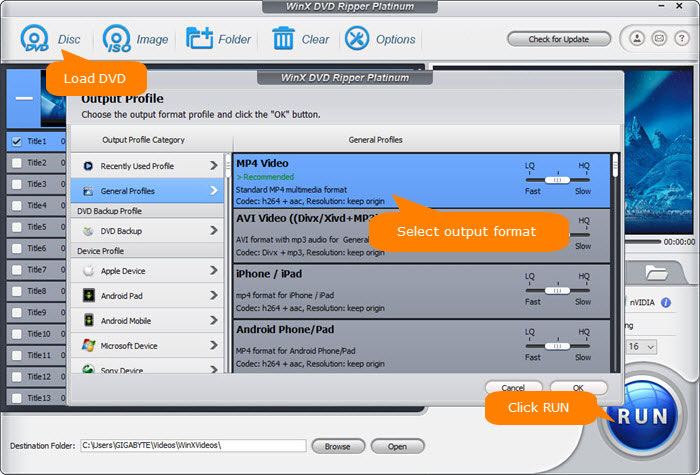 But due to the multiplex combinations of video, audio and subtitles codecs, it yield MP4 file with dissimilar file extensions, and the media transmitting medium with inclusive player cannot play all MP4 file formats accordingly. This gives rise to hunt MPEG-4 codec pack up for further MP4 enjoyment. Many situations also bother when MP4 fails to unfold, the gadget has no enough space for watching MP4 smoothly, or the aspect ratio of raw MP4 video does not perfectly fit the player screen. An MP4 video converter can solve these problems. WinX HD Video Converter Deluxe ranks on the top in consideration of conversion speed, ease of use, stable performance, versatile video editing features, etc.
Part 5. FAQs about MP4 File Format
1. What does MP4 stand for?
MP4 stands for MPEG-4 Part 14. It's the short form of MPEG-4 Part 14. Sometimes MP4 is also known as MPEG -4 AVC(Advanced Video Coding). MPEG is an abbreviation of Motion Pictures Expert Group that sets industry standards for digital video and audio.
2. What does an MP4 file do?
MP4 is a container format and an MP4 file stores video, audio, and other metadata such as subtitles, still images, and more. The MP4 file can be encoded with different codecs in smaller file sizes with the best possible quality.
3. What is the difference between MP3 and MP4?
MP3 stands for MPEG-1 Audio Layer 3 and is an audio format. MP4 is a container format. MP3 and MP4 are different formats. The MP3 file format only stores s single media file - audio format. MP4 format supports video, audio, and other types of media files like subtitles, and still images. MP4 files can be encoded with an MP3 audio codec.
4. Is MP4 just for video?
No, MP4 can store video, audio, subtitles, images, etc. MP4 is a video container format that can contain a wide range of video and audio. The MP4 file format supports various types of codecs, such as MPEG-1, MPEG-2, MPEG-4 and H. 264/AVC, H. 265/HEVC, and many more.