MP3 vs MP4 - Understanding the Differences Between MP3 and MP4
Lots of users want to download some music online, but some songs come with MP3 extension while some are in MP4 format, which makes them feel extremely confused. So, what are the differences between MP3 and MP4? Which format should you save? MP3 vs MP4, which format has better sound quality? Is MP4 video or audio? Scroll down to understand the differences between MP3 and MP4 format. Also learn how to extract MP3 audio file from MP4 video file without losing sound quality.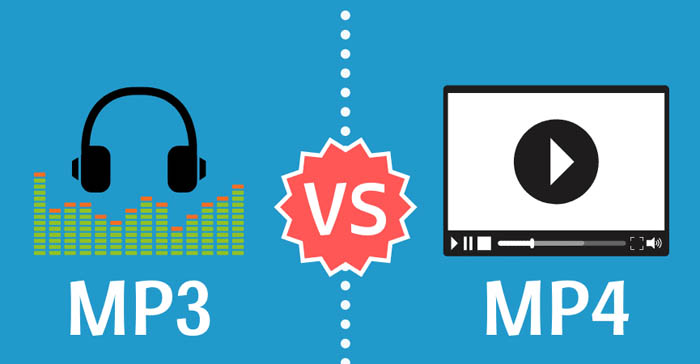 Convert MP4 Video Files to MP3 Audio without Losing Quality
With WinX Video Converter, you can convert MP4 video to MP3 audio format on Windows 11/10/8/7 and macOS. Its built-in High Quality Engine can make the program output original audio quality. The transcoding process won't decrease the sound quality. It can also convert MOV/AVI/WMV/FLV etc. to MP3, AAC, FLAC, and convert between tons of video formats.
Part 1. MP3 vs MP4: Detailed Format Comparison
It is a difficult task to tell the difference between two file formats (for example, MP3 and MP4) for non-tech-savvy people. To answer your question - "what're the differences between MP3 and MP4", we've made a wide range of search and have compiled the major differences in the following section, covering format types, audio quality, features, common misunderstandings, and more.
MP3 vs MP4: type of format
What is MP3? MP3 is formally known as MPEG-1 Audio Layer III or MPEG-2 Audio Layer III, extended from MP2. It is a lossy audio coding format initially released in 1993. It is designed to greatly reduce the amount of audio data, and achieve the purpose of compressing into smaller files by discarding the parts of PCM audio data that are not important to human hearing. For the hearing experience of most users, the sound quality of MP3 has no significant degradation compared with the original uncompressed audio. This audio format is widely accepted because of its simplicity, lack of errors, and computational efficiency.
What is MP4? MP4 is extended from Apple QuickTime .mov and MPEG-4 Part 12. MP4 is also known as MPEG-4 Part 14 initially released in 2001. It is a digital multimedia container format which can contain video, audio, still image, subtitles, and text. MP4 can be encoded with different video or audio codec formats, such as video codec H.264, HEVC, VP9, MPEG, audio codec MP3, AAC, FLAC, AC3, to name a few.
As you can see, MP3 and MP4 are totally different file types. MP3 is used to store music/audio data and is a standard audio format for music apps, digital audio players, and music streaming sites, while MP4 is used to store video, audio and other data.
MP3 vs MP4: audio quality and file size
Although MP3 applies a form of lossy data compression, the audio quality remains virtually the same. The format keeps a good balance between file size and audio quality. And compared with MP4 video file, MP3 has smaller file size since MP4 format contains more data, including video, audio, subtitles, etc. So, if you want to listen to music only on MP3 player and don't want to store files with large file size, pick up MP3. When you don't have enough storage, try converting MP4 to MP3 audio format for much smaller file size.
When a MP4 file is combined with an MP3 music stream in which case the audio quality will be the same as an individual MP3 file (assuming the same compression level).
MP4 can have better audio quality, compared MP3 audio format. If MP4 video is encoded with other high-quality audio codec such as AAC, MP4 has higher audio bitrate, which means better audio quality but also larger file size.
Therefore, we cannot simply say whether MP3 or MP4 is of better quality.
MP3 vs MP4: functions and features
MP3 is used for storing, transferring and playing audio files only on digital audio players. MP3 files can deliver near-CD quality. Nowadays, MP3 has become the most popular audio format because it can hugely compress the data without damaging quality.
Superior to the audio-specific MP3 format, MP4 can be used for handling digital audio, digital video, text and also image. It allows streaming over the internet, just like other modern container formats. MP4 format accepts nearly all the video and audio formats, HEVC, H.264, MPEG, VP9, VP8, AAC, ALS, SLS, TTSI, MP3, and ALAC, and many more. The support for wide of video and audio codecs make MP4 format have much better flexibility than MP3 audio format.
MP3 vs MP4: common misunderstanding
1. MP3 ≠ MPEG-3 and MP4 ≠ MPEG-4, So don't confuse "MP3 vs MP4" with "MPEG-3 vs MPEG-4".
2. MP4 files are not just for video. Actually, they are multimedia. MP4 can be used for audio, video and other media.
3. MP4 can have higher audio bitrate than MP3, which doesn't mean MP4 audio quality is better than MP3.
MP3 vs MP4: comparison table
MP3

MP4

Other names

MPEG-1 Audio Layer III or MPEG-2 Audio Layer III

MPEG-4 Part 14

Filename extension

.mp3, .bit (before 1995)

.mp4, .m4a, .m4p, .m4b, .m4r, and .m4v

Initial release

1993

2001

Purpose

It is made for a better listening experience.

It is made for a great audio-visual dual user experience.

Type of format

Audio format

Container format

Capability

Audio only

Audio, video, text, and images

Internet media type

Audio/mpeg, audio/MPA, audio/mpa-robust

video/mp4, audio/mp4

Extended from

mp2

QuickTime File Format and MPEG-4 Part 12

Open format

Yes

Yes

Free format

Expired patents

No

Standards

ISO/IEC 11172-3, ISO/IEC 13818-3

ISO/IEC 14496-14

Which has better quality?

It depends on situation. The quality of the audio stream in MP4 may be the same as the MP3 file, or worse, or better than mp3.

Which has smaller file size?

MP3 file is always smaller than equivalent MP4 file.
In conclusion: According to the analysis above, there are essential differences between MP3 and MP4. MP3 files are mainly audio files, whereas MP4 files are for multiple digital files. Obviously, it is an unfair debate whether the MP4 is better than the MP3 or whether MP3 has an advantage over MP4.
Part 2. FAQs about MP3 vs MP4
1. Is MP3 lossy or lossless?
MP3 is a lossy compressed audio format.
2. What's the difference between 128kbps and 320kbps MP3 file?
128 kbps MP3 file will be smaller than 320kbps MP3 file in size, remove more of the higher frequencies (>16 kHz) and have slightly more audible compression artifacts. There is an audible difference between 128 kbps and 320 kbps MP3 file, but how audible the difference will be mainly depends on the type of music you're compressing, e.g., many high frequencies, much percussion, etc., and your age.
3. Which MP3 bit rate should I use?
Generally, 128kbps is enough if you use the headphones that came with your player and don't listen to that much music. If you want to get better sound quality without increasing too much file size, you can try 256kbps. The highest quality MP3 bitrate is 320 kbps at 16 bit .
4. Will an MP4 player play MP3?
An MP4 player is probably an audio and video player and is likely able to play MP3.
5. How can I convert MP4 to MP3?
To convert MP4 to MP3 to keep audio stream only, you can use Free Video Converter. After downloading and installing this software, follow the three simple steps to finish the video to audio conversion.
Step 1. Open WinX Video Converter and click + Video button to load the MP4 video you need to convert to MP3.
Step 2. On Output Profile panel, scroll down to "to Music", and choose MP3. Then, hit OK.
Step 3. Hit RUN button to begin converting MP4 to MP3 while keeping original quality.