AAC vs MP3 Full Comparison: Which One is Better
Some of my music on iTunes was converted to AAC, others are just left as MP3, which has the more clear sound and best sound quality? - From Yahoo Answer
AAC (Advanced Audio Coding) and MP3 (MPEG-1 Audio Layer 3) are two mainstream music audio formats. AAC is written as file extension type .m4a, .m4b, .m4p, .m4v, .m4r, .3gp, .mp4, .aac, widely used in iTunes while MP3, written as .mp3, is so much employed on digital audio players. And MP3 player is now the synonym of portable media player.
But which audio file format is better, AAC or MP3? What's the difference between those two music formats? Is it really true that AAC sounds better and owns smaller file size than MP3 of the same bit rate? It's time to weigh in. This article will give you an overall AAC MP3 comparison to let you get the answer.
AAC vs. MP3 in Quality, File Size, Compatibility and Patents
Part 1. AAC vs. MP3 in Quality, File Size, Compatibility and Patents
Firstly, you should make it clear that both AAC and MP3 are audio coding standards for lossy compression. AAC was released for public on 1997, 3 years later than the release date of MP3, to be the heres of MP3 format. Compared to MP3, AAC generally performs better than MP3 just at the same or similar bit rates. This difference in quality is more obvious at lower bitrates.
Note: WAV Losseless and AIFF are two high-quality, uncompressed file types used for CD burning, much larger than other formats. If you call for lossless compression music formats, Apple Lossless, FLAC and APE are recommended.
1. AAC vs. MP3 Sound Quality Comparison
An engineer once did a music quality summary of AAC and MP3 on iTunes and iPhone. It's clear that AAC file generally sounds much better than MP3 at 128kbps or even lower bitrate. For even higher bit rate, e.g., 192Kbps, 256kbps, 288kbps or 320kbps, there is no clear distinction betwen AAC and MP3 in naked ear. Certainly, theoritically speaking, AAC has higher audio quality than MP3 by courtesy of more effective algorithm AAC adopts for determining what audiences will and won't hear.
Why AAC outperforms MP3 in audio quality especially for lower bit rate? Causes are:
Sample frequencies. MP3 has sample frequencies ranging from 16 kHz to 48 kHz while AAC has wider and higher sample frequencies, from 8 kHz to 96 kHz.
Filterbank. MP3 adopts hybrid coding while AAC uses a pure MDCT, higher efficiency and simpler filterbank.
Audio channels. MP3 gives full support up to 2 channels in MPEG-1 mode and up to 5.1 channels in MPEG-2 mode while AAC can produce audio file with up to 48 channels.
Stationary signals. MP3 uses a blocksize of 576 sample blocks while AAC reaches higher coding efficiency, up to 960 or 1024 samples.
Transient signals. AAC utilizes a blocksize of 128 or 120 samples, allowing more accurate coding than MP3's 192 sample blocks.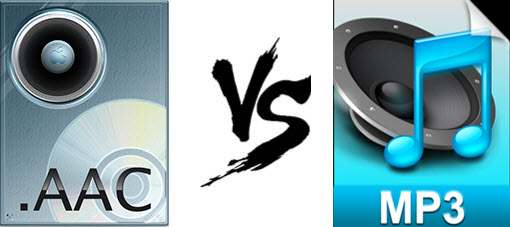 What's more, Dolby Laboratories also comes to a conclusion through tests:
Experts said it's not easy to tell the difference between 256Kbps stereophonic sound AAC music and the uncompressed audio;
AAC file at 96Kbps retains more bits (less distortion) than MP3 file at 128Kbps;
AAC file at 288Kbps sounds much better than MP3 file at 320 Kbps;
AAC is the only network broadcast audio format that can get "Excellent" at all EBU listening test project.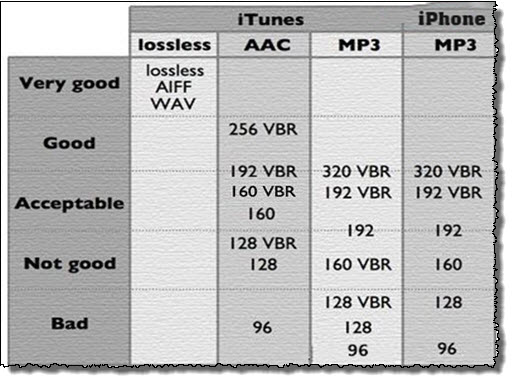 To get more detailed comparison among lossy AAC, MP3 and lossless WAV in audio quality, check here, which uses professional device phase inverter to create the null test. Yet, this null test is suprised to find that the MP3 performed better during the test.
2. AAC vs. MP3 File Size Comparison
Here we'll convert the original WAV music file - Butterfly from Jason Mraz (62.38M) to MP3 and AAC with one of the most popular audio converter software - Freemake Audio Converter, and compare their file size. In order to keep the converting test as accurate as possible, we only change the bitrate parameter from 96 to 256, no audio channel or sample rate (default 4.41 kHZ) change.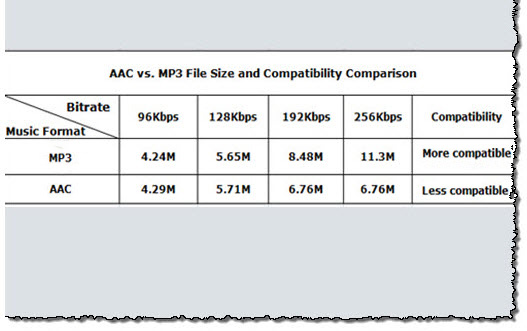 From the table above, it's obvious to see that AAC and MP3 own the similar size at lower bitrate and that AAC is much smaller in size at higher bitrate.
3. AAC vs. MP3 Compatibility Comparison (Why AAC is not So Popular as MP3?)
AAC is less compatible: available on iTunes, iPhone, iPad, iPod, Microsoft's Zune, Sony PS5/4/PSP, and some mobile phones.
MP3 is more compatible: actually works with every cellphones, pads and audio players.
AAC is less widely supported than MP3, partly because it's relatively newer and Windows Media has risen constantly. Although AAC was developed by Nokia, Sony, AT&T Bell Laboratories and Dolby Laboratories, Apple takes it as "Apple's baby" - a standard audio format for iPhone, iPod, iTunes, and iPad. Maybe AAC can be used with a wide variety of non-Apple devices in near future.
4. AAC vs. MP3: License and Patents
No licenses or payments are needed for a user to stream or distribute content in AAC format. But a patent license is required for all manufacturers or developers of AAC codecs. Click here to get the whole picture about AAC license and patents from wikipedia. Unlike AAC, the legal control of relevant MP3 patents (concerning decoders) is unclear. Consequently, the legal status of MP3 is up in the air in countries where those patents are valid. This won't stop the popularity of MP3 audio format adopted by common consumers.
Summary: Objectively speaking, taking all the factors into consideration, AAC does have higher quality sound and smaller size than MP3 at the same or similar high bitrate. But MP3 is much more compatible than AAC. Since different file formats have different merit and demerit, different users have different preference and needs, neither AAC nor MP3 can rank the first. One word to tell, the best format is the one that is compatible with your device and meets your needs!
Update: Recently, The Fraunhofer Institute for Integrated Circuits, the founder of MP3, has officially terminated his licensing program for "certain MP3-related patents and software" after almost two decades. And Fraunhofer IIS also says more advanced, efficient AAC is supposed to supersede MP3 despite MP3 is still the NO.1 widely-used audio codec right now. >> See the official statement
Part 2. Tools for AAC MP3 Audio Conversion & Transferring
Tool 1 - Audio Converter Format Factory to Convert AAC to MP3 and Vice Versa
If you plan to stand on iTunes and iPod for a long time, go with AAC. You can convert AAC to MP3 or MP3 to AAC by iTunes as you like. But if you'd like to switch to a device with AAC unsupported, multifunctional AAC encoder Format Factory is a good choice. Check the step-by-step guide of transferring AAC to MP3.
Step 1. Click "-> MP3 file" icon to open the converting setting profile;
Step 2. Click "Add File" to add AAC file into the converting list and hit "OK" to get back to main profile. Here you can do some output settings like quality, bitrate, sample rate etc. and select output folder;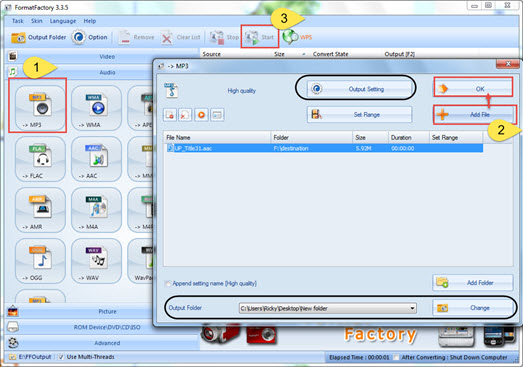 Step 3. Hit "Start" button to begin AAC to MP3 shifting.
Tool 2 - iPhone AAC MP3 Music Transfer & Manager
AAC is especially designed for Apple products. Therefore, your iPhone has the biggest chance to store a large number of AAC music files, as well as MP3, FLAC, AC3, M4A lossless files. In some cases, you have the need to sync AAC, MP3 and other audio files between iPhone and Windows PC. To reach this goal, WinX MediaTrans cuts the buck, allowing you to perfectly transfer MP3, AAC, AC3, M4A lossless, iPhone ringtones, etc. from iPhone to Windows PC or vice versa without connecting to Wi-Fi.
It also works as a superb music manager to edit metadata (like title, artist, album), remove DRM and convert protected iTunes M4A music to MP3, create several playlists to classify all songs according to genres, artists or alphabet order and delete songs or playlists from iPhone.
How to Transfer AAC MP3 Music from iPhone to Computer
First of all, download and install right version for your computer (available for Windows 11, macOS Ventura and lower versions).
Step 1. Launch WinX MediaTrans. Plug iPhone into your computer via a USB Cable and click "Trust this computer" on iPhone. Then, it will connect device automatically. After connection succeeds, you will be directed to the main interface where 7 function modules are displayed: Photo Transfer, Music Manager, Video, Book, Voice & Ringtone, Flash Drive, Settings.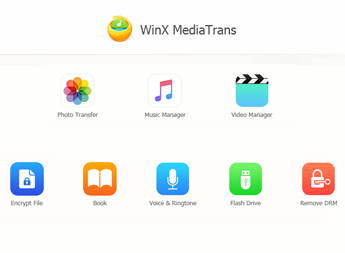 Step 2. Click Music Manager to enter the music transfer and management window. All songs in your phone will be listed. Select one, multiple or all songs and click Export button to bulk transfer music songs from iPhone to computer.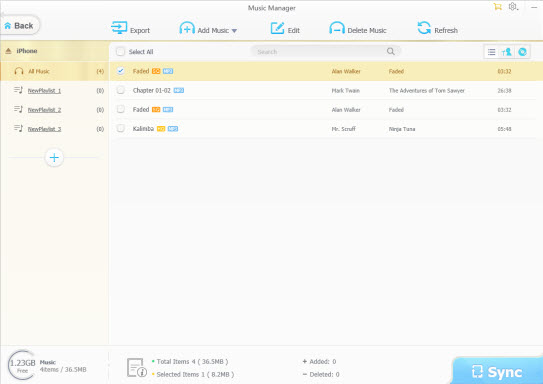 This powerful iPhone music manager software also gets the knack of transferring DRM-ed iTunes M4A music from iPhone to Windows/macOS with its built-in DRM removal feature, no extra 3rd party app needed. Thus, you can play iTunes music with better compatibility. Meanwhile, keep in mind that DRM removal and music conversion are used for fair use, not for any illegal or commercial purposes.
Tool 3 - Free Music Player
5KPlayer, lets you free play AAC, MP3, lossless WAV, FLAC, M4A, as well as MP4, MOV, M4V, MKV, AVI, H264, H265, AV1, VP9, etc. any music and video files without downloading any codec package. It also free downloads AAC, MP3, iPhone ringtone music from Vimeo, Vevo, audiomack, grooveshark, musicplayon, etc. 1000+ music video sharing sites. 100% free, clean and safe! No ads, malware or spyware!
Still have question on AAC vs. MP3 and audio conversion, please feel free to Mail Us >>