WAV vs MP3: What's the Difference & Which One Is Better?
DJI recently released its new sound recording gadget DJI Mic and it adopts WAV recording format. Why doesn't it use the traditional MP3 format? Audiophiles, podcasters and tech savvies may know the reason, but for common users both WAV and MP3 are simply audio formats. What's the difference? If WAV or MP3 files make any sense?
The biggest difference between WAV and MP3 is that MP3 files are compressed audio of smaller file sizes for better distributing, while WAV files are uncompressed audio of large sizes for bettering recording and editing. That's why podcasters, DJI, broadcasters, music producers and post-editors prefer WAV, while most audio files we download in daily life from online are in MP3 format.
If you want to dig out more details about WAV vs MP3, below words are explanations to help you know the difference and make a choice in case needed.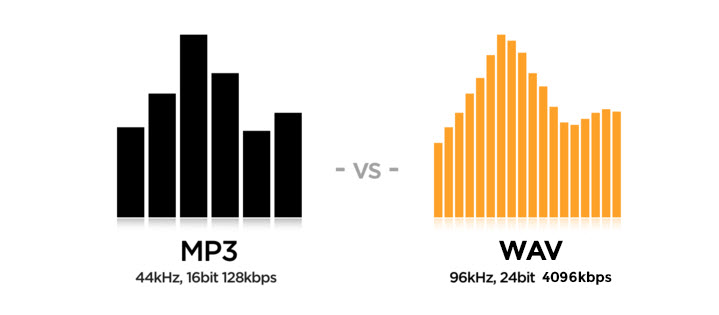 Best Audio Converter to Convert WAV to/from MP3 - Recommendation
If needed, you can convert WAV files to MP3 or vice versa in batch with high output quality with VideoProc Converter. Also, it lets you extract MP3/WAV soundtracks from music videos and movie clips directly.
Supported Input (Audio): WAV, MP3, AAC, AC3, AIFF, DTS, M4A, OGG, AMR, APE, RA, RAM, MP1, SPX...
Supported output (Audio): MP3, WAV, FLAC, AAC, AC3, OGG, AIFF, CAF, M4A, M4R.
Part 1. WAV vs MP3 Detailed Comparisons
Both WAV and MP3 audio formats can be used for audio file recording, editing, and distributing. If you want to know whether MP3 or WAV is better in different situations, below are answers.
1. WAV vs MP3: Definition
What is an MP3 file? MP3 or MPEG Layer 3 is a digital audio format developed by the Moving Picture Experts Group. The main goal behind the development of MP3 is to replicate CD-quality with no perceivable difference at a much smaller size, and it's once though as the industry standard for audio file recordings. Because of its smaller file size and greater compatibility compared to WAV, most audio files we see are in MP3 format.
What is WAV? Microsoft and IBM created Waveform Audio File Format (WAVE or WAV) with their computer software to reduce the beeping noises traditionally associated with computers so as to get high-quality audio. This format also uses containers to store audio data, sample rates, bitrates, etc. so it is ideal for high-quality post editing. So, many audio and music software manufacturers now favor it as their default file format though others are often supported.
| | | |
| --- | --- | --- |
| Format | WAV | MP3 |
| File extension | .wav, .wave | .mp3 |
| Developed by | Microsoft and IBM | Moving Picture Experts Group |
| Bitrate | 1,411 kbps at 16 bit | 90kbps to 320kbps |
| Associated programs | VLC media player, Windows Media Player, 5KPlayer | Windows Media Player, iTunes, MPlayer, VLC Media Player |
| MIME type | audio/vnd.wave, audio/wav, audio/wave, audio/x-wav | audio/mpeg, audio/MPA, audio/mpa-robust |
2. WAV vs MP3: Compression
WAV is uncompressed so it is called a lossless audio format. Lossless means that all of the original audio elements stay in the file so that will give perfect loop and full frequency spectrum. As for MP3 format, it is compressed so it will lose some audio quality. To reduce the MP3 file size with no perceivable difference in listening experience, there are something discarded based on frequencies the human ears is unlikely to detect (The perceived frequency range audible to the human ear is 20 Hz to 20 kHz.). So, there is less information for the audio post-processing.
3. WAV vs MP3: Quality
Definitely, WAV is better than MP3 in terms of file quality. When something is compressed, there must something lose. Like an image with fewer pixels, audio with few audio samples can only sound good but more clarity is lacking especially when processing those samples. The bitrate for MP3 files range from 90kbps to 320kbps, while the high-quality WAV files have an audio bitrate exactly the same as CDs at 1,411 kbps at 16 bit. The higher the bitrate, the higher the quality. Besides, there is an issue known as "compression artifacts" which may show up when recording audio in MP3 format. When your MP3 audio files are compressed, the audio can pick up some unpleasing sound effects including hissing, ringing, rattling, or warbling.
So, it means that converting any audio to MP3 will reduce the original quality. If the quality of WAV vs MP3 is demonstrated with pictures, you can see the WAV file image quality (left) is much better than the MP3 file image quality (right).

4. WAV vs MP3: File Size
No doubt the WAV file with more audio information is larger in size than MP3 file. It is said that an MP3 file is about ten times smaller than a waveform audio file format. What does it mean? It means that a 33MB WAV file can be reduced to approximately a 3MB MP3 file. That is the main reason why MP3 has become a standard for purchasing music on streaming platforms.
5. WAV vs MP3: Compatibility
MP3 format is supported by a wide range of software and services, including Mac, iOS, iPad, Linux, Windows, many podcast hosting services, cloud services, music streaming sites, music player software, etc., but WAV is not widely supported as MP3. Large WAV files make themselves impractical to use with some streaming services and portable devices, so they are often converted to MP3 format for wider usage. As for MP3 file format, you can easily and directly share the files without spending much time doing the post-production work.
Part 2. Is MP3 or WAV Better for Your Plan?
WAV vs MP3 comparison consequence is determined by the specific needs of yours.
1. MP3 beats WAV in file size
Podcasters and content distributors would like to choose MP3 for file sharing as they can easily upload the files and their followers can easily download the contents without exceeding the limits. Besides, the fact is there is no obvious difference when listening to a WAV or MP3 audio track using a common music player if the contents involve more speaking but less music. WAV files often need more storage space, which means more budget. But if they are professionals, consequence would be different.
2. WAV is better than MP3 regarding sound quality
If you are audiophile who listening music with professional equipment, WAV is surely better. WAV file format allows listeners to listen to the highest recording rates with tremendous dynamic ranges (up to 192 kHz). If you use WAV files for your podcasts, broadcasts or music radio, listeners will hear the layers and outro variations in multitrack recording that won't come with the compressed MP3 files. As MP3 files are compressed, some of the original quality is sacrificed to make the file smaller, so that MP3 is not suitable for mastering, missing and recording. That's why professionals use WAV file format to make sure all the tiniest sounds are clear to their listeners.
3. WAV is better for high-quality post-production
WAV is a simple format which contains all the original information of a recording. If you want to amplify, repair or polish the sound track, WAV file format can realize that.
4. MP3 is better for uploading, streaming and storing
Due to its universal compatibility and smaller file size, MP3 is as of the best audio format for uploading to music streaming sites, cloud, sharing across platforms and download to store locally with minimum storage space.
In conclusion: WAV vs MP3, which one is better? The short answer is record and edit in WAV, and then convert to MP3 for distribution. Specifically, use WAV file format for TV, radio, podcast, broadcast, or any other media requiring uncompromised audio quality and post-production. And use MP3 format for web pages, web videos and anything on the Internet that needs to be shared and downloaded.
Part 3. FAQs about WAV vs MP3 Format
1. Is WAV or MP3 better quality?
WAV is better in terms of audio quality as it is an uncompressed file format which can contain all the original information of an audio recording.
2. Is WAV the best format for music?
Yes. WAV is the best format for lossless music recording, production and post-processing. But for music distribution on the internet, MP3 would be better for its space-saving feature.
3. Are WAV files louder than MP3?
No. you won't hear the differences in loudness among the two. But as WAV is a lossless format, you can tell the WAV audio format is clearer than MP3 when assessing the waveforms of the two.
4. How to play WAV file?
The default player to open a WAV file is Windows Media Player. Alternatively, VLC media player, 5KPlayer, iTunes, etc. can also be used to play WAV files.
5. How to play MP3 file?
MP3 is widely supported, so nearly all major media playback programs can open it. Simply drag and drop the MP3 file to an MP3 player, and it will start playing immediately.
6. How to convert WAV to MP3?
To convert WAV to MP3, you need a WAV to MP3 audio converter. Here, take VideoProc Converter as an example to show you how to.
Step 1. Download VideoProc Converter on your computer, install and launch it.
Step 2. On the main UI, click Video button and then click + Music button to import a WAV file.
Step 3. Move to Music tab on the bottom of the interface and select MP3 as the output format.
Step 4. Click Browse button to choose a destination folder to save the converted file.
Step 5. Click RUN button to start converting WAV to MP3 format.