AVI vs MP4 – Is AVI or MP4 Better?
I'm trying to rip some movies DVD to digital files. I'm considering AVI and MP4 but not sure which video format fits me best. Highest video audio quality, good compression and fast speed are my top concerns. So assuming file sizes are the same, what format has the best quality?
Many users have the same question: is AVI to MP4 better? Here we've an in-depth comparison between AVI and MP4 format, including quality, video size, compression ratio, compatibility, etc. You can pick up the best fit file format according to your needs.
WinX Video Converter - Convert Between AVI and MP4
WinX Video Converter, a free MP4 video converter, allows users to convert AVI to MP4 or MP4 to AVI according to your needs, so that you can always choose the best fit video format and never miss teh benefits of either. 47X real-time fast & highest quality reserved.
Part 1. AVI vs MP4: Format Definition
What is AVI?
AVI is the abbreviation for Audio Video Interleave, a multimedia container format introduced by Microsoft in November 1992 as part of its Video for Windows technology. AVI files can contain both audio and video data in a file container that supports synchronous audio-with-video playback. Since it was developed for Windows, it lacks some features that newer containers like MPEG or MP4 have, Whatever, it is one of the most popular and widely used video format by consumers.
Pros:
Widely supported by various media players and operating systems.
Can handle multiple audio and video codecs, making it a versatile format.
Generally has good video and audio quality.
Cons:
Large file sizes due to the lack of compression options, which can make it difficult to share or store.
Limited support for advanced features, such as subtitles or metadata.
Not as efficient as more modern formats when it comes to streaming over the internet.
What is MP4?
MP4 (MPEG-4 Part 14) is also a multimedia container format used to store video, audio, subtitles and images into one single file. The only official file name extension for MPEG-4 Part 14 files is .mp4, but many have other extensions, most commonly .m4a and .m4p. M4A (audio only) is often compressed in lossy Advanced Audio Coding (AAC), but can also be in Apple Lossless format (ALAC). MP4 is usually compressed with MPEG-4, H.264/AVC, H.265/HEVC, and AAC audio codec.
Pros:
Smaller file sizes due to better compression, making it more suitable for sharing or storing.
Can support a range of advanced features, such as subtitles, metadata, and multiple audio tracks.
Widely used for streaming over the internet, as it is more efficient than AVI.
Cons:
May not be as widely supported by some older media players or operating systems.
Encoding videos in MP4 can take longer than with AVI due to the additional compression steps.
Video quality may be slightly reduced compared to AVI due to the compression.
Part 2. AVI vs MP4: Supported Codecs, Software, Devices
After knowing the definitions of AVI and MP4, enter into the next phase - specific infos concerning this highly sought-after video formats.
Proprietor/Developer: Microsoft (AVI); MPEG (Motion Pictures Expert Group) (MP4)
Video Formats Supported: AVI: Almost anything through VFW (Video for Windows); MP4: MPEG-2 Part 2, MPEG-4 ASP, H.265/HEVC, H.264/MPEG-4 AVC, H.263, VC-1, Dirac, others
Audio Formats Supported: AVI: Almost anything through ACM (Audio Compression Manager); MP4: MPEG-2/4 (HE)-AAC, MPEG-1/2 Layers I, II, III (MP3), AC-3, Apple Lossless (ALAC), ALS, SLS and others
Supported Codecs: AVI: Often DivX, Xvid; MP4: MPEG-4, H.264/AVC, H.265/HEVC, also MPEG-1, MPEG-2, WMV/VC-1, Real Video, Theora, VP8, VP9, MVC
Supported Devices: AVI: Microsoft devices, Game consoles, but not compatible with Apple devices; MP4: PC, Mac, all kinds of mobile devices as iPhone iPad Android, etc.
Supported Media Players: AVI: Windows Media Player or other Windows-based players; MP4: Almost all kinds of media players.
Part 3. AVI versus MP4: Quality, Size & Compatibility
For ordinary users, most of you concern yourselves with video quality, size and compatibility when choosing a container format out of 2 options. You might solely want to know which one is superior in quality, size and compatibility. The below part gives you the direct answers to your most concerned points when it comes to compare AVI with MP4. Check now:
AVI vs MP4: Quality
Since intact AVI can save alpha channel, the resulting AVI file can yeild an output file with excellent quality. As for MP4 file, it's able to adopt varied types of compression codecs for encoding so that its output quality can also be guaranteed as excellent level. The same AVI and MP4 videos look like no distinct difference to the naked eye. Technically speaking, AVI would be slightly better than MP4 in quality.
AVI vs MP4: File Size
In most cases, AVI adopts DivX or XviD codecs for encoding while MP4 has wider options, H264/MPEG-4, HEVC, MPEG-1, VP8, VP9...Take the most commonly seen H264 and DivX for instance, the output file size of MP4 is marginally smaller than AVI, let alone MP4 (HEVC) versus AVI (DivX). Hence, in this round MP4 is the winner.
AVI vs MP4: Compatibility
One of AVI disadvantages is the inconsistent compression standard, which results in a raft of compatibility and playback issues. For instance, the higher version of Windows media player is unable to playback AVI videos that are encoded with earlier DivX or XviD codecs. Meanwhile, the lower version of WMP can't make AVI videos (encoded by latest codecs) playable on Windows. On top of the native Windows PC, the obsolete internal framework of AVI can't catch up with the latest codec formats. In a nut shell, it's old-fashioned.
MP4 has a totally different story. Moving Picture Experts Group (founded in 1988) develops different standards to compress and encode multimedia files and the encoded videos are called MPEG format (aka. MPG). Among them, MPEG-1 is mainly used for VCD, MPEG-2 is for DVD and MPEG-4 (file extension format .mp4) is widely used in video recording, internet streaming, visual telephone, Email, etc. almost any scenario. That's why MP4 can be supported by almost all the software and hardware devices.
In terms of compatibility, MP4 wins by a landslide.
Advice: Both AVI and MP4 are media containers and they can store many kinds of video codecs. Hence, when comparing AVI to MP4, we should compare their video audio codecs, but not the media container itself. Though AVI and MP4 have their specific advantages and disadvantages, need to mention that MP4 has a better quality in a same size and MP4 is more compatible.
If you need to upload your AVI to YouTube, Instagram, twitter or share via Whatsapp or Email, you're highly suggested to convert AVI to MP4 network streaming & Emailing friendly format. To transcode video from AVI to MP4, WinX HD Video Converter Deluxe is here for help.
Part 4. How to Convert AVI to MP4 with Best Quality
WinX HD Video Converter Deluxe allows you to convert AVI to MP4 (H264, MPEG-4, HEVC codec) with up to 98% quality kept thanks to constantly optimized conversion kernel and High Quality Engine. It can also convert MP4 to AVI, MKV, MOV, WMV, HEVC, AV1, FLV, MP3, AAC, FLAC, YouTube, iPhone Android, etc. at 5X faster speed (than any other peers) by courtesy of multiple-core processor (up to 8 cores), hyper-threading tech and AMD, Intel QSV and NVIDIA CUDA/NVENC GPU hardware acceleration tech!
Besides video conversion, it also support video downloading, video compression, basic video editing, photo slideshow creating, and screen recording (on macOS).
Step 1: Load an AVI file via clicking "+Video" on home screen.
Step 2: Choose MP4 (H264 or HEVC) as output format on the pop-up window.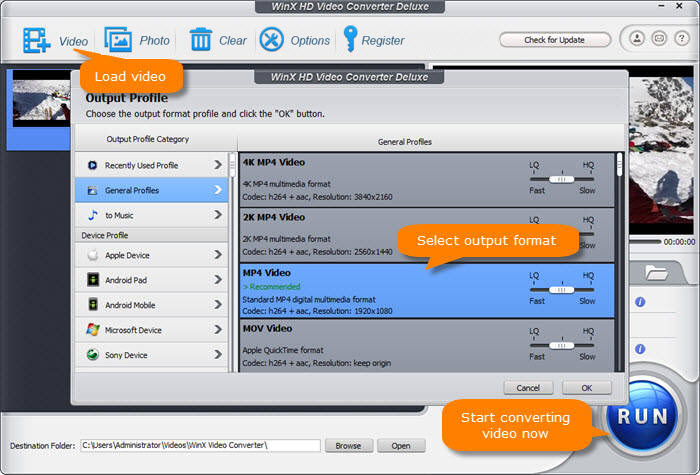 Step 3: Tap RUN button to begin converting AVI to MP4 on Windows or macOS.
Video Tutorial: How to Decode AVI to MP4 with Quality, Size and Speed Well-balanced
Part 5. FAQs about AVI vs MP4
1. Should I convert AVI to MP4?
If you need better compatibility, you can convert AVI to MP4 format. MP4 format is widely supported. AVI is accepted on Windows operating system and Windows software, but is not supported by Apple devices and Apple software.
2. Is AVI the best video format?
No. In terms of compatibility, quality, and compression ratio, AVI is not the best video format. AVI is an older generation format and is adopted by Windows operating system. MP4 is the most commonly used video file format and is playable on most devices and software. MP4 is broadly supported and supports a wide range of codecs.
3. What are the disadvantages of AVI?
AVI video format is mainly supported on Windows operating system. Adopted by Windows, AVI format is not friendly with Apple system. Extra AVI codec is required to play AVI video files on Apple devices. AVI video files can be very large in size and not suitable for sharing, uploading, or storing.