WebM vs MP4 | Full Comparison between the Two HTML5 Formats
"I want to download the video of a hot Korean drama in HD using a Video Downloader, the available options for 1080p HD videos are: 1920x1080 -> webm - 33.32 MB, 1920x1080 -> mp4 - 49.03 MB. As you can see, MP4 file size is bigger than the WebM. Does that mean the former one owns better video quality than the latter one? WebM vs MP4, which one should I choose? I just need a good quality."
This article will compare WebM with MP4 and help figure out which format provides better quality, smaller file size, and higher compression ratio. Part 1. WebM vs MP4: Comparison Table
MP4

Developer

Initially On2, Xiph, Matroska, later Google

International Organization for Standardization

Initial release

2010

2001

Patents

Open source

Licensable

Filename extension

.webm

.mp4, .m4a, .m4p, .m4b, .m4r and .m4v

Codec

Video codec: VP8, VP9, AV1
Audio codec: Vorbis, Opus

Video codec: H.265/HEVC, H.264/AVC, MPEG-4 Part 2, MPEG-2, and MPEG-1
Audio codec: MP3, AAC, AC3, DTS, Opus...

Quality

Good

Better

File size

Smaller  

Small

Compatibility

Less compatible. Mainly supported by Google

Widely accepted by media players, editing software, sharing platforms, etc.
Hot search: MKV vs MP4, VVC H266 vs AV1, H.266 vs H.265
Part 2. WebM vs MP4: In-depth Comparison
WebM is a container format especially created for Internet streaming. This open source video container is developed by Google based on Matroska and encoded by VP8 and Vorbis (updated to VP9 and Opus since 2013)[1].
MP4, abbreviated term for MPEG-4 Part 14, is also a container format following ISO/IEC standard[2], but more widespread and compatible (than WebM or other formats). Audio, video, subtitles and still images can be contained in a single MP4 file. Moreover, some advanced content like 3D graphics, menus and user interactivity can also be held.
WebM vs MP4: Patent
MP4 and WebM both come in high quality and commonly used for online streaming. One thing that cannot be ignored is that (VP8) WebM video is royalty free while H.264 MP4 is not.
WebM vs MP4: File Size and Quality
But since WebM is specially designed for Internet, the compression ratio of WebM is generally higher than MP4 in theory, which leads to more original quality loss than MP4. And the file size of WebM is a little bit smaller than MP4.
WebM vs MP4: Compatibility
When it comes to the compatibility of usage, MP4 (H.264/AAC) is obviously much more universal and friendly to devices, either desktop or mobile. Besides, MP4 is also used in online streaming just like WebM. MP4 (H.264/AAC) video can be played on any frequently-used devices, e.g iPhone, iPad, Apple TV, Android, Xbox and PSP, as well as browsers like Chrome, Firefox, Edge, Opera, and Safari.
Many video sites gradually start to support upload MP4 HEVC video, just like YouTube. HEVC compression is more efficient than H.264, but less compatible with playback devices.
In contrast, WebM seems less compatible with our common devices and tools. For example, Mac's Safari doesn't support native WebM (VP8/VP9) playback until the release of macOS Big Sur 11.3 beta 2. And till today, iPhone and iPad still lack the support for WebM.
WebM vs MP4: Fight between VP8 and H.264
H.264/AAC MP4 and VP8/Vorbis WebM are two main compression settings for HTML5 video[wiki]. Actually, if you want to compare WebM with MP4 in depth, compare H.264 to VP8 is a must-do. Google has axed support for H.264 video codec from Chrome browser since 2011, but bringing about his own open source VP8 to fight against H.264. Years later, although H.264 codec is still the ruling method on both web and mobile, the war between these two codecs is just getting started. Get more detailed information about comparison between H.264 and VP8 in advance.
WebM vs MP4: Which Format to choose?
Choose WebM when you want to upload videos for online streaming, because WebM is widely used for HTML5 and has a good compatibility with all modern browers.
Choose MP4 if you want to get a higher quality video and want the video to be more compatible.
Summary:
Winner of File Size (Which is Smaller): WebM
Winner of Video Quailty (Which is Better): MP4
Winner of Video Compatibility (Which is More Friendly): MP4
Part 3. How to Convert WebM to MP4 and Vice Versa
WinX Video Converter allows you to convert WebM to MP4 and MP4 to WebM. And it can support much more formats than you can expect, for example MKV, MOV, AVI, WMV, HEVC, and AV1. It is also the No.1 fast video converter in the market by uniquely enabling multiple CPU cores to simultaneously use AMD, Intel QSV and NVIDIA CUDA/NVENC to encode and decode videos.
Besides video conversion, it also support online video downloading, video compression, basic video editing, photo slideshow creating, and recording (on Mac).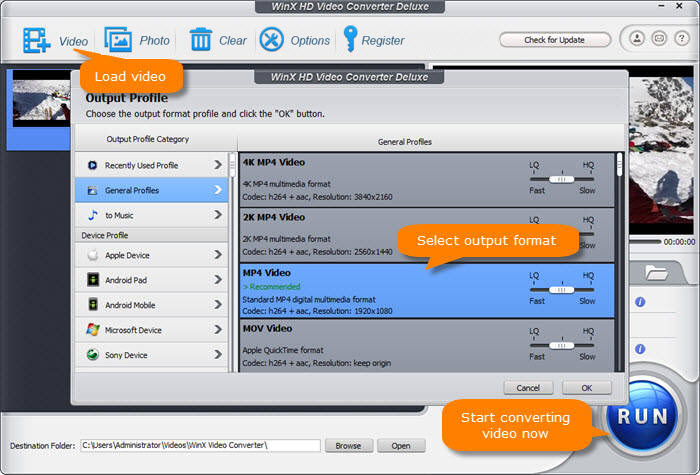 References
WebM. Wikipedia.org
MPEG-4 Part 14. Wikipedia.org