How to Solve Handbrake Does not Support Some of VOB files Error
"I just bought a used movie (talladega nights) and when i tried to rip it a bunch of files show up. To be specific, a lot of VOB files and some are the same size. I selected the vob file with number one and it just said that Handbrake stopped working. Why Handbrake does not support all my dvd vob files? and how to solve this trouble?"
If you use Handbrake to convert videos a lot, you may have found that Handbrake can't convert some VOB videos. Why does that happen? In this article, we'll talk about how to solve Handbrake not supporting some VOB files error.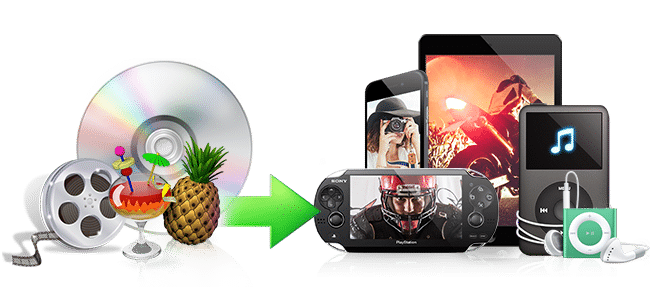 Why Handbrake won't Support VOB and how to Fix?
VOB is a container format contained in DVD-Video media. In other words, all your VOB files contained in a folder called VIDEO_TS. That means, if the VOB videos are extracted from a protected DVDs, the VOB will be encrypted too. In most cases, the reason for Handbrake fails to recognize VOB files is that VOB source is encrypted. However, there are also chances that the VOB files are corrupted or something goes wrong with the hardware.
Anyway, let's learn how to fix Handbrake not convert VOB videos:
Part 1. General Fixes to Handbrake not Converting VOB Files
Below are some quick and common fixes you can try. If Handbrake still won't support VOB videos, keep reading the ultimate fix below.
You can make these VOB supported by Handbrake by installing a third party software called libdvdcss. This is to help Handbrake bypass the encryptions on the VOB files.
Remove the current Handbrake version completely. Re-install the latest Handbrake version and try again (with libdvdcss installed).
Try the same VOB video on another program, like the VLC player. If the VLC can't open the VOB file, it can be a corrupted VOB video. If the VOB is ripped from a DVD, the corrupted file can be caused by a bad sector protection. Just rip the DVD again with another DVD ripper.
If you are not quite sure that you can handle with this issue, then you'b better give Handbrake alternative a try. There are DVD rippers that are constantly updated to conquer and defeat latest DVD copy protections, including DVD with 99 titles natively (without third party software assistance). And then convert VOB to MP4 that is unencrypted.
Part 2. Fix All Handbrake VOB Not Converting Errors
WinX DVD Ripper Platinum - Best HandBrake alternative to convert home-made DVDs, region 1-6 DVDs, as well as encrypted DVD.. It can rip any DVDs to all popular video formats such as AVI, MOV, FLV, WMV, MPEG, MP4, 3GP, etc. It also owns the ability of ripping protected DVDs to Sony PSP, Apple iPhone, iPod, iPad, iTouch, Apple TV, Zune, Windows phone, etc.