[Fixed] Handbrake Distorted/Scrambled Video Ripping DVDs on Windows 11/10
Fix Handbrake Distorted/Scrambled Video When Ripping DVD on Windows 11/10/8/7 with Best Handbrake Alternative.
Q1: "Hey guys, I use Handbrake to rip a DVD, I'm getting distorted video when converting DVD to mp4. Help?"
Q2: "I was using HandBrake to rip The Revenant movie DVD to my PC hard drive, as a test to decide whether I can use it to rip the rest of my small DVD collection. But when I got back from dinner and found that all of the episodes of the ripped video were horribly distorted. How do I fix this or some better software to use?"
Handbrake distorted video when using it to rip DVD? How to fix it? Any other Handbrake alternatives to rip DVD to MP4, AVI, WMV, etc. fast and smoothly with the highest video quality? If you meet the problem of Handbrake outputs a scrambled looking video when ripping DVD, here's how to fix it.
Handbrake Exports Distorted/Scrambled Video? Try Best Alternative
WinX DVD Ripper Platinum [100% clean program] - Best DVD ripping software fully compatible with Windows 11/10/8/7, enables you to decrypt and rip any (protected) DVD to MP4, H.264, MKV, HEVC/H.265, AVI, WMV, MOV, FLV, etc. at one go. Feed it with whatever you have, old DVDs, newly released DVDs, 99-title DVDs, bad sector DVDs, region code 2/1 DVDs, DVDs with fake playlist, etc.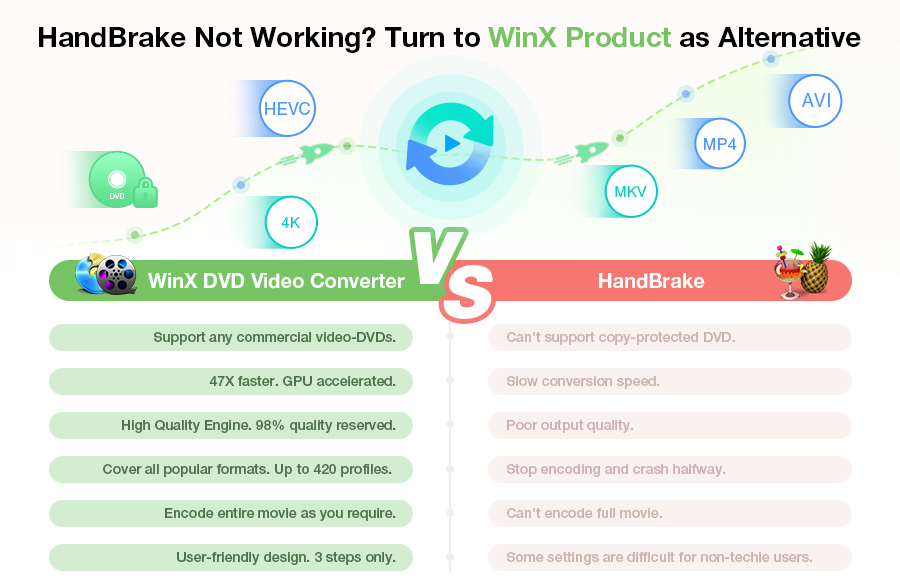 Part 1. Fixes to Handbrake Distorted/Pixelated/Scrambled Video Problems
If you get distorted/scrambled video when using Handbrake to rip DVD, it may be caused by the following reasons:
1. DVD copy protections
DVDs are always encrypted with CSS (Content Scrambling System) or copy protections like Sony ARccOS, UOPs, RCE, Disney X-project, etc. Handbrake doesn't support decrypting DVDs and can't rip copy-protected DVDs on its own. Users need to install the libdvdcss for Handbrake or a DVD ripper like AnyDVD to remove the copy protections from DVD first. So if you use Handbrake to rip a protected DVD, please make sure you've installed libdvdcss as well.
Note: Libdvdcss can help Handbrake handle CSS and region codes only. It can't break newer copy protections such as Disney 99 titles. Handbrake gets confused with 99 titles and selects the wrong DVD main title to convert, and therefore Handbrake will result in blocky or broken video output. To get the best output quality, paid DVD rippers can help detect the right main DVD title.
2. Outdated libdvdcss library
As mentioned above, if you've installed VLC on your computer, you can use Handbrake to rip DVDs with CSS and region codes. However, if Handbrake distorted video when ripping DVD, you may update VLC. Please be aware that VLC 2.0 changes the code libraries it uses for decrypting DVDs, which may also lead you can't rip DVDs with Handbrake.
The solution is simple. Download and install the latest version of VLC and libdvdcss package, and this may help you solve the Handbrake pixelated video issue. You should note to get the correct VLC version for Handbrake, such as a 64-bit VLC for 64-bit Handbrake.
3. Improper Handbrake settings
If Handbrake outputs choppy video, you may rip a DVD using the wrong Handbrake settings. The resolution of a DVD is either 480P or 576P based on PAL/NTSC discs. If you choose to rip a DVD using a high-quality preset such as 720P or 1080P, it won't improve the output quality. Upscaling DVDs from 480P/576P to HD is not a good idea ad it often results in Handbrake distorted video output or bad quality with increasing file size.
The recommended Handbrake DVD ripping settings is 576P30 or 480P30, using H.264 encoder with quality settings of RF 18-22 for 480p/576p. For more detailed adjustment, learn Handbrake video quality settings.
4. Aspect ratios
While Handbrake has various filters and settings for DVD rip, you're not suggested to adjust some parameters, such as the aspect ratio. If you change the aspect ratio to fit the destination device, it may cause the picture to become distorted or provide a poor image.
This problem happens because selecting from the various aspect ratios does not display the image in the native resolution. To prevent Handbrake distorted output video and for the best picture possible, leave the output resolution and aspect ratio to its native resolution. Information regarding the native resolution can generally be found on the DVD case.
5. Issues with source DVDs
If the Handbrake distorted/scrambled video output issues are not caused by DVD copy protections, you may also check if there are any small scratches, a crack, fingerprints, dirt, or debris on the disc. A damaged disc may prevent the Handbrake from reading the disc correctly and lead to output with bad quality or distorted pictures. If the disc is dirty, remove the disc and clean it using a soft.
6. Other limits
In addition to Handbrake distorted or scrambled output and other DVD ripping errors, there are some other limits with Handbrake: Handbrake only provides several codecs only and you're allowed to rip DVDs to MP4, MKV, and WebM. You can't merge multiple DVD titles together like rip a TV show DVD into one video.
Instead of being troubled with why Handbrake distorted video when ripping DVDs, why not try the best Handbrake alternatives that can do a far better job for ripping copy protected DVDs on Windows 11/10/8/7?
Part 2. Solve Pixelated/Distorted/Scrambled Video Issue Permanently with HandBrake Alternative
Can't figure out why the Handbrake distorted/scrambled video problems happen? Try the best Handbrake alternative to get rid of the errors.
WinX DVD Ripper Platinum - rip any copy-protected DVD to MP4, MKV, AVI, WMV, MOV, FLV, iPhone, Android, TVs, webs, and 350+ device profiles. It supports all DVD protections like CSS encryption, region code, Sony ARccOS, UOPs, RCE, Disney X-project, etc. No libdvdcss or other tools are required.
Thanks to its built-in Nvidia/Intel/AMD hardware acceleration engine, Multi-core CPU (utmost 8) and High Quality Engine, it delivers a 5x faster DVD conversion speed and outputs the highest video quality. Safe Mode is also available to ensure users a smooth DVD ripping process with the best output quality, no Handbrake distorted output video errors or the like.
Besides, this top Windows 11/10 Handbrake alternative also equips many DVD editing options like trimming, cropping, expanding, and adding subtitles, as well as allows users to set video/audio parameters incl. changing video resolution, frame rate, aspect ratio, etc.
Step 1: Import the DVD disc.
Insert the DVD disc to the DVD-ROM, and click the "DVD Disc" button on the top-left of the best DVD ripping software. For a newer protected DVD, Handbrake with libdvdcss may fail to find the right title and then generate distorted output. With this DVD ripper, it can auto-detect the right DVD main title of a protected DVD, including the advanced 99-title discs.
Step 2: Select the output. Edit and adjust the video parameters freely.
Select the output video format in the pop-up Output Profile window according to your own needs.
Click "Edit" icon to trim, crop, expand, or add external subtitles for the video.
Click the wheel-like icon to adjust video/audio settings, like setting video/audio codec, changing the video resolution, frame rate, bit rate, aspect ratio, channels, etc.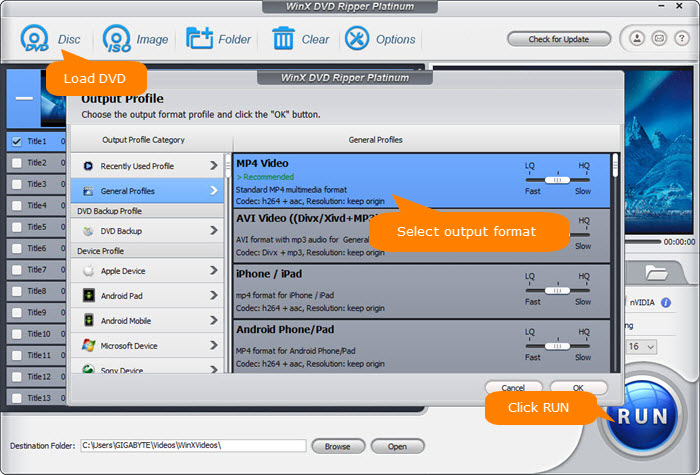 Step 3: Start ripping DVD without Handbrake distorted output errors on Win 11/10.
Click "Browse" to set a destination folder to save the ripped DVD movie video. Hit the "RUN" button to start ripping DVD to MP4, AVI, WMV, MOV, iPhone, and more on Windows (11/10), at a superfast speed with the best output video quality, unlike the Handbrake distorted.
Summary
In most cases, Handbrake DVD rip gets distorted or scrambled output because it fails to select the correct title due to copy protections. Installing libdvdcss can help fix part of the problems. There are some other settings errors that may also cause the issue. If you don't want to bother with the troubleshooting, professional DVD rippers are your best option.
Disclaimer: Digiarty Software does not advocate ripping copy-protected DVDs for any commercial purpose and suggests referring to the DVD copyright laws in your countries before doing so.
* Still have trouble about this HandBrake alternative? Just Email Our Support Team >>