How to Fix Handbrake Output Video Quality Poor Problem
Get a bad video quality after encoding with Handbrake? Find the solution here.
"I am trying to rip a home-made DVD using Handbrake so that I can add the digital video to my iTunes library. However, converted video file is of poor quality. How can I use Handbrake to rip the DVD as digital file without conspicuous quality loss?"
Handbrake is popular, but some unlucky guys especially for non-technical people may get into Handbrake video quality problems. The videos output from Handbrake may be choppy, blocky, etc. How could this happen? How to fix Handbrake video quality poor issue? Just move on to get answers below.
Or, use HandBrake alternative to get High-quality copy from DVD
WinX DVD Ripper Platinum – Rip any regular and copy-protected DVDs to all popular file formats and devices like MP4, AVI, MOV, iPhone, iPad, Apple TV, Android Samsung, Google Nexus, Sony, Microsoft, etc.
Inbuilt High Quality Engine helps deliver highest possible image quality.
How to Fix Handbrake Video Quality Poor Issue? -- Adjust Handbrake Quality Settings
Setting Handbrake is a big challenge. Improper settings can result in terrible output quality. So, what are the best Handbrake settings for high quality? The optimal adjustment should be a balance between file size and quality.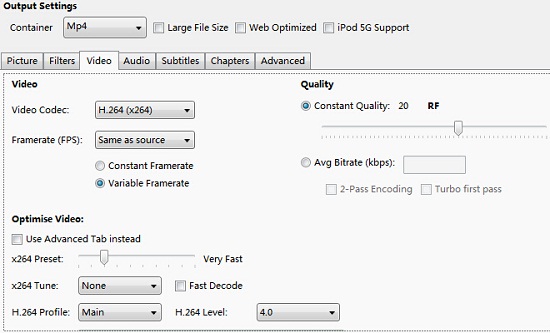 ▶ Choose file format/preset: File format has an influence on file size or quality. In most cases, MP4 is a preferred choice thanks to its good balance between file size and quality as well as its wide compatibility. Besides, you are also allowed to choose output preset.
Related: Create Handbrake iPad Preset, Handbrake BluRay Rip Settings to Get Best Quality
▶ Specify codec: H.264 is highly recommended because it is a new video codec standard delivering high quality video in relatively low bitrates.
▶ Set RF value at Constant Quality: You can set RF value from 0 (highest quality) to 50 (lowest quality). But this doesn't mean that you are suggested to fix Handbrake poor video quality issue by setting RF as 0. Such setting will output a gigantic file larger than the original without quality improvements. For DVD ripping, the default value 20 is adequate; for HD video conversion, RF 21-23 is reliable.
Related reading: How to Calculate Handbrake Video Bitrate/Quality Settings
When all settings are done, you can preview the video to see if Handbrake can export good video quality for you. If not, you can tweak the settings again. If you've played with all settings, but still see some artifacts and graininess that you don't like, try a Handbrake alternative.
Best Simplest Workaround to Fix Handbrake Video Quality Poor Problem -- Try Handbrake Alternative
As you can see, it is particularly hard to set Handbrake for the majority. So why still stick with Handbrake? There are many Handbrake alternatives that feature optimized settings and deliver high quality videos without sophisticated settings. And WinX DVD/HD Video Converter family (WinX DVD Ripper Platinum/for Mac & WinX HD Video Converter Deluxe/for Mac) are the most representative ones.
All these tools come with hundreds of preset profiles, including iPhone, iPad Pro, iPad mini, Apple TV, Samsung, Kindle Fire, Google Nexus, HTC, Sony, PSP, WP8, Surface, etc.
All of them are embedded with High Quality Engine and "Yadif Double Frames" De-interlacing Engine, thus they can optimize image quality, reduce noise and adjust definition to make the output video more clear. For tech-savvy users, they can adjust video audio parameters to get desired video quality and file size. So, you will never encounter video quality poor issue happening to Handbrake.
Besides above mentioned features, those Handbrake alternatives work more powerful than Handbrake in many aspects, for example:
▶ WinX DVD Ripper Platinum can rip copy-protected DVDs while Handbrake can only rip non-protected DVD.
▶ WinX DVD Ripper Platinum is equipped with DVD backup functions, helping 1:1 clone DVD to ISO file/DVD folder, and copy main/full title content as a single MPEG2 file.
▶ Handbrake alternative for video conversion - WinX HD Video Converter Deluxe is powerful enough to convert/compress 1080p HD, 4K UHD and even 8K Full UHD.
▶ All these Handbrake alternatives are updated frequently, fully compatible with new devices and new operating systems, such as Windows 10 and Mac OS X 10.13.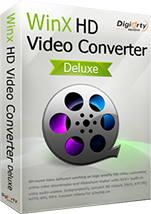 Best Handbrake alternative for video conversion
WinX HD Video Converter Deluxe
• Convert nearly any video format, such as MP4, AVI, MKV, WMV, AVCHD, M2TS, HEVC, FLV, 3GP.
• 410+ profiles for Apple, Android, Windows Phone, etc.
• Easy-to-use and FAST conversion speed.
• 100% clean without malicious software.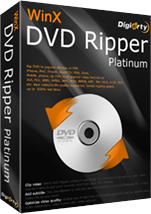 Best Handbrake alternative for DVD ripping
WinX DVD Ripper Platinum
• Rip/copy home-made, commercially encrypted movie DVDs, TV series DVDs, workout DVDs, Japanese AV DVDs, etc.
• 350+ preset profiles to meet various user needs.
• Rip DVD to MP4, MOV, AVI, WMV, FLV, etc.
• Easy-to-use. Fast ripping speed. 100% clean.