Fixed: Handbrake Output File Size Larger Than Input [MKV to MP4]
Handbrake is certainly a common choice for those who want to convert MKV to MP4 with a free video converter. It does work well sometimes, but there are still some users complaining Handbrake errors when converting videos, such as half way crashing, Handbrake poor output video quality, video audio out of sync, slow encoding/decoding speed, and the focus of this article - Handbrake output file size larger than input. That is to say, when you input a MKV file with large size, Handbrake outputs an even larger MP4 video.
- So I have created a video with Sony Vegas Pro 12, rendered it and I got a 600MB file. I wanted to compress the file to as small as possible. Then I searched for a tool/program to compress large MP4 files, and then there's Handbrake. But instead of compressing it, the file was bigger, it made my 600MB MP4 file to a 1.3GB file. Can anyone help me? Thanks in advance!
Why Handbrake outputs larger file size insteading of compressing it? How to fix it and convert MKV to MP4 with original quality yet smaller size. Scroll down to find the answer.
Part 1. Why Handbrake Outputs Bigger File Size After MKV to MP4 Conversion
Generally, even larger output MP4 size is usually caused by the improper Quality settings on Handbrake when converting MKV to MP4. Constant Quality RF (CRF) targets a certain quality level. The lower the CRF, the higher bitrate is used to reach that quality level, and the bigger output file size it will be. But this doesn't mean you can set Handbrake Constant Quality as high as possible. Though it will produce a smaller size, it also indicates poor video quality, like stuttering MKV playback, MKV skipping or dropping frames, grainy image quality etc.
Besides, the final video size can be calculated with a formula: Video Size = Length (s) × bitrate (kbps)/8. You can assign an average bitrate to achieve a target file size in Handbrake. While this is not an arbitrary number, but a resonable calculated value which reserves video in almost original quality in smaller size.
In other words, you need keep a balance between output video size and video quality. Normally, it's quite useless when CRF is lower than 16. RF:20 is considered as a start point for DVD ripped MKV encodes, and RF:22 for Blu-ray rips.
Part 2. Set Handbrake Video Quality Properly with Smaller File Size
To ensure Handbrake outputs a greatly compressed MKV files, here is how to use Handbrake to convert MKV to MP4 with original quality but smaller size.
Step 1: Open your Handbrake, and click "Open Source" button to load your original large-sized MKV file. Then click "Browse" button to set a destination folder to store the converted file.
Step 2: Choose MP4 as output container. And tap "Video" column under "Output Settings".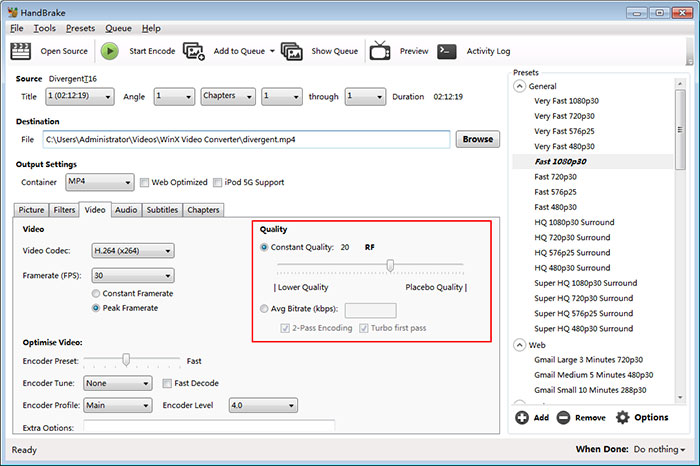 Step 3: Slide the Constant Quality RF to 20 for a reasonable output quality and file size. According to your inout MKV files, here are some suggestions for RF setting:
Normally, it's quite useless when CRF is lower than 16.
RF:20 is considered as a start point for DVD ripped MKV encodes, and RF:22 for Blu-ray rips.
RF:19 - 23 is a suggested range for 720p videos, RF: 20- 24 for 1080p, and RF: 22 - 28 for 2.7K/4K UHD videos.
Learn More about How to Set Handbrake Video Quality for Smaller File Size >>
Step 4: Click "Start Encode" button to transcode MKV to MP4 in smaller file size and high quality.
Part 3. Try A Handbrake Alternative to Convert MKV to MP4
Certainly, you can adjust Handbrake video quality to lower the output file size in MKV to MP4 conversion. However, it's really hard for beginners to find the best RF value to balance the video quality and file size. And any improper setting will either result in a loss of quality or an over-sized file and even slowing down Handbrake conversion speed, especially for 4K HEVC encoding. For that, an easier MKV converter is in demand for converting MKV to MP4 and predicatively reducing MKV file size without any manual adjustments.
WinX HD Video Converter Deluxe is such a software, which allows you to convert any MKV videos, regardless of YouTube offline MKV videos, DVD/Blu-ray rips, or 4K HEVC MKV recordings, to MP4, MOV, AVI, WMV, iPhone, iPad, Android, game consoles, and 420+ profiles. And the embedded compress engine calls upon intrafame and interframe coding algorithm, together with entropy coding to remove redundancy without destruction on video content, reducing MKV file size by up to 90% without quality loss.
Besides, you don't have to worry the conversion speed, as the built-in GPU acceleration will boost MKV conversion to 47x real-time faster if your computer is configured with a hardware acceleration enabled Intel i5/i7/i9 processors, Nvidia® or AMD graphic cards.
After you've downloaded and installed this Handbrake alternative software on your computer, then follow the steps to convert MKV to MP4 for smaller size and lossless quality.
Step 1. Open the program and load your large-sized MKV file through dragging and dropping, or clicking +Video button.
Step 2. Choose output format from the automatically popped up window, where 420+ profiles are preseted for your choice. Go General Profiles > MP4 Video > OK button to transcode MKV to MP4. This will reduce MKV video file size by almost half. Beyond that, you're able to compress MKV ulteriorly with the tips below:
Click Settings icon to enter parameters adjust window, drop down Resolution list to downscale 4K to 1080p/720p etc.
Also in this window, you can change video codec to HEVC, lower the bitrate, frame rate, and custom aspect ratio.
Click Edit button to trim the length of output video, or crop video frame size.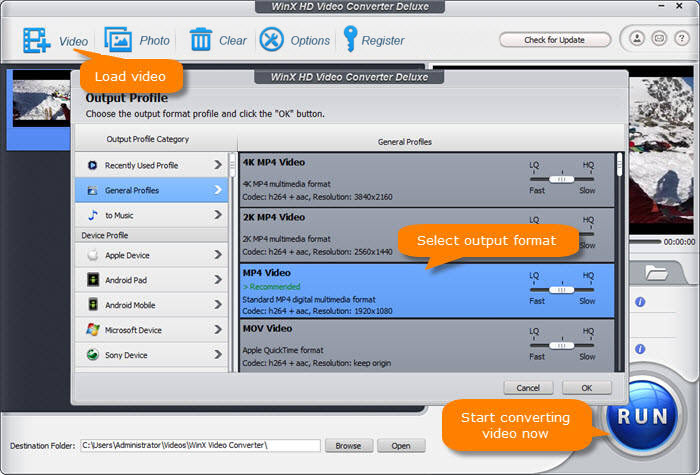 Step 3. Click Browse button to change the output folder destination if necessary. Then, tap RUN button to accomplish MKV to MP4 conversion in a very short time. After then, you'll get a more compatible MP4 video with smaller size. By the way, if your computer in embedded with hardware accelerated graphic cards, this MKV converting software will automatically invoke your GPU to ease the burden of CPU, boosting MKV conversion frequency to 200fps averagely.