How to Fix MKV Files Not Playing Issue on Windows
Whether you're downloading videos from online or getting them from other people, it's inevitable that you will come accross some MKV files, which save multiple audio/video/subtitle tracks with high HD/4K quality but not widely supported. The good news is that MKV has been growing compatible these years. Users no longer need install third-party software or download K-Lite/CCCP codec to play MKV files since Windows 10 adds native support for MKV format. However, they're frustrated to find that sometimes they still can't play MKV (4K HEVC) videos on WMP, VLC, HDTVs, game consoles, mobiles etc. with a variety of MKV playback errors, e.g. video codec not supported.
In this article, we will make an induction of the common MKV not playing errors, analyze why they happen and show you how to fix 4K HEVC MKV files playback error easily.

Part 1. The Most Common MKV Not Playing Errors
MKV video codec not supported error message. As a video container, MKV can be encoded with various codecs, including HEVC and DTS audio, which can be the culprit for MKV not playing on Windows/Mac, HDTV, Plex, Kodi, PS4, Xbox, mobiles and more.
MKV no audio/video, or audio video out of sync. An incompatible video or audio codec can not only cause MKV video not to play, but also a series of errors like MKV plays audio but no video, MKV no sound or out-of-sync audio and video.
4K MKV stuttering in Windows 11/10/8/7/XP, especially on under-powered hardware, like kabe lake chips. Usually you will see pixelated/laggy MKV playback, or find frame dropping on your MKV video.
4K (HEVC) MKV buffering on Plex/Kido/UMS. When you're trying to play 4K MKV on TV/desktop with Plex/Kido/Univeral Media Sever, the media sever may be killed constantly or it keeps buffering.
MKV subtitle won't show. When you open your multitrack MKV video, you may find MKV subtitles not showing, for example, subtitles are listed in the video you're currently watching, but none of them is shown on the screen.
MKV has black bars, not playing in full screen. A great deal of MKV files are ripped from DVD/Blu-ray, which are in 4:3 aspect ratio. If you play such MKV files on iPhone, iPad, HDTV, or any 16:9 screens, there will be black bars.
MKV player like VLC crashing or freezing on Windows. This happens owing to various causes, such as damaged MKV video, incompatible codec, up to 100% CPU usage, or the VLC itself etc.
Part 2. MKV Won't Play on Windows 10/11 - Possible Reasons
You may not encounter all of these problems, but some more or less. Figuring out why video not playing error happens on Windows will help a lot for troubleshooting it. And frankly, MKV playback errors can be attributed to the causes below:
1. Your MKV player doesn't support MKV format at all. As MKV is not as compatitable as MP4, many video players such as Movies & TV app, Windows Media Player, Media Player Classic don't work with MKV files properly.
2. You haven't downloaded MKV codec, like K-Lite, CCCP codec, or installed any MKV-compatible video players like VLC.
3. Your computer is not configured with hardware accelerated graphic cards, which could lower the CPU usage and play 4K HEVC MKV videos smoothly. Or you haven't enable the hardware acceleration on your HD video player.
Part 3. The Easiest & Most Effective Way to Solve MKV Not Playing Error
After understanding the reasons above, it's time to troubleshoot the pesky problems when playing MKV on Windows.
1. Install another MKV video player
The most direct solution comes to install a MKV compatible media player. If your MKV video failed to play in Windows Media Player on Windows, try other players such as VLC Media Player, 5KPlayer, Potplayer, etc. There are tons of free video player for Windows to choose from. They support a wide range of media formats such as MKV, MP4, FLV, MOV, WMV, H.264, HEVC, VP9, VP8, etc.
2. Install MKV codec for Windows
Download the specific codec for playing MKV files on your current video player. MKV is a video container format that supports lots of video and audio types. If you receive MKV not playing error, telling that the error is caused by incompatible video format, try downloading MKV codec or codec pack to solve the compatibility issue. K-Lite and CCCP codec packs are good options. After installing the codec pack for Windows, try your MKV video again to check if the MKV not playing issue is resolved on Windows.
3. Use your browser's media player
Try playing the MKV video on your web browser's media player. Popular web browsers such as Chrome and Firefox have MKV codecs required for decoding and playing the MKV content. Use steps below to open and play the MKV video in Google Chrome's media player
Open Chrome on Windows, press Ctrl + T to open a new tab.
Find the MKV video file from your Windows PC and drag the MKV video to the new tab of Chrome.
Now, the MKV video should play on Chrome via Chrome built-in video player without any issue.
4. Disable the hardware decoding
If the MKV video won't play on Windows via VLC Media Player, try disabling the hardware decoding feature in the VLC Media Player. The feature can conflict with the Windows system drivers and lead to MKV choppy or distorted playback issue. To disable the hardware decoding feature in VCL Media Player:
Open VLC Preferences.
Find the Input/Codecs tab.
Find and select the Disable option from the drop-down list against the Hardware-accelerated decoding section. Click on Save to save this disable setting. Close VLC and re-open it to try the MKV video file again.
5. Convert MKV to Windows Compatible Format MP4 H.264
Of course, you need to make sure your computer configuration is good enough to play 4K HEVC MKV videos. If you don't plan to update your computer hardware, you're highly recommended to convert MKV (4K HEVC) to MP4 (H.264), which is playable on any media players without installing codec or third-party software.
Analysis: You may have tried some video converters to convert MKV files. Some of them may work, but more often than not you will have all kinds of problems with these MKV video converters. For example, Handbrake makes video bigger instead of compressing it in MKV to MP4 conversion, there is huge quality loss after conversion, the audio runs out of sync with video, your output MP4 video absolutely has no sound, or the video converter like Handbrake takes forever to convert MKV to MP4.
While if you use WinX HD Video Converter Deluxe, you will never suffer from the above mentioned problems. It enables you to convert MKV to MP4 for playback on any media players and devices at super fast speed. Better yet, it compresses MKV videos to smaller size while keeping original quality.
Convert MKV to MP4, H.264, MOV, HEVC, AVI, WMV, mobiles, HDTV, Kodi, Xbox, and 420+ profiles.
Compress MKV video to the hilt, by up to 90% size reduction without losing quality visually.
No.1 fast video conversion speed, up to 47X real time faster with hardware acceleration enabled.
After you downloaded and installed this MKV converting software, now troubleshoot MKV playback error with the following the tutorial.
Step 1. Launch the video converter. Click + Video button to load the MKV video file that you can't play on Windows, TV and more.
Step 2. In the blink of an eye, Output Profile window appears. Go to General Video category and then select MP4 Video (h264+aac) as output format. Of course, you have other options, depending on your ultimate goal. You can also convert MKV to HEVC to compress video size to a greater extent, convert MKV to PSP, Xbox One, iPhone iPad, Apple TV, Android devices for directly playback.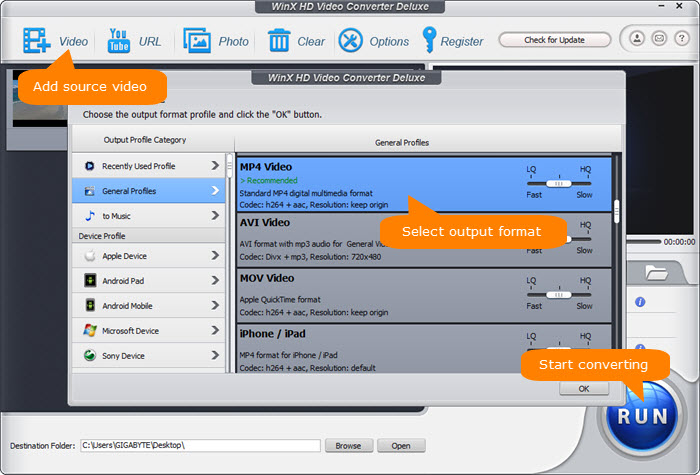 Optionally, you can also click gear-shaped Setting button to adjust video audio parameters, like downscale 4K UHD to 1080p/720p, tweak video bitrate, or change aspect ratio for widescreen display, lower the video frame rate from 60fps to 30fps/24fps and so on. Besides, video editing is also available with WinX HD Video Converter Deluxe. With a click on scissors-shaped Edit button, you're able to trim MKV video length, crop video frame size, add subtitles to MKV videos, adjust audio volume etc.
Step 3. Click Browse button to set a destination folder if necessary. Then hit RUN button to start converting MKV video to MP4 format. With the support of High-Quality engine and GPU acceleration tech, you're able to accomplish the MKV to MP4 conversion up to 47x real-time faster without quality loss.
Part 4. FAQ for MKV Not Playing Errors
Q1: I bought a HT BD-1250 and when everytime I try to play a mkv video file (through the USB port) that has two audio tracks, only the track in 2.1 works. When I select the 5.1 option, I get no sound. Can anyboby help me please?
A1: As you said, 2.1 audio option is working, but MKV 5.1 option has no sound. This is usually because your sound card doesn't support the 5.1 option audio track. Or the audio is encoded with DTS Dolby digital, which is not supported by your video player. For that, you can update your sound card, and convert MKV DTS to more compatible audio codec like MP3/AAC.
Q2: Hi. My Samsung TV won't play certain mkv files it's maybe 1/20 mkv files. I've tried using mkvmerge GUI and set all the tracks' compression to none but it still won't play...
A2: Maybe the MKV files is encoded with a codec that your Samsung TV not supported, such as HEVC codec or DTS codec. You can transcode MKV video to MP4 in h.264 aac codec with WinX HD Video Converter Deluxe by following the steps above.
Q3: Okay, so I have a Dell Dimension 2400, and recently I installed windows 7 on it, so I download VLC and a bunch of moves in MKV format, and they are extremely laggy and bad quality/unwatachable. So can someone tell me what I need to do pls
A3: There is a big possibility that you lack in CPU and GPU power to play MKV files. To fix the MKV laggy playback issue, you can upgrade your computer hardware, or try a Windows 10/8/7/XP video converter to convert MKV to MP4 for playing on Windows without any error.
Q4: Has anyone managed to play MKVs on an Xbox 360 using UMS lately? The only files I seem to be able to play with any regularity are MP4s and AVIs. I've tried playing MKVs using the FFmpeg, MEncoder, and VLC engines, but the 360 always just says "Can't play this content because it may not be supported. Status code: 69-C00D36C4".
A4: XboX 360 is unable to play MKV files. As you're trying to play MKV on XboX 360 with UMS, you need ensure MKV file is compatible on UMS. The last version of UMS that seemed to play MKVs was 2.6.5. If all these sound somewhat bothering, a good choice is to convert MKV to Xbox 360 compatible formats, like H.264, MPEG-4 MP4.
Q5: I have some MKV H.265 video, I played them on kodi 16 & 17,but the frame dropped terrible and video and voice didn't sync. I checked the cpu ocupy is 100%. I want to know if the ts451's cpu not strong enough or the kodi is not work proper for H.265. It's seem's that the hardware accelerate didn't work.
A5: From QNAP webpage, TS-451A is featuring advanced 8th-generation Intel® HD Graphics, the TS-451A supports 4K H.264 hardware decoding and delivers superior real-time 4K and 1080p video transcoding. No where does QNAP claim that the TS-451a supports H.265 HW decoding or transcoding. Thus you need transcode H.265 to H.264 for smooth playback on Kido.
Q6: I do have a problem while playing large files (~8GB and up). Most of them are in a .mkv container. As far as I could see, UMS might have some troubles with the subs, but I'm not sure. It shows a size of ~976KB on the tv.
A6: The issue started after ums 5.1.0. Large files are detected as 800-900 kb files and are unplayable in UMS. And usually, such MKV files are in high bitrate, which is higher than renderer config. You can change the renderer config to see whether it works. If not, the easiest solution comes to compress MKV files with WinX HD Video Converter Deluxe, which is able to change video codec, compress MKV video resolution, lower the video bitrate, change frame rate etc., maximumly making 90% file size reduction without losing quality.