Posted by Kaley Torres - Contact Author

[Solved] MKV Files No Sound in Movies & TV App/Media Player/VLC on Windows 11/10

If you are searching for an easy solution, click here: The solution most recommended by us [85%]
MKV File No Sound in Windows? Follow the MKV Playback Troubleshooting Steps
As a multimedia container that combines audio, video, and subtitles into a single file, MKV file format is widely used to save videos with multitracks. But it's disappointed that Windows always fails to play MKV files. In an effort to keep up with the demand, Microsoft improved its media player by offering support for .mkv and .flac files in Windows 10. While some users are reporting that there's no sound when playing MKV files in Movies & TV app and Windows Media Player. Or you have a MKV with 2 audio trcaks, but only the track in 2.1 works, 5.1 option has no sound.
Why Do Some MKV Files Have No Sound?
MKV no sound in Windows 10/11 can be caused by various reasons, from the codec itself, audio drivers, media players to improper MKV conversion etc.
1. MKV DTS audio codec. MKV files are mostly encoded with DTS codec, which is not as compatible as MP3/AAC codec in any video players. Or if your Windows computer hasn't been cogfigured with 5.1 audio, your MKV files still have no sound in Windows Media Player or VLC etc.
2. Improper Media Player installation. An update of operating system is barely able to function properly nowadays and even ruin the operation of media players. Or when your media player is malfunctioned with uncompleted or or substandard installation, you could get a mess-out media player, surely resulting in problems like no sound or audio fading.
3. Corrupted MKV files. MKV can be easily corrupted, for example, improper download, downloading from unverified sources or during improper conversion of the video file. When it happens, your MKV files might go with no sound or even no video on your screens.
4. Outdated audio drivers. MKV file no sound error can also be caused by the outdated audio drivers in your Windows 10/8/7 PCs.
For whatever reasons, here we list the possible solutions to fix the MKV no audio issue.
The most straightforward way to solve MKV files no sound in Windows 11/10/8/7: The Key: Convert MKV to MP4 encoded with more compatible audio codec like MP3/AAC

Try with A MKV Converter
Solution 1. Convert Your MKV File
Most MKV files are encoded with DTS audio codec, which is not supported on Movies & TV app and more MKV video players on Windows. Rather than trying hard to seek for a DTS compatible MKV player, why not convert MKV to MP4 in MP3/AAC audio to make it compatible with every media players. For that, WinX HD Video Converter Deluxe is a nice option to convert MKV videos to MP4, AVI, WMV, and 420+ profiles to root out MKV no sound issue. Meanwhile, this could also perfectly fix MKV audio not playing error caused by corrupted MKV files.
Convert MKV to MP4, AVI, WMV, Apple, Android, Windows and 420+ profiles.
Compress MKV file size maximally, up to 90% reduction, while keeping nearly lossless quality.
Flexibly tweaking video parameters, like video bitrate, frame rate, resolution, aspect ratio etc.
Customize and edit video (merge, crop, cut, trim, add subtitle etc.) easily.

Download WinX HD Video Converter Deluxe on Windows

to convert MKV to MP4

Download WinX HD Video Converter for Mac

to convert DTS audio MKV files
Download and install the MKV converter, then follow the tutorial to convert MKV to MP4 within 3 steps:
Step 1. Launch the program and click +Video button to load the MKV files that have no sound in Windows 10/8/7.
Step 2. As the videos loaded, an output profile window pops up, which allows you to convert MKV to 420+ profiles. For example, move to General Profiles > MP4 Video (codec: h264+aac) > OK.
Step 3. Click Browse button to specify an output folder path if necessary. Then, tap RUN button to start converting MKV to MP4 in a very short time. After then, you can play MKV videos freely on Windows without no sound issue.
Note: If your computer is configured with graphic cards that support hardware acceleration, WinX HD Video Converter Deluxe will automatically detect your GPUs and invoke them to speed up video conversion up to 47X real time faster.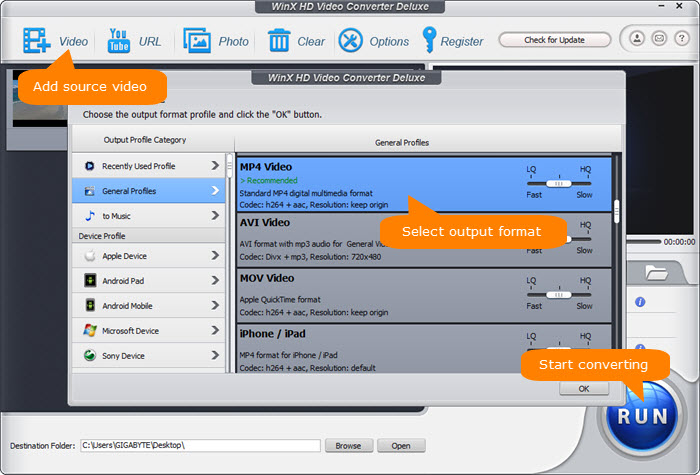 Solution 2. Play MKV Files with a Third-party Media Player
Since Windows 10 adds supported to .mkv files, users rush to play MKV on Movies & TV app. Then MKV no sound error comes in flocks. Ultimately, it comes an issue that Movies & TV app doesn't support DTS audio encoded with MKV videos. For that, you can try a third-party media player like 5KPlayer, VLC, MPC-HC, etc., which not only get back your MKV sound, but also fix some MKV audio video out of sync issue.
Take VLC as an example, you can look for the .mkv file, and right-click it. Select Open With from the drop-down menu, then choose the VLC media player. Generally, your MKV video will play smoothly on VLC. Check Solutions If MKV Not Playing Well on VLC >>
Solution 3. Running the Built-in Troubleshooter in Windows
One of the great things about Windows 10 is that it has different troubleshooters designed to fix specific issues, including the MKV no sound issue. To get back sound on MKV files, you can follow the instructions below:
1. Click on the Search icon on the taskbar, type "Settings" and press Enter.
2. Select Update and Security. And go to the left bar menu and choose Troubleshoot.
3. Under the "Get Up and Running" section, choose "Playing Audio". This should launch the audio troubleshooter. Wait until the program identifies and resolves the issue.
Solution 4. Regain MKV File
As we mentioned, MKV playing with no audio may be a result of file corruption during downloading, converting, and transfering. Therefore, you can re-download the MKV file if you get it online, re-download it from other reliable sources, or re-convert it.
Solution 5. Download Needed Codec
MKV is a container format for media. When a MKV file plays with no sound, the audio codec in the MKV file may be not supported by your player, maybe Movies & TV. Take Movies & TV as an example. It supports AC3 and AAC audio fine, but not DTS. In this case, you can re-encode the file or download and install the required audio decoder from third party source. One of the most popular codec packages that support a wide range of audio and video codec formats is K-Lite Codec Pack. Download and install it. Then try playing your MKV now and see if the sound can play or not.
Solution 6. Reinstall/Update Audio Driver
Audio driver is a type of computer file. If it is outdated or malfunctioning, it will cause video playing with no sound issue. So, you may need to update audio driver or reinstall it.
How to update audio driver?
Type "Device Manager" in the taskbar's search box to find and open Device Manager.
Find and expand "Sound, video and game controllers".
From the expanded list, right-click the listing for your audio device or sound card, and select "Update driver". Then it will begin searching online for drivers.
Select "Search automatically for updated driver software". Your computer will then proceed to search for any available updates for your audio device or sound card.
If Windows can't find any available updates for your audio driver, try visiting the manufacturer's website to see if anything is available. If it finds an update, follow the instructions provided to complete the update process.
How to reinstall audio driver?
Type "Device Manager" in the taskbar's search box to find and open Device Manager.
Find and expand "Sound, video and game controllers".
From the expanded list, right-click the listing for your audio device or sound card, and select "Uninstall device ". When Uninstall Device window pops up, check "Delete the driver software for this device" and click "Uninstall".
Once done, restart your computer. Your audio driver will be reinstalled automatically.
Well, above are the solutions for MKV playing without sound issue. Hope this article helps.