How to Solve MKV Subtitles Won't Show in VLC/MPC or HDTVs
MKV Subtitles Not Showing in VLC/MPC? Check How to Open MKV with Subtitles Here!
MKV format is widely used to save videos with multiple audios, videos, and subtitles tracks. However, a great many users reported that their video players, from VLC, MPC, to KMPlayer, don't show subtitles in MKV. For example, the subtitles are listed in the video you're currently watching, but none of them is shown on the screen, MKV subtitles are not working in VLC 3.0.3 while it works under VLC 2.2.8, or MKV subtitles display fine in VLC and Windows 10 Movies & TV app, but they're not working in MPC etc.
[Solved] MKV Subtitles not Showing? Turn on Subtitles or Add Subtitles to MKV
With the help of WinX HD Video Converter Deluxe, you can enable the embedded subtitles in MKV videos or add .srt subtitles downloaded from online to the video. No worries about the MKV subtitles not showing error.
MKV Subtitles Won't Show - Possible Reasons & Solutions
Why your MKV subtitles failed to show when you're playing them on VLC, MPC, HDTVs etc? It can be caused by a variety of reasons, from the subtitle codec, render, video player settings, to media sever, etc. Here we'll figure out the possible reasons and all available solutions to fix MKV subtitles not working properly error.
1. It's easy to understand that MKV subtitile won't show up when the .ass or .srt subtitle is corrupted. You'd better to resort to some trustworthy subtitles download sites to download free subtitles for your MKV file.
2. You don't have a proper renderer to filter and display MKV subtitles. Vsfilter family doesn't like non-standard subtitles. For that, you need an different subtitle renderer - AssFilterMod to make your MKV subtitle working properly.
3. An improper subtitle setting on your media player will also lead in MKV subtitles not showing error. For example, if you set language priority to English, your MKV files with Friench or Spanish subtitles may not be shown. Or MKV subtitle used to display in VLC 2.2.8 while it's not working in VLC 3.0.3. It could be fixed when Nightly Build turned on.
4. If you're unable to see MKV subtitles on HDTV, it might be an issue of media sever. You should install a media server on your PC to stream your MKV file and your external subtitle file (usually .SRT). Make sure the .SRT file has the same name as your .MKV and is in the same folder.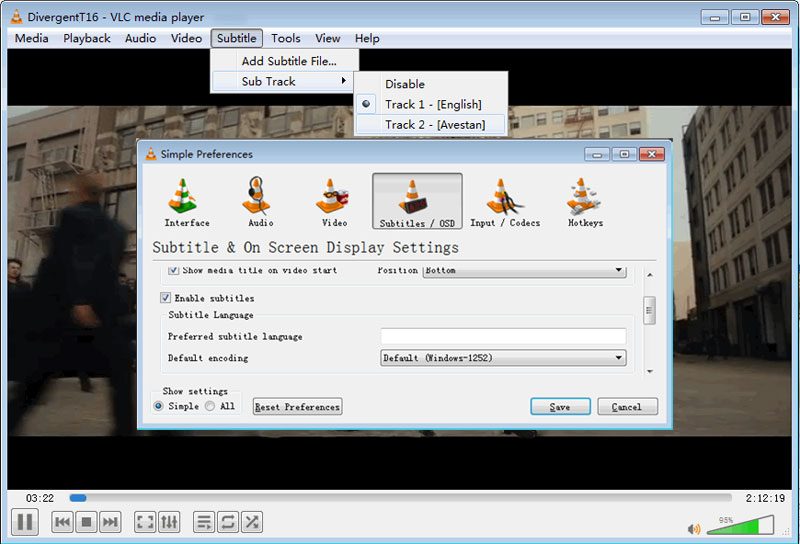 Best Solution 100% Working Solution to Open MKV Files with Subtitles
The Key: Convert MKV to a more compatible format with burned-in subtitles.
You see, what listed above is just the most possible causes and solutions for MKV subtitle not working error. And they may or may not fix the MKV subtitle issues in VLC, MPC, KMPlayer, HDTV etc. Rather than spending time and energe for uncertain tips to fix MKV subtitles not showing up error, why not try a 100% working way to open MKV files with subtitles?
WinX HD Video Converter Deluxe is an excellent video converter which allows you to do so. You're able to burn embedded or exteral subtitles in the MKV videos, as well as convert MKV to MP4, MOV, AVI, FLV, WMV etc. to win better compatibilty on media players, iPhone, iPad, Android, game consoles, HDTVs, and more. Besides, you don't have to wait long for this process. If your computer is configured with graphic cards built with hardware acceleration, this GPU accelerated decoder will boost MKV conversion up to 47X real time faster.
Download and install the WinX Video Converter on your computer according to the OS you're running, now burn .srt subtitles to MKV video to solve MKV subtitles not showing error thoroughly.
Step 1. Launch the program and click +Video button to import the MKV files which show none subtitles in VLC/MPC etc.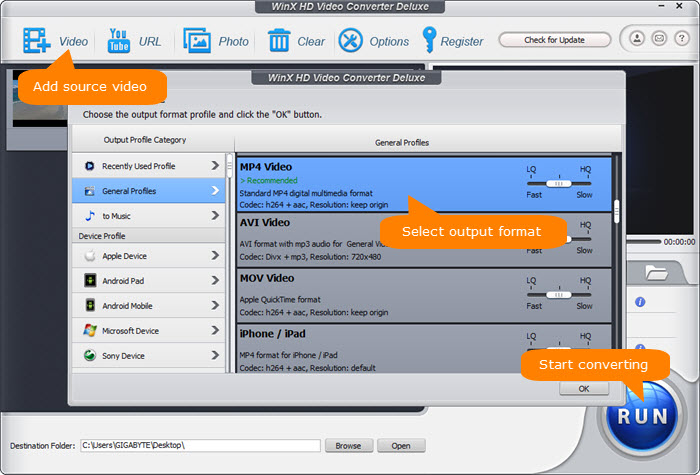 Step 2. Choose an output format from the automatically popped up profiles window. You can stick on MKV format through PC General Profiles > Matroska Video > OK. Or you can also convert MKV to MP4 by General Profiles > MP4 Video > OK.
Step 3. Click the scissor-shaped Edit button, and click on Subtitle column, tick on the box of Enable Subtitle. Then you can select one of the embedded subtitle or add .srt subtitle to the video. After you've done, hit Done button to make your changes valid.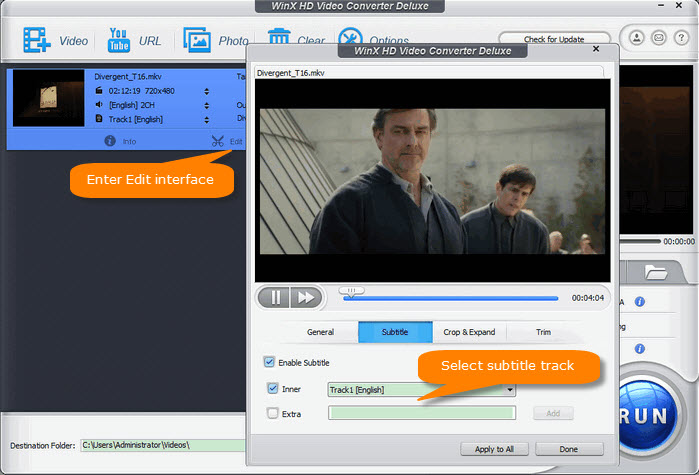 Step 4. Click Browse button to choose an output folder if necessary. Then, tap RUN button to start converting MKV files in a very short time. After then, you can open your MKV files with subtitle on any media players.