How to Fix VLC Chromecast Subtitles Not Showing Problem
VLC to Chromecast doesn't support SRT subtitles. Is there any way to show the subtitles? My videos are stored on my PC with subtitles. I want to be able to play them on my small monitor (no USB port, only HDMI) if such a dongle exists.
As above, if you've encountered issues that subtitles don't work when playing through Chromecast, read the guide to learn why VLC Chromecast subtitles don't show, and how to cast VLC to Chromecast with subtitles.
Also read: How to compress video size with VLC media player.
VLC Chromecast Subtitles Not Showing? Try VLC Alternative to Cast Subtitles
VLC Chromecast subtitles not displaying? Embedding subtitle to your video and turning to another media player both are frequent solutions for this problem. WinX Video Toolkit (including WinX Video Converter and 5KPlayer) is an infrequent program that offers these two options for your choice. By using it, you can easily cast to TV with subtitles.
Embed/add SRT subtitles to videos permanently for VLC cast to chromecast subtitles.
Stream your video with subtitles from PC/Mac to TV using 5KPlayer.
Ensure a flawless video playback on VLC through converting video to any format (MP4, HEVC, MKV, MOV, AVI etc.) and resolution (4K to 1080p/720p).
High speed conversion guarantee with GPU accelerated.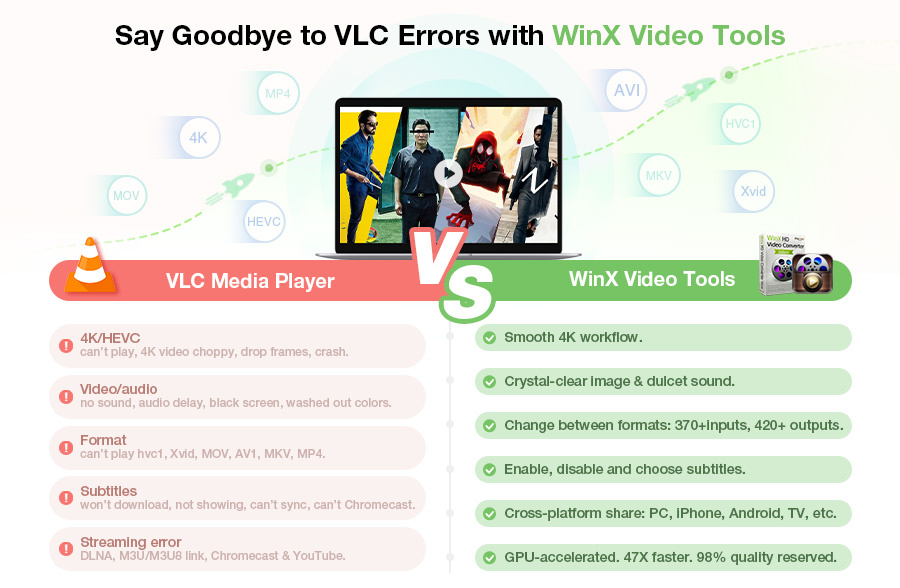 Table of Content
Part 1. Why VLC to Chromecast Doesn't Support Subtitles
Chromecast doesn't support the subtitles. Subtitle formats Chromecast supports are limited. Below is Chromecast supported subtitles and closed captions: TTML - Timed Text Markup Language, WebVTT - Web Video Text Tracks, CEA-608/708
The subtitle file is empty or corrupted. You won't play the video file with subtitles correctly when casting VLC to Chromecast if the subtitle file is damaged or empty. You can download subtitles from online subtitle sites again.
The subtitle's name is different from the video file name. Or the subtitle file is in a zip format.
The subtitle file is in a separate folder, not in the same folder as the video.
Read more: How to resolve VLC subtitles not working, how to fix VLC subtitles delay
Part 2. How to Cast VLC to Chromecast with Subtitles
#1. Adjust Subtitle Settings in VLC
Firstly, you should know how to chromecast VLC to TV and check whether the subtitle is displayed during Chromecast.
Update VLC to the latest version and make sure your Windows device and Chromecast are on the same WiFi network.
Open VLC, and Select Playback > Renderer.
Select the Chromecast device.
The VLC media player will stream on the TV. Select and play the video file that you want to stream.
As you're trying to cast video to another network, there will be an Insecure site warning. Choose View Certificate and view the Chromecast's security certificate. Choose Accept Permanently, and now you should cast VLC to Chromecast with subtitles playing. If there's no subtitle showing when casting VLC to Chromecast, try the following steps:
Make sure that the subtitle file is not empty and not in a zip format.
Rename your subtitle file to match the video file name exactly and place both files in the same directory.
Make sure the subtitle is enabled in VLC: Go to the "Subtitles" tab and ensure that the "Subtitle track" is selected. Verify the subtitle settings, such as font, size, and encoding, and adjust them according to your preferences.
Confirm that your subtitle file is in the format that is compatible with Chromecast and VLC, such as .srt and .sub.
Try to add subtitles manually if the video file and subtitle file names are different. To do so, when the video is playing on VLC, tap the three vertical dots at the top right corner of the screen, select Add Subtitles, choose the subtitle you'd like to add from the subtitle file list. Play the video to check if you can cast VLC to Chromecast with subtitles displaying on the window. Note: if you mux subtitles to a video, and you want to use MKV format, WebTT format is the only option. WebVTT can only be muxed into Webm by FFmpeg. "Your subtitle resources must implement CORS." which means subtitles are split file.
Additional troubleshootings for VLC: fix video codec not supported error when playing video in VLC.
#2. Embed Subtitle to Video Permanently
Embedding subtitle to video is another solution to fix VLC chromecast subtitle error. This will burn the subtitle to video permanently, so that VLC could cast video with subtitles to TV like the ones without subtitle. WinX Video Converter (from WinX Video Toolkit) can help you add subtitle to video easily. You can embed and add any SRT, SSA, and ASS subtitle file in any language at the bottom to make it viewable on any player and device.
Here are the easy steps on how to embed subtitle to video using WinX Video Converter.
Step 1. Free download WinX Video Converter on your computer. Then install and launch it.
Step 2. Click on the +Video button to load the source video. Or you can directly import it through drag-n'-drop.
Step 3. Choose an output format from the automatically popped up window. MP4 Video H.264 is highly recommended due to its wide compatibility. Step 4. Click Edit button, navigate to Subtitle tab, tick on  Enable Subtitle and Extra, then press Add button to open the subtitle file you want to insert. After that, just hit Done.
Step 5. When everything is done, you can hit the blue RUN button to begin embedding subtitles into your video permanently.
After the process is finished, open it in VLC player and you'll find the subtitle is burned on the video. Then you can use VLC to cast it to TV with subtitles.
#3. Turn to Another Media Player
If you don't have to stick with VLC, you can turn to another media player that is able to chromecast video to TV or computer with subtitles. 5KPlayer precisely has the ability. There is no complicated opeations. It can be done within clicks instead.
Step 1. Run 5KPlayer on your Windows 11, 10, 8, 7 PC or Mac. Make sure your computer and Apple TV are connected to the same Wi-Fi.
Step 2. Hit "Airplay" on the up right corner of the main interface.
Step 3. Select your Apple TV from the list of Airplay receivers.
Step 4. Drag and drop the video with subtitle, then you'll see the video displayed with subtitles on TV screen.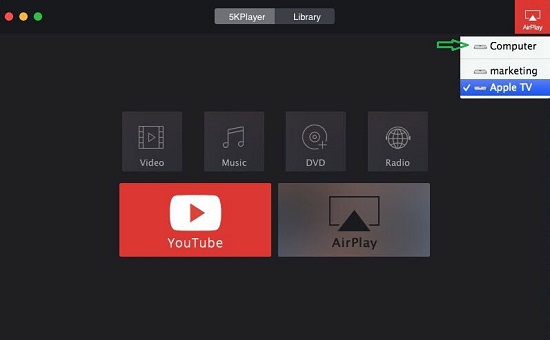 Conclusion
Casting VLC to Chromecast with subtitles can greatly enhance your media streaming experience. By following the troubleshooting steps outlined in this article, you can overcome issues related to subtitle display in chromecast. Adjusting settings in VLC, embedding subtitle to video and trying another media player are key to resolving the problem in VLC. Remember to test playback locally to confirm that subtitles are working as expected before casting.
By addressing these considerations, you can enjoy seamless VLC Chromecast streaming with subtitles, enabling you to fully immerse yourself in your favorite videos and movies.