How to Solve Handbrake Crash Before DVD/Video Conversion Finish
If you are a Handbrake user, you may encounter Handbrake crashed before DVD/Video conversion finish error, like the case below:
"Before it finishes a rip of a relatively long title, like saying 20+ minutes, Handbrake crashes right as it gets at the finish, and as a result the rip is corrupted (glitchy when manipulated) and soundless. Also can't be imported to iMovie, so basically completely useless."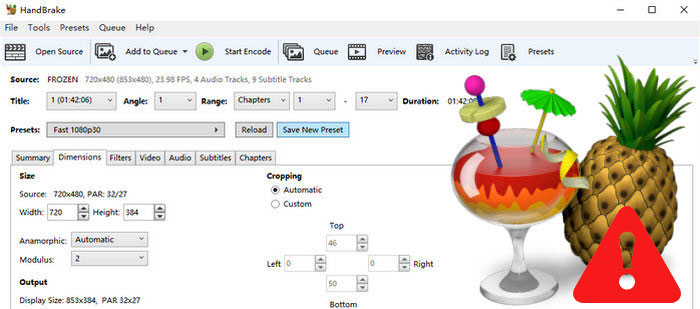 Why will Handbrake crash before finish, and how to solve it?
Actually Handbrake neither crashed nor finished. Those comfortable in Terminal can use "top -o cpu" to see that HandBrake is probably the top item, and still using a large portion of your processor(s) speed.
Keep Handbrake working until it gets Handbrake "Crash" over. Canceling the conversion at this point is virtually guaranteed to result in a broken file. (It's possible to get lucky, but if you've spent hours converting so far, why risk throwing it all away?)
It will take more time to work through this Handbrake crash error. Handbrake is always thirsty time for ripping DVD and converting videos. The waiting time depends on the length of the encode. A 30 minute encode will say done in only a few seconds. A 2 hour encode may take 5 minutes. As for Handbrake alternative, some are faster speed than Handbrake. The most outstanding one is WinX DVD Ripper, which can backup a WHOLE DVD within 5 MINUTES, while still keeping 100% original video quality and AC-3/DTS surrounding audio.
From Handbrake developer's own experience, all can say is that the pause is usually associated with just some particular discs, like copy-protected DVDs, and that lower-end machines are more likely to make Handbrake crash before finish.
So generally, HandBrake really does not crash before finish conversion. It just isn't displaying the last step(s) and needs to finish before the conversion is completed. But if you can not endure that Handbrake will take a long period for DVD scanning and finishing the encode, even waste several minutes to process the final step, you can give the best Handbrake alternative a try.