Handbrake Won't Start Encoding / Stops Encoding Issue Solved
How to solve "Handbrake won't start encoding" issue? Try to fix "Handbrake doesn't finish encoding the whole video" problem.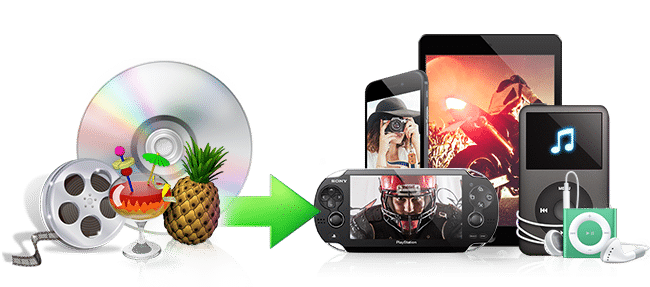 Problems people are encountering with Handbrake video encoding:
Handbrake is now having issue with converting my MOV file. I set everything up and I click on Start, it won't start the encoding. Would really appreciate any help.
Handbrake encoding is stuck at 0.00%. The job stops at the encoding point and just updates the screen with 0.00%.
I haven't been able to encode videos with Handbrake on my Windows 7 PC. I tried many different formats videos and reinstalled Handbrake, but it still doesn't work.
I try to use Handbrake to convert a MKV video to MP4 format, but Handbrake stops encoding at 10%. The encoded 6 minutes video is good, but I want the whole video.
Handbrake won't rip entire DVD, it only stops at the half way...
The free and open source video decoder & encoder software Handbrake is loved by many people. You can use Handbrake to convert source video to MP4 or MKV container. However, questions like "Handbrake freezes/crashes while encoding", "Handbrake not ripping entire DVD movie" frequently occur.
Below we'll summarize some solutions for Handbrake won't start encoding or stops encoding early without exporting a whole video. Hope it will help loyal fans of Handbrake to fix this issue more or less. And we also provide a cool substitute for those who are seeking for best Handbrake alternative to smoothly encode video.
An easy and ultrafast video converter can smoothly convert almost any video to any preferred format without freezes. The output quality can retain original. You can also freely adjust video resolution, bit rate, frame rate, cut, crop, stabilize, effect, subtitle, etc. to get desired result.
WinX HD Video Converter Deluxe is a video/music converter, video editor, DVD converter, video/music free downloader, screen/webcam recorder.
For Windows and Mac only. If you are a mobile user, please click here.

Part 1: General Troubleshooting for Handbrake Won't Start or Stops Encoding
It's hard to say why Handbrake freezes while encoding or won't start encoding but if you love Handbrake very much and insist use Handbrake, the following steps may be worth trying.
Quit the encoding and close Handbrake. Restart Handbrake and encode again.
Restart your computer and do the Handbrake encoding again.
Try temporarily disabling computer firewall and turning off antivirus software.
You can try completely deleting Handbrake, and reinstalling the latest version.
Install the latest version of Microsoft .NET Framework available for your Windows version.
If Handbrake always stops encoding at the same point, you may consider whether the DVD disc or video file is corrupt or damaged.
Need to mention that Handbrake can't rip DVDs with copy protections and can't help you scan the right DVD main title. And this may also make Handbrake won't start encoding. You can use third-party software like VLC to figure out the right DVD movie title and then convert DVD to MP4 with Handbrake. Or, use a powerful one-stop DVD converter like WinX HD Video Converter Deluxe to tackle any protected DVDs and turn them into digital video files.
If your computer equips very old hardware, Handbrake encoding process may also stop in the middle due to the heavy load and overheating on the CPU, up to 100%.
In the end, if you still haven't get out of these errors with HandBrake tutorial, turning to a top Handbrake alternative could be the last draw.
Part 2: Solve Handbrake Won't Start Encoding or Stops Encoding Once for All
Here we offer WinX HD Video Converter Deluxe to you. It is also an easy and fast video transcoder and DVD converter. If you try it and love it, you can use it to replace Handbrake to convert video formats or DVD disc with high output quality.
WinX HD Video Converter Deluxe can convert your source video to target format without quality loss. Better still, you can also use it to compress 4K to 1080p without obvious quality change.
The video decoding, processing and encoding speed of WinX HD Video Converter Deluxe is ultrafast due to its perfect support for Nvidia NEVNC/CUDA, Intel QSV, and AMD hardware acceleration tech. Using this hardware-accelerated video software to convert and encode video can largely reduce your computer CPU burden. And this is especially beneficial for relatively low-level configuration computers. Many old computers can still run WinX HD Video Converter Deluxe well.
To some extent, WinX HD Video Converter Deluxe is more versatile and user-friendly than Handbrake. Its interface and operation are much more intuitive. Even novice users can use WinX HD Video Converter Deluxe to convert/edit video, convert DVD to MP4 and more, download music/videos from YouTube and 1000+ sites for free, record screen/webcam, etc. in a few clicks.
Check below how to use WinX HD Video Converter Deluxe to convert video and encode video to new target format.
First of all, download and install WinX HD Video Converter Deluxe on Windows 10/8/7 PC or Mac. Please rest assured to use this 100% clean program.
Step 1. Load source video
Open WinX HD Video Converter Deluxe and click "Video" button on the main UI, and you can step into video converting/editing window. Click "+Video" icon to import the source video file (s) from computer into WinX HD Video Converter Deluxe.
Step 2. Select an output format
Then you can browse the output formats and preset device profiles from the Target Format column. Popular video/music formats like MP4 H.264 are listed. You can click "Target Format" button to check all the supported output files.
Tips: You can see WinX HD Video Converter Deluxe provides a batch of video editing functions: Cut, Crop, Effect, Rotate, Subtitle, Watermark, and many more in Toolbox (the button is located at the bottom). You can edit the video before encoding it to target container.
For adjusting video resolution, frame rate, bit rate, aspect ratio, video quality, etc. you can click "Codec Option" icon.
Step 3. Encode video to target format
When everything is done, you can click "Browse" to set a destination folder to save the converted video. Finally hit "RUN" to start encoding video smoothly and quickly with the best Handbrake alternative – WinX HD Video Converter Deluxe.
Tip: Remember to tick "Nvidia/Intel/AMD" hardware acceleration engine, and WinX HD Video Converter Deluxe will auto check if your computer supports these hardware acceleration techs, and utilize them to speed up the video encoding process at most, as well as keep your computer CPU usage rate low.
In conclusion, if you are very frustrated with "Handbrake won't start encoding or stops encoding" issue can can't fix this issue all the time, give WinX HD Video Converter Deluxe a chance to help you convert and encode video.