How to Solve 'Handbrake Rips 50% of DVD'?
Handbrake only Rips about Half Movie DVD? Here is the quick fix...
"I'll select a 2:01:23 movie and trying to rip it with my Handbrake, and then when it's done, Handbrake only give me half the movie at like 1:12:47. And it will stop at the same point every time I try it with that specific movie. It's not all of them just some that I run into this problem."
"Handbrake won't rip entire DVD" error happens from time to time. Sometimes, Handbrake DVD rippping gets stuck at 50% or other point. Other times, Handbrake rips the DVD without error, but the it only rips the first chapter in the result file. In a word, Handbrake won'ot finish ripping the full DVD. In this post, let's learn how to fix Handbrake stops at 50% DVD ripping and let it rip the whole DVD.
Part 1 Why Handbrake only Rips Half of DVD, and How to Solve It?
1. Copy Protections
If you have some DVDs that can not use Handbrake to get it 100% converted, then the DVD is most likely encrypted with DVD copy protections. Handbrake won't read any encryptions and the DVD ripping may get stuck in the middle by a fake or corrupted title. To solve this Handbrake not finish the whole DVD converting trouble, you can downlaod VLC which contains libdvdcsss to let Handbrake deal with some encrypted DVDs.
But that won't always work. For example, you may get an error message says: "This version of handbrake is 64 bit, VLC found but not 64 bit!" when using Handbrake to rip protected DVDs on Mac. It is one of the biggest trouble for Handbrake Mac users. On one hand, though they followed the instructions as that message said, they would still get it from time to time. On the other hand, Handbrake Mac users need to get VLC 64 bit installed firstly, which is reported as buggy software sometimes.
Anyway, to solve Handrake only rips half the DVD errors, you'd better use a DVD ripper to decrypt the protection.
2. Corrupted DVD
If the DVD is damaged or scratched, Handbrake can't skip the damaged title or chapter. Therefore, it will stop at the damged point and result in the error Handbrake ripping only half of the DVD. Check if there are any dirt or crashes on your DVD. If yes, clean the DVD with software cloth or soap. Or try a ripper that supports damaged discs.
3. Hardware issues
If something goes wrong with the DVD drive, Handbrake DVD ripping may be stop at half and won't finish. To fix, try to rip the same DVD on another computer. If Handbrake can rip the full DVD without error, you need to have your DVD drive fixed.
4. Dual-layer DVDs
In some cases, Handbrake has problem rippping dual-layer DVDs. It seems that Handbrake cannot find the content on both layers and so only rips half the files or one layer.
Part 2 Ultimate Fix to Handbrake Rips Half DVD Errors
WinX DVD Ripper Platinum is highly recommended as a Handbrake alternative. It fully supports normal DVDs and any protected DVDs (the main reason to Handbrake only ripping half DVD), including CSS, Sony ArccOS DVDs, UOPs, APS, RCE, Disney X-project DRM and all region 1-6 DVDs.
Moreover, this DVD ripper is the unique DVD ripping program which supports and will be continuously updated to support decrypting DVDs with the latest copy protections. In addition to movie DVDs, it also supports workout DVDs, TV series DVDs, and more, even damaged discs.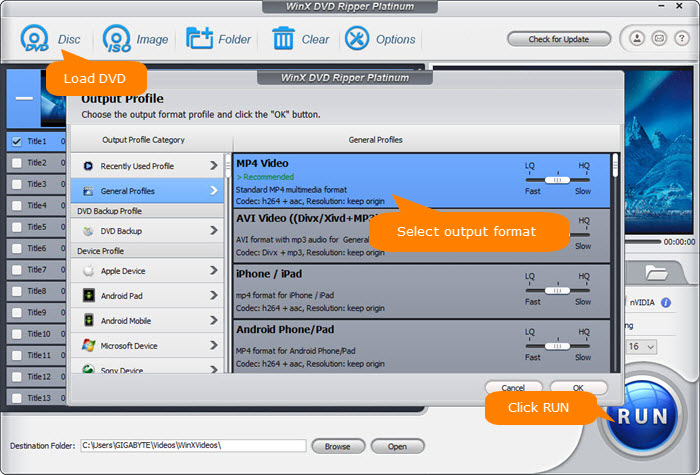 Disclaimer: Digiarty Software does not advocate ripping copy-protected DVDs for any commercial purpose and suggests referring to the DVD copyright laws in your countries before doing so.