[Fixed] This Version of Handbrake is 64 Bit, VLC Found but Not 64 Bit
If you need to rip encrypted DVDs with Handbrake, it requires VLC to provide libdvdcss. However, after you download VLC for Handbrake on Mac computers, you may get a message saying: "This version of handbrake is 64 bit, VLC found but not 64 bit!". Don't "Attempt Scan Anyway", since it will crash both your HandBrake and Mac. Go "Get 64 bit VLC" and get it installed. But in some cases, even though you follow instructions above with care, you will still receive this disturbing message time after time - "This version of handbrake is 64 bit, VLC found but not 64 bit!"
Note: VLC currently supports Windows 64-bit. You can free download VLC 64-bit for PC now!!! Free Download 64/32-bit HandBrake Alternative for Protected DVDs
WinX DVD Ripper for Mac - Best 64/32-bit Handbrake alternative to rip protected DVDs on Mac without third-party libdvdcss. Fast rip general/copy-protected DVD (movies) to MP4, MOV, H.264, HEVC, QT, etc. on macOS Big Sur or lower. Fast speed and highest video/audio quality. [100% clean and secure]
Reason to "This version of handbrake is 64 bit, VLC found but not 64 bit!" Errors
HandBrake do not natively support encrypted DVDs so as to avoid a few legal issues. Therefore, they omit the key point of ripping copy protected DVDs on purpose - libdvdcss, a CSS library that allows protected DVDs to be read. It requires libdvdcss from VLC to read protected DVDs. To make things work, both Handbrake and VLC need to be compiled for the same CPU. 64-bit Handbrake requires a 64-bit VLC with a 64-bit libdvdcss inside. Otherwise, you will encounter the error "This version of handbrake is 64 bit, VLC found but not 64 bit!"
How to fix "This version of handbrake is 64 bit, VLC found but not 64 bit" Error
On PC, it's easy to fix the problem. You simply need to remove check the version of your system and re-install the 32 bit or 64 bit VLC or Handbrake. This is because VLC for Windows is available in both 32 bit and 64 bit. But on a Mac, you can't fix it easily. Since macOS Catalina, 32-bit apps no longer work on macOS. While the latest VLC 3.0.16 runs on any Mac with a 64-bit Intel processor or an Apple Silicon chip, it's not 64-bit. That's why even if you have downloaded the latest VLC as per the prompt, you still get the Handbrake VLC 64 bit error.
So here is free-charged encrypted DVD ripper software - WinX DVD Ripper Mac Free. Without any third party software involved, this free HandBrake alternative DVD Ripper will easily rip and convert all your homemade and commercial DVDs. Moreover, it has more output options than HandBrake (Though former HandBrake supported video and codec are limited, and now version 0.9.4 moves forward to cut down AVI, Xvid and OMG).
Fix to HandBrake VLC 64 Bit Errors with Best HandBrake 64 Alternative
The best approach to get around Handbrake 64-bit VLC Error is HandBrake 64 (since both HandBrake 64 bit and VLC 64 bit have been pointed out innumerous buggy issues). The powerful and versatile choice can help - WinX DVD Ripper for Mac. It is not only masterful at ripping copy-protected DVDs, but also supports output much more video formats and portable devices.

Free Download to check it out >>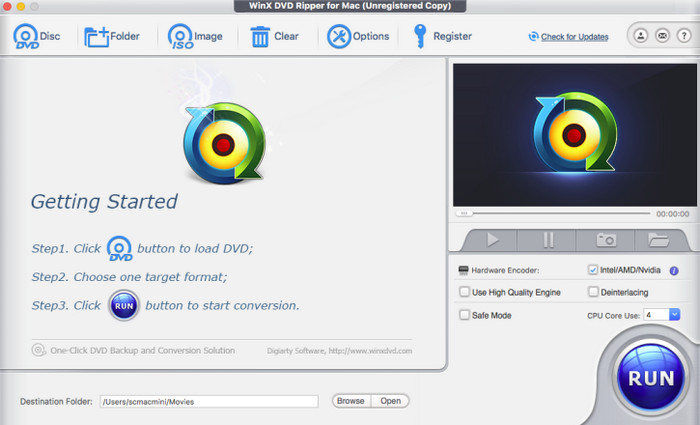 Compare HandBrake 64 bit with WinX DVD Ripper for Mac:
1. HandBrake 64 bit requires VLC 64 bit to rip protected DVD, but it runs into Handbrake 64 VLC Error easily on Mac. WinX DVD Ripper for Mac continuously update to support the latest new DVD Copy Protections. It can remove encryptions on its own.
2. WinX DVD Ripper for Mac is faster than HandBrake 64. Even load your target DVD in HandBrake, it will cost considerable time for the disc checking. And if your DVD is with several titles, the Disc scanning will come to time-consuming issue.
3. HandBrake 64 bit supports only MP4 and MKV only. But the Handbrake 64-bit alternative can rip DVDs to MP4, MOV, FLV, MPEG, AVI, iPhone, Android, TVs, Apple TV, PSP, any other devices to enjoy your DVD movie anywhere and anytime.
4. WinX DVD Ripper for Mac enables you to make perfect backup of the DVDs by copying DVD to computer as MPEG2 video format with 100% original video, AC-3/DTS surrounding audio within only 5 minutes.
5. It is easy-to-use for users of all levels of experience. Both HandBrake and WinX DVD Ripper for Mac's video and audio parameters are adjustable for users to optimize video quality, but DVD Ripper for Mac organizes these sophisticated settings in much better ways.
6. WinX DVD Ripper for Mac also edits your videos, like trimming, clipping, splitting, extracting video image, etc.
Want to learn more details about this HandBrake 64 VLC trouble shooter? Please log on WinX DVD Ripper for Mac Page or Email to Digiarty Support Team >>
Best Handbrake 64/32-bit Alternative for macOS and Windows 10
WinX DVD Ripper Platinum – Top DVD ripping software to rip DVD to popular digital formats like DVD to MP4, AVI, MPEG, WMV, MOV, FLV, M2TS, MP3, etc., or backup DVD in 4 modes. By easily circumventing copy protection mechanisms, it makes whatever types of DVDs playable on iPhone, iPod, iPad, Apple TV, iTunes, Android, Samsung, Sony, Surface, Windows Phone, Chromecast, etc.