How to Solve Handbrake Cannot Rip DVD with 99 Titles Error
If you are Handbrake user, sometimes you will have Handbrake cannot rip DVDs with 99 titles error, like the case below:
"I would like to know what is the best way to find the correct title on a dvd to rip by handbrake? For example: The DVD "Transformer" has 99 titles to choose from and handbrake picks the wrong one automatically."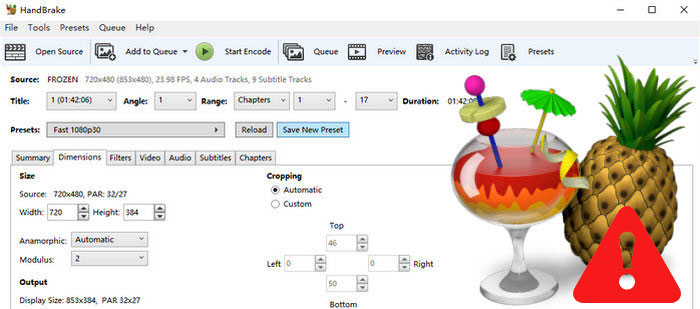 Handbrake error: cannot rip DVD with 99 titles
DVD producers create 99 titles on DVD simply want to protect them from pirate and commercial use. But since it is fair legal to backup you own DVD, there are more than 80% DVD owners will make backup for thier DVDs. And when you trying to use Handbrake to rip DVDs with 99 titles, you may have the trouble above.
>> Best HandBrake Alternative to rip 99-title DVDs without hassle
Handbrake 0.9.9 and later allow users to rip DVD with 99 titles, and you need VLC 64 bit version installed firstly.
Handbrake ripping 99 titles error solved - tips that may be helpful:
1. Update to the latest version of Handbrake to get more bugs fixed and improved performance.
2. Ensure VLC is placed in your root /Applications folder, not your user home folder's ~/Applications folder.
3. VLC must be launched once after being downloaded and installed, for the system to give it permission to operate. Double-click it and click "Okay" to the warning message about it being downloaded software. Once it launches, feel free to quit it.
4. The "bitness" of VLC must match the "bitness" of HandBrake. This means 32-bit HandBrake only works with 32-bit VLC, and 64-bit HandBrake only works with 64-bit VLC. If you cannot find a 64-bit build of VLC (sometimes they break it), you can still read DVDs by mounting them with the application FairMount before opening them with HandBrake.
5. If you are using a PPC (G4 or G5) mac, you need to use the Universal Binary of VLC. The 32bit PPC Binary will not work.
Tough you go stick with tips above, you may still have variety of Handbrake 64 bit VLC error messages on the Mac OS. If you are not quite sure that you can handle with this issue, that you'b better give Handbrake alternative a try. WinX DVD Ripper (Windows Ver. or Mac Ver.) constantly updates to conquer and defeat latest DVD copy protections, like DVD with 99 titles. Moreover, this DVD ripper program supports DVD with 99 titles natively (without third party software assistance). Besides, WinX DVD Ripper is all-in-one DVD ripping solution which can backup all your DVDs, like home-made DVDs, region 1-6 DVDs, as well as encrypted DVDs.
Disclaimer: Digiarty Software does not advocate ripping copy-protected DVDs for any commercial purpose and suggests referring to the DVD copyright laws in your countries before doing so.
Want to learn about How to Solve Handbrake Cannot Rip DVD with 99 Titles Error, please feel free to Email Us >>