How to Solve HandBrake Cannot Rip DVD with 99 Titles Error?
"I would like to know what is the best way to find the correct title on a dvd to rip by handbrake? For example: The DVD "Transformer" has 99 titles to choose from and handbrake picks the wrong one automatically."
Have you ever encountered error like "can't select the right title", "can't load the DVD", "DVD ripping get stuck", "parts of the movies are not in the right place", etc.? If yes, chances are that you are ripping a 99-title DVD with HandBrake. Due to the DVD copy-protections including 99 titles, HandBrake can't rip almost all commercial DVDs. Focusing on HandBrake cannot rip 99-title DVD error, this article will give a solution.
[Solved] HandBrake Natively Can't Rip 99-title DVDs, Try Its Alternative
HandBrake can be used to rip DVDs free of copy protections, however, it has difficulties ripping nearly all commercial DVDs which comes with 99 titles, CSS, region code, etc. encryption methods. That's why sometimes there is "no title found error" or "can't find the only one and right title that contains the full move".
So, best HandBrake alternative WinX DVD Ripper Platinum is here to help rip DVDs with 99 titles and any other DRM.
Recognize and select the right title of 99-title DVDs automatically.
Bypass all copy protections: CSS, UOP, RCE, region code, Sony ARccOS, Disney DRM etc.
Rip all DVDs: Dinesy, Marvel, Sony, Japan, America, workouts, etc.
Digitize DVD to MP4, AVI, MPEG, MOV, ISO, VIDEO_TS folder, iPhone, Android, PS4, TV, etc.
Table of Contents
Part 1. Why HandBrake Cannot Rip DVD with 99 Titles?
Used by Disney, Warner Brothers, Paramount and many other types of DVDs, 99 titles is one of the most complicated DVD copy protection mechanism to protect commercial DVDs from pirate and commercial use. Often the case, when you ripping 99-title DVD with HandBrake, you will be puzzled by multiple titles as HandBrake cannot recognize and find the right title that contains the full movie. Even you were lucky enough to rip 99-title DVDs yesterday, you would be disappointed by the HandBrake error today when decrypting the latest 99 titles DVD as this encryption method is changing all the time.
Besides, 99-title DVDs often have maximum size of 40GB which leads to HandBrake crashes problem.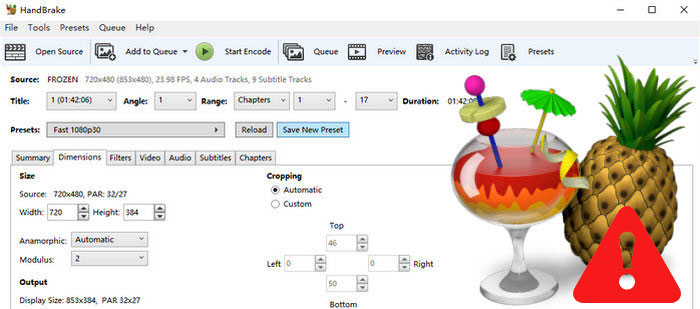 Part 2. How to Solve HandBrake Can't Rip 99-title DVD Error?
Method 1. Install VLC to Help HandBrake Rip 99-title DVDs – Only Rip Vey Few DVDs
It is said that HandBrake 0.9.9 and later allow users to rip DVD with 99 titles, but you need to install VLC first which contains libdvdcss CSS decryption capacity that can help HandBrake rip CSS-protected DVDs. But, you should notice the following tips.
Update HandBrake to the latest version to get more bugs fixed and performance improved.
Ensure VLC is placed in your "root /Applications" folder, not your user home folder's ~/Applications folder.
VLC must be launched once after being downloaded and installed, for the system to give it permission to operate. Double-click it and click "Okay" to the warning message about it being downloaded software. Once it launches, feel free to quit it.
The "bitness" of VLC must match the "bitness" of HandBrake. This means 32-bit HandBrake only works with 32-bit VLC, and 64-bit HandBrake only works with 64-bit VLC. If you cannot find a 64-bit build of VLC (sometimes they break it), you can still read DVDs by mounting them with the application FairMount before opening them with HandBrake.
If you are using a PPC (G4 or G5) mac, you need to use the "Universal Binary" of VLC. The 32bit PPC Binary will not work.
However, this is not a very ideal solution as VLC for HandBrake to rip DVDs often encounters errors. Besides, DVD copy protections include but not just CSS protection, there are also many encryption methods like Region Code, AACS 2.0, Sony ArccOS, UOPs, etc. for commercial DVDs that liddvdcss can't crack.
Method 2. Try HandBrake Alternative – Rip All DVDs with 99 Titles
Is there a universal DVD ripper that can rip all commercial DVDs with 99 titles? Yes, WinX DVD Ripper Platinum is what you are looking for to rip all copy-protected DVDs. WinX DVD Ripper Platinum constantly updates to conquer and defeat latest DVD encryption methods including 99 titles, CSS, UOP, RCE, region code, Sony ARccOS, Disney DRM, etc. without any third-party software assistance. Besides, this HandBrake alternative is an all-in-one DVD ripping solution which can back up all types of DVDs, like home-made DVDs, region 1-6 DVDs and encrypted DVDs.
How to rip 99 titles DVD with WinX DVD Ripper Platinum
Step 1. Click the download button to download this HandBrake alternative, install and launch it on your computer.
Step 2. Insert your DVD disc to the DVD-ROM. Then, click the "DVD Disc" button on the main UI of WinX DVD Ripper Platinum to load the DVD video. It will automatically select the right DVD main title from 99 titles for you.
Step 3. When the Output Profile pops up, choose an output format like MP4.
Step 4. Click Browse button to choose a folder to save your file, and then hit RUN button to start ripping your 99-title DVD.
Disclaimer: Digiarty Software does not advocate ripping copy-protected DVDs for any commercial purpose and suggests referring to the DVD copyright laws in your countries before doing so.
Want to learn about How to Solve Handbrake Cannot Rip DVD with 99 Titles Error, please feel free to Email Us >>