HandBrake for Mac - How to Convert DVD/Video with HandBrake
HandBrake[1] is an open-source DVD ripping and video converting software, wildly used by macOS users. It's especially useful if you want to rip movies and TV shows from your DVDs and watch them on your iMac, MacBook, Mac Pro, etc.
Newest version HandBrake comes with piles of new and updated presets, so that you can easily transcode videos specifically to watch on your Apple products, as well as Android/Windows mobile, Web, Chromecast, Roku, PS, Xbox etc. Following with this specific HandBrake Mac Tutorial, you will learn how to rip DVD and convert video with HandBrake on macOS (up to macOS Monterey/Big Sur) easily.
HandBrake Requirements
OS: Mac OS X 10.7 or later
500 MHz processor or better with at least 16MB of video RAM. Only the versions after HandBrake 0.9.3 can convert videos using the Theora codec, versions after 0.10.0 support H.264 (Intel QSV), H.265, VP8 and LibFaac encoders. It can convert videos such as 3GP, AVI, FLV, MOD, MOV, MP4, MPG, WMV to MP4, MKV, AVI, OGM.
Step 1 - Download HandBrake macOS Version and Get It Installed on macOS
Download open-source HandBrake offcially, where you can select different version of your computer, like Download HandBrake for Mac OS X 10.6-10.15 for 64 bit Intel, Windows Vista-10 for both 64 bit and 32 bit etc. Check to see if your Mac has the system requirements; click on the Apple icon in the top left corner and About this Mac. Then install HandBrake.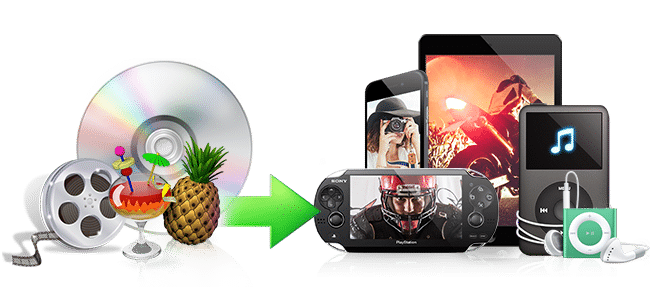 Note: If you are trying to rip Disney encrypted DVDs with Mac HandBrake, then you need to installed both HandBrake 64 bit and VLC 64 bit. If you come across error message says: "This version of HandBrake is 64 bit, VLC found but not 64 bit!" Then you can move on to solve HandBrake 64 VLC Error.
Step 2 - Change the HandBrake Source, Destination and Output Settings
The way your picture and sound quality will turn out in the resulting file depends on the settings you choose in this step. You could always go with the default settings, but if you'd like more control over the output, here's how to do it.
1. You can right click Source button you import your DVD or video file. And the loaded file information can be checked at HandBrake Mac version Source section.
2. In the Destination section you can set the output folder by clicking Browse button.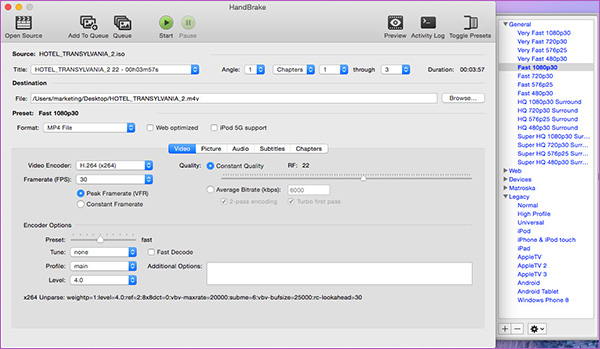 3. One of the first things you need to decide is what format (MP4, MKV,AVI, OGM) Output setting section also has 3 options you can choose: Large File Size, Web optimized and iPod 5G support.
How to Rip Copy Protected Movie DVDs on macOS Monterey/Big Sur?
WinX DVD Ripper for Mac - Best DVD Ripper for macOS, which can help you rip any movie DVDs at NO.1 fast speed, even with the new copy protections, to mainstream videos, such as MP4, H.264, MPEG, WMV, MOV, FLV. To bring users more convenience, this ripper has preloaded with 350+ portable gadgets, including iPhone 12/11, iPad Pro, Samsung Galaxy S21, Xbox One, PSP/PS5.
Step 3 - HandBrake Video Settings for Mac Version
Framerate(FPS): Select a frame rate that you prefer.
Quality: There are three options available: Specify an output size and the quality will depend on the specified output size; Select a birate. The higher bitrate you choose, the bigger size the output file will be, and the better quality you will get; Directly select a quality.
Encoder: Select the encoder you prefer.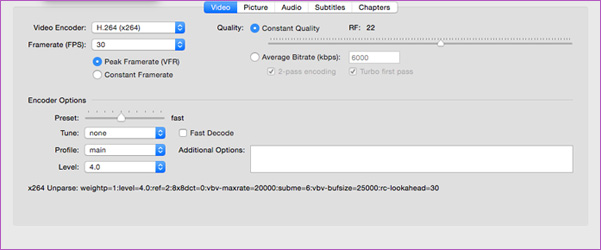 2-pass encoding (optional): This takes twice as long to encode, but it improves the video quality and doesn't make the file any larger. Read on to find How to Calculate HandBrake Video Quality Settings >>
Step 4 - HandBrake Mac Picture Setting
Click on Mac version HandBrake Picture Settings button to launch a separate window. The only thing you really want to do here is to compensate for interlaced or grainy, compressed looking video. HandBrake will have adjusted everything here for you based on the preset you selected.
Picture Settings: Here you can set video resolution and crop video. HandBrake highest resolution for the output video depends on the original video resolution and optimized output video for player such as iPod touch/iPhone (960x540 retina display), iPad Air 2 (1280x720 display), QuickTime, Apple TV, PS3, Xbox 360.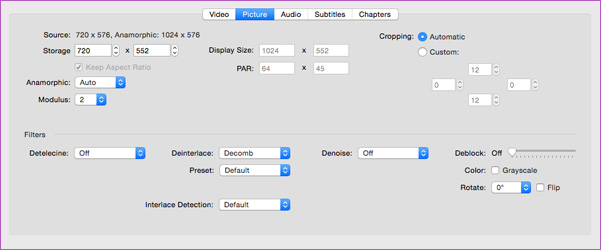 For example, the highest resolution optimized supported by iPhone and iPod Touch is 960*540, you can set up to 960*640 resolution for the output if the resolution of the original video is higher or set up to the same resolution with the original if the resolution of the original is lower. HandBrake crop function of HandBrake for Mac is kind of like a decoration here, because it is not powerful or practical.
Step 5 - Use HandBrake to Convert Videos on macOS 11 Big Sur
Finally! Click on the Start button on the left top of Mac version HandBrake. The encoding time will depend on several variables including: the duration of the video file, the speed of your Mac computer. What other activity your computer is currently doing, the codec you selected (H264 Intel QSV or others) and if you decided to do a 2-pass encoding or not.
Conclusion of this HandBrake Tutorial for Mac
Since this is basic HandBrake tutorial for macOS users, to find the details explanation, you still need to cast an eye on HandBrake official site. And at times, you may come across with unexpected issues with HandBrake, so it is better to find some HandBrake Mac alternatives in case.