How to Copy a DVD with Original Quality on Windows 10/11/8/7
Many people are looking for a reliable way to copy DVD:
1. I'm looking for a DVD copy tool to make an exact copy of the original movie to digitalize all my 800 DVDs so I can later make as many copies in any format I may need to. Outputting the most excellent lossless image quality is a must for me. ----From Rmichell
2. Sometimes I find myself trying to copy slightly or severely scratched DVD discs. I've tried DVD Shrink and it stops at a certain point. Clone DVD doesn't work either. Is there something that will copy scratched DVD? ----From Rockstar452
3. I used Imgburn to copy DVD to DVD on Windows 10, but it was installed with a bundle of adware and malware which slows down my computer. I spent almost an hour to copy a DVD which can't play. Any other top DVD copy programs? ----From JoshYoung
Here we will share you a piece of versatile DVD copy software which can copy a DVD (copy-protected DVD also supported) to another DVD and make digital copies of DVDs to your computer hard drive on Windows 11, 10, 8.1, 8, and 7.
Part 1. What's the Best DVD Copy Software for Windows 10/11/8/7
WinX DVD Copy Pro is one of the best choices for copying DVD on Windows 11/10/8/7. This software is the best substitute to DVD Shrink, CloneDVD and Imgburn. It brings you the top solution to copy all your lawfully owned DVDs with original quality to computer or to another blank DVD:
It supports all DVD encryptions, and even enables you to copy partly-damaged DVD smoothly. That's why WinXDVD is more superior to Imgburn, DVD Shrink, and other counterparts;
It supports 1:1 copying DVD to DVD or to ISO image/DVD folder with intact original video/audio quality in about 15 minutes;
It will back up disc to a single MPEG2 file with original video tracks and 5.1 channel AC3/DTS Dolby audio.
To some extent, you could view it as a combined substitute of a DVD decrypter, DVD copier, DVD cloner, DVD burner and ISO mounter. It's worth of the name of all-in-one best DVD copy software for Windows 10/11. It fulfills your DVD backup demands from every side and thus leaves other competitors far behind.

Tips:
If you're looking for a tool to copy DVD to Windows 11/10 computer/hard drive/USB in MP4, MOV, AVI, WMV, MPEG, MP3, ISO, or other formats, you can

download WinX DVD Ripper.
Part 2. How to Copy a DVD to Another DVD on Windows 10/11/8/7
As for how to make a copy of a DVD with the original quality, many people will choose to clone DVD to another new disc. Free download WinX DVD Copy Pro, install and launch it, and then follow the 4 simple steps below to duplicate a DVD in Windows 10/11/8/7.
Step 1. Choose "Clone DVD to DVD" mode under Full DVD Disc Backup category
Insert the original DVD disc into computer hard drive. Then run this software and click "Clone DVD to DVD".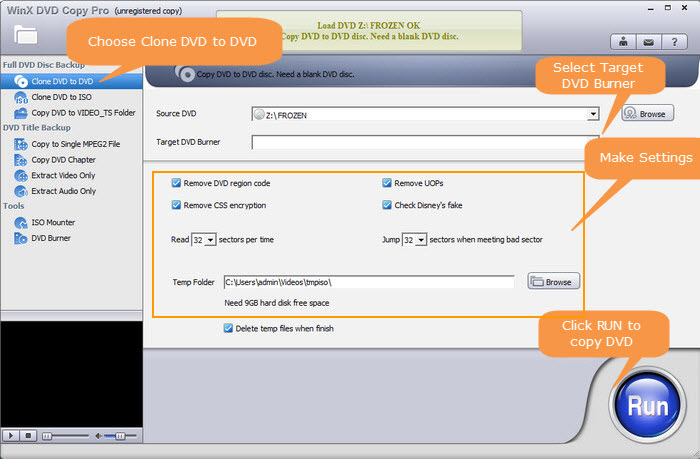 Step 2. Select the Source DVD and Target DVD Burner
Source DVD is the disc you want to copy. You should put the source DVD and a blank DVD into computer's DVD drive. If your computer has a single DVD drive, insert source DVD first. Usually WinX DVD Copy Pro will auto detect your inserted DVD disc.
Note:
1) Please make sure to tick Remove DVD Region Code, Remove CSS encryption, Remove UOPs, and Check Disney's Fake options if you try to copy a commercial protected DVD.
2) Dealing with scratched DVDs? WinX DVD Copy Pro has a big advantage of backing up DVD sector-by-sector. It can recover bad sectors at most or bypass those bad areas to get a smooth copy in proper sequence with no freezes during the process. At this moment you may lose some DVD data where bad sectors were found. But anyway, it's better than nothing if that disc is so important to you. 32 sectors is the recommended value on our test. Step 3. Preset the Temp Folder.
Click "Browse" button to specify a folder on Windows 11/10/7 to store the ISO image file copied from DVD temporarily. Make sure the temporary destination folder has larger than 9GB free space. You can check "Delete temp files when finish".
Step 4. Click "Run" button.
If you have a single DVD drive, WinX DVD Copy Pro will first copy your DVD to an ISO file on your Windows 11/10/7 PC. When an ISO image is created, it will ask you to insert a blank disc. Next, click Burn and it will start burning the ISO file to the new DVD. So, this is how you can copy a DVD to another DVD with a single DVD drive. If you have 2 rewritable DVD drives and have inserted both source DVD and blank DVD before, WinX DVD Copy Pro now will auto analyze your DVD drive data. And you just need to click the "Burn" button to start copying your DVD to another DVD directly. You could stop the process whenever you want. Part 3. How to Copy a DVD to Windows 11/10 Computer, Hard Drive, USB...
Besides making a physical copy, WinX DVD Copy Pro can also create a digital copy of your DVD for saving on computer hard drive, USB flash drive, and somewhere elese. Now let me show you how to do this.
To begin with, we also need to download and install WinX DVD Copy Pro.
Step 1. Choose a desired DVD copy mode. You can choose Clone DVD to ISO, Clone DVD to VIDEO_TS Folder, Copy DVD to Single MPEG2 File, etc. Now, let's choose Clone DVD to ISO as an example.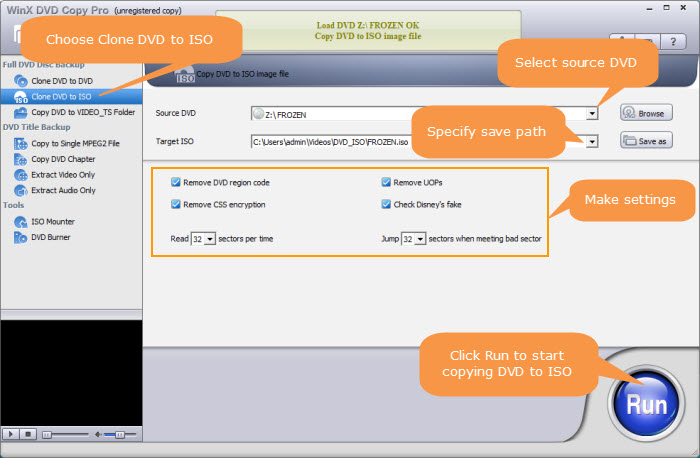 Step 2. Select the DVD you want to copy to computer and specify the destination folder to save the output file.
Step 3. Hit Run to begin copying DVD to specified folder on your computer or other connected device.
Option 2: How to Copy DVDs to Windows PC in MP4, AVI, etc.?
If you want to copy a DVD to your Windows 11/10 PC in MP4 or other digital formats for easier playback, you can try another professional DVD ripper - WinX DVD Ripper. It's able to copy DVDs on Windows in ISO image, VIDEO_TS Folder, or MPEG2 with 100% original quality. What's more, it will also copy DVDs to MP4, H.264, MPEG-4, MOV, AVI, WMV, FLV, 3GP, and other mainstream formats so users can play the DVD video copies on PC, mobiles, TVs, or other platforms easily. It supports copy DVDs protected by region codes, CSS, RCE, UOPs, Disney X-project DRM, and more.
Step 1: Download the program on your PC and open it. Then i nsert the source DVD disc into DVD-ROM of your Windows PC. Click the DVD Disc button to load the source DVD.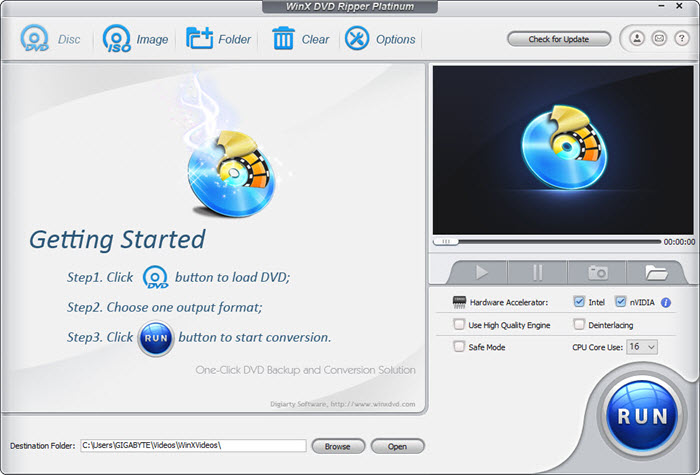 Step 2: The Windows 11/10/7 DVD copy software will then pop up an output format window. Select the format you'd like to store the DVD copy on the Windows PC. Generally, MP4 is the format recommended for most devices and platforms.
Step 3: Click "Browse" button to set a destination folder on your PC to store the copied DVD video file. Then click Run to start coping DVDs to Windows. Don't forget to enable the GPU encoder on the main interface to speed up the DVD to MP4 copy on your computer.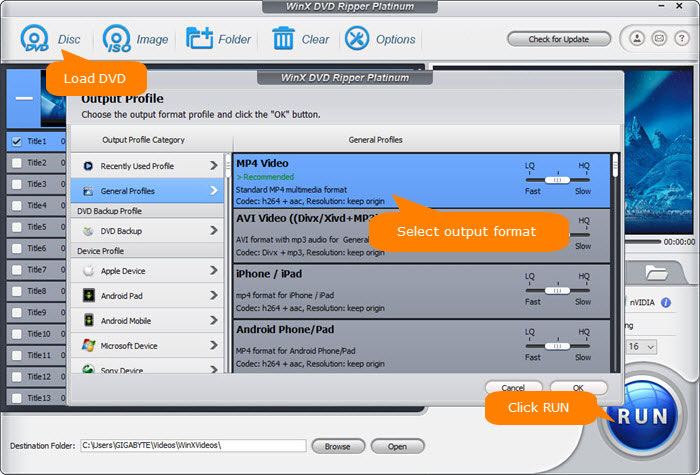 Part 4. FAQs
Q1. Does Windows 10/11 have DVD copy software?
No, Windows 10/11 doesn't come with a piece of special DVD copy software. But it includes functionality to burn DVD.
Q2. How do I copy a DVD with Windows 10/11 for free?
If it is a homemade DVD, you should:
Insert the DVD you want to copy into DVD drive.
Copy the video files from the DVD to a new folder on your Windows 10 computer.
Take out the DVD from the DVD drive and replace it with a blank DVD.
Click Burn files to disc on Autoplay pop-up (or click the option on the dialog box in the notification center)
Choose using the disc Like a USB flash drive or With a CD/DVD player.
Click Next to access the blank disc window.
Move your files into the blank disc window to prepare for burning.
Click Manage tab -> Finish burning, and then it will burn the content to the disc.
If it is a copy-protected DVD, you need to try a dedicated free DVD copy program that can handle encrypted DVDs. To be honest, free tools always have limited ability to deal with encrypted discs. You may have to download a paid program. To save budget, you can search for a coupon and even a giveaway version .
Q3. What is the best program to copy a DVD?
Q4. How do I copy a DVD to another DVD using Windows Media Player?
Windows Media Player isn't available to copy DVD to DVD directly. You need to copy files from DVD to computer and then burn the files to another DVD with Windows Media Player.
After you copy files from DVD to computer, now you can follow the steps below to burn them to DVD with Windows Media Player:
Launch Windows Media Player, click Burn, select Burn Options, and choose Data CD or DVD.
Put a blank DVD into DVD drive and select it in Windows Media Player.
Find the files you copy from DVD and drag and drop them to the Burn list of Windows Media Player.
Click Start burn to begin copying files to DVD.
Q5. Can I copy DVDs to Windows Computer with Handbrake?
Handbrake is a popular tool to copy DVDs to computer in MP4/MKV. Here are the steps to use HandBrake to copy a DVD on Windows 11/10/7:
Download and install HandBrake from the official website and insert the DVD you want to copy into your computer's DVD drive.
Open HandBrake and click the "Open Source" button to select the DVD you want to copy.
Choose the destination folder where you want to save the copy of the DVD.
Select the output format for your copied DVD. HandBrake supports several output formats, including MP4, MKV, and WebM.
Click the "Start Encode" button to begin the copying process.
Once the copying process is complete, you should have a new copy of your DVD saved to your computer.
Q6. Is it legal to copy DVDs on Windows?
In many countries, making a personal backup copy of a DVD to your computer is legal if you own it legally. However, it's important to note that laws regarding copying DVDs vary depending on where you live, so it's always best to check your local laws.
Additionally, it's illegal to share or distribute copyrighted material without permission from the copyright holder, even if you own the original DVD. In practice, it's totally safe to copy a DVD on your computer as the performance is carried out without the internet.
Now, Free Download the Best DVD Copy Software for Windows 11/10/8/7
WinX DVD Copy Pro – 1:1 clone DVD to DVD, copy DVD to ISO image file, Video_TS folder, MPEG2 file on Windows (11/10/7) without any quality loss at fastest speed. It supports accessing to all region codes and DVD encryptions, and faultlessly supports Disney's Fake, severely scratched DVDs and Sony ARccOS bad sector. DVD chapter copy and extract audio/video only are also available. Try WinX DVD Copy Pro now.

Get a $14 coupon code for WinX DVD Copy Pro [Time-limited]
Disclaimer: Digiarty Software does not advocate ripping/copying copy-protected DVDs for any commercial purpose and suggests referring to the DVD copyright laws in your countries before doing so.