[Solved] How to Fix HandBrake libdvdcss not Working Issue
Although HandBrake shows off powerful capability to rip unprotected DVDs to MP4 or MKV, it lacks of native support of encrypted discs. libdvdcss, a free library available to access and read CSS protection, is the best assistant to help HandBrake digitize and rip protected DVDs without bothering about decryption. However sometimes, you may still encounter the trouble of "HandBrake libdvdcss not working" resulting in a failure to rip a copy protected DVD. Why and how to fix this problem? Let's get answers now.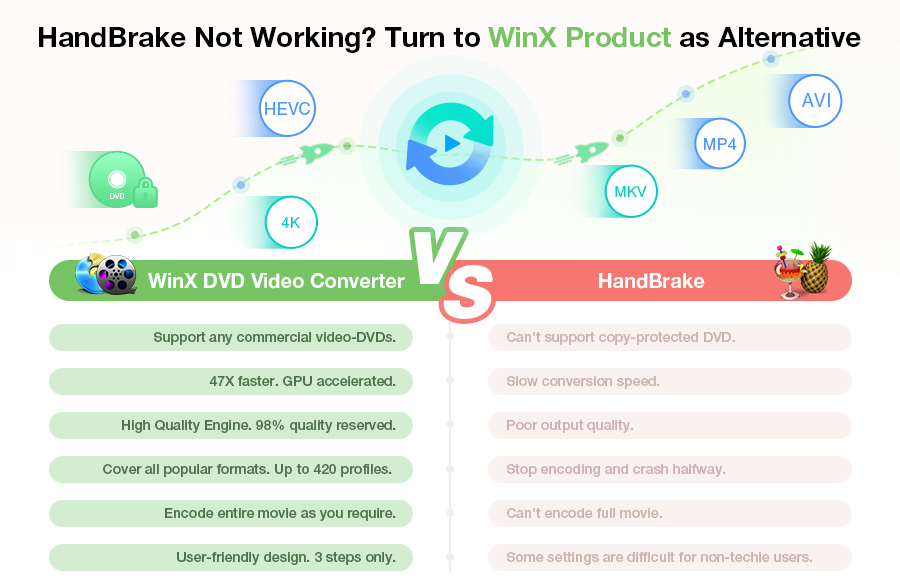 How to Fix Handbrake Libdvdcss not Working Errors?
Why is HandBrake libdvdcss not Working?
HandBrake removed internal DVD decryption since version 0.9.3 in 2018 and required libdvdcss to get rid of encryption. Although HandBrake had released several updates in the past years for performance improvement, it still has no interest in decryption for copyright reason. The main reasons for Handbrake libdvdcss problems include:
1. Outdated Libdvdcss. On the other hand, libdvdcss offers no more compiled libraries (libdvdcss2) for Windows 32 bit, Windows 64 bit from version 1.2.13 released in 2013 February. Recent years, distributors add more complex structural protections unrelated to CSS on new DVDs so that old complied libdvdcss will come no effect.
Free download libdvdcss/libdvdcss2.dll for Windows (10/8/7).
2. Wrong libdvdcss version. Mac users encounter HandBrake libdvdcss not working issue more commonly. It is unable to install libdvdcss.dylib on macOS for a long time. If you haven't built and installed libdvdcss on Mac with success, you will fail to rip an encrypted DVD with HandBrake. What's more, the latest HandBrake is only available for 64 bit. HandBrake libdvdcss not working problem happens when here's 32bit libdvdcss installed.
3. Conflict programs. Sometimes, libdvdcss can go wrong with software you installed on your computer. The most famous one is VLC 2.0 which changes the code libraries it uses for decrypting. To fix Handbrake libdvdcss not working errors, you can update the software to the latest verion, or add the missing libdvdcss library manually.
Fixes to HandBrake libdvdcss not Working Errors
VideoLan released the latest version 1.4.2 of libdvdcss but didn't give compiled libdvdcss. Luckily, some talented developer published compiled libdvdcss library for ready to use with HandBrake. Install the latest libdvdcss on Windows and Mac to check if Handbrake libdvdcss is working.
Download and install libdvdcss-2.dll 1.4.2 on Windows:
Visit this page: https://github.com/allienx/libdvdcss-dll
Open 1.4.2 repository > 32-bit/64-bit (if you have updated/installed HandBrake) > lidvdcss-2.dll > Download.
Move the dll file into HandBrake installation folder.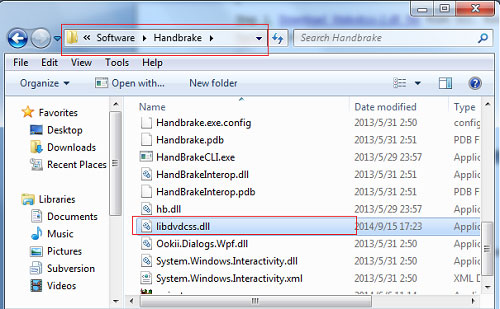 Compile libdvdcss 1.4.2 for macOS:
Download libdvdcss source code from official page: http://download.videolan.org/pub/libdvdcss/1.4.2/
Run the following command line to build libdvdcss:
brew install mingw-w64
tar -xjf /path/to/libdvdcss.tar.bz2
cd /path/to/libdvdcss
# 32-bit
./configure --host=i686-w64-mingw32
# 64-bit
./configure –host=x86_64-mingw32
Make
# /libs/libdvdcss-2.dll
# Run 'make clean' before compiling again.
Source of the compiling instruction: https://github.com/allienx/libdvdcss-dll
Ultimate Fix to Handbrake Libdvdsss not Working Problems
As a matter of fact, HandBrake can handle a part of encryptions with libdvdcss is well ready but involves in the trouble to decrypt and rip DVDs which are protected with new and special schemes, for example Disney DVDs, workout DVDs and more. If you want to permanently eliminate HandBrake libdvdcss not working issue, it is highly suggested to find a qualified HandBrake alternative.
WinX DVD Ripper Platinum is our recommendation. It boasts supporting virtually all DVDs with the ability to circumvent CSS, region code, RCE, UOPs, Sony ArccOS, Disney DRM and other methods. It also keeps updates to handle newly released DVD movies/TV shows.
It built in 350+ codecs allowing you to rip DVDs to MP4, H.264, HEVC, MKV, AVI, WMV, MOV, FLV, 3GP etc. The ready-made device profiles help you digitize DVDs for iPhone, iPad, Samsung, Huawei, Xbox One S, PS4 and other popular gadgets. It takes full advantage of hardware acceleration invoking GPUs (Intel, NVIDIA, AMD) to speed up transcoding and processing so that you can enjoy a superfast DVD ripping performance and get a resulting file with lossless quality.