Download & Install libdvdcss/libdvdcss-2.dll (1.4.3) on Windows 10/8/7
According to the statement from HandBrake official site, HandBrake is unable to process copy-protected DVDs alone. With libdvdcss installed, HandBrake can possibly make it. However, HandBrake team had removed this useful yet controversial DVD decryption feature from the open source video transcoder since the version 0.9.3. If HandBrake users want to remove DVD copy protectioe, they need to download libdvdcss-2.dll for Windows or other operating systems or install VLC which includes the libdvdcss library natively.
Here's a detailed guide on how to download and install libdvdcss on Windows for accessing and unscrambling css-protected DVDs on your Windows PC.
Rip CSS-Protected and Sony/Disney DRM Protected DVDs Flawlessly. No libdvdcss Required!
Installing libdvdcss.pkg/libdvdcss2.dll will help to rip some regional or CSS-protected DVDs, but limitedly. Handbrake may still have trouble in handling DVDs encrypted with RCE, UOP, Disney X-project DRM, Sony ArccOS, Lionsgate fake playlist, etc.
It is strongly suggested to remove DVD encryption with WinX DVD Ripper Platinum, which helps you rip any DVD (99-title, bad sector, damaged/scratched) to MP4, MOV, AVI, WMV, MPEG, iPhone, Android, Windows Phone, PS4/5, Xbox, etc, without the need to download libdvdcss library on Windows or Mac.
Part 1. How to Download and Install libdvdcss for Windows 10/11/8/7?
1. libdvdcss.dll Download for Windows 10/8/7 (64/32 bit)
There are many ways to get libdvdcss library on Windows computer. For the safety concern, we highly recommend you to download libdvdcss on Windows 10, 11, 8.1, 8, 7 from VLC official page or GitHub. Here we go.
Step 1. Copy and paste http://download.videolan.org/pub/videolan/libdvdcss/ to your browser. And then you'll see a list of libdvdcss versions (from 0.0.1 to 1.4.3) displayed. Or you can go to Github to get a proper libdvdcss-2.dll on your Windows. Here are the download links you can trust. You can also get other versions of libdvdcss-dll 1.4.2, 1.4.1, 1.3.0, and 1.2.13 here >>
libdvdcss.dll 1.4.3 Free Download for Windows 10/8/7

libdvdcss version

File size

Release date

607 KB

20-Apr-2021

491 KB

20-Apr-2021

211 KB

06-Feb-2019

166 KB

06-Feb-2019

211 KB

18-Dec-2015

165 KB

18-Dec-2015
Step 2. Find the one you need and begin downloading libdvdcss for Windows. Since the DVD copy protection is updated all the time, libdvdcss needs to be updated to account for the latest copy protection schemes. Given that, you are advised to download the highest version 1.4.3.
By the way, you can download proper libdvdcss file based on your operating system. If you possess a Windows 32bit computer, just hit win32/ and press Download button to begin downloading. If you work on a Windows 64bit PC, then you're supposed to hit win64/ and then download libdvdcss-2.dll for Windows 64bit version. There is a ceveat: libdvdcss alone can't perform DVD decryption and playback. It needs to unite with DVD ripper and player. But how? This could be a difficult task for non-tech savvy guys. Thus, we explain more as below.
2. Install libdvdcss for HandBrake on Windows
Step 1: Follow the tutorial above to download libdvdcss into your Windows computer.
Step 2: Copy the downloaded Windows libdvdcss-2.dll and paste it into HandBrake installation folder. Generally, it is in the C:\Program Files\ Handbrake. (If you haven't downloaded HandBrake, just head to https://handbrake.fr/ to get it. And install it following the instructions. Don't forget to take note of the install location.)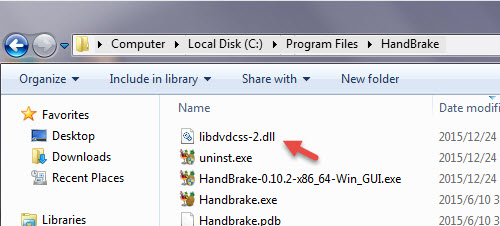 Note: You don't have to bother renaming libdvdcss-2.dll to libdvdcss.dll. libdvdcss-2.dll works fine in cracking CSS DVDs.
That's all. Now you just need to open HandBrake or other free DVD ripper to decode encrypted DVDs just like you do on unprotected DVDs. Or, you can follow the step-by-step guide below to make a digital copy.
Part 2. How to Rip Protected DVDs with VLC libdvdcss Installed for Handbrake?
To begin with, insert your target DVD into your computer DVD-ROM drive. And then, follow steps below.
Step 1. Launch HandBrake, click Source, and then you'll see the DVD you just inserted. Click it and then HandBrake will begin scanning titles and select main title for you. Alternatively, you can opt for target item as you like.
Step 2. Hit Browse under Destination to define a folder to store the copy and write down a file name. Next, navigate to Output Settings, choose a container (MP4 or MKV) or select a preset from the right column, and adjust more settings as you like. Step 3. Click on the green Start Encode button to begin ripping copy-protected DVD by making use of HandBrake and VLC libdvdcss on Windows.
For more detailed guide, you can jump to the guide on how to free rip DVD with HandBrake >>

Part 3. What If HandBrake Can't Rip DVDs even with VLC libdvdcss Installed on Windows?
Sometimes, HandBrake users still fail to convert copy-protected DVDs to digital files with libdvdcss installed on Windows. Here's an example,
"I've just purchased the TV show The Mentalist series and am trying to back up the disks to MKV files. It doesn't work. I'm getting no video and garbled audio. I've tried both the 32 and 64 bit versions of 1.5.0 and the latest nightly builds. I've downloaded several copies of libdvdcss-2.dll. If I leave the filename as libdvdcss-2.dll (as suggested on some forums posts) it crashes HandBrake when adding to the queue. If I rename it to libdvdcss.dll I can add the job and run the rip, but as I said, the output is useless. The results are the same for 32 and 64 bit rips. I'm getting this error 'Device A:\ inaccessible, CSS authentication not available.' even with libdvdcss"
When the program Handbrake requires libdvdcss-2.dll, Windows may check it together with its folder for the .dll file. However, there is a high chance that Handbrake may receive the error alike when you don't have the correct libdvdcss.dll installed in your program directory folder or there are flaws in libdvdcss.dll files. Typical libdvdcss errors include:
Common libdvdcss Errors
The program can't start because libdvdcss-2.dll is missing from your computer.
Error loading libdvdcss-2.dll.
libdvdcss-2.dll not found or missing.
This application has failed to start because libdvdcss-2.dll was not found.
Possible Fixes to libdvdcss-2.dll Errors
After ransacking communities and related tutorials online, we fortunately tested the solutions and fixed the Windows libdvdcss errors. Here are the workarounds.
Reinstall the program that requires libdvdcss-2.dll.
Update the software to the latest version.
Install all Windows updates and any available driver updates.
Clean your registry and optimize your computer.
Follow the steps above to download libdvdcss-2.dll on Windows again.
Scan your system for malware and virus.
Ultimate Solutoin to Rip any Protected DVDs without libdvdcss Errors
Handbrake's DVD decrypting feature can be restored with the manual installation of the libdvdcss library, and you can fix some libdvdcss errors by following the above steps.
But there is an Achilles' hell – libdvdss cannot crack sophisticated copy protection schemes like UOP, Sony ARccOS, Disney X-project DRM, etc other than CSS protection. That means if you rip DVDs pretty often or even just occasionally, it is highly recommended to invest in professional DVD ripper software that is updated regularly to account for new copy protection schemes and be done with it. Among all the DVD rippers for Windows in the market, WinX DVD Ripper Platinum is worth a try.
Download Handbrake Alternative to Rip DVDs Requiring No libdvdcss
No VLC libdvdcss or other DVD decrypter software/plug-ins are needed.
Rip DVDs encrypted with all types of CSS keys, region code, Sony ArccOS, UOPs, Disney X-project DRM, Lionsgate playlist obfuscation.
Constantly upgraded to handle the latest DVD encryption tech, no "DVD not recognized, skip main title, HB freezes, incomplete rip" errors.
Rip DVD to digital MP4, MOV, MKV, VOB, AVI, MPEG, etc. with 98% quality kept; 1:1 copy DVD main/full title & clone DVD to ISO image.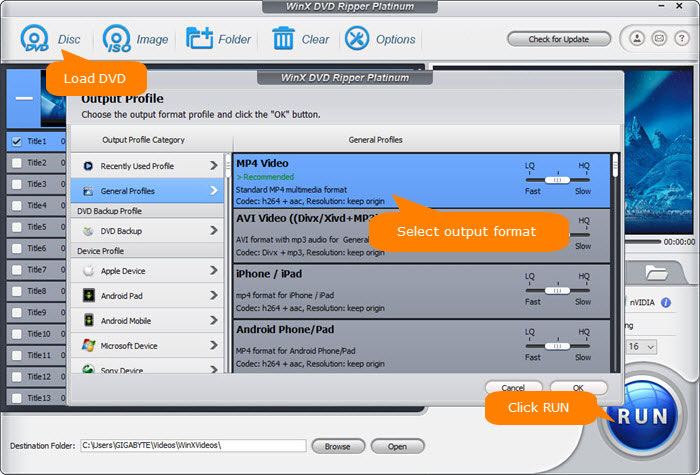 Disclaimer: Digiarty Software does not advocate ripping/copying copy-protected DVDs for any commercial purpose and suggests referring to the DVD copyright laws in your countries before doing so.
Part 4. libdvdcss-2.dll Download and Installation FAQs
1. Is libdvdcss legal?
Due to the ability of removing DRM, some people wonder if it is legal. Technically, decrypting a DVD (using libdvdcss) without having paid the licensing fee constitutes an illegal act according to the Digital Millenium Copyright Act (DCMA), which libdvdcss falls under. Using libdvdcss to decrypt DVD is authorized by a French law decision CE 10e et 9e sous­sect., 16 juillet 2008, n° 301843 on interoperability, this is also true to NZ. But to be sure you could probably ask a local consumer advocacy group.
2. What is the current version of libdvdcss?
The latest version of libdvdcss is 1.4.3, which is available for GNU/Linux, FreeBSD, NetBSD, OpenBSD, Haiku, Mac OS X, Solaris, QNX, OS/2, and Windows NT 4.0 SP4 (with IE 5.0) or later on VLC.
3. How do I download libdvdcss for Windows?
Go to VLC libdvdcss page, choose the version of libdvdcss you need (the latest version 1.4.3 is recommended).
Download the appropriate libdvdcss-2.dll from this repository.
Move libdvdcss-2.dll into the Handbrake installation folder you stored before.
4. Does VLC come with libdvdcss?
The VLC Media Player includes the libdvdcss DVD decryption library for Windows and macOS. By using the libdvdcss, VLC can play encrypted DVDs disc on Windows PC and Mac computers.
5. What is libdvdcss?
libdvdcss (aka. libdvdcss2) is a free and open source software library developed by VideoLAN. It is used to access and decrypt DVDs encrypted with Content-Scrambling System (CSS) and DVD zones on Windows, Mac OS X, GNU/Linux, BeOS, BSD and Solaris.
In January 2015, libdvdcss was updated to version 1.3.99, ending the support for Windows 9x and Windows NT 4.0, HP-UX and BeOS. Now the latest version of libdvdcss is 1.4.3 released in 2021. The changes between 1.4.2 and 1.4.3 is that it fixes potential buffer overflow if PATH_MAX is reached.
6. How does libdvdcss work?
Generally, libdvdcss library obtains a complete list of keys from a code-breaking perspective and decode the content by using the key. If there is a failure, libdvdcss will compute the rest of the key set and try each of them. If the DVD is in other country zone, libdvdss will step outside of the whole system and decrypt DVD directly. Then it will succeed in cracking the region code and CSS encryption.