[Comprehensive Tutorial] How to Rip DVD with HandBrake on PC/Mac
Summary: This article will show you how to use HandBrake to rip DVD discs, including copy-protected movie and multi-episode TV series DVDs, to MP4, MKV, iPhone, iPad, Apple TV, Android and other formats and devices?
All of us have seen the decline of DVDs. DVD sales are worse with every passing year, while streaming services continue to grow. Additionally, more and more computers remove DVD drive. Inbuilt DVD player is also detached from Windows 10. Despite that, DVD ripping is still in demand. For one thing, many people have a lot of old DVDs to backup to digital copies. For another, some people still prefer physical hard copy of favorite movie. When it comes to ripping DVD, HandBrake is always the first to recommend. Well, how to rip DVD with HandBrake? The most comprehensive guide with pictures and video is already presented below.
Table of Contents
※ Note: HandBrake can't handle DVD copy protection schemes on its own. Even with libdvdcss being installed, HandBrake may also fail to rip some strictly encrypted DVDs. In that case you need a more powerful alternative like WinX DVD Ripper.
WinX DVD Ripper is the best free HandBrake alternative for DVD ripping on Windows and Mac. In addition to CSS, it can defeat UOPs, RCE, region code, Sony ARccOS, Disney X-Project, and more DVD copy protection schemes on its own (which means no need to download libdvdcss and the like to decrypt DVD). Apart from ripping DVD to MP4, it is available to rip DVD to AVI, MPEG, WMV, MOV, MP3, iphone, iPad, Apple TV, Samsung, PS4, etc. [No confusing options. No ads or malware alike. Continuously updated to support the newest DVDs and latest OS.]
Free download WinX DVD Ripper to have a try when you are looking for a HandBrake alternative!
Part 1 How to Rip DVD with HandBrake: Prerequisites
1. Download and install HandBrake.
HandBrake is a cross platform program, available to Mac (macOS El Capitan 10.11 and later), Windows (64bit Windows 7/8.1/10) and Ubuntu. As an open-source DVD ripper, it won't cost you a penny. Simply go to HandBrake.fr download center - the only official place to download HandBrake - to get a copy fit for your computer and install it following wizard. The latest version is 1.3.3.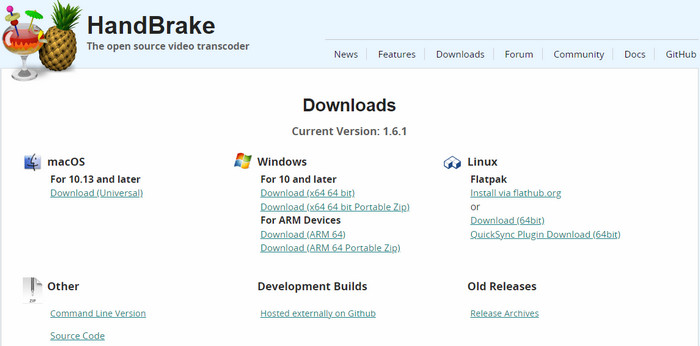 2. Download libdvdcss if you want to rip copy-protected DVD with HandBrake.
HandBrake itself can't rip commercially copy-protected DVDs. If you want to use HandBrake to rip encrypted DVDs (actually, almost all store-bought DVDs are copyright-protected), you should firstly download libdvdcss. libdvdcss is a part of VideoLAN project capable of reading and decrypting DVDs locked by region codes 1, 2, 3, 4, 5, 6 and CSS.
Get libdvdcss at: https://download.videolan.org/pub/libdvdcss/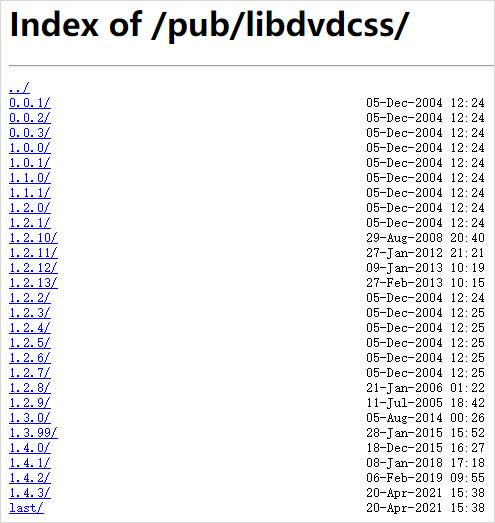 Related Guides:
Part 2 How to Rip a DVD with HandBrake: Steps
In this example I show how to rip a DVD with HandBrake on a Windows PC, but the principle is the same for Mac.
Step 1. Load the DVD you want to rip into HandBrake.
Insert target DVD into the DVD drive of your computer. Then, open HandBrake and you will be able to see Source Selection where your DVD should be already detected. (Tips: HandBrake can also rip DVD VIDEO_TS folder and ISO file to mainstreaming format.)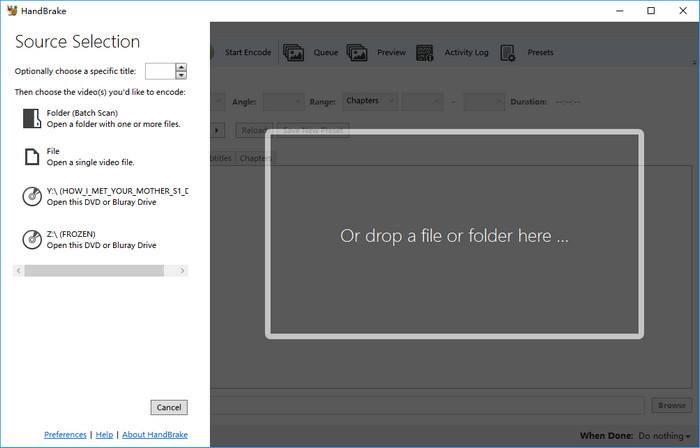 Click target DVD and HandBrake will begin scanning it. Scanning time varies with content on your disc.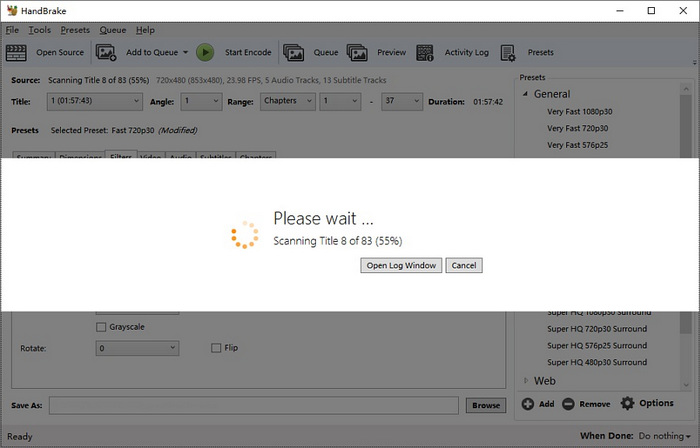 Step 2. Choose the DVD title and chapter you want to rip.
HandBrake will select a title for you automatically, but you can click the Title drop-down menu to choose a different DVD title. All chapters of the selected title will be covered, but you can also specify it as needed.
Generally speaking, if it is a movie DVD, main movie part should be the one with the longest duration. But this rule doesn't apply to 99-title movie DVDs and HandBrake can't deal with such kind of disc. If it is a TV series DVD, simply select your favorite title/episode - each usually being 20 - 44 minutes. But in most cases we want to select all episodes to rip.
Well, how to select multiple titles in HandBrake?
After you select a title, choose a preset, and then you can click the drop-down arrow of Add to Queue. There're three options: Add Current, Add All and Add Selection. When you click Add Current, HandBrake will add currently selected title to the queue.
When you click Add All, HandBrake will add all DVD titles to the queue simultaneously.
When you choose Add Selection, HandBrake will pop up a window where you can specify which titles to add to queue.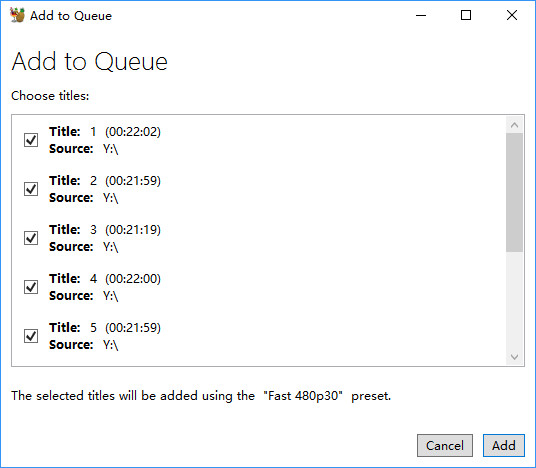 So that's how to rip multiple titles off DVD or copy several/all episodes of TV show DVD.

Learn how to batch rip DVDs using HandBrake
Step 3. Configure output.
HandBrake DVD ripper empowers you to copy DVD to MP4 or convert DVD to MKV format. In addition, it offers dozens of output presets, grouped under General (1080p, 720p, 576p, 480p), Web (Gmail, YouTube, Vimeo, Discord), Devices (Android, Apple, Chromecast, Playstation, Amazon Fire, Roku, Xbox), Matroska (H.264, H.265, VP8, VP9), and Production. You can choose any one at will, or add personalized preset by clicking Save New Preset.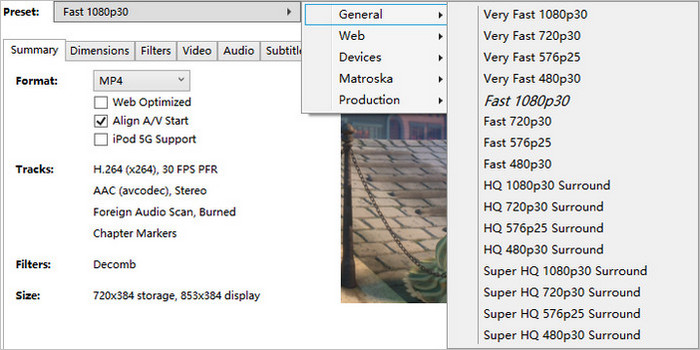 When choosing a preset, don't choose 720p and 1080p presets for DVDs. The resolution for PAL DVD is 720 x 576 (576p), while the resolution for NTSC DVD is 720 x 480 (480p). Choosing a larger preset won't make the output look better but bigger.
One more thing, "Fast" and "Very Fast" presets will sacrifice some output quality, while "HQ" and "Super HQ" presets will slow the DVD ripping speed and increase output file size.
Besides container format and preset, HandBrake also allows you to select subtitle, specify audio track, tweak video parameters like codec and framerate, set quality, and do so much more. But if you know little about those features, just keep the default settings untouched.
Step 4. Specify the destination to save your DVD rip file.
Navigate to Save As section and then click Browse to choose the location for storing the resulting file. HandBrake allows you to rip DVD to computer hard drive or external storage devices. Step 5. Ask HandBrake to rip DVD in no time.
If you have nothing to modify, simply click Start Encode button at the top menu bar to start ripping video/audio from DVD with HandBrake. Then you will see a display bar and can estimate the time remaining to complete. Watch video tutorial on how to rip a DVD with HandBrake (for beginners)
Part 3 How to Fix: HandBrake Can't Rip DVD
Various problems may occur when we use HandBrake to rip DVDs. Here, we pick out several common issues. If you fail to rip DVD with HandBrake because of one of the reasons, just head to the solution we provide.
* No valid source or titles found
This error pops up after you attempt to open the source of DVD. This is probably because your source file format isn't supported by HandBrake or copy-protected. See how to fix no valid source or titles found error in HandBrake >> * HandBrake only rip part of DVD
HandBrake is reported to unable to finish the entire DVD ripping. For example, it only outputs one-hour video from a two-hour movie. This issue is probably also due to copy protection. Check how to fix HandBrake can't rip an entire DVD >>
* HandBrake distorted video when ripping DVD on Windows 10
If HandBrake rips out a distorted video off your DVD, you may need to remove the DVD copy protections in advance, update VLC, etc. See how to fix HandBrake distorted video when ripping a DVD >>
Part 4 FAQs about Ripping DVD with HandBrake
1. How to rip a DVD with multiple episodes (TV series DVD) in HandBrake?
When you want to rip a multi-episode DVD with HandBrake, you can add multiple or all episodes at the same time using the Add to queue feature.
2. How to rip copy-protected DVD with HandBrake?
You can install libdvdcss to help HandBrake decrypt and rip drmed DVD.
3. How to rip DVD with HandBrake on Windows 10/8/7?
Simply follow our detailed guide above to rip a DVD using HandBrake on PC.
4. How to rip a DVD with HandBrake on Mac (macOS Big Sur, Catalina, High Sierra...)?
Just follow the same steps as you use HandBrake to rip DVD on Windows: download and install HandBrake Mac version -> choose title -> choose output format -> select destination folder -> start encoding DVD on Mac.
5. How to rip DVD with subtitles on HandBrake?
HandBrake has a Subtitles tab where you can select desired subtitle track, closed caption, and import external subtitle.
6. How to rip DVD with 5.1 surround sound on HandBrake?
Go to Audio tab in HandBrake, and choose an audio track tagged with 5.1 ch.
7. How long does it take to rip a DVD with HandBrake?
Handbrake DVD rip time depends on the size of your DVD, the performance of your computer CPU and GPU, and your preferences and choice of settings in HandBrake. It could be tens of minutes to a few hours.
Rip Nearly Any DVD with the Best HandBrake DVD Ripper Alternative
Overall, most of HandBrake errors are result from copy protections. And the best way to fix them could be trying a HandBrake alternative like WinX DVD Ripper Platinum, capable of processing various encryption schemes. With over 14-year experience, this software supports nearly any DVD copy protection schemes, like general CSS mechanism, Sony ARccOS, UOPs, APS, RCE and Disney X-project DRM. It can rip Disney DVDs even with 99 confusing titles, workout DVDs, special Japanese DVDs, and others, without hassle.
The alternative to HandBrake has the advantages not only in wide range of supported DVDs, but also in more well-configured output presets, more output file formats, super fast speed, high output quality, intuitive interface and more.