Handbrake Blu-ray Tutorial: How to Rip Blu-ray MKV with Handbrake
Does HandBrake support Blu-ray? Can HandBrake rip Blu-ray discs? These two questions are frequently asked by HandBrake users. The answer could be yes and no. If your Blu-disc is not copyright protected, you can rip the Blu-disc with HandBrake. On the contrary, if the Blu-ray disc is copyrighted (actually, most Blu-ray discs have copyrights), HandBrake could fail to decrypt Blu-ray disc.
In this article, I'd like to guide you how to rip Blu-ray with HandBrake and show you what to do if the HandBrake failed to decrypt Blu-ray disc. Now let's check the details.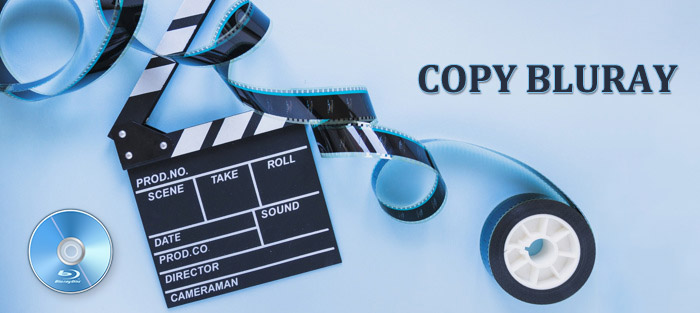 Part 1: Does HandBrake Support to Rip Blu-ray Discs?
HandBrake gave a major release of version 1.2.0 in December 2018 including new features, bug fixes and improvements. Add hardware acceleration support for Nvidia NVENC and AMD VCE. New added profiles help users enjoy a faster performance to rip Blu-ray to HEVC MKV, 4K TVs and websites. But this based on that your Blu-ray discs are not copy protected.
Just as Handbrake needs VLC 64 bit to read encrypted DVDs, neither HandBrake 0.10.5 or 1.0.7 or any newer version can decrypt and rip any protected Blu-ray discs. In this case a piece of third-party assistance software is also needed. Handbrake ripping Blu-ray process can be quite easy since Handbrake recognizes Blu-ray disc structure. Here are how to rip Blu-ray disk with HandBrake on Windows or Mac OS.
Part 2: How to Rip Blu-ray Discs Using HandBrake
Step 1: Download and Install Handbrake. If you try to directly open a Blu-ray disc by navigating to the optical drive, you will get the error "No Title(s) found". Your source may be copy protected, badly mastered or in a format which HandBrake does not support. At this moment, you need to download VLC and MakeMKV, install it then your Handbrake will read Blu-ray disc. Please see the interface of HandBrake:
Note 1: Before ripping Blu-ray with Handbrake, remember that Handbrake only converts Blu-ray that can be played in your Blu-ray player. So if you've got a BD filled with video files, such as AVI, MPG, WMV, MOV, etc, Handbrake won't convert them.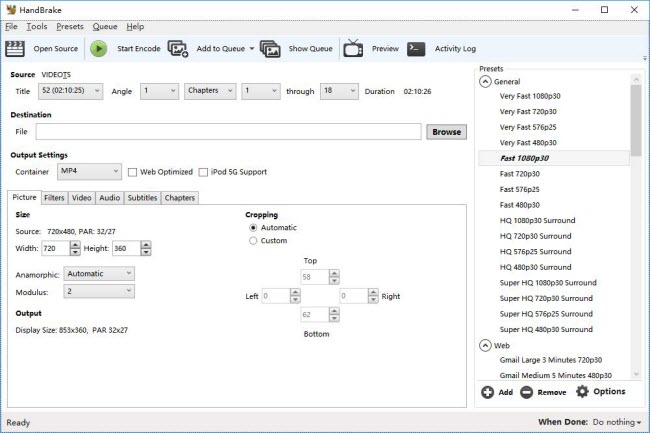 Step 2: Start Ripping Blu-ray with Handbrake.
1. Import Blu-ray to Handbrake: the GUI of HandBrake Windows edition has been improved to support Drag / Drop Video onto Main Window to scan. But you can't do this with Blu-ray disc. You still need to navigate to Blu-ray drive with Source dropdown button.
Note:
1. Handbrake supported video - DVD VOB files, MPEG-TS, Matroska, AVI, MPEG-4, etc.
2. Handbrake cannot at present encode from DRM-encrypted videos purchased from iTunes or found on DVD or Blu-Ray discs.
2. Processing Blu-ray title scanning: Then Handbrake will scan your Blu-ray Disc step by step. It will take ten minutes to finish scanning 95 titles Blu-ray. So you need to be patient with this procedure.
3. Set Output folder for Blu-ray movie: With "Destination Browse" button, you can set the output folder for your Blu-ray movie. Make sure your hard disk has enough space. Ideally you can rip 50GB Blu-ray to 10GB MKV while still keeping 1080p full-HD quality. if you need full control on the output video, to calculate Handbrake video bitrate/quality settings is necessary, or you may run into Handbrake output video quality poor problem.
4. Choose the Container format for Blu-ray movie: you get to options in the Container dropdown button - rip Blu-ray to MKV or Blu-ray to MP4. That depends on what will you use for them.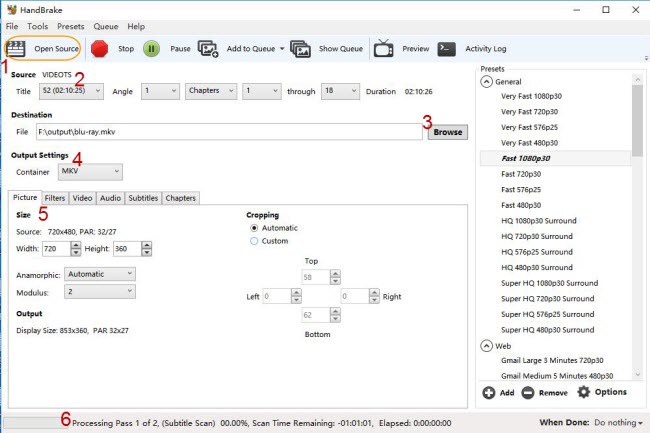 5. The output video/audio settings: This part is the most outstanding for Handbrake, which can make complicated so simplized. There is no room to discover the whole functionality of Handbrake so you can consult basic tutorial of Handbrake for Windows or Mac. Or refer to best HandBrake settings for DVD to MP4 >>
6. Watch the Blu-ray Ripping process: If you want to check whether Handbrake is ripping your Bluray after presetting all parameters and clicking Start button, you can see the process bar on the bottom. You should know that ripping Bluray to MKV or MP4 format is a hardcore process. Handbrake needs to decode Blu-ray M2TS video and encodes to the format you choose, which is also in HD quality. Therefore the Blu-ray conversion could be a half day's journey.
Note 4: The default location for Handbrake's output files is the Desktop. Choose a different location if you'd like to save your file elsewhere. Otherwise, you can just copy Blu-ray output over once it's done.
Part 3: Handbrake Alternative to Rip All Protected DVDs to iPhone, iPad, Android
If you can not bear the complexity of installng third-party software to assist Handbrake rip Blu-ray, or you just need faster and more convenient DVD ripping solution, then here is an alternative for Handbrake - WinX DVD Ripper Platinum. This fast DVD ripper is updated to perfectly rip protected movie discs, then to iPhone, iPad, iPod, and Apple TV, etc. Meanwhile, it still gives breakthrough performance to convert DVD movies for playback on iPhone, iPad, Android etc.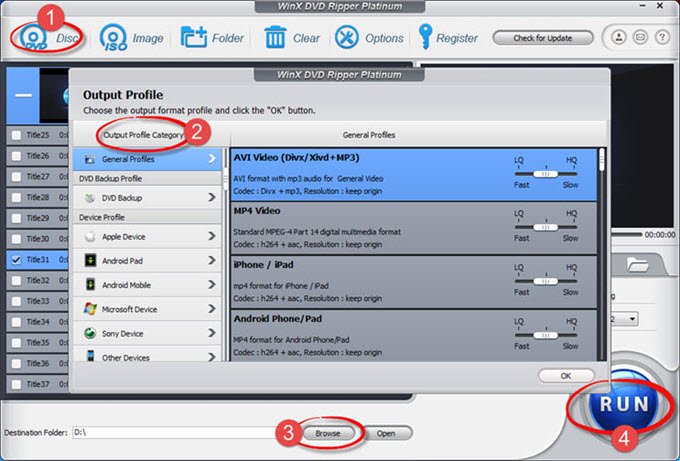 WinX DVD Ripper Platinum
Rip DVD movies to digital formats like DVD to MP4, AVI, MPEG, WMV, MOV, FLV, M2TS, MP3 etc., or backup DVD in 3 modes. By easily circumventing copy protection mechanisms, it makes whatever types of DVDs playable on iPhone, iPod, iPad, Android etc.