Home > Resource > Free Blu-Ray Player
2018 Free Blu-ray Player - Play Blu-ray Disc on Windows PC with Best Free Blu-ray Player Software
Garner the best free Blu-ray player software 2018 for Windows PC to play Blu-ray movies in high-definition on your computer without hassle.
"Any suggestions on a free Blu-ray player for Windows PC? Windows Media Player dosen't play Blu-ray movies." - From Yahoo Answers
Before having impressive High-definition enjoyment brought by Blu-ray technology, What you need to do priorly is to get Blu-ray player software. Instead of investing hundreds of dollars to purchase one, it is no more a fantasy to take advantage of a free Blu-ray Player for PC.
Content:
▶ Free Blu-ray Player - DAPlayer
▶ Why DAPlayer is the best free Blu-ray Player software?
What Is the Blu-ray?
The name Blu-ray Disc refers to the "blue laser" used to read the disc, which allows for Six Times more storage than on a DVD. Usually a Blu-ray disc can hold 25/50 GB storage. But since June 2010, The BDXL format is capable of supporting 100GB and 128GB write-once discs. It sounds like Blu-ray become the only choice for High-definition video with up to 1080p/1080i. With the introducing of Multiview Video Coding (MVC, 3D Blu-ray technology), MPEG4-MVC can compress both left and right eye views with a typical 50% overhead compared to equivalent 2D content, and can provide full 1080p resolution backward compatibility with current 2D Blu-ray Disc players.
Hot Search: Bru-ray Player, Blu-ray Player for Windows 10, Blu-ray Software, Blu-ray to MP4, Blu-ray Disc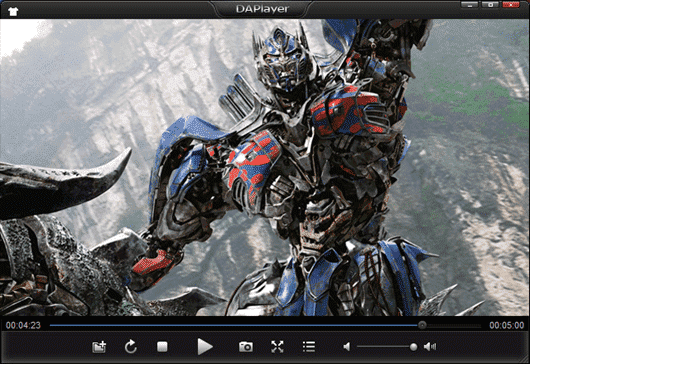 Free Blu-ray Player - DAPlayer
DAPlayer is totally free Blu-ray Player software for Windows (7/8/10) enabling to play Blu-ray movies as well as taking the job of free HD Video Player. This ultimate Bluray/DVD/video player brings razor-sharp HD images and high-quality audio enjoyment for up to 1080p Blu-ray, AVCHD, MTS, MKV, H.264 movies playback. Due to efficient launching and running process leading to lowest use of your computer's horsepower, DAPlayer is regarded as most low-carbon Free Blu-ray Player software for Windows ever.
Engineered with more than 450 up-to-date Video/Audio codecs, DAPlayer will steer you though out any Blu-ray movies/HD videos you get. Additional features like fully supports Multi-track video/audio, movie subtitles and TrueColor System are guaranteed to deliver crispest images and best listening experience on Windows PC. All High Techs brought by Free Blu-ray Player - DAPlayer, are made for one thing only: Gives you true HD Viewing Feast you always dreams to.
Why DAPlayer is the Best Free Blu-ray Player Software 2018?
There are thousands of Blu-ray player software desinged for playing Blu-ray movies for free. Why is DAPlayer the most competitive free Blu-ray player for Windows in the market. The following reasons can answer it.
Reason 1 - Support Free Playing all Blu-ray Discs
Support playback commercial Blu-ray and homemade Blu-ray discs regardless of protection and restrictions armed on the disc. Compatible with copy-protected Blu-ray disc and remove BD+. Even play Blu-ray from hard disk backup files and virtual driver.
Reason 2 - What you see from DAPlayer are all High-Definition
DAPlayer supports all 1080P/1080i HD videos such as Blu-ray M2TS, HD Camcorder AVCHD, TP, MPEG-TS, HD DVD EVO, MKV, AVC, JVC MOD, with brilliant picture and mixed-in subtitle tracks.
Resons 3 - DAPlayer gives you High Quality Audio System
DAPlayer is able to support up to 8 channels audio system, mix audio to 2 channels headphone and surround sound. Support Multi-channel DTS, TrueHD, AC3/Dolby. Based on BASS Audio System, this best free Blu-ray player can drive you to watch Blu-ray movies just like seated in Theatre.
>> Learn More details about DAPlayer
Tip: Although Blu-ray player software is powerful on playing Blu-ray M2TS/MTS on PC, it is unavailable to play HD Blu-ray videos upon your iPod, iPad, iPhone, PSP unless converting Blu-ray to MP4 or other videos supported by iPod, iPhone, iPad, Android, etc, with a HD video converter.
>> Download Free Blu-ray Player
>> Download Free Video Converter
If you still have any question about free Blu-ray player for Windows or how to play Blu-ray videos, please feel free to Mail Us >>
Best HD Video Playback Solution
If you want to convert/transfer your commercial and camcorder HD videos to iPhone 6/6s Plus/SE/7/8, iPad mini 4/iPad Air 2, Samsung Galaxy Note/S, Google Nexus 6/Nexus 9, HTC One M8, WP8, Amazon Kindle Fire, Chromecast, and other popular devices or formats MP4, AVI, MPEG, MOV etc, please turn to WinX HD Video Converter Deluxe!