Download Free HD Video Player for PC to Play HD/4K Videos
What is HD Video? High-definition video or HD video refers to any video system of higher resolution than standard-definition (SD) video, and most commonly involves display resolutions of 1280x720 pixels (720p) or 1920x1080 pixels (1080i/1080p).
HD video is widely used in television broadcast (HDTV), video recording formats (HDV and AVCHD) and optical disc delivery system (Blu-ray Disc). Thanks to great improvement on video decoding/encoding technology, some computers based HD video format can also deliver up to 1080p visual effect. Pixel density is very high, and your eye will be unable to distinguish individual pixels.
MKV is a good example, which takes full advantages of computer display to bring impressively vivid pictures. But without a capable HD video player, HD MKV may not play well. There are video not playing problems such as dropping frames, no sound, A/V out of sync, unsupported video codec, stuttering, etc.
Hot search: How to Solve Choppy Video Playback Issue >>
Free Download 100% Free HD Video Player for PC - 5KPlayer (Smooth as Butter)
Play video in HD 720p, 1080p/1080i, 4K 2160p and even 8K Ultra HD smoothly without stutters or bufferings.
Play any video/audio formats, including playing H.264, MP4, HD/4k HEVC, MKV, AVCHD, VOB, MPEG-2, AVI, MOV, etc. without 3rd party codec library.
Seamlessly play VR 360 degree video, 3D video, DVD movies, etc. without A/V out of sync, pixelated image issues.
Over 5,000,000 downloads on Softonic | 100% Free & clean | One of best free DVD players for Windows 10.
A competent HD video player for Windows 7/8/10/11 should meet some primary requirements as following:
The HD media player should keep and refine most crystal-clear image from 1080p high-definition video. NEVER choose a free HD video player that will degrade original quality.
The full HD video player should be compatible with comprehensive HD sources, like 720P/1080P in 60fps, 120fps, 240fps, etc. from GoPro, DJI, HD DSLR cameras, HDTV, AVCHD JVC camcorder, internet dwnloaded HD MKV files, and even 4K video sources. Many PC HD video players can't play HEVC videos, which is frustrating when 4K is growing.
It will be wonderful if it's an all-in-one media player software with support of both DVD discs and HD videos, which can save you much time to explore another DVD player software when you want to watch DVD movies.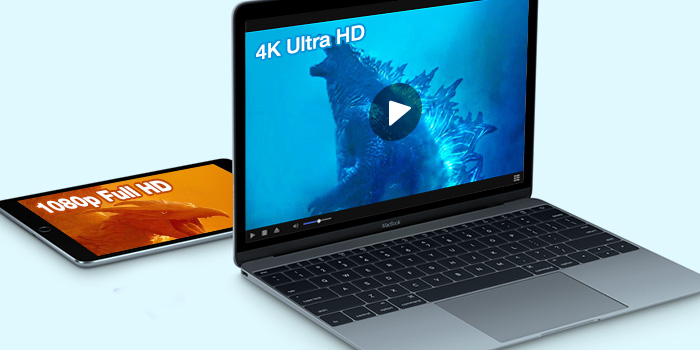 Download the Best Free HD Video Player to Enjoy HD/4K Videos Freely
5KPlayer, equipped with 450+ all-around video/audio codecs, will play any videos you get. Powered by NVIDIA CUDA, Intel QSV and AMD hardware acceleration, it's able to play 4K videos, HD, HDR on PC with minimal CPU usage while delivering the highest quality viewing and listening experience. All high techs of this free HD video player are made for one thing: give the true HD video viewing feast you always dreams of.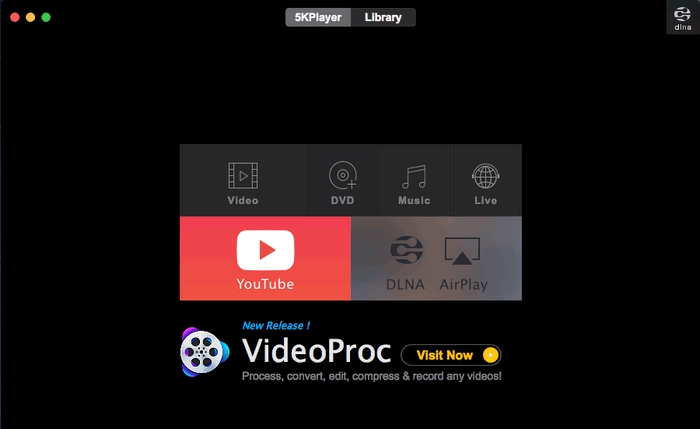 1. Free HD Video Player for PC and Mac - Play Videos from Any Sources
Play all HD Video content on Windows 10/8/7, such as HEVC (iPhone, GoPro), MOV (DJI, Canon, Nikon), M2TS, AVCHD (AVCHD camcorder recording), TP, MPEG-TS, EVO (HD DVD video format), MKV (most popular and universal HD media container format), AVC, MOD (JVC HD camcorder shootings). Also support the HD video mixed-in subtitle tracks.
2. Play DVD Free
Support both commercial and homemade DVDs with region free.
3. AirPlay Video Music Stream for iPad, iPhone and Apple TV
5KPlayer can stream videos and music MP3 from your iPad, iPhone to PC/Mac, and stream video & audio from PC/Mac to Apple TV, AirPlay-enabled speakers, etc.
4. Free Download Videos Music from 1000+ Video Websites
It can free download any online videos, audios from 1000+ sites for offline playing anywhere at any time.
5. 5KPlayer Gives You High Quality Audio System
Support UP to 8 Channels Audio System, mix audio to 2 channels headphone and surround sound. Support Multi-channel DTS, TrueHD, AC3/Dolby. This free HD 1080p video player is based on BASS Audio System, which makes your movie watching just like seated in Theatre.
The Bottom Line:
If you're seeking for a free clean HD video player for PC that can play MKV, AVCHD, M2TS, HEVC etc. HD videos, SD videos like MP4, AVI, MOV, M4V, WMV, as well as audio files, 5KPlayer is your best option. Moreover, it is skilled at free downloading videos/movies/music from 1000+ video sites including Facebook, streaming video audio for iPhone, iPad, Apple TV, etc. with the built-in feature, and playing radio from BBC, Heart, Capital, etc.
Further reading: Top Hi Definition Video Songs and Movies
The outstanding HD media player for PC has already found. The next step is to find the video/movie source. Here recommends you with top high definition video songs and movies with high pageviews on YouTube and other top SNS sites.
Top HD Video Songs:
Aankh Marey (from Frolic Neha Kakkar, 2019)
Mere Rashke Qamar (from Baadshaho)
Cheez Badi (from Machine, 2017)
Sajan Bade Senti (from Badhaai Ho, 2018)
Jaat Da Muqabala (from Pbx 1, 2018)
Kamli (from Dh00m 3, 2013)
Top HD Movies:
Mad Max Fury Road (Released in 2015; Resolution: up to 1080p and 4K 2160p)
Ex Machina (Released in 2015; Resolution: up to 1080p and 4K 2160p)
The Revenant (Released in 2015; Resolution: up to 1080p and 4K Blu ray)
American Hustle (Released in 2013; Resolution: up to 1080p Full HD)
Ghostbusters (Released in 1984; Resolution: up to 1080p and 4K Blu ray)