Can Blu-ray Players Play DVD Discs? Here's the Answer!
With the advent of Blu-ray players and high-resolution TV, movie lovers jump to the bandwagon in a bid to experience the astonishing visual and audio fidelity. But many movie lovers still have hefty DVD collections since they are now sold extremely cheaper than Blu-ray discs. If you'd like to know whether your Blu-ray player can play DVD discs, let's delve into the page and learn how you can play a DVD on your Blu-ray player. Play All Region-Locked DVDs on TV, PC, Mobile, etc. No Blu-ray Player Required!
To remove the region code from DVD and watch movies on PC, TV, mobile without taking along DVD discs, you can try WinX DVD Ripper Platinum, a reputable DVD ripper with over 17 years of experience.
Convert a DVD to a digital format that is playable on PC, HDTV, iPhone, iPad, Android with high quality.
Bypass region code, RCE, UOP, Sony ARccOS, Disney 99-title, and other protections from a DVD. Create a region-free movie.
Support Intel/Nvidia/AMD GPU acceleration. Back up a full DVD in 5 minutes only.
Part 1. Can You Play a DVD on a Blu-ray Player? Yes!
Yes. All Blu-ray players can play standard DVD discs as they are backwards compatible with DVDs. Here is how this breaks down:
DVD player can play DVDs and CDs, but cannot play Blu-ray or Ultra HD Blu-ray Discs.
Blu-ray Disc player can play CDs, DVDs, and Blu-ray discs, but cannot play UHD Blu-ray discs.
UHD Blu-ray disc player s can play CDs, DVDs, Blu-rays, and UHD Blu-ray discs.
Why Can a Blu-ray Player Play a Regular DVD?
1. Technically speaking, discs are of the same physical dimension, and use similar technology, supporting both Blu-ray and DVD formats with the same Blu-ray reader makes good technical sense. Typically, a Blu-ray player has two lenses – the smaller lens for reading the Blu-ray discs, and the larger lens for reading the DVD discs. Due to the smaller photons, reading the track and pits of DVD is done easily in Blu-ray Player.
2. In terms of video codec, DVD-Video uses MPEG-2 as its primary format, which is also one of the 3 codecs that are used for Blu-ray Discs. So playback of DVD discs in Blu-ray Player is also a gimme.
3. When it comes to audio format, DVD-Video supports 4 audio formats, including MPEG-1 Layer 2, Linear PCM, Dolby Digital/Dolby AC-3, and DTS. The latter three codecs are also required in the Blu-ray disc standards. Since the MPEG-1 Layer 2 is gradually weeded out, it's not a problem to play DVD in Blu-ray player.
In the meantime, a Blu-ray player also enhances the quality of DVD playback, commonly expressed as upscaling. It is capable of upconverting a DVD disc to 720p or 1080p. Some enhance the look of the DVD, though won't give the same top quality of a Blu-ray movie, while some may result in aggressive sharpening or artifacts, contingent upon your HDTV and the connections you are utilizing.
Part 2. There Are Exceptions. Why Blu-ray Player Cannot Play Some DVDs?
As it is mentioned above, almost all Blu-ray players can read DVD discs. However, there might be two or more exceptions. Check the reasons why you cannot play DVD on your Blu-ray player.
1. Regional restriction.
If your Blu-ray player cannot play the DVD movie all of a sudden, the likely reason is because of the regional restriction. DVD discs generally have a much more strict regional restriction than the Blu-ray discs. Unless stated on the disc and packaging itself, Blu-ray discs won't really pose an issue for movie lovers, while things will be complicated for playing regional DVDs. Explanatorily, in order to play DVD on your Blu-ray player successfully, make sure your DVD and Blu-ray player are both within the confines of the same region, for example, the region 1 area, in the US or Canada. If the DVD you currently own are bought from UK, Japan, or some other regions, then it cannot be played.
Click to learn how to change DVD region code >>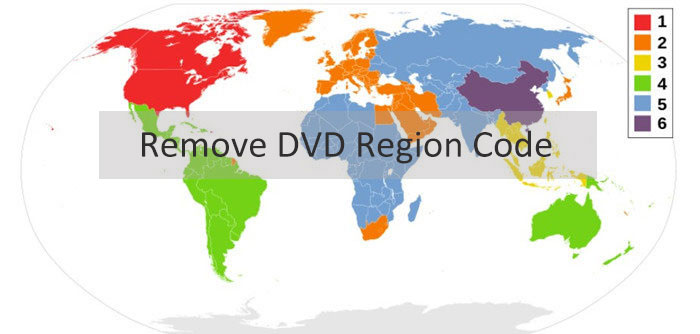 2. DVD is severely scratched.
Another possible reason why you cannot play DVD in Blu-ray player is that the DVD is scratched and consequently prevents your player from reading the DVD disc. Make sure your DVD isn't gouged or scratched on the top surface before playing it in your Blu-ray Player.
Click to learn how to fix a scratched DVD >> 3. DVD is mistakenly recorded or formatted.
Some recorded DVDs, particularly dual-layer DVD-R-DLs, or odd formats like DVD-RW are not likely to work on Blu-ray Player.
Part 3. How to Play a DVD on a Blu-ray Player Successfully?
For the standard DVD, just insert it into a disc drive, the Blu-ray Player will automatically detect the DVD and make the appropriate adjustments to play your DVD.
For the regional DVD, if the region code of DVD itself doesn't match with that of the Blu-ray player, you can change the optical drive region code settings (maximally 5 times).
Please note that the region code will remain set to the fifth change made and cannot be changed anymore. To solve the DVD playback issue restrained from the region code, you can check the best DVD player for Windows 10 for help.
How about permanently removing DVD region code and playing DVD movie on the go?
Fortunately, the solution to fix DVD not playing on Blu-ray player can be found in various third-party software called DVD rippers. By taking advantages of a computer or laptop with a disc drive to read the DVD, they can extract the content out of the physical media and convert it into a variety of formats such as MP4, MKV, MOV, AVI, etc. On top of that, most commercial DVD rippers can deal with the regional DVDs and even the protected DVDs encoded with CSS, RCE, Sony ARccOS, Disney X-project DRM, and other severe protection measures.
Software like WinX DVD Ripper Platinum can digitize DVD with excellent performance, and therefore let you play DVD movie on media player, PC, mobile, game console, etc without taking along DVD.
To get started, we should download and install the program on our computer. Simply click the download button below to get the setup file.
Step 1. Insert the region-locked, scratched or unplayable DVD movie into your computer's disc drive and click the DVD Disc button on WinX DVD Ripper to select the source disc. It will start to analyze the region code and choose the right title for your movie.
Step 2. Once the DVD is loaded, it will pop up an output profile window. Choose an output format as per your needs. You can choose to copy DVD to ISO image, MPEG2, or folder without losing quality at all, or digitize DVD into MP4, MOV, or other format. This program will maintain the best overall quality and keep the movie size minimal.
Step 3. Hit the RUN button to start ripping DVDs. It won't take you too much time because it can utilize multi-core CPU and GPU hardware acceleration to speed up the transcoding. Once done, you can play the DVD copy on your computer, HDTV, or mobile on the go.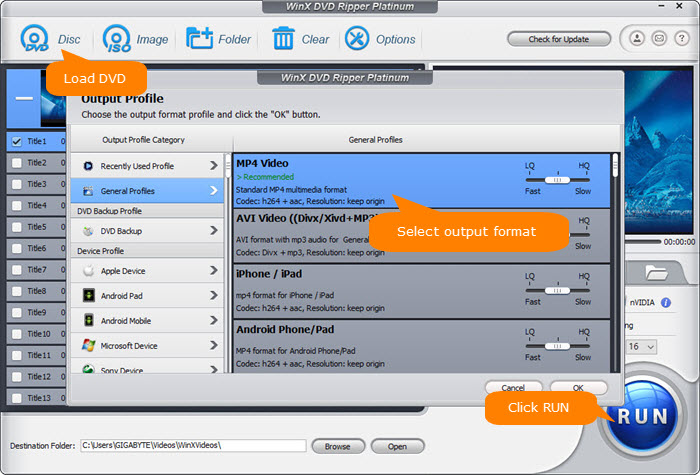 Part 4. FAQ about Playing DVD
1. Can you damage a DVD by playing it in a Blu-ray Player?
No. Both DVDs and Blu-rays are optical media. If your player doesn't have any debris, there is no reason your player will damage your DVD disc. The only thing that has relationship with the disc is the spin motor, and that's only with the center spindle. As a matter of fact, the data is read by a laser located below the disc and never touches the disc.
2. Can you put a Blu-ray in a normal DVD Player?
No. Blu-ray discs require the use of a blue laser which DVD players don't have.
3. Can Blu-ray Player play region-locked DVD??
No. Common Blu-ray player cannot play DVDs from all regions. You can change the region code settings for the optical drive within computers for a total of five times. Once it reaches the limit, you cannot be changed the region code again. Or else, you need to resort to a region-free Blu-ray player or unlock the DVD region code.