How to Fix A Scratched DVD and Recover Data

I tried to play an old DVD, but it kept skipping and my DVD player can't read the disc. So I realized that it was due to a ton of scratches on it. What can I do with these classic DVD discs long neglected and in disrepair? Do these severely scratched DVDs become nothing but wastes?

In fact, there are tons of ways to recover a ton of scratches on DVD. But for those DVDs extremely damaged by scratches, you can choose among these DVD scratch fixing methods to exercise a comparatively effective and assured mean.
If you have kids, you know how easy and fast your kids scratch a disc. Oh no, they're not damaging the disc, they're tearing your money and ruining some pretty valuable titles that went out of print. Fortunately, a scratched media disc can be fixed fairly easily using the proper techniques. Below we have all the methods that will help you fix a scratched DVD cheap at home.
Back up Your DVDs to Avoid Future Scratches
If you've already realized that scratched DVD repair is a pain, you'd better make a copy of your original DVDs to avoid the risk of seeing your kids scratching them up. WinX DVD Ripper Platinum will easily back up and convert any of your DVDs (scratched discs and DVDs with CSS, region code, RCE, ARccOS, 99 titles, etc.). It can back up DVDs in 1:1 quality to ISO image, Video_TS folder, and MPG; and convert DVDs into MP4, H.264, MOV, AVI, WMV, 3GP, etc.
Content
How to Fix a Scratched DVD (All Methods that Work)
#1: Fix scratched DVD with toothpaste
Toothpaste may fix light scratches on the DVD disc. Dab a small amount of toothpaste and slowly wipe it into the scratches on disc with your wet figures. Rub from inner to outer in a straight line, no circles. Keep rubbing the scratches for 60 seconds and then wash off toothpaste. Using baking soda toothpaste is probably more effective. Then dry the disc with a clean soft cloth.
#2: Repair smudged DVD with vaseline
Get Vaseline and gently rub it to cover the whole surface of the disc. Wipe from center to the edge in a straight line and don't make it too thick. Then, remove Vaseline with a soft clean cloth. Dry it and insert it into DVD player to see if the method can fix the issue.
#3: Fix scratched DVD with banana
Wiping the cut banana on the DVD from the inside out sometimes works in fixing scratches on DVD. Peel a Banana and cut one piece. Softly wipe the cut piece into scratches on disc from inwards to outwards. After wiping enough times, remove banana residue under warm water. Dry off the disc and check if it plays correctly with DVD player.
#4: Fix scratched DVD with Windows cleaner
Windows cleaners are quite gentle so that they can clean the glass without scratching it. You may also spray some windows cleaner like Windex to the DVD and wipe the DVD from the inside to outside with a clean and soft cloth to fix a lightly scratched DVD disc. This method can help clean the disc but does not diminish the DVD scratches. The DVD may work again if you are lucky.
#5: Fix scratched DVD with peanut butter
The oil in peanut butter helps gently polish the disc and the peanut butter may fill in any scratches in disc. You can use one or two teaspoons of peanut butter to gently buff the DVD from the center to the edge. Then clean all the peanut butter using wash cloth and dry the disc.
#6: Fix scratched DVD with Brasso metal polish
If you have a severely scratched DVD to fix, you may try this way. But it's not recommended for DVDs with slight scratches, because the result can't be guaranteed.
#7 Fix a scratched DVD with light heat
It's know to all that too much exposure to light can cause warping of the disc. However, it's helpful to fix scratched DVDs by sticking discs up to a light bulb(60W light bulb is recommended) and heat for about 30 seconds (hold the disc around 10cm from the lamp). Note that this way will cause further damage if you don't operate properly.
#8 Use a DVD scratch remover
Buy a DVD scratch polish or scratch remover. This can remove the layer of disk material and polish the DVD. Read its package directions and follow the guide. Then buff with your cleaning cloth.
But be careful, the use of wrong decoding scheme may even shorten the service life of DVD drive. In consideration of the safety of DVD drive and player, you have another choice - copying the extremely scratched DVD to a new blank DVD using some scratch-fixing oriented DVD copy software. Copying severely scratched DVD to DVD is desirable because it can both fix the severely scratched DVD and make a replica of the original one which can be played smoothly.
How to Recover Data from Badly Scratched DVDs
Recovering data from unreadable DVDs can be easy with a 100% free DVD scratch repair kit - WinX DVD Copy Pro:
• It features a DVD sector-by-sector copy mode, which will recover bad sectors in your scratched disc. If can't, it will skip bad sectors and smoothly copying your entire DVD with no freezes. It may lose some data of the bad sectors in disc, but it will recover most content of the scratched DVDs.
• It provides 9 DVD copy modes. Besides cloning DVD to DVD, the scratched DVD repair kit will also 1:1 copy DVD to ISO or Video_TS folder, backup DVD to a single MPEG2 file, copy DVD chapter, extract video or audio, burn ISO to DVD, mount ISO to create a virtual disc drive.
• It supports any DVDs, including old and damaged DVDs that are homemade or protected with region code, CSS, APS, Sony ArccOS, 99 titles, etc.
For Windows only. If you are a mobile user, please click here.
Step 1: Insert the badly scratched DVD in your disc and a blank DVD (requiring two drives). Download, install and then launch WinX DVD Copy Pro. Choose this target "Clone DVD to DVD" option on the left column.
Step 2: Next you can select the source DVD, choose the target DVD burner. If you only use one DVD drive, you need to click Browse to choose a computer Temp Folder to store the copied DVD content temporarily. Since the DVD may be 9GB, please make sure that the Temp Folder has 9GB free space.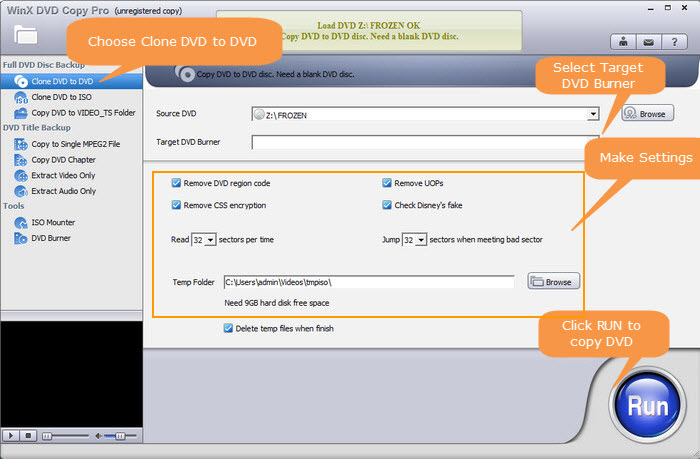 Step 3 : Then you can hit RUN to start the DVD burning process. If you only have a single DVD drive, then after the DVD data is copied to computer folder, the software will ask you to insert another new rewritable blank DVD disc to the DVD drive. Do it and click Burn button to start burning DVD data to new disc.
If you use two rewritable DVD drives, just click Burn button in the pop up window to directly copy DVD data to the new DVD disc you inserted beforehand.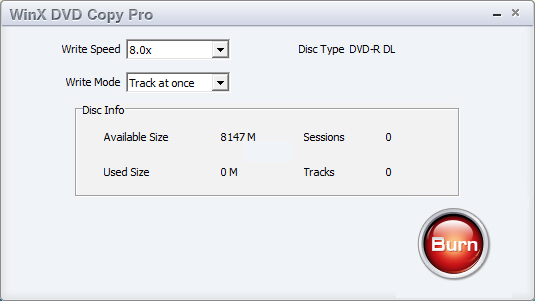 Tips: For Severely Scratched DVDs
Before fixing and copying severely scratched DVD, choose the number of sectors to be read and jumped ("32 sectors" is preset as default and suggested), then browse to save the copied DVD as temp folder for further burning.