DVD Lifespan: How Long Does a DVD Last & How to Store DVD Safely
How long do DVDs last? Commercial movies on DVD - 50+ years; CD-R, DVD-R, and DVD+R discs - 100-200 years; CD-RW, DVD-RW, DVD+RW, and DVD-RAM discs - 25+ years. DVD life expectancy depends on many factors. Scroll down for more detailed info about DVD lifespan and tips for increasing media longevity.
Note: Prior to the discussion of DVD longevity, we'd like to mention the misconception. Many manufacturers allege DVD lasts up to 200 years, giving DVD collectors an illusion that the physical disc is a safe medium for long-term data storage. Actually, it's just estimation, which is less rigorous and doesn't hold water in our tests. So how long does a DVD last on earth? In the post we will shed some light on the influence factors of DVD lifespan, how to increase the lifetime of DVDs and store them safely.
Part 1: How Long Is the Lifetime of Optical DVDs
The DVD life expectancy varies with the types of DVD. Here we've categorized DVD into several types. The life span ranges from 30 to 100 years for DVD-R (mostly known for commercial DVDs) and DVD+R, but up to 30 years for DVD-RW, DVD+RW and DVD-RAM assuming the discs are stored properly, according to the Optical Storage Technology Association. This is realistic. Why?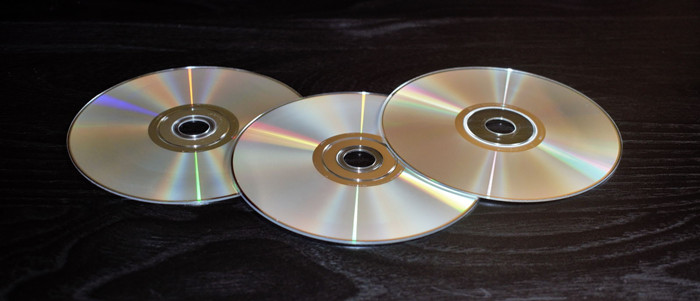 DVD longevity depends on many factors, from manufacturing quality, environmental conditions, to usage rates. For example, inferior materials used to manufacture discs and improper recording affect DVD life expectancy. Oxidation such as exposure, sunlight, heat and humidity are believed to cause DVD rot. Physical damage to disc surfaces or edges is also the culprit to shorten DVD life, even making discs unreadable. All these factors together make a significant impact on disc data life. Based on users feedbacks, common commercial DVDs start to degrade after 2-5 years, and finally unusable after 10 years.
Solution: Since oxidation, inappropriate storage and unintentional fingerprint or scratch are inevitable and unforeseen and every DVD has shelf life, why not protecting your discs before they conked out. The only true way is to invest in one good DVD backup tool to have a digital copy of your DVDs. And WinX DVD Ripper will suit for your needs. With 13-year of DVD backup experience and recommended by hundreds of thousands of authority sites, you can rest assure to have a try.


Free download WinX DVD Ripper to backup DVD collection to safekeep them forever.
Part 2: How to Prolong a DVD Life Span and Store DVD Safely
The likelihood of DVDs going to degrade or rot falls if proper suggestions are followed. And here are some ways to keep your DVDs last for a long time.
1. Buy high-quality discs (optimally choose gold as a reflective layer) from good brands, e.g. Sony, JVC Taiyo Yuden, Mitsubishi Verbatim.
2. Ensure a proper usage of discs, e.g. hold the holes in the center or the outer edges, avoid fingerprinting, scratching or touching the surfaces.
3. Keep them in jewel cases, boxes or cabinets in cool, dry place.
4. Choose slow writing speeds to reduce errors and increase quality if possible, or avoid writing on them as much as possible.
Part 3: Rip DVDs to Digital Copies as a Backup for the Maximum DVD Longevity
Actually, DVD discs will definitely experience read errors even with careful storage methods. And much of the disc damage is unnoticeable with the human eyes. So if you value your old discs, make sure to have a backup of your DVD collection, a 100% rest-assured way to maximize your DVD life span. WinX DVD Ripper Platinum is right at your hand. Recommended by world's leading tech media, it is free to backup and rip DVD to MP4, H.264, HEVC, and other formats so that you can store your digital movies in your hard drive, NAS, USB, or play them on your iPad, iPhone, Android on the go. There is no loss in quality and the speed is lightning fast, thanks to its unique level-3 hardware acceleration. Just follow the steps below.
Step 1: Free download the DVD backup software, install & run it. Load the DVD disc by clicking DVD Disc button. You can also rip ISO image or DVD folder freely. WinX DVD Ripper is constantly updated to supports any types of DVDs be it old, new, 99-title, workout or damaged DVDs.
Step 2: Choose the output format. Preferably, you can choose to rip DVD to MP4 H.264 for the best compatibility, in such a way to store your DVDs and prolong the life span.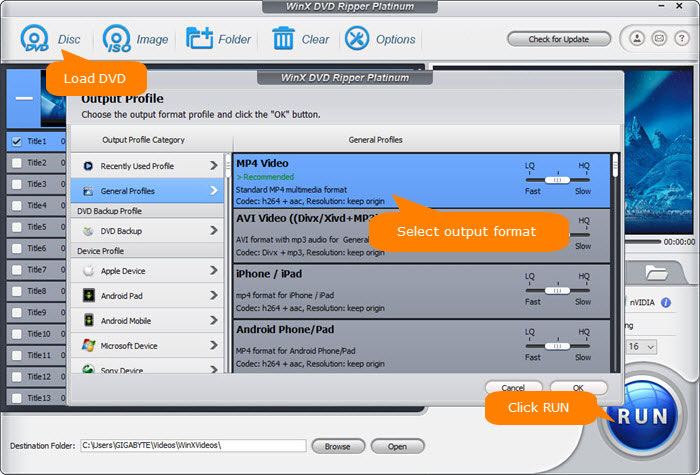 Step 3: Click Browse to save the digital movie and tap RUN button to begin ripping DVDs. It's pretty easy, even if you are an elder or a child.