What is the DVD Region for the US?
Going to the States next week and am thinking of taking the Home Land series to watch on DVD (I get fed up of their incessant advert breaks on normal TV….). The question is, which DVD region is the US and can I play UK DVDs in American DVD players?
Due to the region code, every DVD player from one area is limited to one region. If you're playing a DVD on a DVD player from another region, you may see the warning of wrong region. Anyway, it's important to figure out the region code of a country before you insert a DVD. If you're not clear about the DVD region in the USA, not sure if you can play Region 2/4 DVD in the USA, and don't know if you can get off the region limits, check this post.
Which DVD Region Code is the USA?
The DVD region in the US is: Region 1. Below is a DVD region map where you can see the DVD region for the US and areas with the same regions.
Region 1 - Canada, the U.S. and its territories.
Region 2 - Japan, Europe (such as UK), South Africa, the Middle East (including Egypt) and Greenland.
Region 3 - South East Asia, and East Asia (including Hong Kong).
Region 4 - Australia, New Zealand, the Pacific Islands, Central America, Mexico, South America, and Caribbean.
Region 5 - Eastern Europe, Russia, India, Africa, North Korea, and Mongolia.
Region 6 - China.
Region 7 - reserved for unspecified special use.
Region 8 - Special international venues for air and oceanic travel.
Region 0, 9, or Region ALL — worldwide.
Also read: Australia DVD Region and FAQs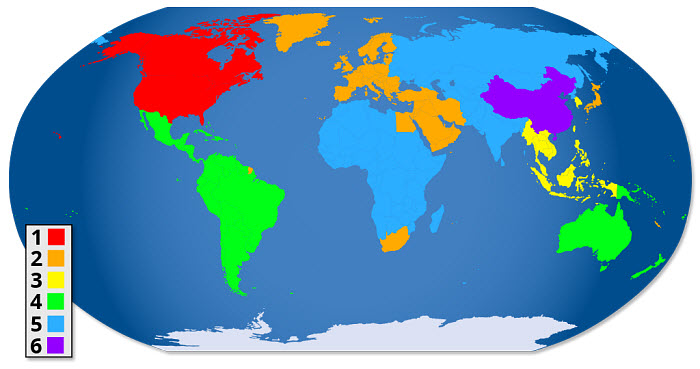 Will Region 2/4 DVD Play in the USA?
Many users are wondering, for example, if they can play UK DVDs or Region 2 DVDs in the US players. All DVDs are flagged to work in one or more geographical regions. An off-the-shelf DVD player will normally only play discs flagged for the local region. However, pretty much any DVD player can be modified to play discs from other regions. Below are the ways to let you play DVDs from different regions in the US.
• Set the region of the US DVD player. You can set the DVD player in the USA from Region 1 to Region 2, 4, or other regions based on the DVDs you want to play. With any DVD drives, you can change the region settings up to 5 times before it gets locked only one region.
• Get a multi-region player that is able to play DVDs from any regions. However, multi-region DVD players may be quite common in the UK or other places due to the ubiquity of American movies. The same is not true in the US, you will be hard pressed to find a player that isn't region 1 locked. A multi-region DVD player can be priced from $30 on Amazon to somewhere, if you have to ask, you can't afford it.
• Convert region code DVDs to region-free digital files for free playback on any DVD players/drives in US. Then you should be able to play DVDs from UK, Japan, Australia, other countries in America without problem. To do this, you can use WinX DVD Ripper Platinum . This program can rip DVDs with region 1-6, PAL/NTSC, CSS, RCE, Disney DRM, other protections to region-free and protection-free files. It will convert region code DVDs to MP4, H.264, MPEG4, MOV, AVI, WMV, ISO Image, Video_TS folder, etc. for TVs, PC/Mac, DVD players, mobiles, and any other devices.
Related Guide: How to Rip and Copy a Region 2 DVD
DVD Format in the US Region
Before you play a foreign DVD in the US or vice versa, you should know another important factor in the DVD region for the USA is DVD format. Region coding aside, both the discs and DVD players in the USA use NTSC format. DVD formats in different regions are:
The USA, Japan, and Canada use the 525 line 60Hz NTSC system.
The UK, Europe, Australia, etc. use the 625 line 50Hz PAL system.
Region coding aside, most DVD players and TVs in PAL countries are able to play both PAL and NTSC DVDs. For example, a UK DVD player (PAL Region 2) will be able to play a Japanese disc (NTSC Region 2), but not a US (NTSC Region 1) disc. However, most American DVD players won't play PAL DVDs. To let American NTSC DVD players play DVDs from other PAL regions, there are several methods:
Get a multi-region DVD player.
Get a PAL compatible TV set or a PAL/NTSC signal converter. Or alternatively you can watch a DVD via DVD ROM drive on your PC/Laptop (All computers will play both PAL and NTSC standards).
Convert PAL DVDs to digital formats for US players and devices.