How to Play PAL DVDs in the USA Easily
Sometimes you may get a DVD from the UK or other areas. But when you hook up a game console or DVD player to an American TV via RCA cable, it might not work. This is because DVDs from most areas outside the US are encoded in PAL format, which is not compatible with NTSC devices from the United States.
Can I play a PAL DVD in the USA?
No, a TV made for use in the US will not be able to play a PAL DVD, even if the DVD is region 0. Even though some newer TVs support both the NTSC and PAL formats, there's a chance yours only supports NTSC. But with some extra help, PAL DVD can work in the US. In this post, we will show you how to watch a PAL DVD in the US.
How to Watch PAL DVDs in the USA? – 2 Ways
PAL vs NTSC
PAL is a color encoding system that is made up of 625 interlaced lines and delivers a frame rate of 25fps at an aspect ratio of 720x576. PAL systems are used in regions like Australia, most of Western Europe, China, some parts of Africa, and India.
NTSC is a color encoding system that is made up of 525 interlaced lines and delivers a frame rate of 29.97fps at an aspect ratio of 720x480. NTSC systems are mostly limited to North America, Japan, South Korea, and parts of South America.
As NTSC and PAL are not compatible, it means you can't play a PAL DVD in the US directly or vice versa.
Learn PAL vs NTSC differences >>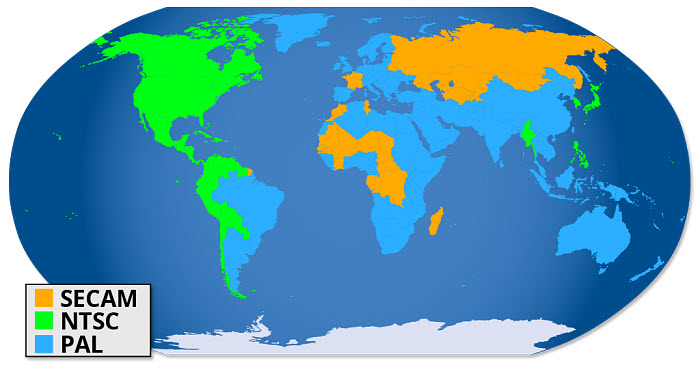 Method 1. Play PAL DVDs in the US via DVD Player & TV
To play PAL DVDs on US TVs, you need the tools:
A multi-region DVD player. A PAL DVD from other regions is often encoded with a different region code. For example, PAL DVDs from the UK, Germany, and Europe use Region 2, and PAL DVDs from China use Region 6, while the DVD players in the USA is Region 1. To get a PAL DVD to work on US TVs, you need a region-free DVD player to read other region codes. (If you already have a DVD player, you can change the region for 4 times before you buy a region-free DVD player.)
A newer TV that supports both NTSC and PAL formats. (If your multi-region DVD player supports both NTSC & PAL outputs, then you don't need to get a new TV.)
Or, if you don't want to spend on a new television, you can also get an NTSC/PAL compatible HDMI converter box. However, the output converted quality may vary among different conversion kits. Now things become easier. Plug the DVD player into the TV, insert the PAL DVD in the player, and use your remote to play the PAL DVD on a TV from the US.  
Method 2. Convert PAL DVDs to MP4 for TVs in the US
An easier workaround is to convert the PAL DVDs to a digital format and play the PAL DVDs in the US without worrying about the geo-restrictions anymore. You don't need to get an expensive multiple-region DVD player or a new TV. You simply need:
A computer with a DVD drive/external DVD drive. A computer drive from the USA supports DVDs in PAL, NTSC, and SECAM formats.
WinX DVD Ripper Platinum. It's a DVD ripper that supports PAL/NTSC/SECAM DVDs with 1-6 regions, RCE, CSS, Disney X-project DRM, and other encryptions. It can easily convert a PAL DVD to a US TV's supported format such as MP4, AVI, MOV, MTS, 3GP, WebM, and more.
The guide below also helps if you need to convert an NTSC DVD to watch in the UK, Germany, or other PAL devices.
Step 1. Click the download button and download the PAL DVD ripper on your computer. Install it as the prompts and open it. Then insert your DVD into the computer's optical drive.
Next, click the Disc button on the main interface and choose your DVD drive. It will load any PAl, NTSC, and SECAM DVD without a problem. If the DVD contains a region code, it will ignore it and analyze the correct DVD title.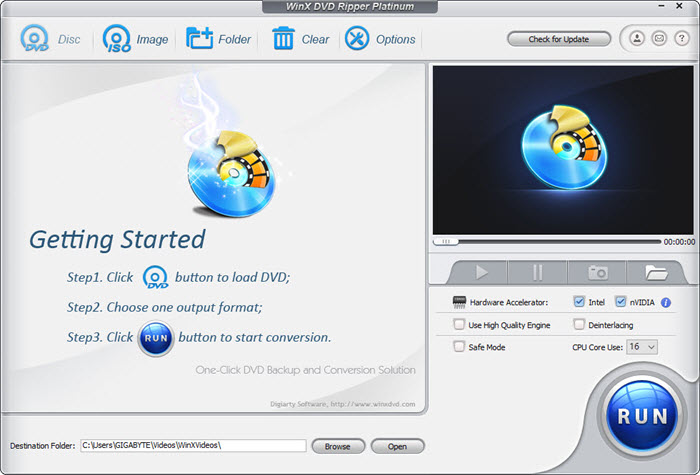 Step 2. Once the DVD is loaded into the program, an output Profile window will show up. You can go to General Profiles and select MP4 video. It will work with almost all TVs from the USA or other parts. You can also scroll down the list on the left column, find TV, and select a ready output format under the TV category.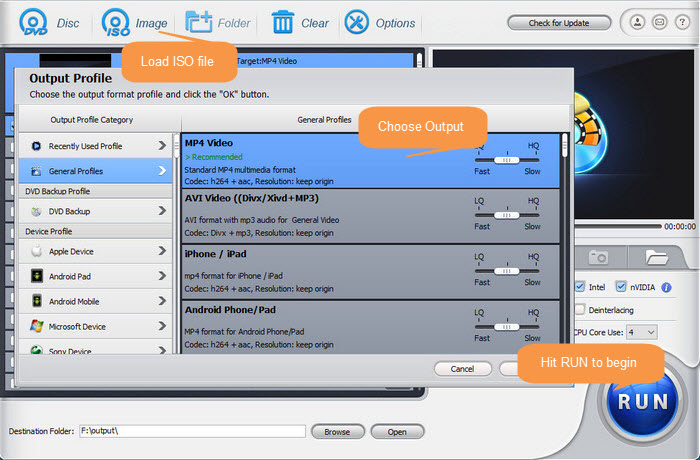 Step 3. Click the Browse button at the bottom to specify a destination folder and hit RUN to convert the PAL DVD to an American TV format.
Then you can transfer the converted DVD video to a USB, connect the USB to the USB port of the TV, and enjoy the PAL DVD movie on the TV in the USA without problems.
Disclaimer: Digiarty Software does not advocate ripping/copying DVDs from different regions for any commercial purpose and suggests referring to the DVD copyright laws in your country before doing so. And do not use WinX DVD Ripper to rip DVD rentals.