NTSC vs PAL – Which is Better and How to Play/Convert?
NTSC and PAL. If you have any DVDs, video games, tapes, etc. you may have heard of the two video standards. You may have such an experience that a DVD movie from Europe won't play properly on a DVD player from America. This is caused by the incompatibility between the DVD formats NTSC and PAL. What re the differences? Which is better? How to play them? In this post, we're going to talk about NTSC vs PAL in details.
NTSC vs PAL Differences
NTSC
NTSC (National Television System Committee) is the first color TV broadcast system used in the United States in 1953. NTSC is an analog TV color system used by many countries on the American continent and Japan. It was very popular until superseded by modern digital television systems. Today, DVDs are still encoded using either NTSC or PAL, and they're still used as a standard for modern TVs and monitors.
Lines: 525
Frame rate: 29.97 Hz
Picture resolutions: 720 x 480; 704 x 480; 352 x 480; 352 x 240
PAL
PAL (Phase Alternating Line) is a color encoding system for TV commercially introduced in the early 1960's and implemented in most European countries except for France. It was developed to address some weaknesses of NTSC format. The PAL standard has a wider channel bandwidth and offers automated color correction compared to NTSC's manual color correction.
Lines: 625
Frame rate: 25 Hz
Picture resolution: 720 x 576; 704 x 576; 352 x 576; 352 x 288
SECAM
The SECAM (Sequential Couleur Avec Memoire or Sequential Color with Memory) was introduced in the early 1960's and implemented in France. SECAM uses the same bandwidth as PAL but transmits the color information sequentially. There is not a SECAM standard DVD and DVDs in countries using SECAM are encoded in PAL.
NTSC vs PAL Regions
NSTC: NSTC is used in United States of America, Canada, Japan, South Korea, Mexico, Philippines, Netherlands, and other countries. 
PAL: PAL is used in most of Europe and Africa, China, Australia, New Zealand, India, North Korea, and other countries. But there are still differences between countries using PAL:
Standards B/G: Most of Western Europe, Australia, and New Zealand
Standard I: UK, Ireland, Hong Kong, South Africa, and Macau
Standards D/K (along with SECAM): Most of Central and Eastern Europe
Standard D: Mainland China. Most analogue CCTV cameras are Standard D.
SECAM: SECAM is mainly used in French-speaking Europe such as France, French Guiana, Gabon, Greece, and other countries.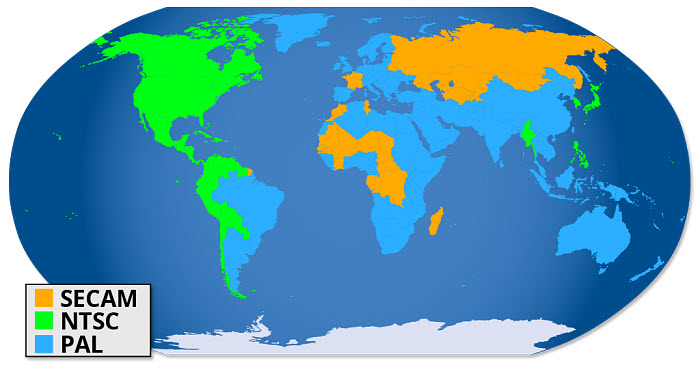 ** Note ** In general, almost all DVD players from PAL/SECAM areas can play both PAL & NTSC DVDs but most NTSC players will not play a PAL disc. Most computers and DVD software can play both NTSC and PAL DVDs/videos.
NTSC vs PAL on HDTVs
The primary visual difference between NTSC and PAL systems for high definition TVs (HDTVs) is in the refresh rate. When analog NTSC and PAL standards, the TV will use either the interlaced scan method (480i or 1080i) or the progressive scan method (480p or 1080p).
Specifically, on an HDTV, NTSC standard contains two fields for an interlaced image, each display every 60 times of a second and a complete frame displays every 30 times a second. For an progressive image, it displays twice every 30 times a second. Similarly, PAL standard contains two fields for an interlaced image, each display every 50 times of a second and a complete frame displays every 25 times a second. And PAL systems display twice every 25 times a second for progressive image. NTSC vs PAL, which is better?
Anyway, what most users care is, which is better, NTSC or PAL? PAL is technically superior to NTSC.
PAL has better quality than NTSC. PAL has 625 lines of resolution compared to 525 lines in NTSC. The higher number of scan lines means increased resolution and better quality. Other factors being equal, a PAL DVD should look significantly better than the equivalent NTSC DVD.
PAL can correct colors on-screen automatically. NTSC uses a tint control to let users manually adjust the color. PAL utilizes phase reversal to allow automated color correction. Therefore, PAL has higher levels of contrast and better color reproduction. 
However, NTSC has one advantage over PAL: NTSC has 29.97 frames per second while PAL runs at 25 frames per second. That means, NTSC plays videos more frequently than PAL, especially for high speed footages. In comparison, the picture of PAL can appear to flicker at times. Moreover, PAL DVD plays 4% faster than NTSC versions. This may be an annoyance for a few viewers.
How to Play NTSC and PAL DVDs Freely?
All DVDs are made either NTSC or PAL standard. But as mentioned before, most DVD players in the United States are not backwards compatible with the PAL format. To watch NTSC in a PAL region there are three options, either have a multi-system TV, a NTSC/PAL DVD player or a signal converter. (You will also need to pay attention to the region codes)
For example:
In the United States and other NTSC areas, a region-free, multi-standard NTSC/PAL DVD player is required to view PAL discs, or a converter is needed;
In PAL areas, you only need a region-free player to watch DVDs from NTSC countries.
How to Convert PAL to NTSC or Vice Versa
If you need to convert a DVD from NTSC to PAL or PAL to NTSC format, it is possible to convert the two formats. However, it's a little bit tricky. To convert, you'll need the following software:
Step 1: Extract Video from NTSC/PAL DVDs
Free download and install WinX DVD Ripper. The PAL to NTSC DVD converter supports different DVD types, including NTSC/PAL discs, region-coded DVDs, protected titles, scratched old DVDs, etc. It helps convert DVDs to ISO image, Video_TS folder, MPG in 1:1 quality, as well as MP4, MOV, AVI, WMV, etc.
Run it and insert the DVD into the disc drive. Then click "DVD Disc" button to load the DVD movie content. The right title will be auto detected as to all movie DVDs, including DRM protected ones. Select an output format, such as MPEG format and set a destination folder to store the output file. Then click button "RUN" to start the process.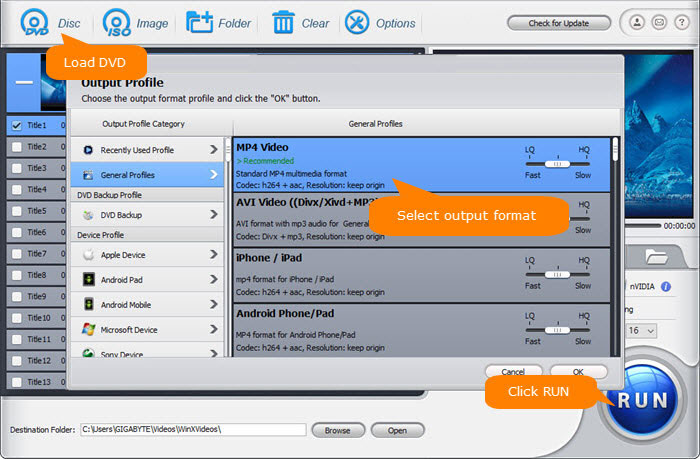 ** Note ** If your DVD player can't play a region-coded DVD or NTSC/PAL formatted movie, by converting the DVD to a digital format, you can now play the DVD video without problem.
Step 2: Convert NTSC to PAL Video (or vice versa)
This step requires WinX Video Converter. This PAL to NTSC video converter supports convert videos of any formats, resolutions to formats for DVDs, webs, mobiles, TVs, clouds, etc.
Download, install, and run it. Then click the "+ Video" button to load the extracted DVD video. Once loaded, select an output format from the popping-up window. Scroll down to "DVD Profile" -> choose "PAL DVD Format" or "NTSC DVD Format". Then set a destination folder to store the output file and click button "RUN" to start the process.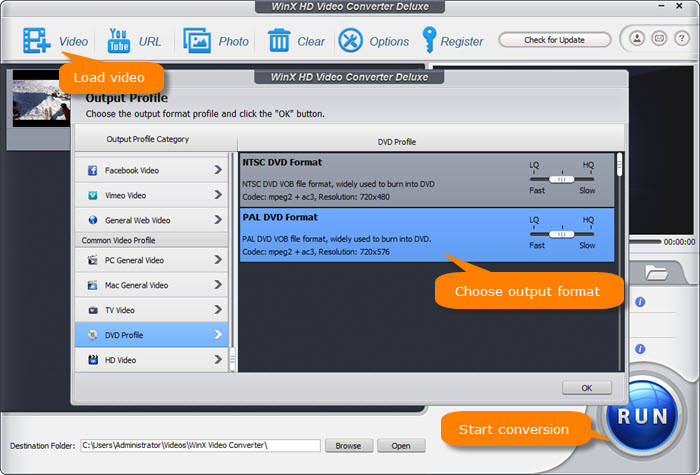 Step 3: Burn Videos to NTSC/PAL DVD
Now you need to install the DVD burner WinX DVD Author and insert a blank DVD of NTSC/PAL to your computer. The free DVD burner can burn MP4, VOB, ISO, MKV, AVI, any videos to DVD directly. Both NTSC and PAL DVDs are supported.
Click "Video DVD Author" and tap "+" button to add the video. Then hit the next step icon ">>" and create DVD title and chapter menu. Once completed, simply press next step button ">>" and change the background picture, add menu background text and music. And then hit "Start" button.