DVD Resolution | What Is DVD Resolution for Playing and Burning
2023 newest and most complete information about DVD resolution questions.
How many of you loved - or still prefer - using DVD and wondering what correct DVD resolution is for playing on analogue (PAL/NTSC) TV/digital TV? Can we burn 720p or higher resolution video to a DVD? Can we upscale DVD resolution to 4K? How do DVDs look on 4K screen? Well, there are so many mind-numbing questions related to DVD resolution. Let's divide and conquer.
Q1 What Is Normal DVD Resolution? Are DVDs in 480p, 720p, or 1080p?
There are two standard DVD resolutions:
NTSC DVD resolution: 720 × 480 (total 345,600 pixels), 480i/480p
PAL DVD resolution: 720 × 576 (total 414,720 pixels), 576i/576p
Both DVD resolutions are available in 4:3 and 16:9 aspect ratios.
Besides standard DVD resolution, some people also wonder what the HD DVD resolution is.
HD DVD resolution: 1280 x 720 (720p), 1920 x 1080 (1080i/1080p)
So apparently, SD DVDs are not in 1080p or 720p. The max DVD resolution is 480i/p or 576i/p.
Reference: List of common resolutions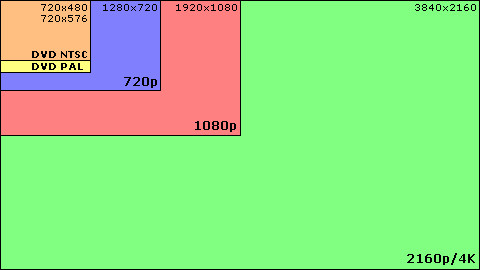 Q2 How to Make Standard DVDs Look Better on an HDTV?
"I'm thinking of buying an HD television, but I'm concerned about what this will do for my standard-definition DVDs. I took a beautiful SD DVD of _The Asphalt Jungle_ with me to Best Buy, and they played it in an "upconverting" DVD player on both a 720p and a 1080p screen; it looked terrible on both, much worse (I think) than on my picture-tube TV. How to make it better? "
Visual effect is decided by various factors, such as DVD resolution, your display resolution, the display size and the distance between you and the TV. At a resolution of 480P, DVD 480p video is crystal enough on mobile phone. However, on 1080P widescreen HDTV, it's barely clear. The image will be stretched based on the size of the TV and that will pixelate the image.
Well, how to make DVDs look better on widescreen? There're 3 ways to improve DVD quality: use an upscaling DVD player, try a TV with excellent upscaling algorithm, or upscale DVD resolution from 480i/p or 576i/p to 1080p with WinX DVD Ripper Platinum.
WinX DVD Ripper Platinum will easily change or upscale DVD resolution from 480i/p or 576i/p to 720p, 1080p HD, etc. It has an advanced scaling algorithm that will sharp the edge of the objects and generate good quality. It will also adjust frame rate (30FPS, 24FPS) and fast convert DVD to MP4, AVI, MOV, iPhone, Android and more.
Step 1. Click the download button and install it as per the instructions. Run it and insert your DVD.
Step 2. Select an output format from the window. To get the best upscaling result, select MP4 from the list.
Step 3. Back to the main interface, click the gear button next to the selected profile. Find Resolution and open the drop-down menu. You can upscale DVD resolution to 1080P, 1200P, 800P, 720P, etc. You can also click the Customize button and enter the video size you want.
Step 4. After all the settings, click OK. Check the High Quality Engine and Deinterlacing on the right bottom corner of the interface and click the big blue RUN. Deinterlacing feature will convert your interlaced video to progressive scan to deliver smoother-looking image.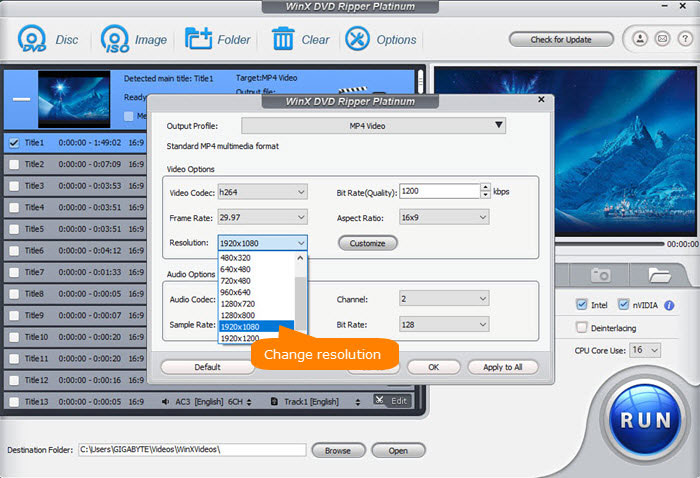 Q3 Is It Possible to Burn a DVD with 720p/1080p HD Video?
You put into a 720p video and then output a complete DVD disc, which plays normally. And you think you are holding a 1280x720 resolution DVD. Well, actually you omit an important link.
The truth is that DVD authoring software always automatically converts video to standard DVD resolution for burning. So to some extent, we can give you a positive answer: yes, it is possible to burn a DVD with 720p HD video or video in higher resolution, because all 720p/1080p/4K videos will be downscaled to 480p/576p. But seriously, there is no way to make a DVD with HD resolution videos. The highest DVD resolution is 720x480 or 720x576.
How to Burn DVD with 720p Videos?
Here we will give you an example of how to burn a DVD with video in 720p resolution. First you need to download DVD Author software. You can use WinX DVD Author, a 100% clean freeware, to burn video to DVD. It makes home video DVD in Windows (10) from video files, camcorder, webcam, YouTube and personalize it with DVD chapter menu & subtitle.

Free download WinX DVD Author
Step 1. Download WinX DVD Author by clicking the "Free Download" button above, get it installed on your hard drive correctly and open it up.
Step 2. Insert a blank DVD disc and go into the "Video DVD Author" part.
Step 3. Click "+" to add target 720p video. Choose aspect ratio: 4:3 for standard TV and 16:9 for widescreen TV.
Step 4. Press next button and then create DVD menu.
Step 5. Set an output folder, choose output format (NTSC or PAL), and then hit the "Start" to write your high definition video to DVD. WinX DVD Author will convert your HD video to SD DVD resolution.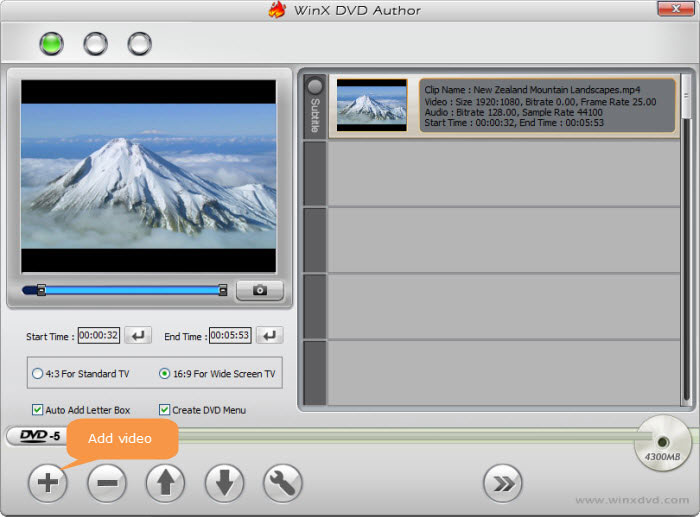 Q4 DVD Resolution and 4K | How Do DVDs and Blu-rays Look on the 4K Screen?
Can DVD be upscaled to 4K? Yes. Some Blu-ray Disc players are equipped with 4K upscaling feature. If the player can't do the upscaling, the 4K UHD TV will upscale the 1080p signal from the Blu-ray Disc player to 4K. 4K TV upscales the image, spreading 1 pixel to 16/4x4 pixels.
Do DVDs look bad on 4K TV? There will be no difference on visual effect only if you are watching at a certain distance. If you're up close, you will see there is more black space between the pixels and the image seems to be a little bit fuzzy than before. See more about DVD upscaling.