DVD Upscaling: How to Upscale DVD 480P to 1080P HD without Quality Loss?
After you switch to an HDTV or even Ultra HD 4K TVs, you may find that the DVDs which look good on older devices are now awful on the bigger screen. There are smearing and pixelation that make the movie basically unwatchable. Why? The 480P DVD is so small that it takes only ~16% of the display area of a 1080P HDTV. To fit the screen, the 480P DVD video is often upscaled up to 1080P to cover the whole TV screen. That's called DVD upscaling. Computers, media players, DVD/Blu-ray players, and TVs generally feature an upscaling function. But this doesn't mean they are doing a good job. In this post, we're going to show you how to upscale DVDs to 1080P with good quality.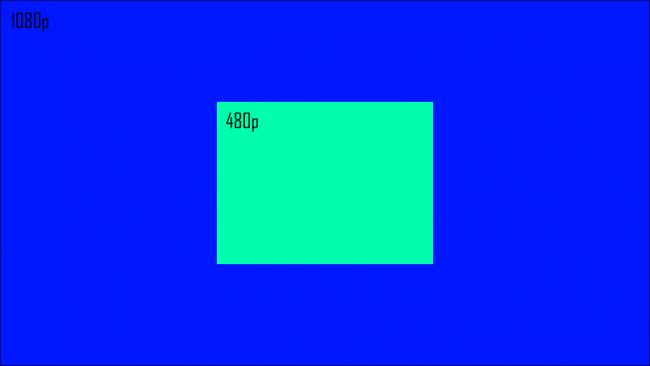 Table of Contents
Part 1. Free Download the Best DVD Upscaling Software
It is generally known that upscaling DVD/video always brings artifacts. But software with an advanced algorithm can maximize the output quality. Here the DVD to 1080p upscaling software we find is called WinX DVD Ripper Platinum.
It lets you rip 576/480p/i DVD to 640P/720P/1080P HD, etc. in MP4, H.264, MOV, AVI, WMV, and more.
Its advanced High Quality Engine, based on the Deep Convolutional Neural Networks, will make the residual lines of an image edge thinner.
The De-interlacing feature will remove interlace artifacts and convert 480i to 480P DVD video for later upscaling.
It will upscale any DVDs, including old DVD collections, encrypted movies, home burned discs, new DVDs, etc.
Part 2. How to Upconvert DVD to 1080P without Quality Loss?
Download and install the DVD upscaling software on your computer and insert the DVD into the disk drive.


Free download the Windows version


Free download the macOS version
Step 1: Load the DVD
Run the DVD upscaling software and click the DVD Disc button. Select your DVD and let the software analyze the disc.
Step 2: Select an output format
The DVD ripping software will automatically remove any encryption on the DVD and detect the correct title. After that, a window will pop up asking you to set an output format. To get the best result, you're suggested to rip DVD to MP4 for upscaling. Go to General Profiles and select MP4 Video from the list.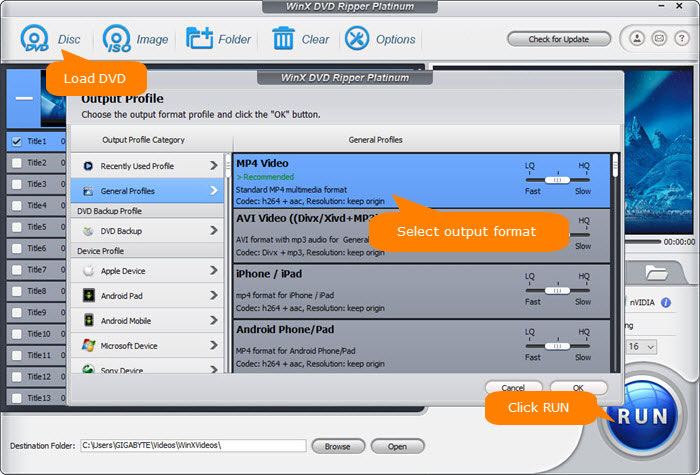 Step 3: Upscale DVD resolution to 1080P
Back to the main interface, click the gear button next to the selected output profile. Find Resolution and open the drop-down menu. Select 1920x1080 to upscale DVD 480P to 1080P and click OK. In fact, you can change DVD resolution to 720P, 800P, 1200p, etc.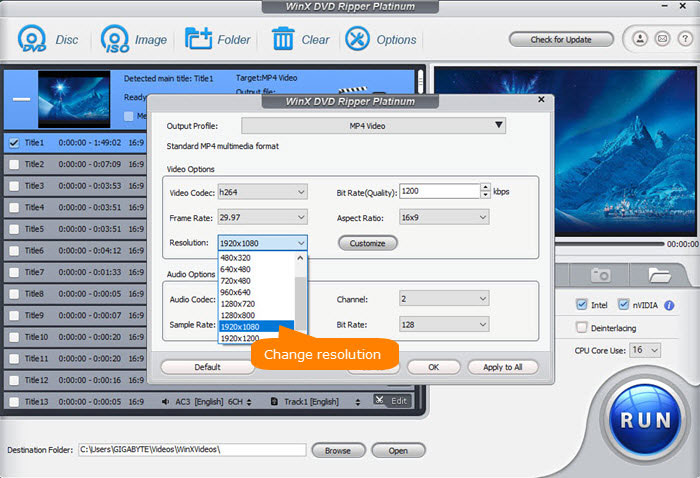 Tips: If you want to adjust the DVD resolution to fit widescreen, other higher resolution display with a specific size, click the Customize button next to the Resolution and enter the length and width you need.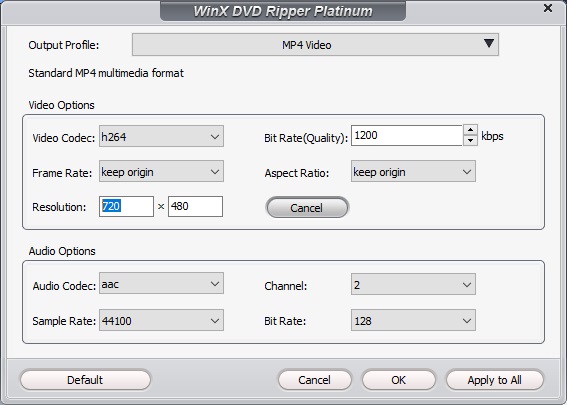 Step 4: Start to upconvert DVD
After all the settings, click the big blue RUN button and start the DVD upscaling and ripping. Before that, don't forget to check the High Quality Engine and Deinterlacing boxes on the main interface. It will ensure the best possible DVD upscaling quality.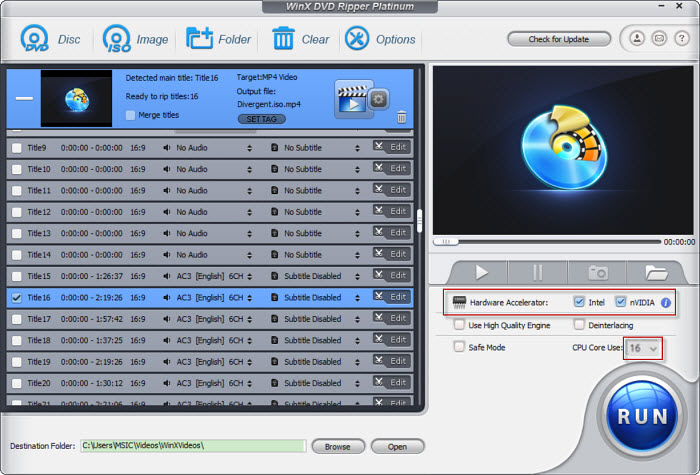 By converting a DVD to a higher resolution, you can also create better videos for YouTube. As we all know, YouTube will compress unpopular videos to save space and bandwidth, thus it can give more bandwidth and better compressions to popular YouTubers. In other words, your video will get lots of compression and lose quality. If you're creating a DVD video for YouTube, you'd better upscale it so that on a normal HD monitor, the video looks OK after the compression.
Part 3. How Do HDTVs and DVD Players Upscale DVDs
Common DVD resolutions are 720×480 pixels (NTSC) or 720×540 pixels (PAL). When you're playing a DVD on a 1080p HD display, namely the 345,600 pixels or 388,800 pixels will be displayed on a 2,073,600 pixels screen. Obviously, making each pixel from the DVD occupy 6 or 5.33 pixels on the screen will lead to a blurred image. But that's what HDTVs and most DVD upscaling players upconvert DVD to 1080p - enlarge the image and don't improve DVD quality in essence. High-end players run an algorithm to determine when a pixel is one color or another, which requires a mathematical comparator operation.
When HDTVs and DVD players upscaling DVDs, it usually uses an algorithm called 'nearest neighbor'. It adds a mesh of blank pixels to an image and guesses which color value each blank pixel should be by looking at its four neighboring pixels. However, this process could reduce optical resolution and result in fuzzy image. Surely, TV or DVD player upscaling does more than that. It uses bicubic interpolation and bilinear interpolation to smooth and sharpen the nearnest neighbor explanded image so as to enhance the DVD video quality.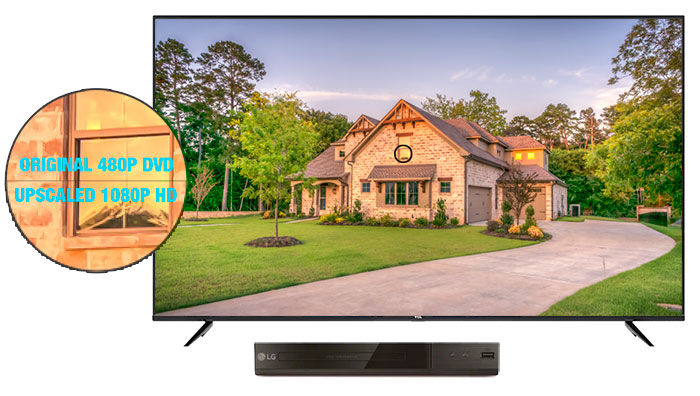 Is there any quality difference between upscaled DVD and Blu-ray? Definitely, quality of DVD upscaling won't match that of a native Blu-ray disc or HD DVD. This is because the scaling algorithm, whether it is applied by HDTV or upscaling DVD player, doesn't add more detail than is already present. Compared with Blu-ray, upscaled DVD looks flatter and softer in blackground, with reds and blues.
Part 4. How Does WinX DVD Ripper Platinum Achieve DVD to 1080P Upscaling
When upscaling a DVD to 1080P with WinX DVD Ripper Platinum, the built-in High Quality Engine will apply. How does it work? It's based on the Deep Convolutional Neural Networks to find the edge of the video image. Then the edge-refinement algorithm will work to make the residual lines thinner. The thinner the residual lines are, the less blurry an image is. This method can prevent pixelization and blurry outcomes, making the upscaled 1080P DVD video watchable on a bigger screen. Below are some upscaled results: Free Download WinX DVD Ripper Platinum to Upscale DVD to HD 720P or 1080P Now
Part 5. People Are Asking
What does upscaling mean on a DVD player or a Bluray player?
Upscaling on a DVD player, a Bluray player, or a 4K DVD player, is a technique which is designed to make your DVD look good on a high definition screen. How does DVD upscaling work? A DVD usually has a vertical resolution of 480 lines while a modern TV can have 720, 1080, and even 2160 vertical lines. So DVD upscaling technique converts the signal so that it can artificially create the information for the extra lines using a series of mathematical calculations.
How to turn on dvd upscaling PS4?
By default, PS4 is set to "Scaling: Full".