5 Ways to Improve DVD Quality - Make DVD Quality Better
Nowadays we usually watch HD and even 4K UHD content when we have a fast and stable internet connection. Once we have watched so many HD and ultra HD videos, we'll be no longer satisfied with the standard-definition quality that DVD disc provides. The intrinsic resolution of a NTSC DVD is 720x480 pixels and that of a PAL DVD is 720x576 pixels. Well, is there any way to improve DVD quality? How to make DVD look good on HDTV or 4KTV? We've figured out a few ways.
Solution 1. Rip DVD and Upscale It to 1080P Video
Rip and upscale DVD to 1080p with WinX DVD Ripper Platinum. It allows you to input old, scratched, newly-released movie and other video DVDs for later converting to MP4, H.264, AVI, WMV, MKV, VOB, MPEG-2, etc. Meanwhile, you can choose to upscale a SD DVD to 1080p or 720p video. Interlaced DVD can be converted to progressive thanks to the support for "Yadif Double Frames" De-interlacing Engine. Meanwhile, there's also a High Quality Engine to enhance output quality of DVD ripping file.
Now, let's check how to improve DVD quality by ripping and upscaling DVD. First of all, download and install WinX DVD Ripper Platinum. This runs well on all popular Windows operating systems. If you're using a Mac, download WinX DVD Ripper for Mac. When you have done installation, follow the steps below.
Step 1. Open WinX DVD Ripper and click DVD Disc button to import the DVD you want to improve quality. If you cannot find a DVD to open, make sure you have inserted target DVD into DVD drive properly.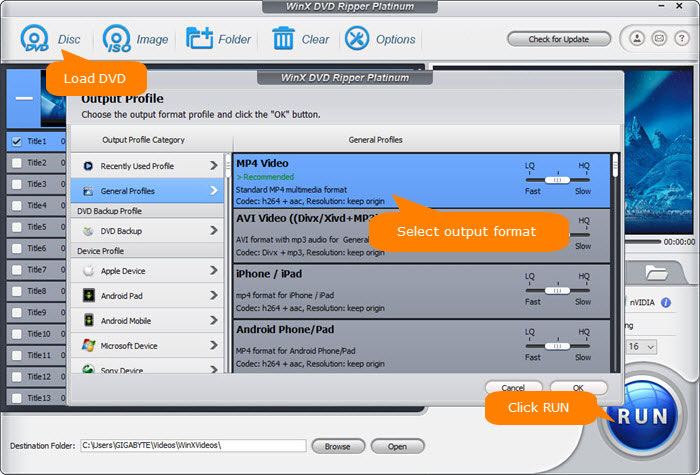 Copy protection schemes cannot defeat WinX DVD Ripper. This program can bypass them, scan all titles, and detect the main movie automatically.
Step 2. What you need to do after DVD loading is to choose a desired output format. There're totally more than 350 output profiles. Here, we choose MP4 Video. Before we click OK button, we drag the slider to HQ. This operation will slow ripping down but will have a positive influence on improving DVD quality. Step 3. Click gear button, and then click the drop-down arrow of Resolution to specify a resolution, such as 1920x1080.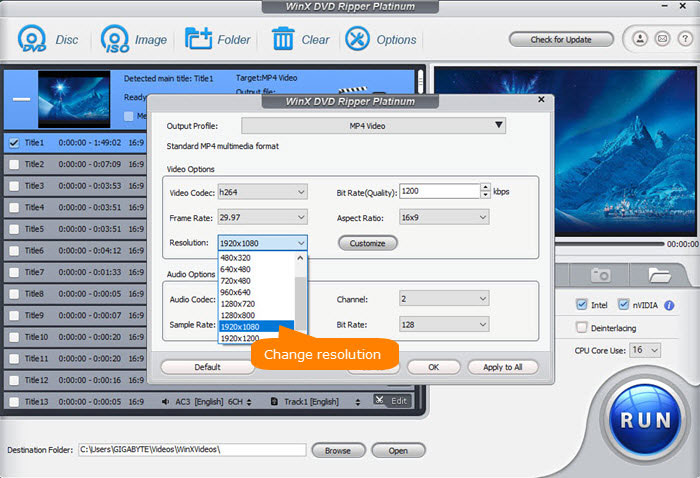 Step 4. Check the box of Use High Quality Engine and check Deinterlacing if your DVD is interlaced.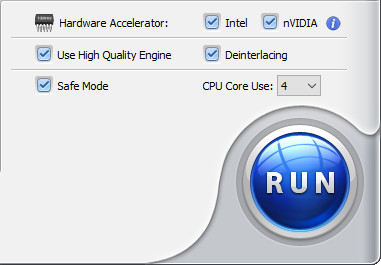 Step 5. Hit RUN to start ripping and upscaling DVD, and you will soon get a digital file with improved image quality.
Disclaimer: Digiarty Software does not advocate ripping and burning commercial DVDs for any illegal purpose. You're suggested to refer to the DVD copyright laws in your country before doing so.
Solution 2. Use a DVD Player with Advanced Picture Enhancing Technology
If you want to watch DVD disc, not digital copy, with enhanced video quality, you can buy a DVD upscaling player with advanced image enhancing technology. Many new DVD or Blu-ray players are manufactured with upscaling abilities, thus standard DVD can be upconverted to fit for large-screen HDTV and 4KTV. Put your DVD into an upscaling DVD player, connect the DVD player and television with a HDMI cable, and then your DVD will look and sound better with image and audio closer to high definition.
Here're some Blu-ray/DVD players with upscaling algorithms: Sony DVPSR510H, Sony DVP-SR760H, Sony BDPS32000, Samsung DVD-C500, Sylvania SDVD1096, Panasonic DVD S700, Sony BDPS5500, LG DP132H.
Related article: Why DVD still looks bad with an upscaling DVD player and how to fix
Solution 3. Choose a HDTV/4KTV with Excellent Scaling Algorithm
Besides DVD or Blu-ray player, you can also get your TV to do DVD upscaling. However, not all TV sets come with advanced scaling algorithm. They might do a poor job. Instead of adding more picture detail, more sharpness, and more color, they add lots of picture noise and distortion. Your DVD may look blury, grainy with artifacts, muddy image and ghosting. Therefore, you need to check if there's a brilliant scaling algorithm when selecting a TV.
When both DVD player and TV set have upscaling algorithms, you need to decide which of the player or TV will upscale better. Conduct some tests and check which gives better results. If your TV works worse than DVD player at upscaling, you can bypass the algorithm in the TV set by providing a signal that your DVD has already been scaled up to TV's native resolution by a better algorithm. When TV receives the signal, it will not perform upscaling. If TV upscales better, circumvent the player's upscaling process.
Solution 4. Enable Progressive Scan on DVD Player
Besides upscaling DVDs, there are also other tips to improve DVD picture quality. you can adjust the contrast, color, brightness,or sharpness through the TV's on-screen menu. If this method does not do much to improve the image quality, you can try pressing the P.Scan or Progressive Scan button on your DVD player.
If the Progressive scan function isn't set properly, it will affect the quality of DVD. You should be able to find the Progressive scan button on the front panels of most DVD players or find a P.Scan button on the remote controls. Try press the Progressive scan or the P.Scan button when the DVD movie starts and see if the DVD quality has been enhanced.
Solution 5. Connect Your DVD Player to TV via HDMI Cable
Compared with other connections, HDMI provides the highest quality. If both your DVD player and TV have HDMI jackes, just use an HDMI cable to connect them.
Plug the one end of your HDMI cable to the HDMI OUT jack on your DVD player and then plug the other end into one of the HDMI jacks on the side or back of your TV. Do not insert the cable too tight or too loose, otherwise you may not get a good signal. In conclusion, enhancing DVD quality is not just a quest for sharper images and clearer sound—it's an endeavor to elevate the entire viewing experience. By implementing the strategies outlined in this guide, from investing in upscaling DVD players to optimizing display settings and exploring digital restoration tools, you have the power to unlock the full potential of your DVD collection. While streaming services and high-definition formats may dominate the contemporary landscape, the timeless appeal of DVDs persists.
As technology continues to advance, the joy of revisiting classic films or discovering hidden gems on this beloved format is now complemented by the tools to enhance their visual and auditory impact. So, whether you're a cinephile seeking to breathe new life into your favorite films or a collector preserving the magic of cinematic history, these tips provide a roadmap for achieving a richer and more immersive DVD-watching experience.