Posted by Donna Peng - Contact Author

Why DVD Looks Bad on Xbox One & How to Improve DVD Quality

If you are looking for a fast solution, click here: The solution most recommended by us [85%]
Xbox One Doesn't Look Great When Playing DVDs? Here's the Answer!
The hot Xbox One S All-Digital Edition discards the disc drive, making its predecessors Xbox One the ideal alternatives for DVD and 4K Blu-ray playback. However, many gamers realized the movies look terrible when they put DVD discs in the player. Some users even suggest the DVD playback quality is atrocious and ghosting with Xbox One S and X.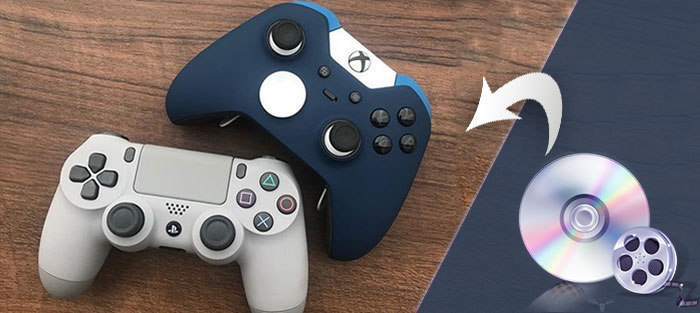 Why the picture is grainy, distorted and blurry when playing DVDs on Xbox One? Tracing the bad DVD playback quality issue to Xbox One seems to be one-sided, since it also has something to do with the DVD itself, the display screen, and the upscaling tech. In this following part, you can find all possible reasons why Xbox One plays DVD with bad quality.
Related articles:
Is Xbox One Region Free for DVDs, Blu-rays, and Games?
How to Change Xbox One 4:3 DVD to 16:9 Full Screen
The Major Reasons Why Xbox One Shows Poor Picture Quality
Possible reason 1. Improper cable connection Xbox One does upconvert DVD movies to 1080p. This can be achieved by using an HDMI cable, meant to upconverting signal to HDTV. But you can notice the forced up scaling quality is as blurry as ever, both on HDTV and Xbox One. Meanwhile, if you are using VGA cable and trying to play the standard DVD movie at 480p on the Xbox with output resolution at something like 1080p/720, it will cause a problem. For example, you will notice d jagged look of the DVD movies with HDMI connection. In this situation, you can lower the Sharpness/Detail setting to -12 to 0, when watching a standard DVD. This will look noticeably better than the default setting and solve Xbox one bad DVD quality.
Possible reason 2. Quality of source DVD is bad. DVD movies, especially those produced 20 years ago, may look good on the same 1080p TV in Xbox 360 but come with bad playback quality on the Xbox One X/S, even the upscaling doesn't really guarantee it will look great on Xbox One. This is because the DVD-video is storing the video content with at most 720x480 or 720x576, half the resolution of HDTV. Compared with the old equipments, the playback experience of the standard DVD, let alone the badly encoded DVD discs, will be poor, jagged lines and pixilated look will be noticed on new Xbox and HDTV. See how to enhance quality when DVD looks bad on HDTV
Possible reason 3. High-resolution and bigger screen doesn't guarantee 100% good look. On bigger screens, pixilated backgrounds, digital noise and other flaws are much more prone to be visible when watching DVD discs. On the contrary, the lower resolution a TV and Xbox One the less you will notice the flaws. This is why so many old DVDs are being released with HD DVD version. If not, you have to switch to an old tube TV to fix poor picture quality on Xbox one.
How can I make standard DVD look better on Xbox One without issue?The Most Effective Solution Digitize/Upscale DVD to HD 720/1080p for playing on Xbox One with USB Drive
Actually, the reasons behind the quality issue goes far beyond that. There is something wrong with Xbox One that does poor job scaling DVD, and disc reading fealure due to, e.g. region protection, defective disc drive or DVD, constantly happen. Rather than changing cable, tweaking default setting of your monitor, and sacrificing the old but cherished discs, all of which don't guarantee 100% high-quality DVD playback, though, why not digitizing DVD to put an end to the quality issue with Xbox One.
To make a backup of the commercial DVDs, WinX DVD Ripper Platinum is highly recommended, not only because you are free of adware or malware, but also bestowed with capabilities to deal with any commercial discs, including the CSS and region locked ones. This is also the fastest and most efficient solution to watch DVD movies on Xbox One S/X, TVs, media players, tablets, mobiles, etc, without HDMI connection, disc drive or adjusting the TV settings.
WinX DVD Ripper Platinum - Digitize DVD to Fit Xbox One and TV Screen with High Quality
Directly rip a full DVD to Xbox One as short as 5 min with full GPU Accelerated.
Built in 420+ profiles and convert DVDs to fit any screens with no loss in quality.
Scale DVD by adjusting resolution to up to 4k, change codec to HEVC, adjust bitrate, frame rate, etc.
Monthly upgrade to support any old or new DVDs, including 99-title and damaged discs.

Download WinX DVD Ripper Platinum on Windows

to rip DVD to Xbox One

Download WinX DVD Ripper Platinum on Mac

to digitize DVD for playback without disc drive
Follow the steps below to convert DVD to Xbox One supported video format without losing quality.
Step 1. Put the DVD disc into the drive after you open the DVD to Xbox One converter, click DVD Disc button to load your movie content. WinX DVD Ripper Platinum with automatically choose the right title in just a few seconds.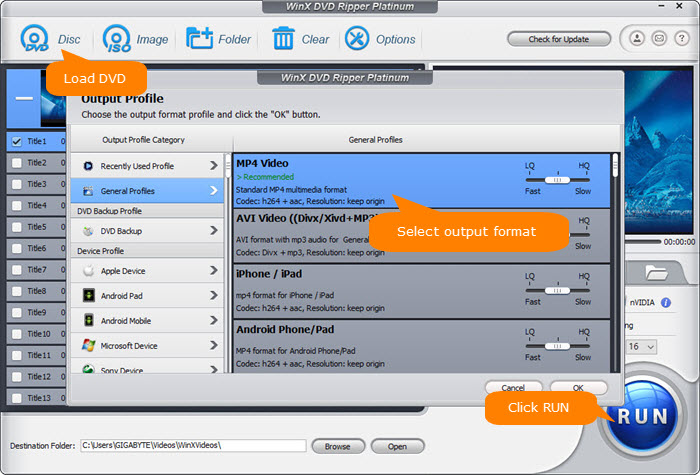 Step 2. Choose the video format Xbox One recognizes. For the best possible compatibility, you can choose MP4 H.264 as the output format. If you are unknown of the exact setting for your game console, there is no worry because WinX is preconfigured with as many as 420 profiles for your convenience. Just go to the Output Profile > Microsoft Device > to Xbox Video > Xbox One (H264).
Step 3. Click the gear-shaped icon on the main interface to load the parameter settings. WinX is built in a professional upscaling tech to ensure to scale standard video to high quality content. To improve DVD video quality on Xbox One, you can do the following tweaks.
Adjust the resolution to 1280x720p.
Upscale the bitrate to 5000kbps.
Leave the frame rate unchanged.
Change the aspect ratio to 16:9 if you'd like to watch your movie with Xbox One on HD TV.
Check the boxes Use High Quality Engine and Deinterlacing to ensure the best possible quality.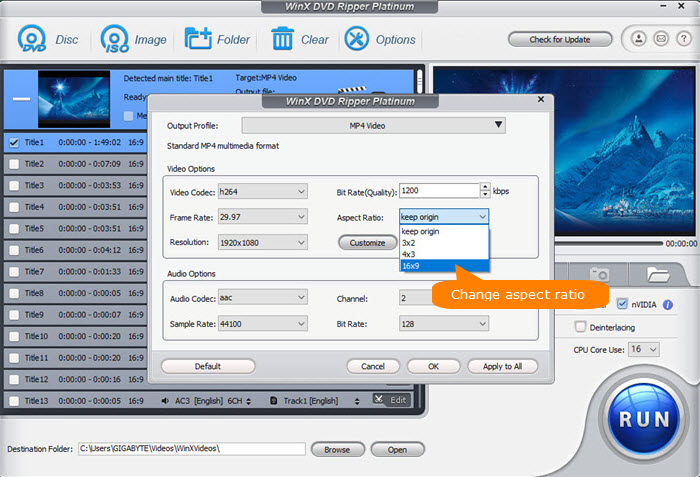 Step 4.Hit RUN button to begin the DVD to Xbox One converting process.
Disclaimer: Digiarty Software does not advocate ripping commercial DVDs for any illegal purpose. You're suggested to refer to the DVD copyright laws in your country before doing so.
Video Tutorial: How to Fix Xbox One DVD Playback Issue
Final Words:
Any high-quality DVD ripping is bound to slow ripping speed. The good news is the powerful hardware accelerated graphic card is enabled automatically on your computer to accelerate the whole ripping process with WinX DVD Ripper Platinum. So just have a cup of coffee and it won't take you a long time. Then you can fix the Xbox One bad DVD quality issue and play the movie without digital noise, pixilated backgrounds anymore using your USB drive.